Kaleyra Now Supports Verified Calls by Google
Kaleyra is one step closer to having the perfect communications suite! We are incredibly proud to announce that we are part of the Verified Phone Calls program by Google.
As a communications solutions provider, Kaleyra has been endeavoring to provide clients with a host of services that do not just help them reach and engage their customers effectively but also maintain ethical standards, safer data privacy practices, and permission-based communication. One of the products we have integrated into our suite is vSMS or Verified SMS from Google. With Verified SMS, senders can let their users know that the communication channel (i.e., SMS here) is authorized by Google, between them and the brand, and safe. 
We have now integrated Verified Calls into our communications suite. Google has been at the forefront of the battle against spam calls. The volume of spam calls grew by 18% globally in 2019, according to Truecaller. The Stockholm-based firm stated that the users worldwide received 26 billion spam calls between January and October in 2019 up from 17.7 billion during the same period in the previous year.
Verified calls are a step in this direction, and we have worked with Google to ensure that we can provide this facility to our users.
What is a Verified Call?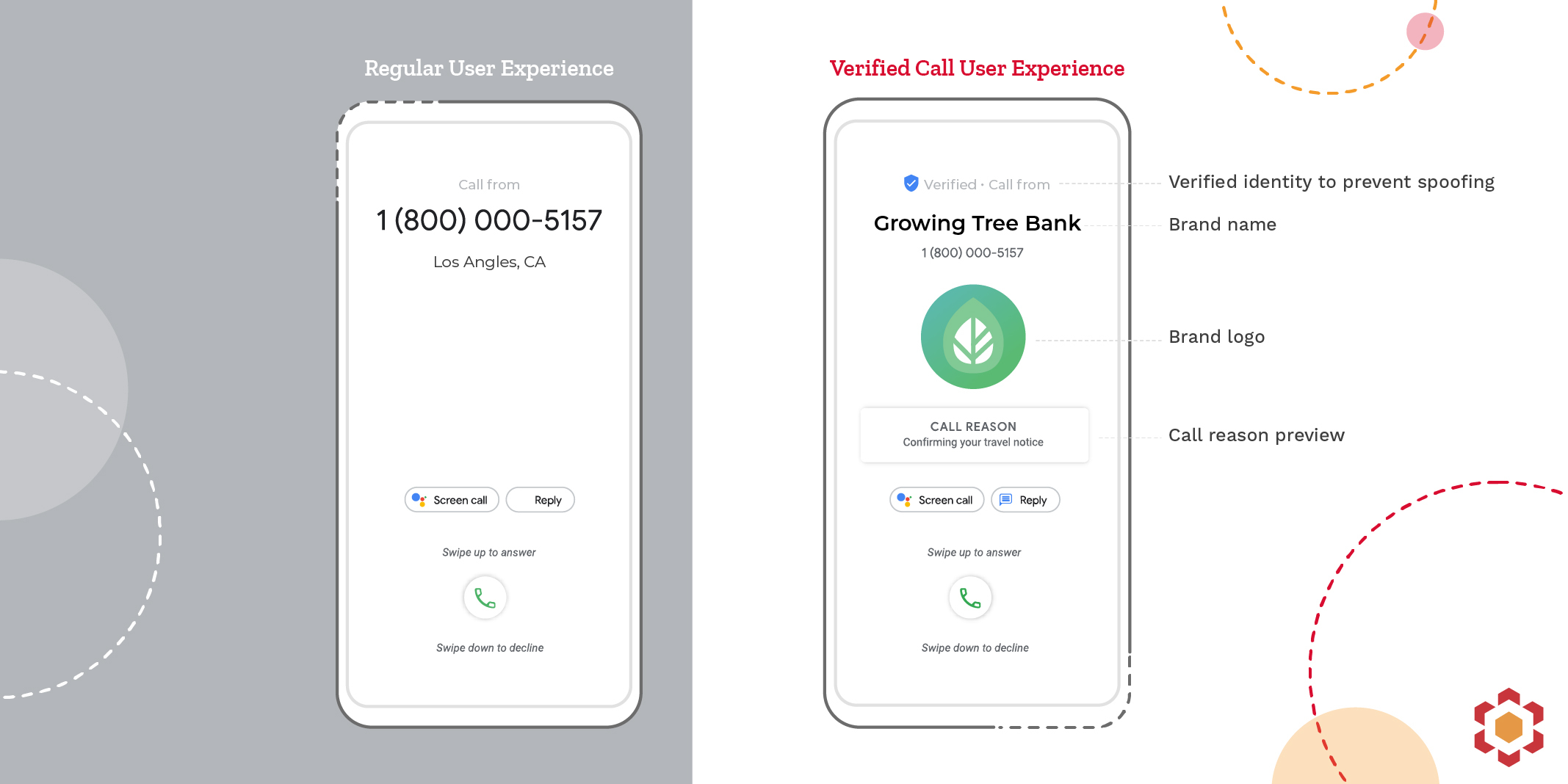 Businesses rely on calls extensively to reach out to their customers, but the threat of spam means users may not answer these calls. Unknown numbers are rarely answered, and this is a big gap that businesses have been trying to fill. 
Now, with Verified Calls, users can see the name of the company that is calling, their logo, the reason for the call, and also a verified badge when a business calls. 
This means that Google has verified the caller, which in turn reduces the incidence of spam calls. This is done in a secure manner, and Google does not store any personal information of users. It also increases the rate at which calls are picked, helping businesses reach their customers effectively. 
This feature is automatically enabled on the Google Phone app on Android devices. It has been rolled out in the US, Brazil, Spain, Mexico, and India, with other countries to follow soon. 
As a CPaaS provider, Kaleyra offers a full range of voice solutions to businesses that are looking to enhance their customer experience. In addition to Verified Calls, Kaleyra offers the following services:
Voice Services Offered by Kaleyra 
IVR Flow Builder
The modern-day customers have high expectations for an efficient experience. Unfortunately, IVRs have earned a reputation for frustrating customers. One negative customer experience can ruin a brand's reputation. Therefore, businesses must consider designing an IVR system with the customer in mind. Our IVR Flow Builder enables businesses to create interactive multi-channel response flows in minutes, with a simple drag-and-drop visual editor. This not only helps in reducing the strain of the contact center agents but also improves the customer care experience.
Contact Center
Cloud contact centers allow businesses to reach a wider audience with no additional cost. By improving the call quality and increasing the number of queries resolved per minute, a company can move one step closer to being their customers' first choice. Our contact center solution enables businesses to enhance their contact center operations and help them seamlessly connect the operators with end-users.
Numbers
Having a virtual number can help businesses stay on top of their game and ensure 100% customer satisfaction. It gives flexibility and, at the same time, boosts the efficiency of the support team to handle calls in a much more professional and systematic way. Our Number solution makes it easy for customers to get in touch with businesses.
Lookup
Our Lookup feature helps businesses validate national and international phone numbers and perform a lookup of the phone number's details. The Lookup process happens in real-time, and the response that is returned provides some comprehensive details of a number such as the geographical location, line type data, number porting details, and other relevant information.
Call Masking
Call masking is a feature that allows businesses to safeguard their customers' identities, and prevent misuse of sensitive information. Our call masking solution enables businesses to safeguard customer privacy by bridging them to agents without disclosing their private numbers.
Click-to-Call
Providing customers with a calling option will not only help them in getting their problems resolved quickly but will also help you in retaining them. With our Click-to-Call APIs, businesses can instantly get in touch with their customers. 
As we move ahead into a new generation of communication tools and services, we are excited to be partnering with Google and look forward to collaborating with like-minded partners and deliver solutions that help inform, engage and communicate with users, smartly, easily, and safely.