Strengthen Your Customer Relationships With Verified SMS
Smartphones paved the way for end-users to communicate through a variety of channels, from email and in-built social media messaging apps to some of the popular over-the-top instant messaging apps. However, despite the increase in the growth of other communication channels, SMS is still widely in use and remains one of the primary channels of communication. When it comes to the timeliness of delivery and the open rate, SMS is clearly a winner when compared to emails and other messaging apps. 
Many businesses have now started capitalizing on the power of SMS to engage with their consumers due to its immediacy, low cost, and reliability. 
For instance, fitness clubs run SMS campaigns with exciting membership offers to improve their business; e-commerce companies send promotional SMS messages to make their potential customers aware of their newly launched products and special deals; and banks send out important messages to their customers that include OTP, Alerts and other critical information via SMS.
The scope for SMS is only going to expand in the coming years. According to a research conducted by Juniper, businesses will send an estimated 2.7 trillion SMS messages by 2022. Another study from GSMA reveals that the A2P (application-to-person) business messaging market is projected to reach $74 billion by 2021.
Is SMS messaging perfect in every sense?
Although the scope for SMS messaging is massive, there have also been some serious concerns about its security and privacy. We often associate phishing with email; however, research shows that 48% of phishing attacks actually happen on mobile devices via text or SMS, also called: smishing.
NBC News recently reported a smishing scam that tried to get victims to activate a new credit card. The messages prompted users to call a number and enter personal information over the phone. Basically, smishers are looking for that missing piece of the puzzle. It could be a password, a PIN number, a social security number, or any other personal detail that will help them access their accounts. 
Spoofing is also a major concern since messages are not branded with a business identity. Since the sender is known just by a random phone number, it is not easy for consumers to verify if the message they received was truly sent by a genuine brand. 
Adding to this, spam messages have also become a matter of concern. A recent report from Truecaller revealed that the volume of spam calls and SMS has grown by 18% globally in the year 2019. For instance, in 2019, an Ethiopian mobile user received around 120 spam messages in a month, which is the highest rate globally. 
Google launches verified SMS for safer conversations
Google has taken a huge step to strengthen user privacy and security by introducing the Verified SMS feature for android messaging apps. Through its newly introduced protection feature, Google aims to combat the rise of spam texts.
How does vSMS work?
Google will verify each and every message that a business sends to its users to confirm if it was sent by a specific business. When a message gets verified by Google, the users will see a verification badge that looks like a blue shield, along with the business name and their logo in the message thread.
Here's a technical explanation to the verification process
When the verified SMS feature is enabled, users can receive messages from a business registered with Google. Google translates the message that users receive into an encrypted authenticity code on the user's device. It is then compared with the unreadable authenticity codes that Google receives from the business. If these codes match, Google then approves the SMS content and confirms that it was sent by a genuine business, and users can get to see the messages along with other information about the business, such as the business logo and a verified icon. Verified senders are confirmed through encryption, therefore readers can be rest assured that the messages are secure.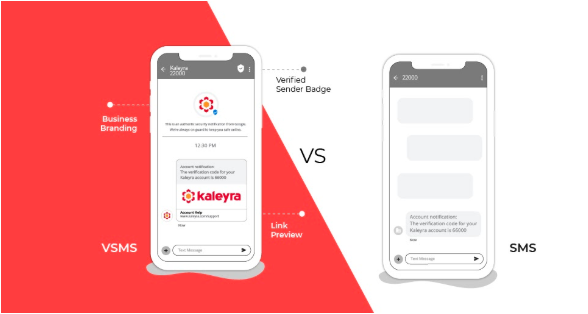 The key benefits of using vSMS
As a user of the vSMS feature, businesses get to enjoy a lot of benefits such as displaying their logo, business name, and URL previews to their consumers. This will eventually help them position themselves as a recognized brand, gain consumer trust, and actively engage with them. All of these will ultimately help businesses increase their conversions and sales as well. With the enhanced metrics, businesses will also be able to track all the messages that were successfully verified.
The limitations of verified SMS (for end-users)
Currently, there are some limitations when it comes to enabling verified SMS. vSMS works only on the Android messages app, and it is not supported on iOS devices.  Only smartphone users with Android OS version 5.0 (Lollipop) and above can activate vSMS. Users have to manually enable the vSMS feature on their android messages app to activate it. This feature only works for SMS messages and not for MMS messages.
Is vSMS different from RCS?
Yes. vSMS only works on Google's Messaging apps. It merely adds a layer of verification and trust to SMS. However, RCS is a carrier initiative that aims to support rich messaging and other advanced features.
Conclusion
SMS is a powerful communication channel for businesses. It is so effective that it crushes email marketing on average open rates by 345%. A recent study revealed that around 98% of text messages are opened compared to just 22% of emails.
Messaging has become a go-to strategy for many businesses that understand how consumer preferences have drastically changed over the past decade. The way companies are using SMS to deliver content is beginning to solidify. However, if businesses cannot build trust and actively engage with their consumers, then everything they do becomes pointless. 
Customers control the successes of a business. If businesses are not credible, then customers will leave and turn to competitors. Brands like 1-800-Flowers, SoFi, and Payback have already started sending messages with verified SMS because they certainly understand the importance of being trustworthy to their customers.
Verified SMS helps the consumers to make informed decisions about the business communications they receive. It also enables businesses to strengthen relationships with their consumers and boost engagement as well as conversions for their messaging campaigns.