Top Mobile Marketing Trends in 2022 for Healthcare
The global telehealth market has seen phenomenal growth in recent years, with health systems and governments across the world embracing digital transformation. Here are some of the top mobile marketing trends and digital communication tools healthcare providers are taking advantage of to provide high-quality health services to patients. 
Why Mobile Marketing
Recent research highlights the importance and need for a value-centered communications approach in healthcare — an approach that puts patients first. Mobile marketing strategies enable customer-centric communication by simplifying data collection, personalization, and connectivity. Hence, mobile messaging and applications are an integral part of future-focused digital solutions for healthcare professionals.
Moreover, telehealth continues to be a sought-after modality of healthcare delivery in the post-pandemic world. According to Mckinsey surveys, 60 percent of patients and two-thirds of physicians said telehealth was more convenient for patients than in-person visits. Mobile marketing enables healthcare providers to provide an optimal virtual health experience through meaningful patient engagement. In addition, it also plays a pivotal role in delivering and promoting available telehealth services to patients.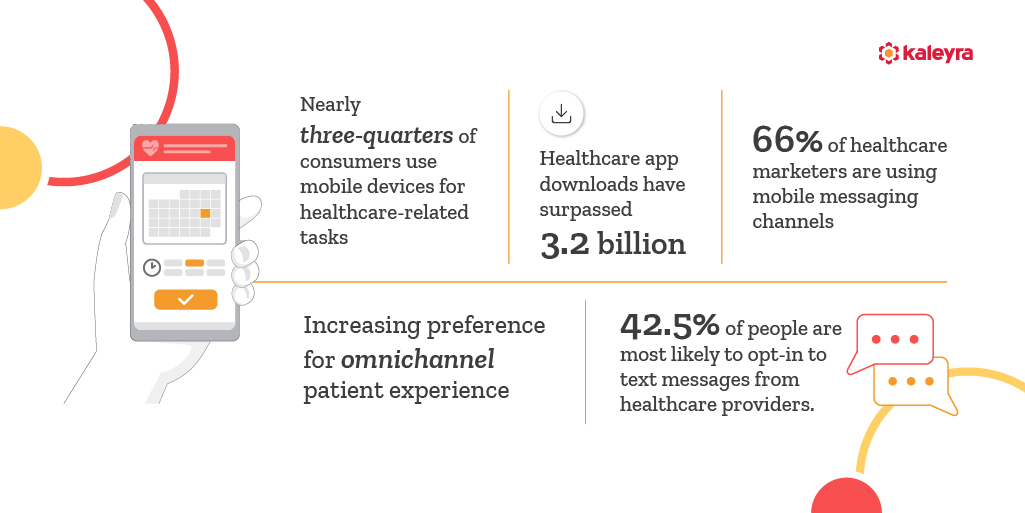 Top Mobile Marketing Trends
Here are some of the latest trends in mobile marketing for healthcare: 
1. Engagement Through Text Messages 
With mobile messaging, physicians and care teams can simplify their daily workflow, thus freeing up time for patient interaction. Moreover, mobile solutions also enable healthcare providers to optimize their communication with employees and patients. This has resulted in more consumers opting-in to mobile messages in 2021. According to Simple Texting, 42.5% of consumers are likely to opt-in to text messages from health care providers. 
With a high open rate and quick response time, texting is an excellent way to communicate with patients. Healthcare providers can use SMS messaging services to send appointment reminders, test reports, general alerts about clinic hours, and urgent health status updates. Furthermore, text messages are an effective channel to keep patients informed of all the available health services and offerings.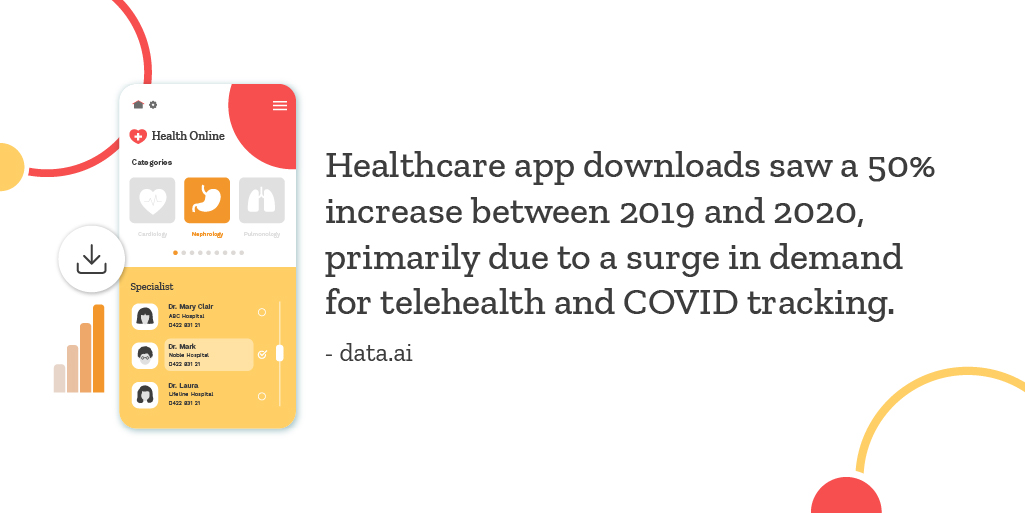 2. The Rise of Mobile Apps 
Healthcare app downloads saw a 50% increase between 2019 and 2020, primarily due to an increase in demand for telehealth and COVID tracking. Medical apps allow patients to take control of their health by providing easy access to valuable resources about treatment options and medical conditions. Moreover, patients can easily check services covered under their health insurance and securely store their health records. With downloads for healthcare apps exceeding 3.2 billion, it has become clear that consumers are increasingly using apps for researching and accessing medical services.
Mobile apps also help healthcare providers by streamlining communications in hospitals and improving interoperability for enhanced patient experiences. Furthermore, apps make it easier for healthcare teams to ensure care coordination.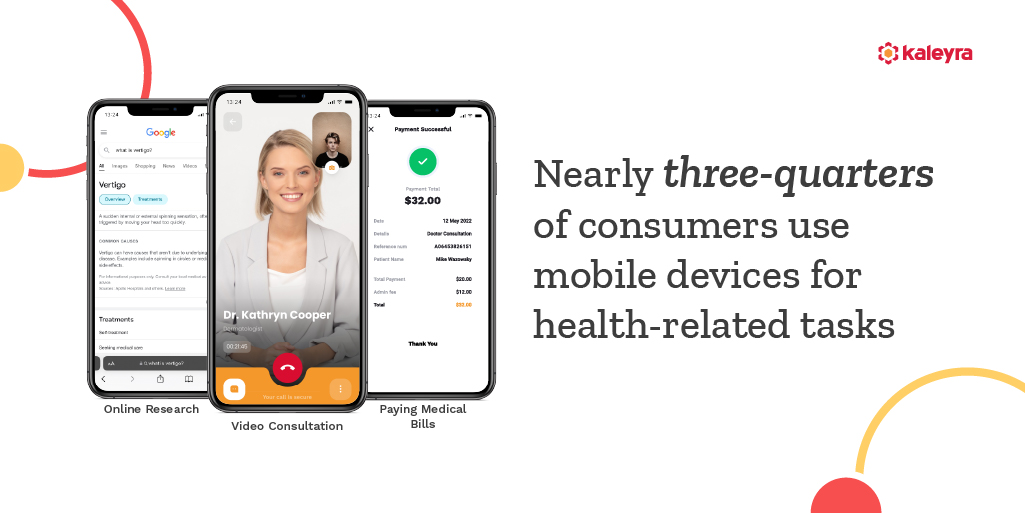 3. The surge in Mobile Use for HealthCare
Studies show that nearly three-quarters of consumers use mobile devices to research health conditions, treatment plans, physicians, and access healthcare support. As a result, mobile responsive websites and mobile strategies have become essential for healthcare providers to efficiently deliver virtual health services to patients. 
The ubiquity of smartphones has led to people in underserved regions of the world getting access to medical information and resources that were previously only available to those in cities. Thus, mobile solutions have become a low-cost means for improving healthcare outcomes in remote regions worldwide. 
Mobile devices enable people to seek early treatment and avail services from specialists across geographical areas. Patients can easily find reliable information, connect with a provider, or report their symptoms with smartphones and tablets. In addition, consumers are able to make informed decisions about their health, thanks to the ease of accessing valuable resources on smartphones and tablets.
4. Omnichannel Patient Experience
The rise in chronic medical conditions over the past years has spotlighted the significance of care coordination. Omnichannel strategies offer real-time analytics that enable healthcare professionals to improve patient care by integrating data across platforms. Moreover, omnichannel solutions are an excellent way for healthcare systems to provide personalized content and recommend services relevant to the patient. 
60% of healthcare systems have said that their digital transformation is far from being complete, according to a Deloitte survey. Healthcare journeys have become multichannel, with consumers using multiple devices and channels for research, consultation, payment, and health monitoring. Omnichannel solutions can ensure that healthcare professionals provide a cohesive experience to patients, while providing customized treatment through mobile apps and mobile messaging platforms such as SMS, Rich Communication Services(RCS), and Whatsapp. 
Kaleyra's Insights about the Impact of Mobile Messaging Solutions
Kaleyra has provided innovative and efficient mobile messaging solutions for several healthcare clients. We enable healthcare organizations to engage customers through modern digital solutions effectively.
For instance, Practo, a SaaS-based company that connects consumers to healthcare, uses Kaleyra's mobile technology expertise to enhance customer engagement. Kaleyra's easy-to-use platform enables Practo to send 12 different types of messages, each serving a different purpose in efficiently connecting patients to healthcare providers.
Another client of ours, MFine, a digital healthcare platform, uses Kaleyra cloud communication services to connect patients with top-of-the-line doctors remotely. With a capacity to deliver over 2.5 billion text messages per month, Kaleyra customized its mobile messaging solutions to cater to MFine's ever-growing customer base.
While the healthcare industry has a lot to benefit from the evolution of digital technologies and top mobile marketing trends, it's important to invest in a robust data privacy program so that personal data is used and handled carefully. By choosing providers that offer secure mobile solutions, healthcare providers can ensure that their patients get the best healthcare without compromising data privacy. 
About Us 
Kaleyra is a secure solution provider that helps you take advantage of the latest mobile marketing trends while protecting patient data. To learn more about our services, get in touch with us today.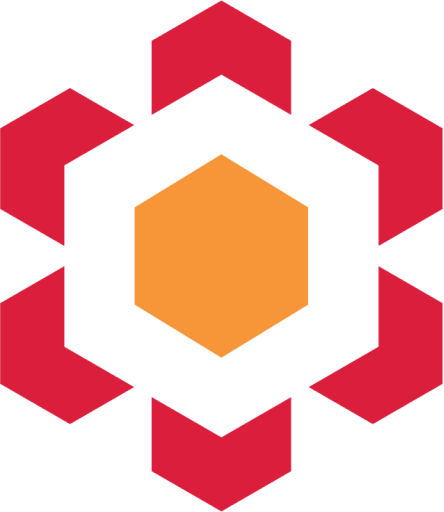 Kalaivani Narayanan
Content Specialist