The Impact of RCS Messaging in Business Communications
SMS messaging has become an integral part of modern-day communications; there are over five billion mobile phone users across the world, sending approximately 22 billion text messages each day. 
While the simplicity, ubiquity, and instantaneous qualities of SMS have driven its popularity, its future growth will require something massive in functionality. Even though SMS has a whopping 98% open rate, it was created for simple communication. 
Modern-day consumers are looking for a richer, more interactive messaging experience with value-added features such as read receipts, high-resolution audio/video sharing, mapping directions, and much more. To stay relevant in the market, messaging providers need to deliver a robust, integrated service that offers seamless sharing of multimedia content and streamlined connections to other mobile applications. 
This is where Rich Communication Services (RCS) messaging comes in. RCS is a next-generation messaging platform that is on track to replace traditional SMS eventually.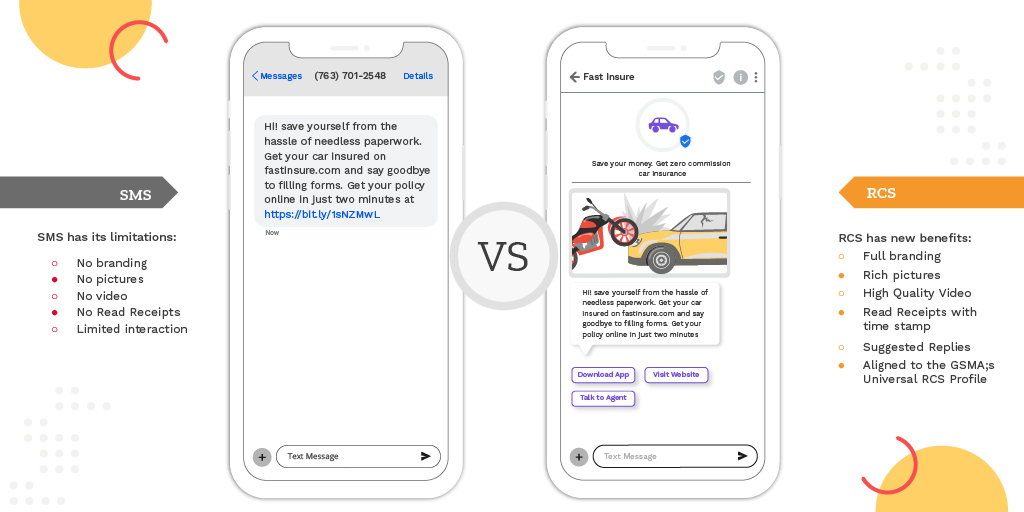 It is significantly more immersive than the current day's SMS offering. RCS allows users to take advantage of capabilities that were previously exclusive only to OTT messaging apps. 
In addition to all of the features users expect on a messaging app, including group chat, real-time typing indicators, read receipt, and the ability to send audio and video messaging, RCS also takes the experience one step further by limiting the cumbersome process of toggling between apps. 
With RCS, the native messaging suite becomes a place where users can do everything from booking a flight ticket, ordering a pizza, and shopping online. 
The benefits of RCS Business Messages are mainly these: increased conversions due to real-time interaction, boosting the customer experience and encouraging interaction. We can say that rcs is the future of sms.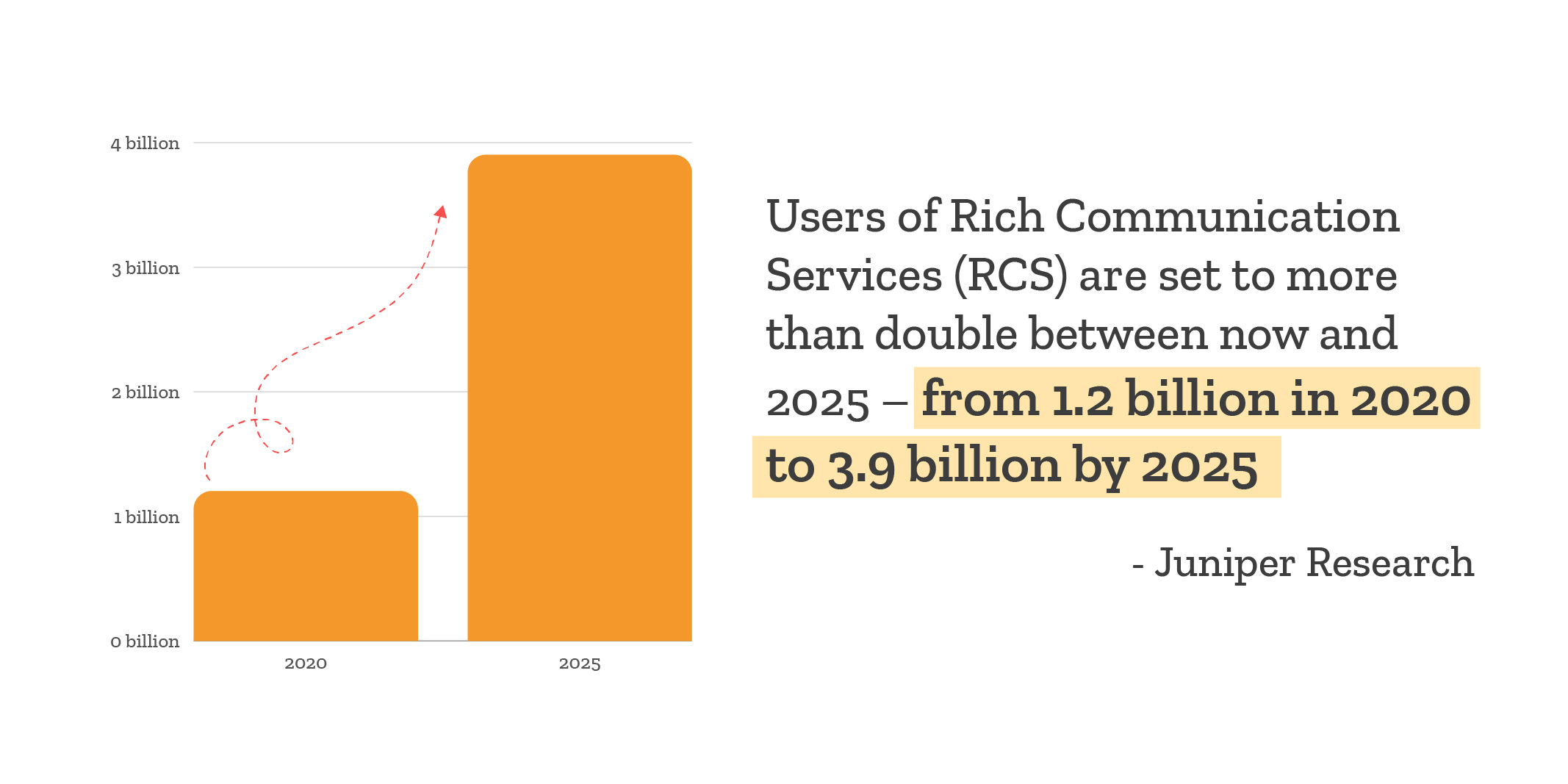 How Does RCS Benefit Businesses?
RCS is industry-agnostic and, therefore, can be used across many business verticals, including small and large enterprises, across the globe. RCS has opened a new horizon of opportunity for businesses to reach end-users in a powerful new way. Brands ought to leverage the channel to redefine customer engagement. 
Here are three vital benefits that modern-day businesses can enjoy using RCS messaging.
1. Drives conversions with frictionless engagement
RCS turns a user's native messaging application into a platform for richer, more interactive conversations with businesses. Because RCS communicates directly with other mobile applications and was designed to incorporate embedded rich media content such as coupons, maps, or videos, businesses can use "rich cards" to share high-value content directly within the messaging window. 
Businesses can also provide users with a choice of pre-programmed responses that they can access by tapping a "QuickReply" button, making it easy for them to complete a conversation with your business. 
These seamless content delivery and communication tools increase user engagement and the likelihood of the user completing the desired action, such as visiting a brick and mortar store, watching a branded video, or cashing in on a coupon. 
2. Creates fully branded experiences that customers trust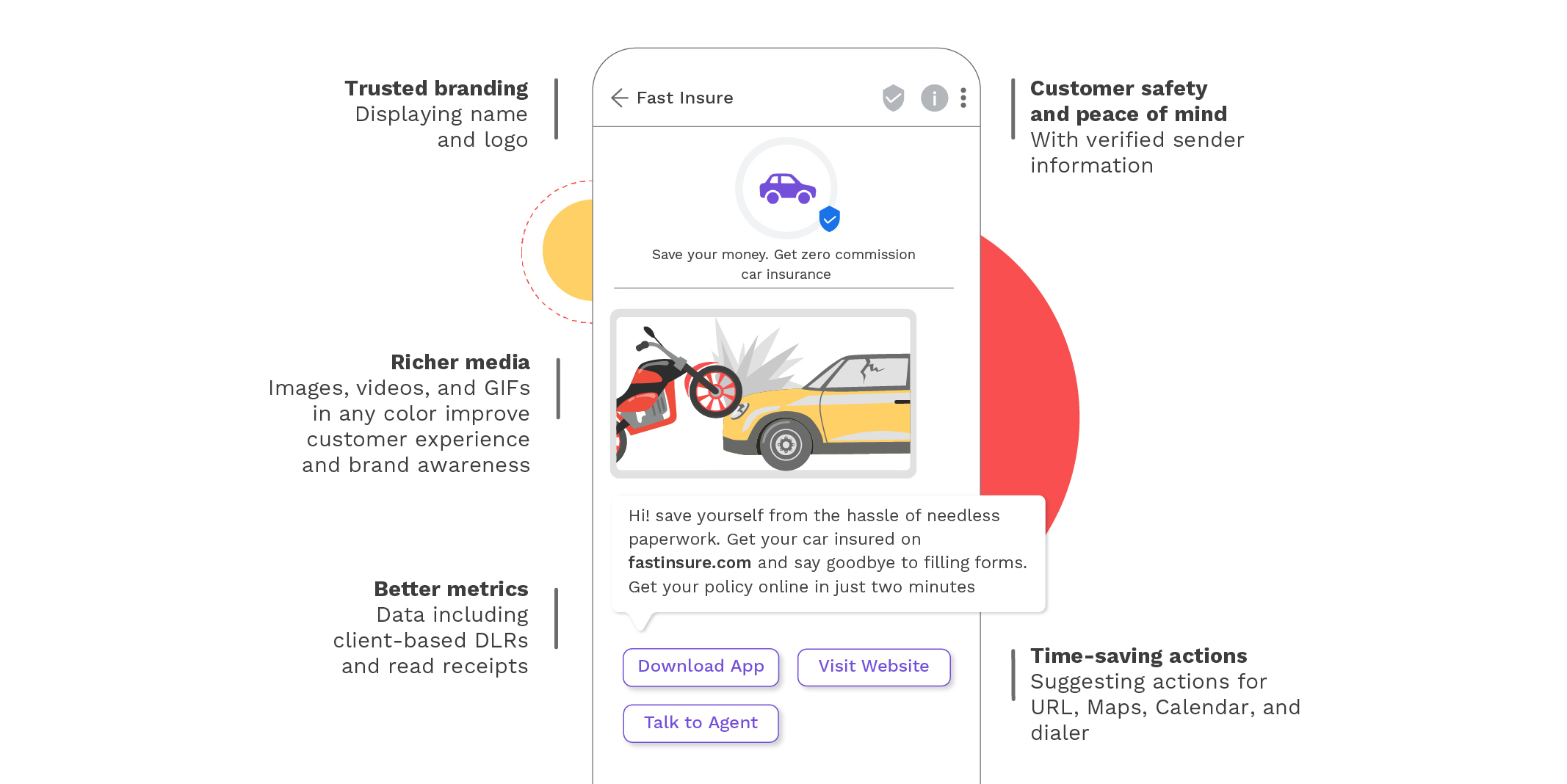 Unlike traditional SMS messaging, where your business shows up attached to your phone number or shortcode, RCS messages allow you to add your business logo and brand colors to the chat window. RCS also offers verified sending, so customers are protected from phishing and feel confident that the message they receive is coming directly from your business.
3. Provides real-time analytics for campaign optimization
Businesses need to constantly track their campaign metrics to know if their communication strategies are effective. It is the only way they can maximize customer engagement. However, this has been a challenge with SMS messaging, as there is limited data on the way consumers interact with messages.
With RCS, optimizing communication campaigns becomes easy. Businesses can see when a customer reads a message, begins to type a response, and clicks on the information their business has shared. 
This allows brands to get smarter insights to determine leaks in the communication funnel and optimize messaging for maximum readability and customer engagement. 
How can brands use RCS?
With RCS, businesses can seamlessly communicate with their customers by delivering rich and contextual messages. It also lets businesses send branded messages with the company logo and other business-related information along with a verified badge so that the recipient knows who the sender is.
As a result, businesses can deliver a hyper-personalized customer experience in customer care, sales, branding, marketing, and advertising without the need to develop a standalone product. RCS has the power to transform business communications between enterprises and customers.
RCS can enable enterprises to send notifications like important alerts, OTPs, QR codes of e-tickets, product catalogs, offers, etc. Additionally, it can be integrated with a chatbot to initiate two-way communication flows like inquiries, customer service, feedback requests, bill payments, and online ordering, among others.
RCS messaging is a universal communication channel that can benefit industries like retail, tours and travels, hospitality, entertainment, healthcare, and many more. It can be molded as per the requirement of each of these industries, thereby making the entire communication process a fulfilling experience.
Examples of brands using RCS to strengthen their customer engagement
Here's a classic example of how Subway, the world's largest fast-food chain, promotes Sandwich deals via RCS messaging.
Subway wanted to establish a personal connection with customers and increase engagement and sales. The brand decided to embrace RCS messaging and conduct an A/B test to see if it yields better results than their traditional SMS messaging campaigns.
Subway conducted A/B testing, with one audience group receiving the offers via SMS and the other via RCS. The content remained the same, but the RCS version included the brand logo, product images, and buttons.
Subway ran two offers. The first week they promoted their popular sandwiches for $11.99. In the second week, it was a $20 meal deal.
Outcome: The RCS messaging campaign was a huge success. The conversion rates were 140% higher for the RCS promotion than for the SMS promotion. 
Here's another example of how Fintonic, a Spanish Fintech company, tested RCS messaging and found success with it.
Fintonic faced the challenge of convincing new customers to link their bank accounts during onboarding. Using RCS Messaging's rich media capabilities like videos and images, Fintonic could educate its customers about the safety of linking their bank accounts.
The brand ran two RCS campaigns. The first campaign focused on customers who had downloaded and registered for the app but hadn't used it yet. Another campaign was sent to existing customers who had not linked their bank accounts. Both campaigns offered similar information and resources meant to educate customers.
Fintonic compared the customized RCS messaging campaigns with similar messages delivered by email, SMS, and push notifications for more than four months. For all campaign types, a conversion was defined as a linked bank account in the app. The RCS campaigns were sent to everyone who had the capability enabled on their devices.
Outcome: For both the campaigns, RCS messaging had a 15% conversion rate, which was 2.5 times higher than SMS, and three times higher than push notifications and email. Fintonic's business goal of offering personalized loans was made possible with the growth of linked bank accounts. Fintonic also used the data from the RCS Business Messaging interactions to identify opportunities for future customized messaging, such as flagging customers without a bank account.
In Summary
RCS messaging is the future of business communications, and many companies are already implementing RCS in their workflow to enhance customer service. RCS offers several benefits that have helped it become popular with B2B and B2C businesses alike.
RCS corporate messaging takes interactivity to a new level. Messages play a major role in the business of communication.
If you want to stay ahead in the game in terms of marketing, you must start using RCS messaging now. It is a way for your business to communicate with customers on their preferred device and will give you an edge over competitors who haven't caught up yet. 
Have any questions about how this technology can work for your company? Let us know! We will be happy to help you with your communication strategy so that you don't fall behind as other businesses embrace new technologies like RCS messaging.