How Can The Healthcare Sector Benefit From WhatsApp Business API?
The healthcare sector is currently experiencing unprecedented growth. The
global healthcare market
reached a value of $8,452 billion in the year 2018 and is expected to grow to nearly $11,908 billion by the end of the year 2022 at a compound annual growth rate of 8.9%. The increase in population, rising health needs, and the growing penetration of cloud-based services in healthcare are all boosting the global market growth.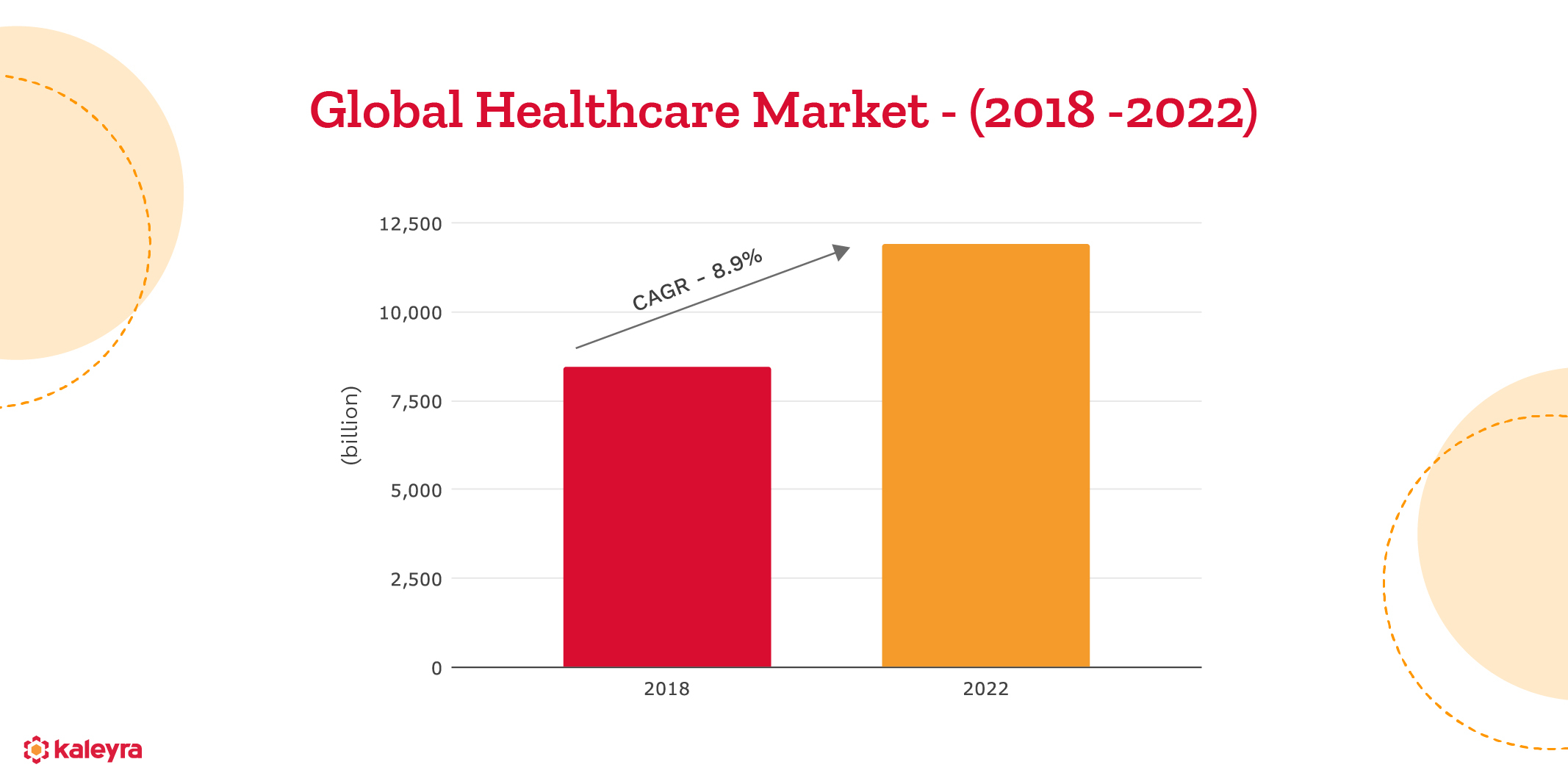 The advancement of digital communication plays a vital role in healthcare management. With the increasing demand for quality healthcare services, telehealth solutions are becoming more critical. Today, the healthcare sector is focusing on faster and more reliable communication platforms to deliver unified healthcare solutions while bringing down overhead expenses and providing patients with dedicated support, even in emergency times. The patients of the current era are also more comfortable using digital services for complex issues such as medicine and health care.
Modern healthcare is increasingly being delivered remotely via telehealth services, with several benefits to both providers and patients: It is cost-effective, provides value in managing long-term conditions, and is fast and easy for patients to access.
WhatsApp Business API for the healthcare sector
The idea of using WhatsApp Business API for healthcare has been around only for a few months, as the healthcare sector has been relatively slow to embrace new technologies and incorporate them into their everyday operations. However, there is no other better way of improving this sector and satisfying the clients than to combine the benefits of healthcare services with the reach and power of the world's most powerful instant messaging app.
WhatsApp has over 2 billion active users globally, making it the unrivaled global market leader in the domain of instant messaging. The Healthcare industry can capitalize on the popularity of WhatsApp to connect with its stakeholders organically. 
Here are some ways healthcare organizations can integrate WhatsApp Business API in their communication strategy.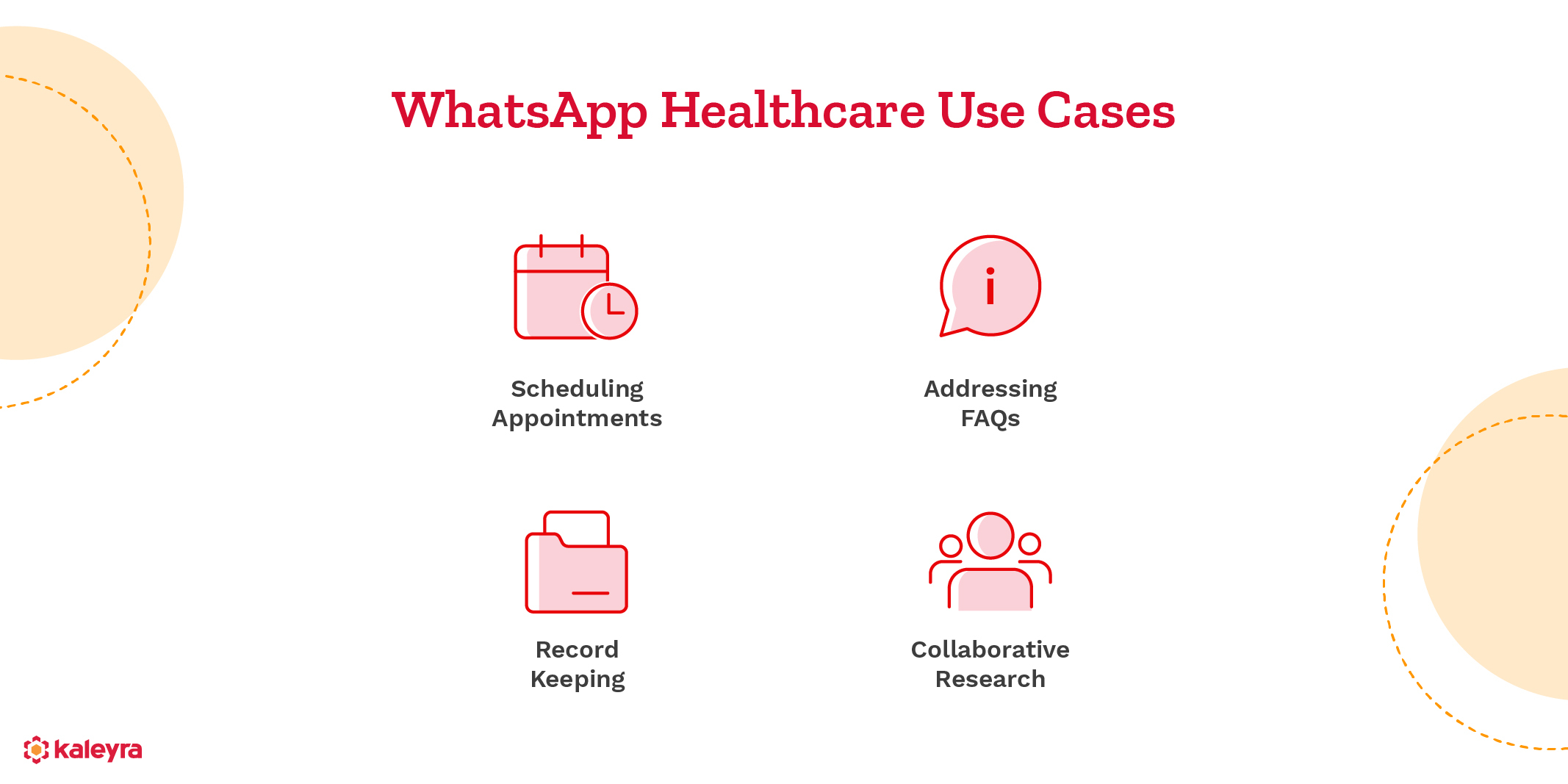 Appointment reminders
According to the Health Management Technology report, healthcare systems lose nearly $150 billion every year due to missed appointments. Therefore, having a system that can automatically call or message patients with a set-interval reminder is critical. With WhatsApp Business API, healthcare organizations can send automated reminders with relatively little effort.
This makes scheduling visits easier, as patients can always check their WhatsApp messages and get a reminder of the upcoming appointment. Moreover, this allows healthcare businesses to effectively generate more leads while at the same time helping patients book appointments and schedule visits.
Quick resolutions
Healthcare professionals can provide quick resolutions to the queries of each patient, regardless of the time of the day and the geographical location of the patient. Medical advice and other essential health reports can be shared with patients at a moment's notice with WhatsApp. 
These personalized, quick responses help healthcare organizations establish a strong bond with their clients, which can, in turn, lead to higher rates of customer satisfaction and brand loyalty. 
WhatsApp Business API is ideal for health organizations because it provides complete protection to all parties' data and identity through end-to-end encryption and business verification.
Easy access to patient health record
Healthcare specialists may not be able to effectively determine a patient's condition if they do not have access to their medical files. WhatsApp Business allows doctors and caregivers to access all relevant information related to their patients. By integrating WhatsApp Business API with third-party tools, healthcare organizations can store patients' medical data.  This enables doctors to provide the right care to their patients in a timely manner.
Collaborative research
There will be times when health specialists from different organizations need to study several similar cases to recognize the pattern or prescribe an apt treatment to patients based on the existing data. In such cases, creating a WhatsApp group can bring together all the healthcare professionals in a single platform and can allow them to share some trials that can aid in recognizing patterns and possible treatment processes.
The recent developments in Whatsapp Business and how it can benefit the healthcare sector
WhatsApp continues to improve its platform further by updating its policies, adding new features, and expanding the range of services it offers to healthcare organizations.
Recently, the brand confirmed that it would allow pharmacies to send medical service updates using WhatsApp Business App to help people get valuable information related to COVID-19.
Going forward, all the Pharmacies that provide medical services will be allowed to send personalized updates about a person's eligibility to receive the vaccine and schedule appointments for testing and vaccine administration. To simplify the process of responding to some of the frequently asked questions related to vaccine information and appointment follow-ups, Pharmacies can also set up WhatsApp Chatbots.
However, the medical service providers in the U.S. or France cannot use WhatsApp services due to heightened regulatory restrictions regarding health data. 
Healthcare organizations can create a unique experience for each customer and further enhance customer engagement by adding WhatsApp as part of their communication strategy.
Final Thoughts
For health care organizations, ensuring that patients receive proper care takes more than just performing procedures and making diagnoses. Communication is a critical component in all the stages of the healthcare process. Whether it is a health center sharing patient information with another hospital, or a group of doctors and specialists at a hospital discussing the right treatment procedure for their patients, there is always a need for effective communication in the health sector. 
Healthcare centers with strong communication policies can enrich patients' health, while those that do not have adequate policies can negatively impact patients' well-being. WhatsApp Business API can enable healthcare organizations to streamline their communication process and help them easily connect with their stakeholders and potential clients at all hours of the day.
WhatsApp Update – With more consumers turning to chat with businesses on WhatsApp, the instant messaging service provider recently announced updates to the WhatsApp Business API that will make it quicker for businesses to get started and for people to easily chat with these businesses. As per the latest update received from WhatsApp, all the existing businesses on the WhatsApp Business API from the following countries, i.e., Singapore, Malaysia, South Africa, United Arab Emirates, Russia, Saudi Arabia, Israel, United Kingdom, Netherlands, Spain, Italy, Germany, Nigeria, Egypt, Brazil, Colombia, Jamaica, USA, Indonesia, and Mexico will be able to send non-transactional notifications to their opted-in customers.
With this new update, businesses can drive many new use cases on the platform, such as sending product recommendations, promotional offers, and most importantly, re-engaging with their users by sending regular reminders and updates related to their products and services. All the businesses that belong to one of the countries listed above as the country setting in Business Manager can send non-transactional notifications. There won't be a need for any additional integration.