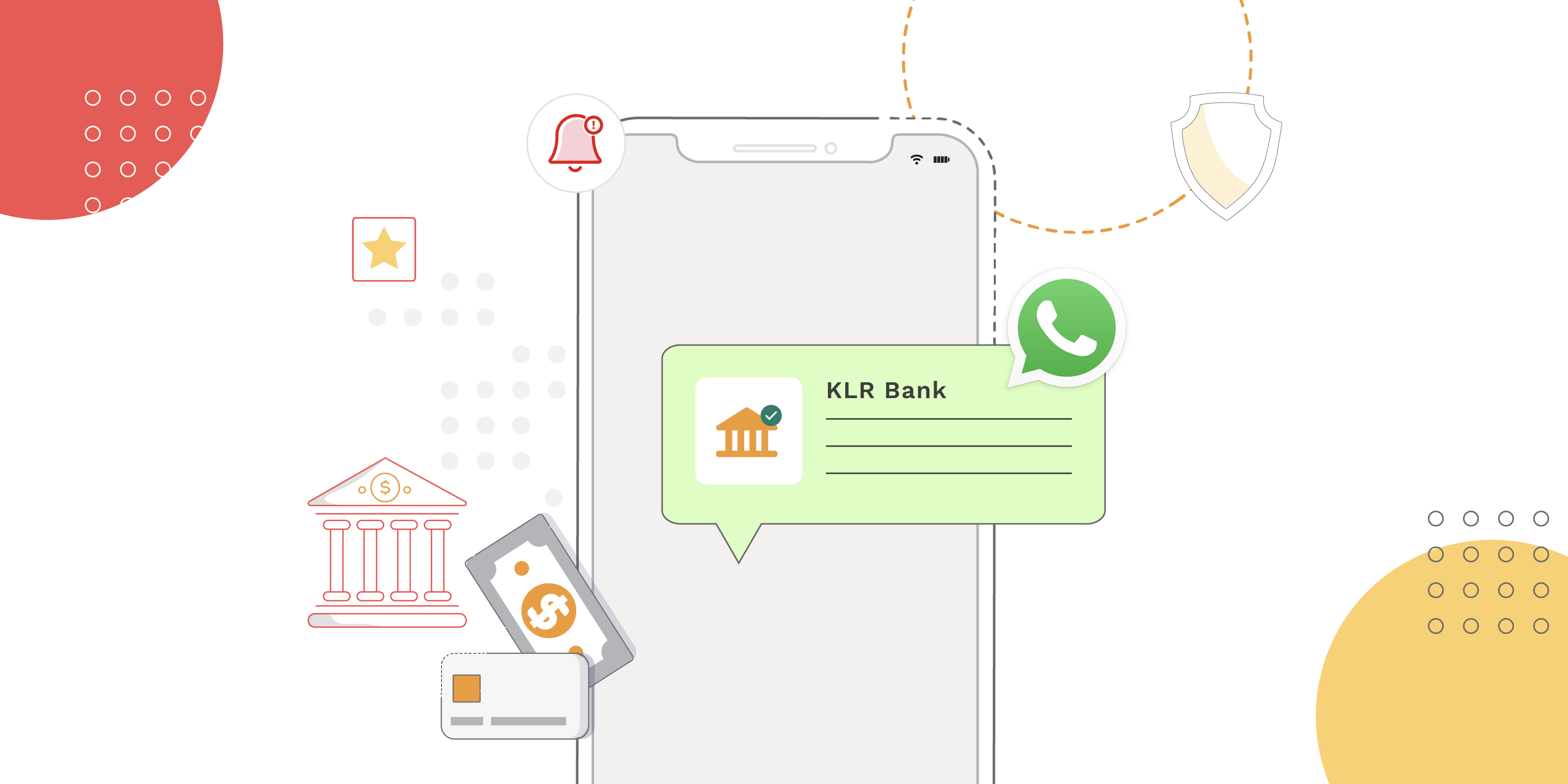 With customer preferences shifting towards innovative technologies, banking and financial institutions are embracing digital transformation to better serve and retain their customers. One of the most remarkable changes in the banking industry has been using conversational approach to design personalized customer experiences. WhatsApp banking, especially, is emerging as a revolutionary conversational tool that simplifies operations and empowers customers with greater control over their finances. 
A loyal customer base drives positive business outcomes and is critical to a bank's success. However, many banking customers feel unheard, resulting in low customer retention. In fact, 21% of respondents feel their banks don't understand their needs, and a further 20% feel their banks don't care enough about them. WhatsApp being a reliable instant messaging app, is an excellent channel to engage customers and have relevant conversations that boost loyalty.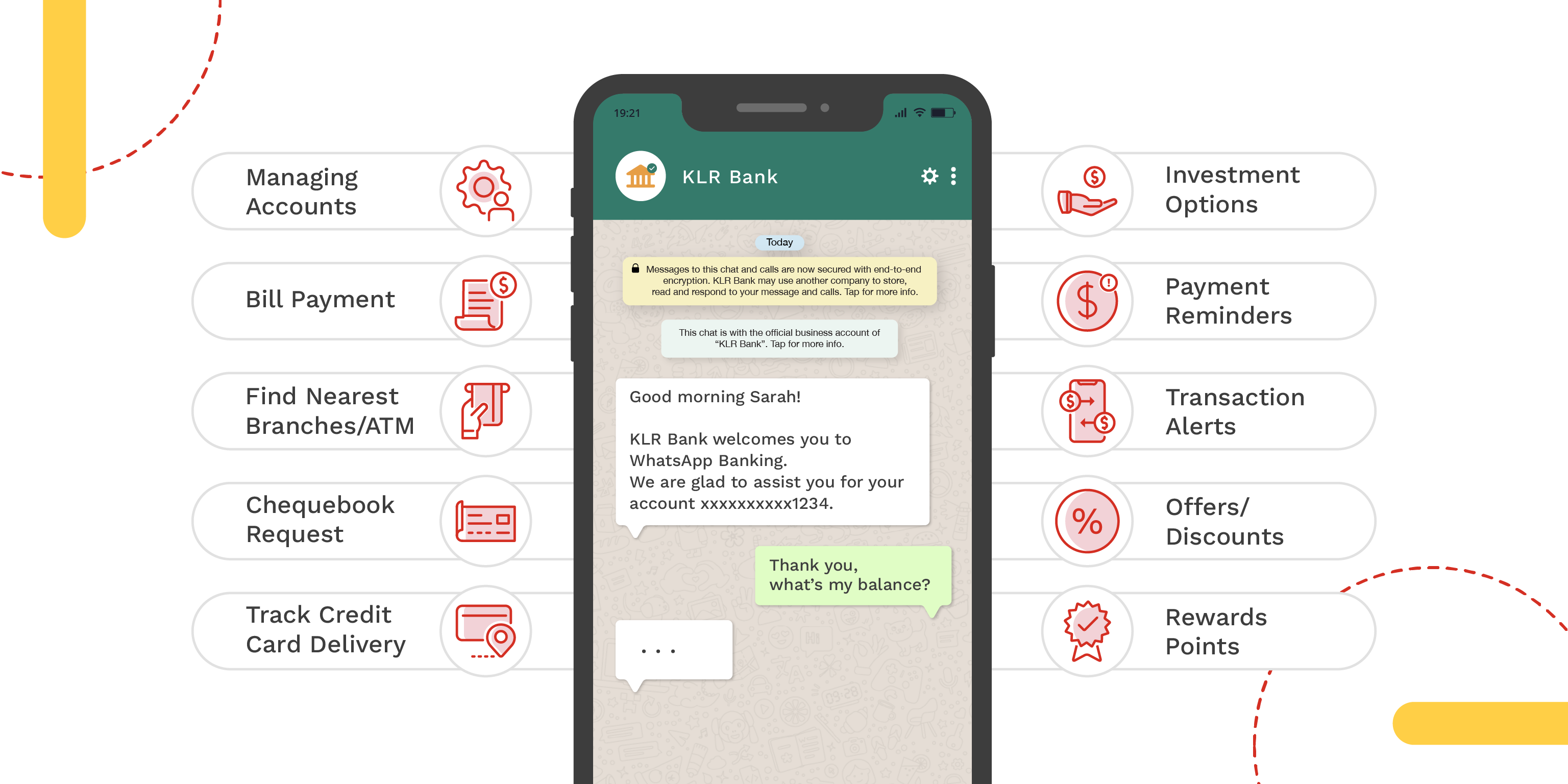 What is WhatsApp Banking?
WhatsApp banking refers to the use of WhatsApp messaging by banks and financial institutions for customer interactions across various touchpoints. Since customers can perform an array of banking operations from the messaging app, it's a convenient channel that can provide end-to-end banking experiences. 
Banks can engage customers through live chat, leverage WhatsApp automation, or deploy chatbots that run on the messaging app. Thus, they can improve customer satisfaction at reduced costs by providing real-time communication and handling simultaneous conversations.
With WhatsApp Business API, you can enhance their services by connecting their systems to the messaging app. The information banks can offer via WhatsApp conversations include
Help open

a new account

Credit card bill reminders

Receive payment confirmation

Request chequebook

Receive alerts, notifications, and updates 

Get details about loans, rewards points, outstanding balances, fixed deposits, etc

Online funds transfer
Real-Time Communication Channels
for Banking
Join this informative webinar to learn how WebRTC solutions can positively impact customer experience strategies.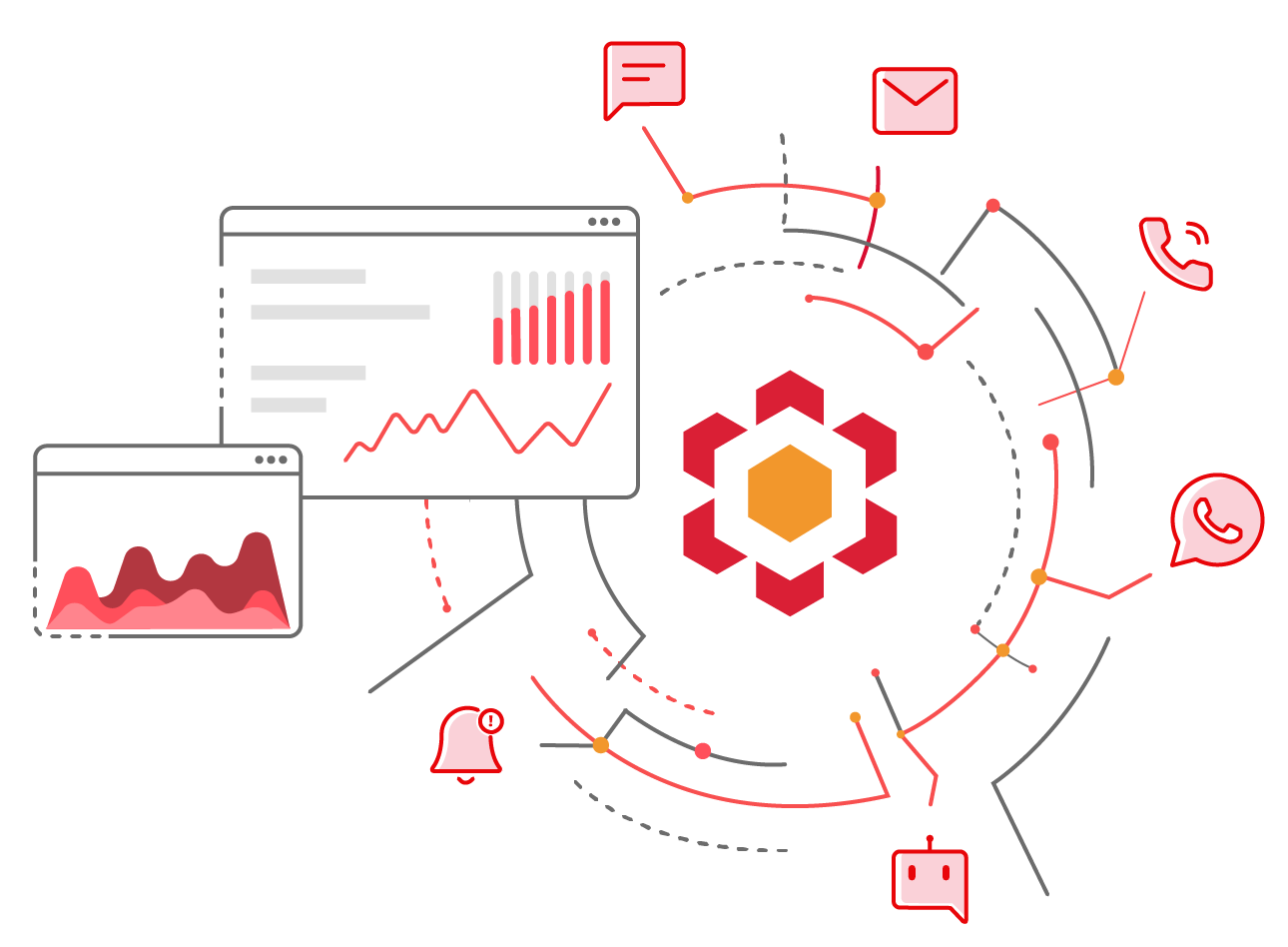 WhatsApp for Secure Banking

GDPR Compliance 
With GDPR (General Data Protection Regulation), WhatsApp ensures that all messages are secure and adhere to data privacy guidelines. As a result, banking customers can safely share details with a bank's official WhatsApp account without worrying about security threats. 
Opt-in and Opt-out for the user
A user has to give consent by opting in to be contacted by a bank via WhatsApp. Similarly, they can opt out of receiving communication from the bank at any time. Users can opt in from a bank's website, email, app, SMS, or branch location. Users can easily opt out with blocking and reporting mechanisms available directly on the bank's WhatsApp profile.
Data Storage 
WhatsApp does not store messages on its servers. WhatsApp servers will store your messages only temporarily and only if they are undeliverable or if a user is forwarding media. Verified Profiles Verified WhatsApp accounts have a green checkmark that adds trust and credibility, which are pivotal in the banking industry. The green tick indicates to customers that it's the bank's official WhatsApp account, reassuring them that they are interacting with the right account. 
Encryption
WhatsApp chats are end-to-end encrypted. When a customer sends a message to a WhatsApp Business account, the message is delivered securely to the destination selected by the business. The signal encryption protocol ensures that all the information you share with a bank's official WhatsApp Business account is confidential.
Network Security 
Although WhatsApp is a secure platform, companies must review their information systems to identify threats to ensure that conversations are always safe. Protecting customer data is mandatory; hence, businesses must have rigorous cybersecurity controls in place. 
Verified Profiles
Verified WhatsApp accounts have a green checkmark that adds trust and credibility, which are pivotal in the banking industry. The green tick indicates to customers that it's the bank's official WhatsApp account, reassuring them that they are interacting with the right account.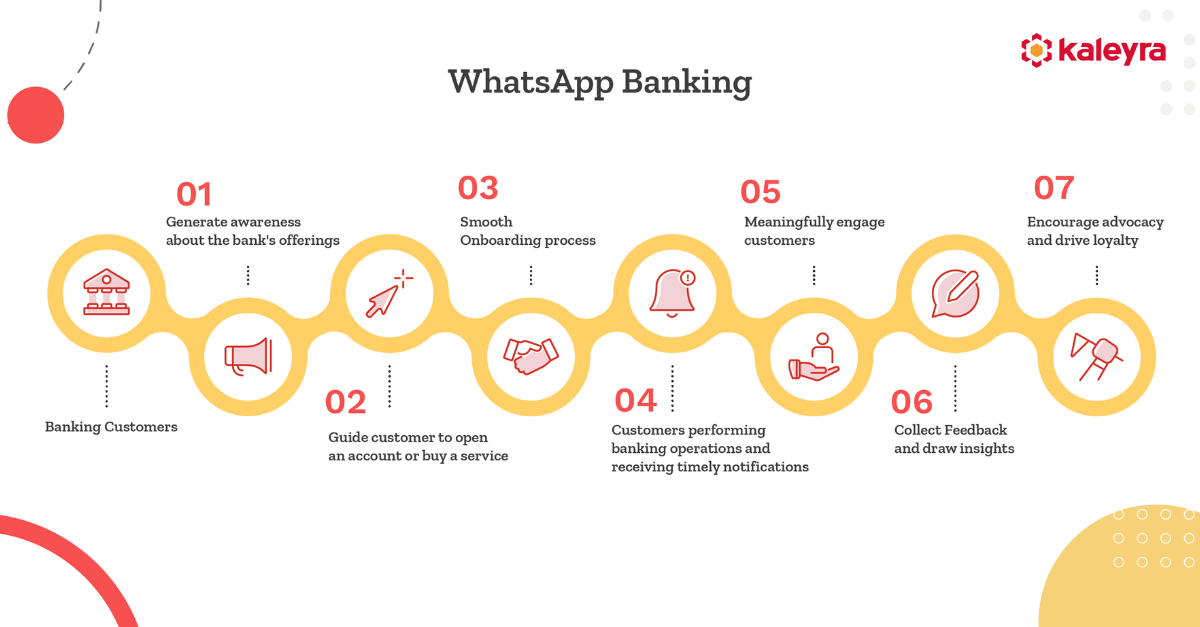 WhatsApp Banking Customer Journey
43% of customers say they would leave their bank if it failed to offer an excellent digital experience. Therefore, banking customer journeys should be designed to anticipate customer demands and deliver personalized experiences with cost efficiency. According to McKinsey, banking personalization can help banks reduce acquisition costs by as much as 50%
You can offer a data-powered environment where customers get support throughout the journey by using WhatsApp and provide end-to-end banking experiences.
The rich messaging and automation features of WhatsApp Business API help simplify workflows, eliminate roadblocks, and standardize processes. Moreover, WhatsApp improves collaboration among sales, marketing operations, and service departments.
Here's how you can use WhatsApp across all stages of the customer journey –
1. Attract New Customers
Social Media Ads
WhatsApp is an excellent tool to draw in customers who have yet to become aware of your products/services. You can direct prospective customers to your WhatsApp Business account through Click-to-chat ads on Facebook or Instagram.
Conversation Button on the Website
For customers who have landed on your website, clicking an embedded conversation button can take them to your official WhatsApp account, where they can learn more about your products.
Offline Advertising
A QR code on billboards or event brochures is an easy way for customers to initiate a conversation with you on WhatsApp.
Lead Generation with Chatbots 
WhatsApp chatbots automate the process of collecting information from leads, freeing up agents to work on high-priority tasks. Once the customer starts a conversation, bots can gather relevant information such as name, phone number, age, annual income, and product/service they are interested in. Automation helps service customers at scale and ensures that all leads are captured.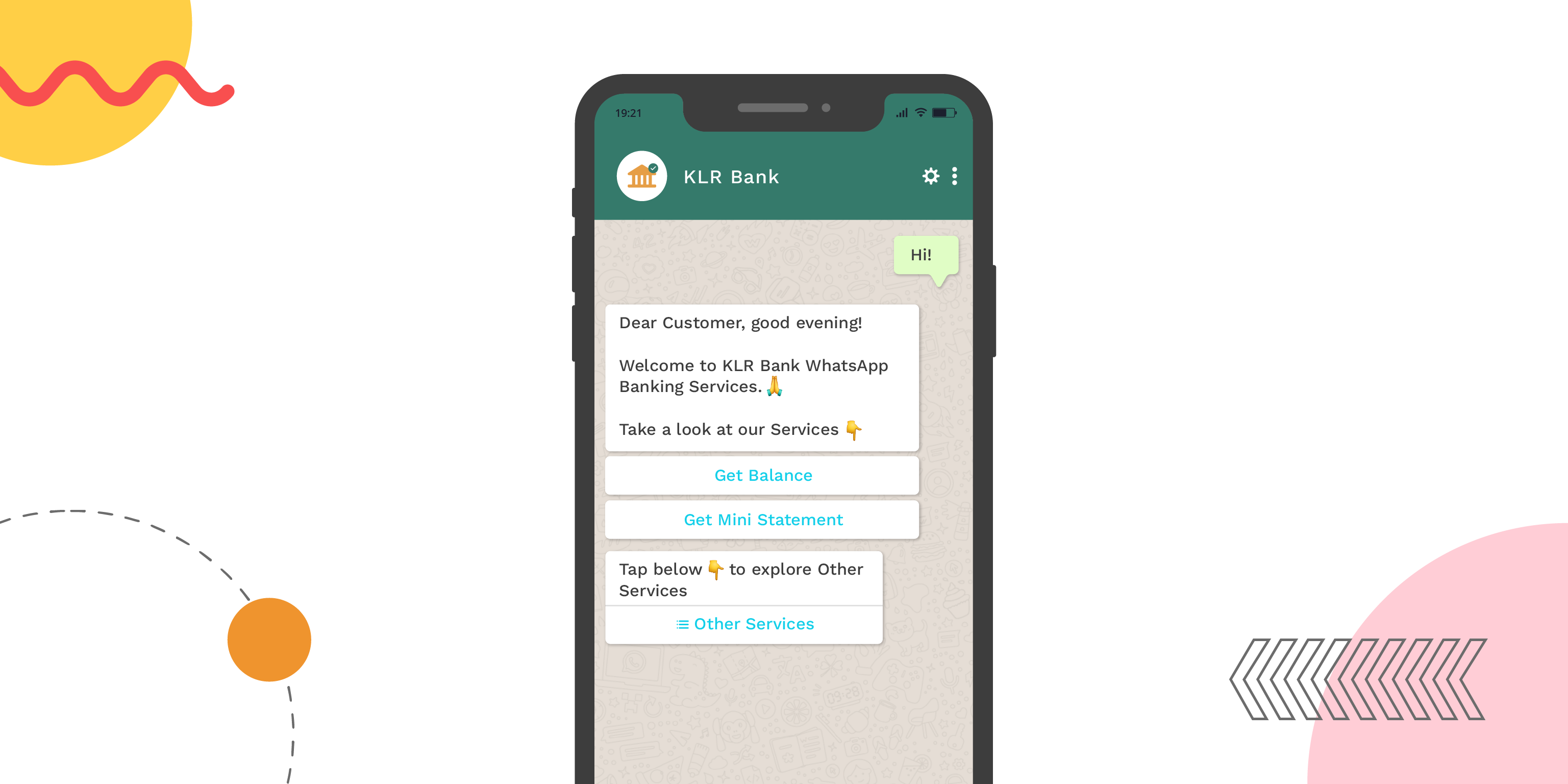 2. Nurture Prospective Customers
Lead Qualification
WhatsApp chatbots can help optimize the lead funnel by automating the lead qualification process. ‍The conversational design of WhatsApp bots helps shorten your sales cycle by asking relevant questions and segmenting leads based on the answers. Moreover, with CRM integration, chatbots can route high-intent leads to sales personnel for further nurturing.
Lead Follow Up
With WhatsApp Business API, you can simultaneously follow up with multiple leads via template messages. In addition, you can send multimedia content and interactive buttons for rich interactions. Moreover, editable fields in the templates allow you to send personalized messages that can lead to conversion.
Automatic Answers to Queries
Auto-reply in WhatsApp Business can ensure that you respond to customer queries even beyond business hours.  For example, when a customer contacts you about your loan eligibility, auto-reply can be set to share information about when you'll be available to answer queries. With WhatsApp Business APIs, you can go one step further. You can also set answers for FAQs so that customers get prompt and accurate responses, improving customer satisfaction.
3. Convert /  Onboarding
Share Media/Files/Links
Share product explainer videos, links to FAQs, or infographics that help customers make informed decisions. For example, you can send a video explaining how to apply for a mortgage.
Smooth Onboarding
Customer onboarding typically involves tons of documents and forms that can cause bottlenecks, leading to dropoffs. WhatsApp automation helps reduce friction and makes the onboarding process hassle-free. For example, since WhatsApp integration with CRM can automatically populate customer information, it becomes easier for agents and salespeople to access accurate data without requesting customers to repeat themselves.
KYC Process 
KYC (Know Your Customer) is a vital part of the onboarding process. However, the KYC process can be labor intensive, consuming considerable time of the bank's administrative staff. With WhatsApp Business API platforms, document sharing and validation can be effortless.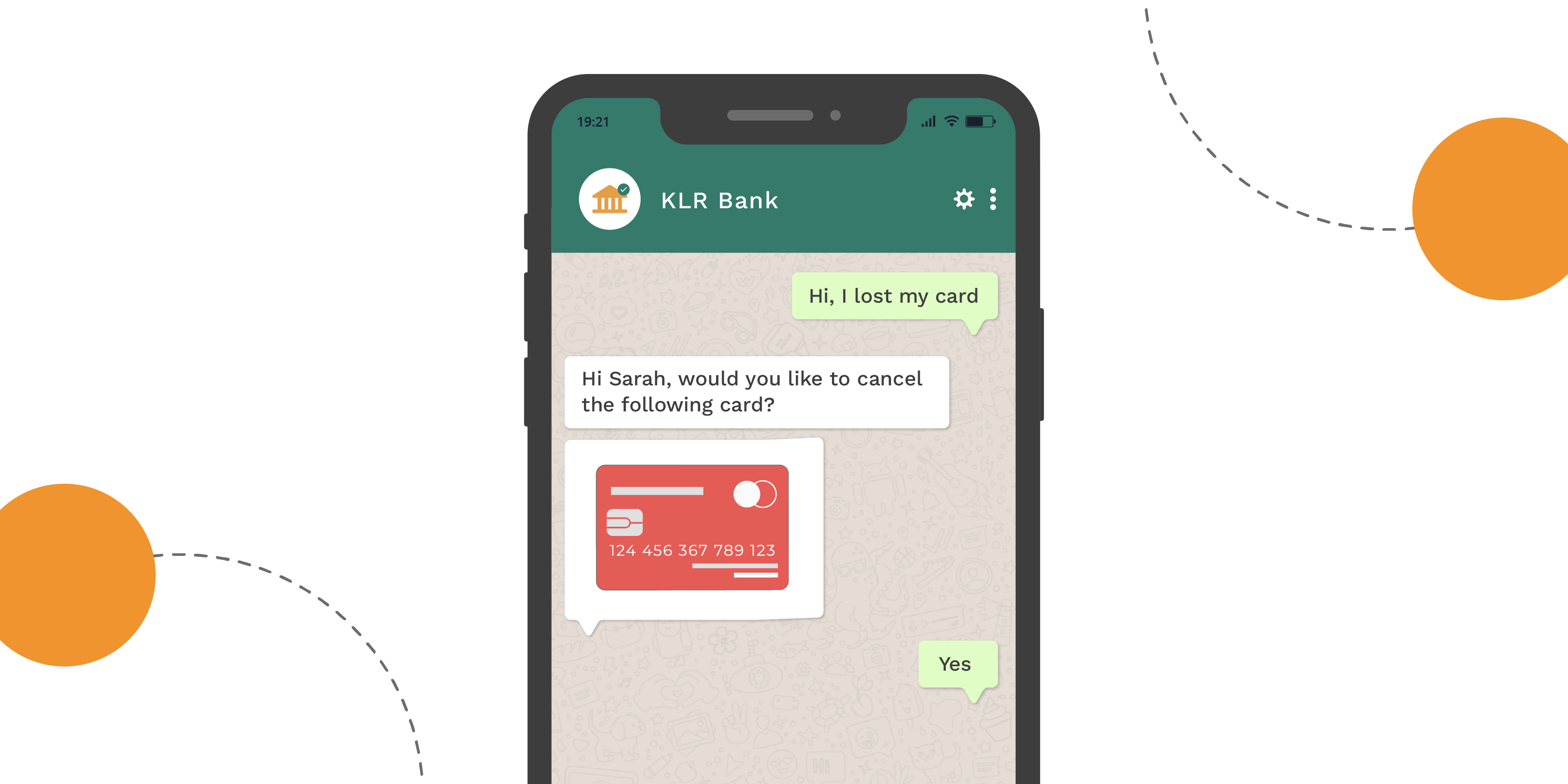 4. Engage/ Support Existing Customers
Financial advice
Banks can look at a customer's transaction history and spending patterns to provide financial advice regarding investments and wealth management. Moreover, with WhatsApp for banking and financial services, you can automatically share product recommendations at the right time, based on pre-set triggers.
Transactional Notifications
Customers want to know their account details, but staying up-to-date can be time-consuming! That's why providing real-time notifications about transactions and payments is such a valuable service. With such notifications, customers can conveniently track their account information. Additionally, this provides a sense of security since customers can receive notifications immediately if something needs attention or might be a cause for concern. For example, once a customer has purchased a product, you can automatically send notifications by triggering the Account_Update template message.
Managing Account Details
Once customers have opened an account or applied for a credit card, WhatsApp can help them easily manage their accounts, cards, and investments. From requesting a new card to setting up transaction limits and configuring alerts, the WhatsApp platform serves as an end-to-banking solution. Moreover, with WhatsApp, you can automate responses for emergency queries such as lost credit cards, bounced cheques, or frozen accounts.
5. Retain & Grow
You can ask for feedback from your customers on WhatsApp with a survey and can drive personalized conversational flows to provide better services. In addition, you can promote your loyalty programs and encourage customers to redeem loyalty points through WhatsApp messages.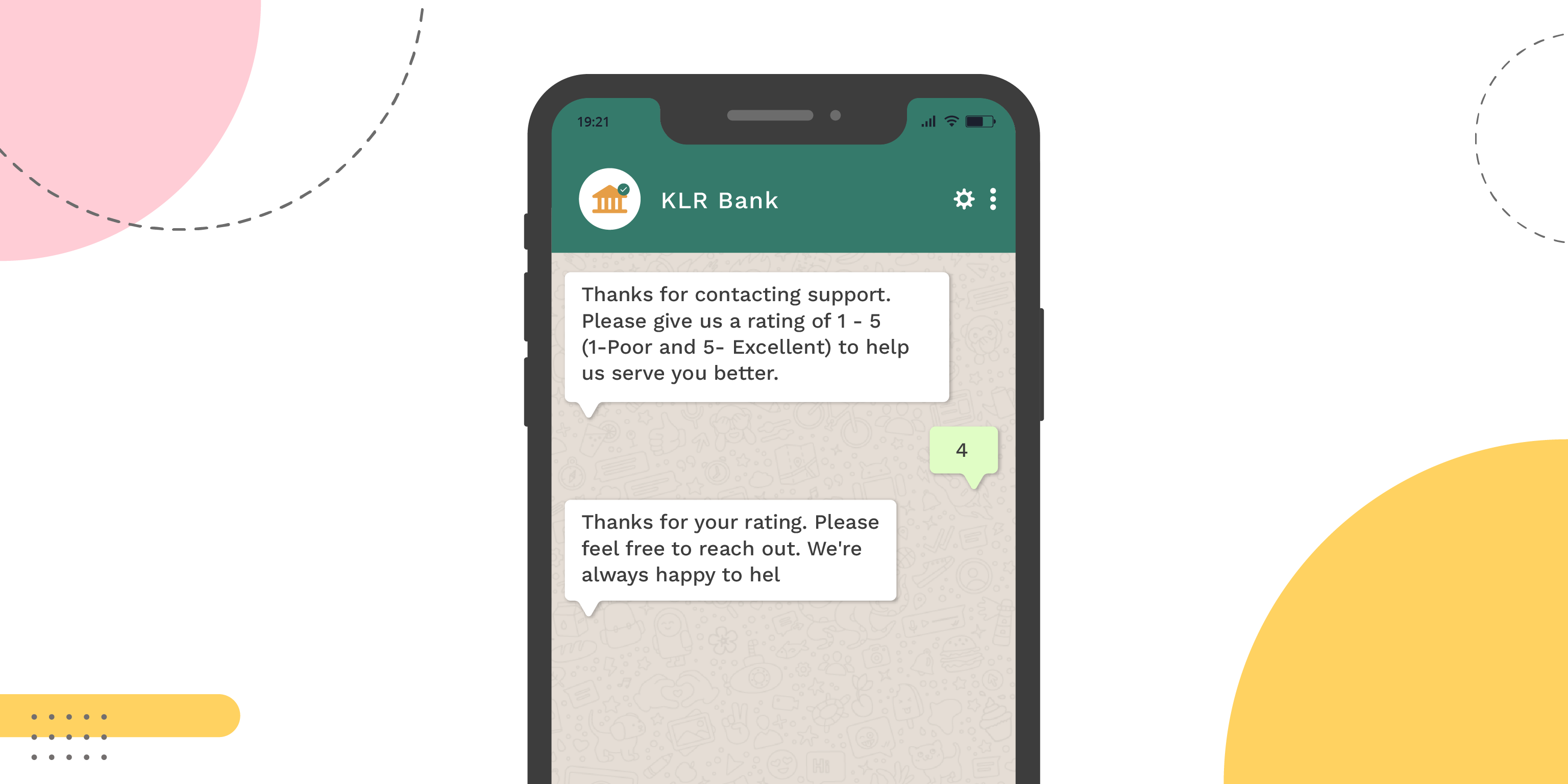 Power Up Your Banking Experience with Kaleyra
With Whatsapp banking, customers can easily manage their finances with just a few clicks. In addition to simplifying banking operations, Kaleyra's WhatsApp API enables quicker query resolution, making the customer journey frictionless. Furthermore, Kaleyra's WhatsApp solution helped Verisure boost conversational engagement and enhance customer experience. To learn more about Kaleyra's intuitive WhatsApp solution, contact one of our experts today!
Supercharge Your Communication!
Get in touch with our experts who strive hard to bring the very best in cloud communications technology to you.