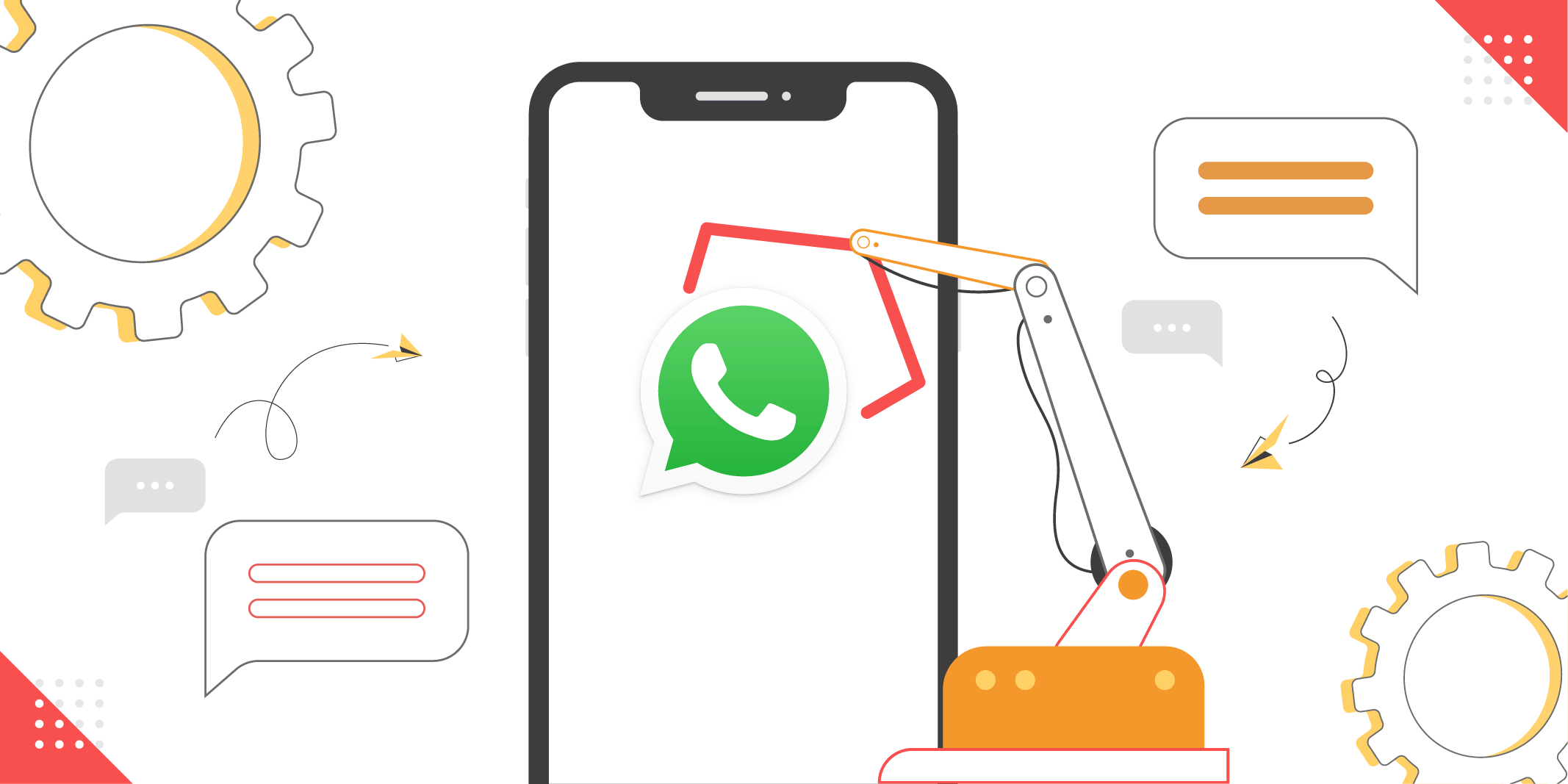 Businesses across industries are gravitating towards WhatsApp for customer communication due to its rising popularity and advanced features. WhatsApp automation is a powerful aspect of the instant messaging platform, making it one of the preferred channels for engaging customers. 
By incorporating WhatsApp automated messages into your CX strategy, you can ensure your marketing, sales, and customer support teams offer a cohesive brand experience to customers.
74% said they would make a purchase
based solely on brand experience, according to Forbes / Arm Treasure Data. Given the significance of engagement across various digital touchpoints, businesses need to recalibrate their communication strategies for an excellent customer experience. WhatsApp Business enables real-time, contextual communication and hence is a robust tool for meaningful conversations.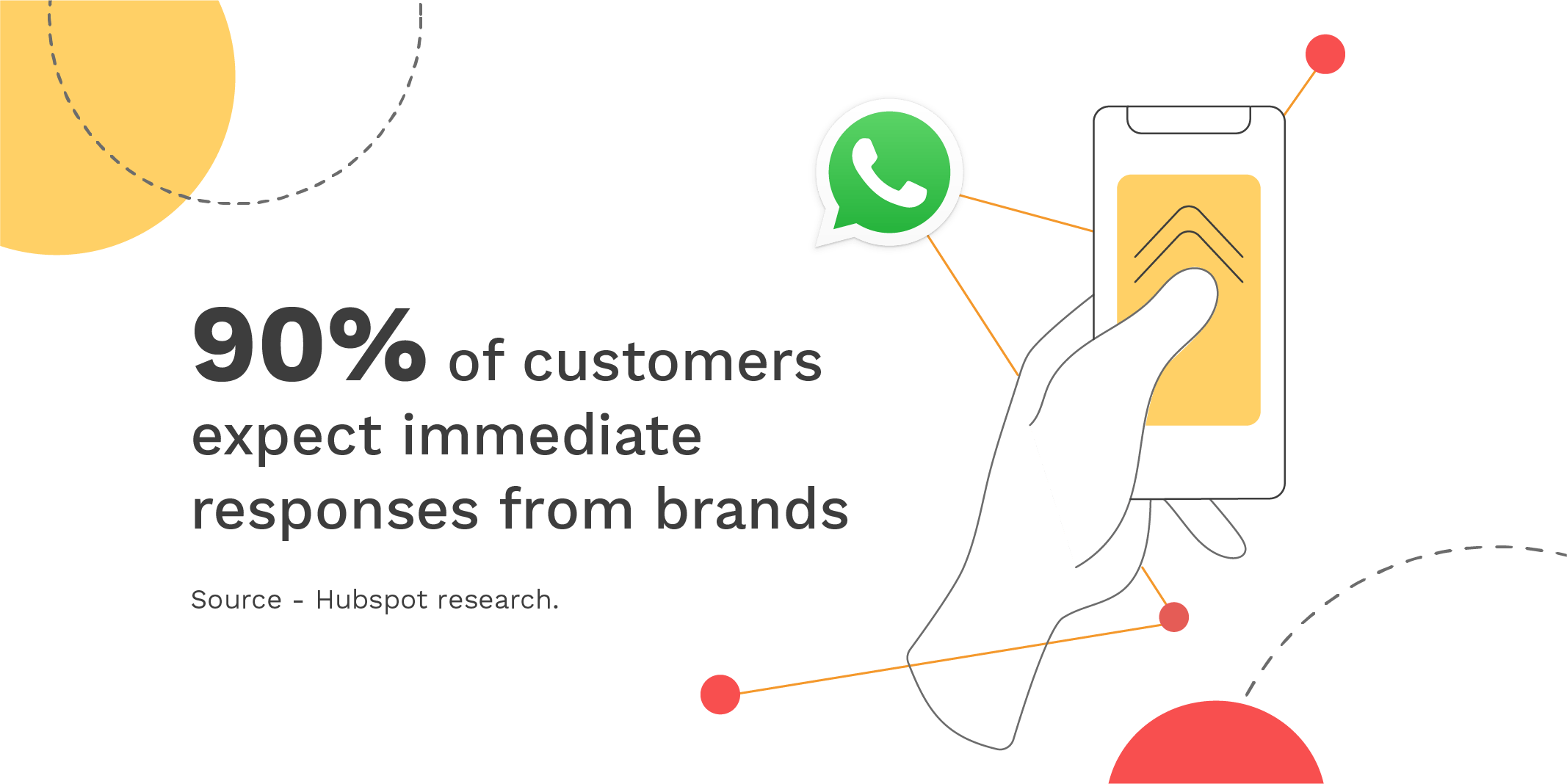 What is WhatsApp Automation?
WhatsApp Automation refers to the process of automating customer interactions using the WhatsApp Business App or WhatsApp Business API. With automation, you can ensure consistency, efficiency and promptness in your communication, resulting in happy customers.
Automation inherently means setting up processes that run automatically without human intervention. WhatsApp enables you to configure pre-programmed replies to customer queries that result in timely responses without requiring a service agent's time. Such replies not only allow timely responses but also enable customer engagement beyond business hours. 
For example, for a customer requesting store location, businesses can set auto-replies that share addresses of nearby stores. With the rich media formats supported by WhatsApp, you can also share Google Maps locations to give directions.
WhatsApp Automation for Business is not limited to pre-set replies. It involves automating message flows and end-to-end conversations with AI-based API technologies. In addition to two-way messaging, you can automate whatsAapp messages and tasks such as adding contacts and broadcasting messages to multiple users. 
WhatsApp chatbots are quite the rage now, and leading businesses are leveraging AI-driven technology to streamline processes. Chatbots can give relevant replies to queries and provide responses based on keywords in the message. With bots, a business can send instant responses. 
WhatsApp automated messages can use chatbots to reply to the user and provide information based on the keyword or instruction in the message. Since bots can reply instantly and round-the-clock, you can deliver excellent customer service, which is typically possible only with a large team of support agents.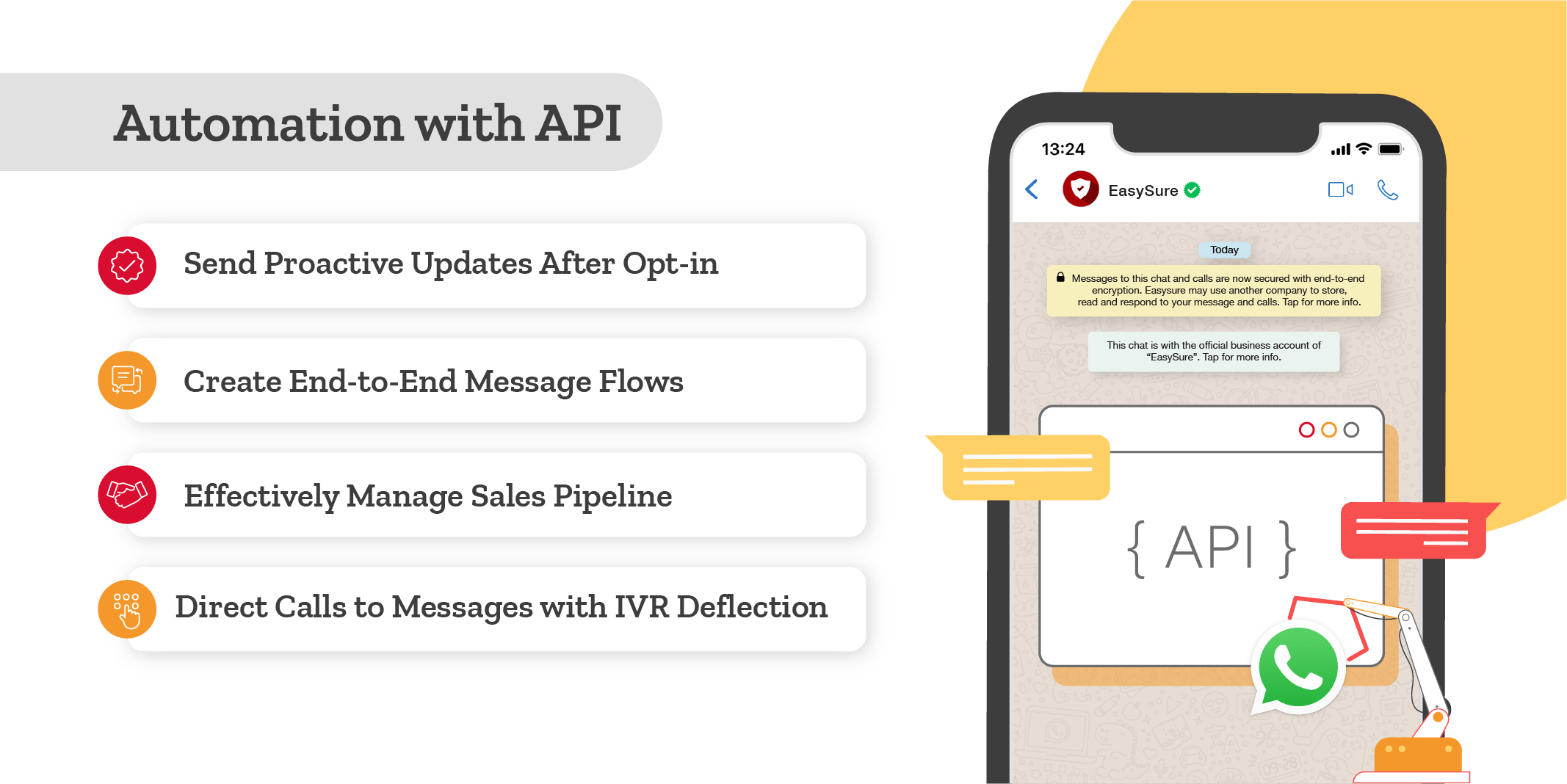 Automation with WhatsApp API
The Business app allows automation, but if you want to send WhatsApp automated messages at scale, WhatsApp API-based Business Platform is clearly the better choice. APIs can help reduce operational costs and improve efficiency. 
Here are a few WhatsApp Business API use cases for automation:
📌Send Proactive Updates After Opt-in 
When a customer opts in for notifications, you can do more than just respond to customer queries. You can initiate communication with the customer and send timely updates. 
You can use WhatsApp templates for sending order tracking/delivery updates, flight status, reminders, payment confirmation, etc.   
For example, a customer who placed an order would want to know when it will be delivered. When you proactively send regular updates with shipment information, it pre-empts the customer from contacting the support team, reducing agent workload. Similarly, sending appointment reminders reduces missed appointments, saving customers and agents from the hassle of rescheduling.
📌Create End-to-End Message Flows 
WhatsApp Business APIs allow message flows that engage customers throughout their buying journey. You can use WhatsApp automation for business to set up automatic custom messages for the Awareness, Consideration, and Conversion stages of the funnel.
For example, for a new customer who wants to learn about your products/ services, you can set up replies that provide a complete list of your offerings. Then, if the customer chose a product and did not buy it after adding it to their cart, you can send automated discounts and nudge them towards a purchase.  
📌Effectively Manage Sales Pipeline 
WhatsApp APIs allow you to automate the entire sales process. The advanced capabilities of APIs not only free up the sales personnel's time but also provide customers a frictionless journey.  
With APIs, you can use message templates to evaluate customer intent. With CRM integration, you can intelligently route high-intent leads to agents. WhatsApp Business Automation ensures that you engage all leads and nurture them with custom messages. 
For example, bots can qualify banking leads by asking questions such as annual income, age, occupation etc. Thus, bots can forward leads eligible for mortgage plans to specific financial advisors or sales agents, improving conversion rates.
Automating repetitive tasks is easy and efficient with bots. For example, bots can answer FAQs, showcase product catalogs, and share personalized updates, engaging customers 24/7 to deliver excellent customer service.
📌Direct Calls to Messages with IVR Deflection 
Sales agents in enterprise businesses can often be inundated with calls from prospective customers. Unless a business invests in a large sales team, answering all the calls and providing relevant responses becomes almost impossible. 
WhatsApp's IVR (Interactive Voice Response) deflection feature allows you to divert phone calls to the messaging platform. You can also choose the number you want to direct the calls to.   
The IVR deflection feature improves response times and ensures quicker resolutions. Once a customer opts in for the call to be directed to WhatsApp, you can manage the query with a human agent or a bot.
WhatsApp Marketing Automation Use Cases 
Here are a few examples of how reputed brands leverage WhatsApp Business automation features. 
1. Welcome Messages   
An excellent first impression can go a long way in improving customer satisfaction. Likewise, a warm welcome message can lay the foundation for long-term customer relationships. 
Customers may still be on the fence about making a purchase when they first interact with your business. An engaging message welcoming customers can drive engagement and enable conversions. 
With WhatsApp marketing automation, customers receive a welcome message right after they contact a business. The instant response improves customer experience and brand reputation.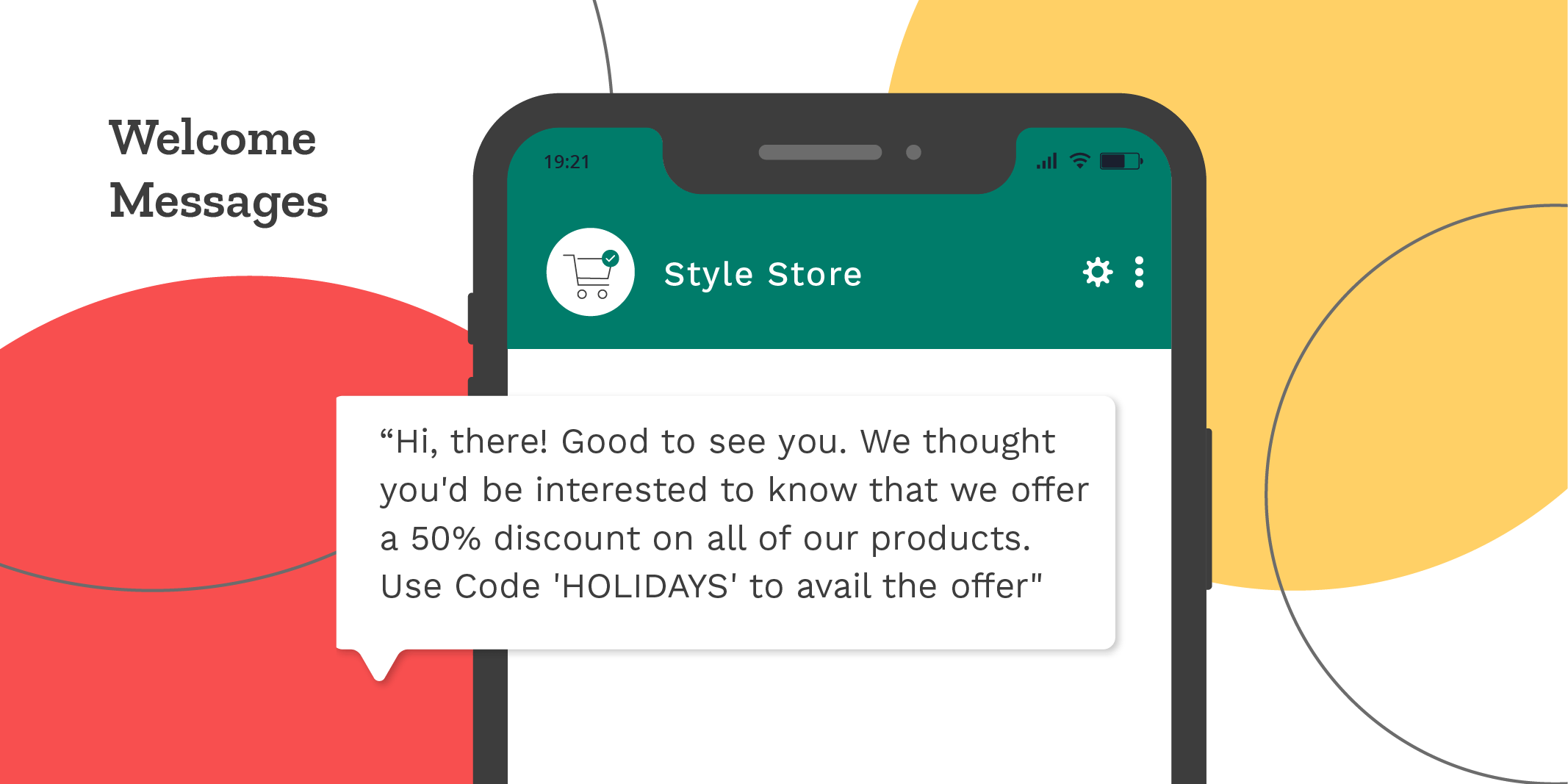 2. Pre-set replies to FAQs  
You snooze, you lose in this hypercompetitive environment. 90% of customers expect immediate responses, according to Hubspot research. Delays in responses can be detrimental to a business's growth. However, one way to ensure prompt responses without dedicated human agents is setting up replies for customer FAQs.
Make a list of common queries that your customers have. Program responses based on keywords so that customer queries get answered immediately. Providing a link to the Help centre section of your website helps customers get quick answers without having to contact support.
3. Shipment And Tracking Updates  
Many businesses make the blunder of ignoring the post-purchase experience. 86% of users say that the post-purchase experience is crucial in determining if they would buy again. You must continue engaging customers after the purchase to earn customer loyalty and increase customer lifetime value.
Customers who just made a purchase would be curious to know when they'll receive the item. When you send timely order confirmation and tracking information, there will be fewer follow-up questions for the customer support team to handle. 
For example, sending flight status and informing delays ahead of time shows customers that you care. Similarly, sharing tracking updates helps customers be ready to receive packages when they are delivered.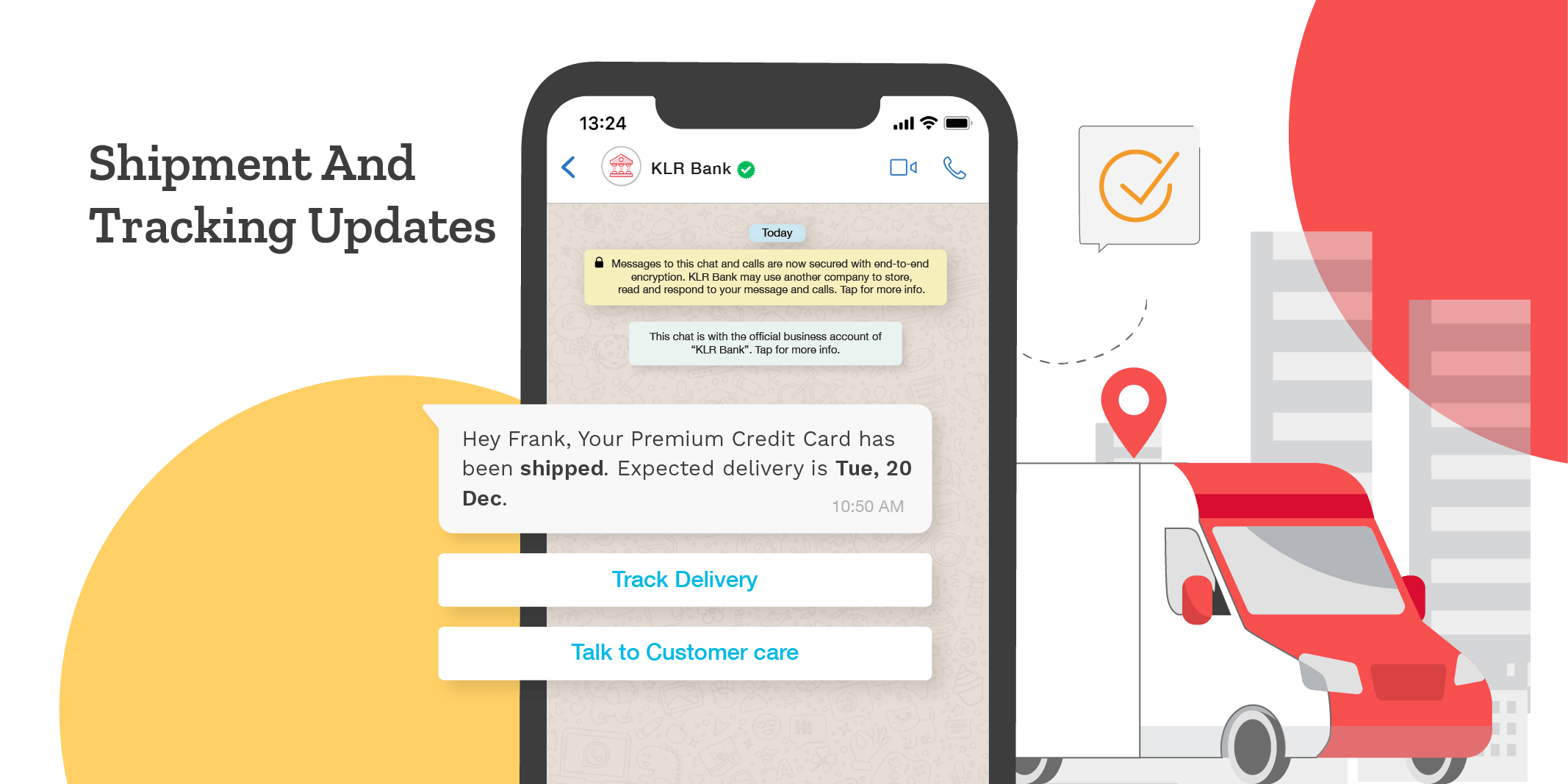 4. Timely reminders  
Your customers can get caught up with things and miss events, flights, or tasks that can result in a loss of revenue. Therefore, sending prompt reminders will improve customer satisfaction. Moreover, it will save your support agents the hassle of making alternative arrangements for the customer. 
For example, when a bank sends a credit card payment reminder, it helps avoid penalties, leading to customer satisfaction.
5. Marketing Messages
For enterprise businesses that communicate at scale, WhatsApp APIs are a blessing. Automated marketing messages help you reach a wide audience while promoting new products or offers.  
You can configure WhatsApp automated messages to be triggered based on milestones such as an upcoming subscription renewal date, a customer adding items to the cart, or a customer clicking on ads. In addition, you can use WhatsApp for marketing automation to spread the word about holiday discounts, in-store workshops, new store openings, rebranding, and awards/recognition by industry experts.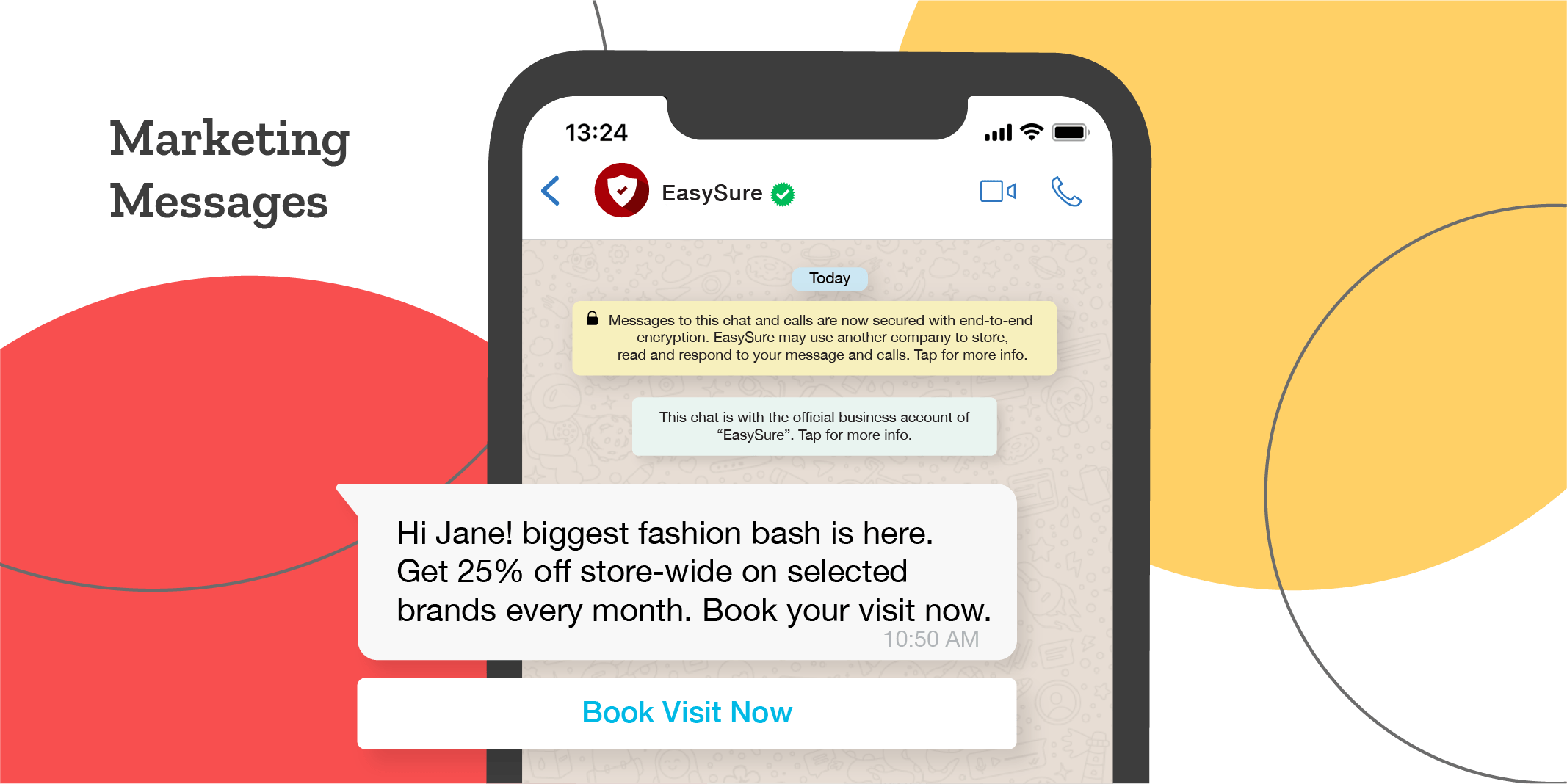 6. Customer Appointments 
Managing customer appointments is critical, especially in the healthcare and banking industries. Sending confirmation messages once a customer books an appointment helps customers retrieve information quickly when needed. You can also send appointment reminders to ensure customers arrive without fail.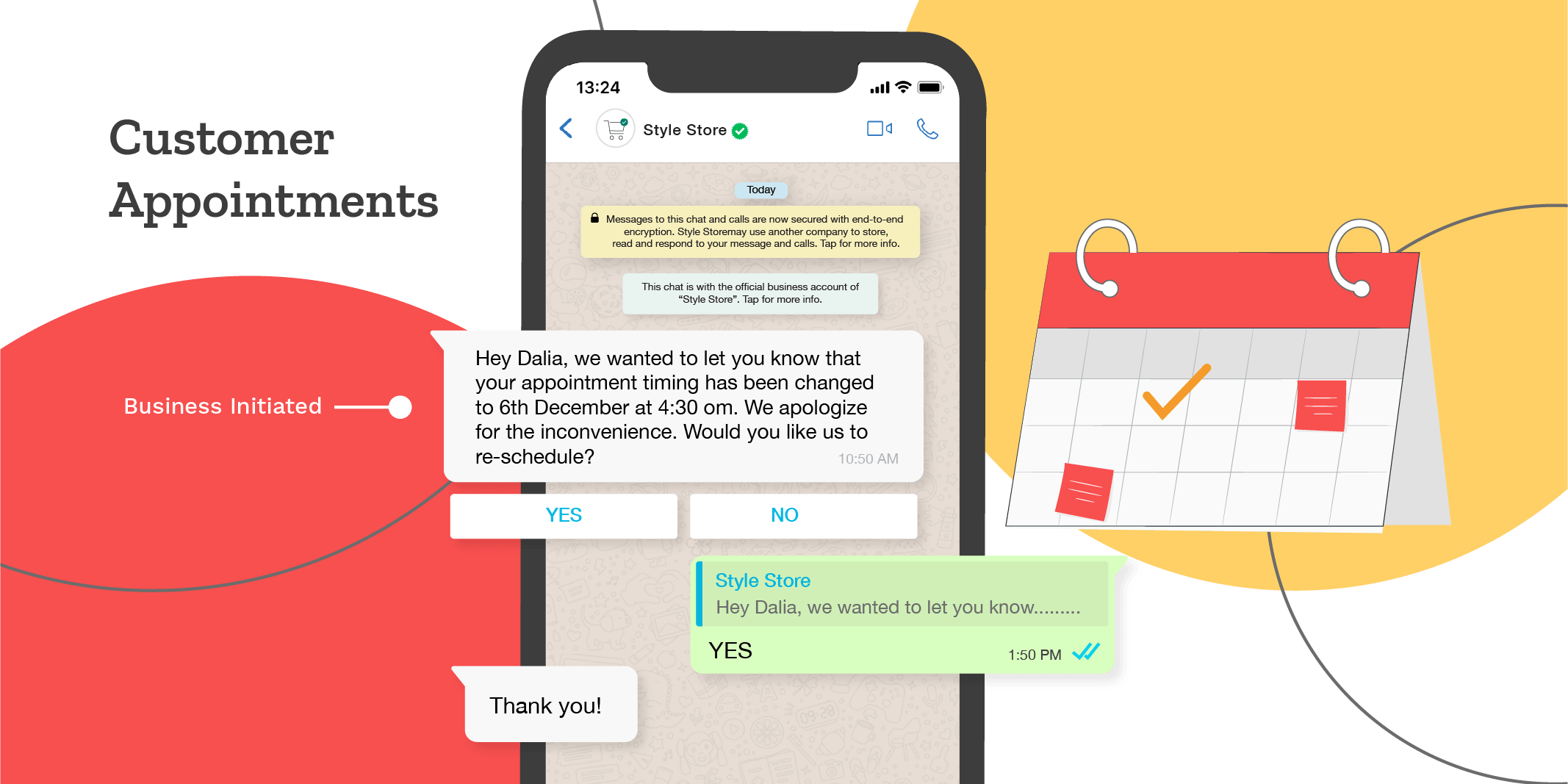 7. Abandoned Cart Messages and Product Recommendations   
An average of 69.57 percent of shoppers abandon carts, according to Baymard Institute. So cart abandonment is a common problem you can combat with innovative engagement strategies. 
Send automated WhatsApp messages with discounts to recover abandoned carts. Such messages entice the customers to complete the purchase and thus can increase conversions. 
You can also send customized product recommendations based on past purchases or browsing patterns. For example, if a customer has been browsing for furniture, you can send a product catalog of new arrivals to bring the customer to your website.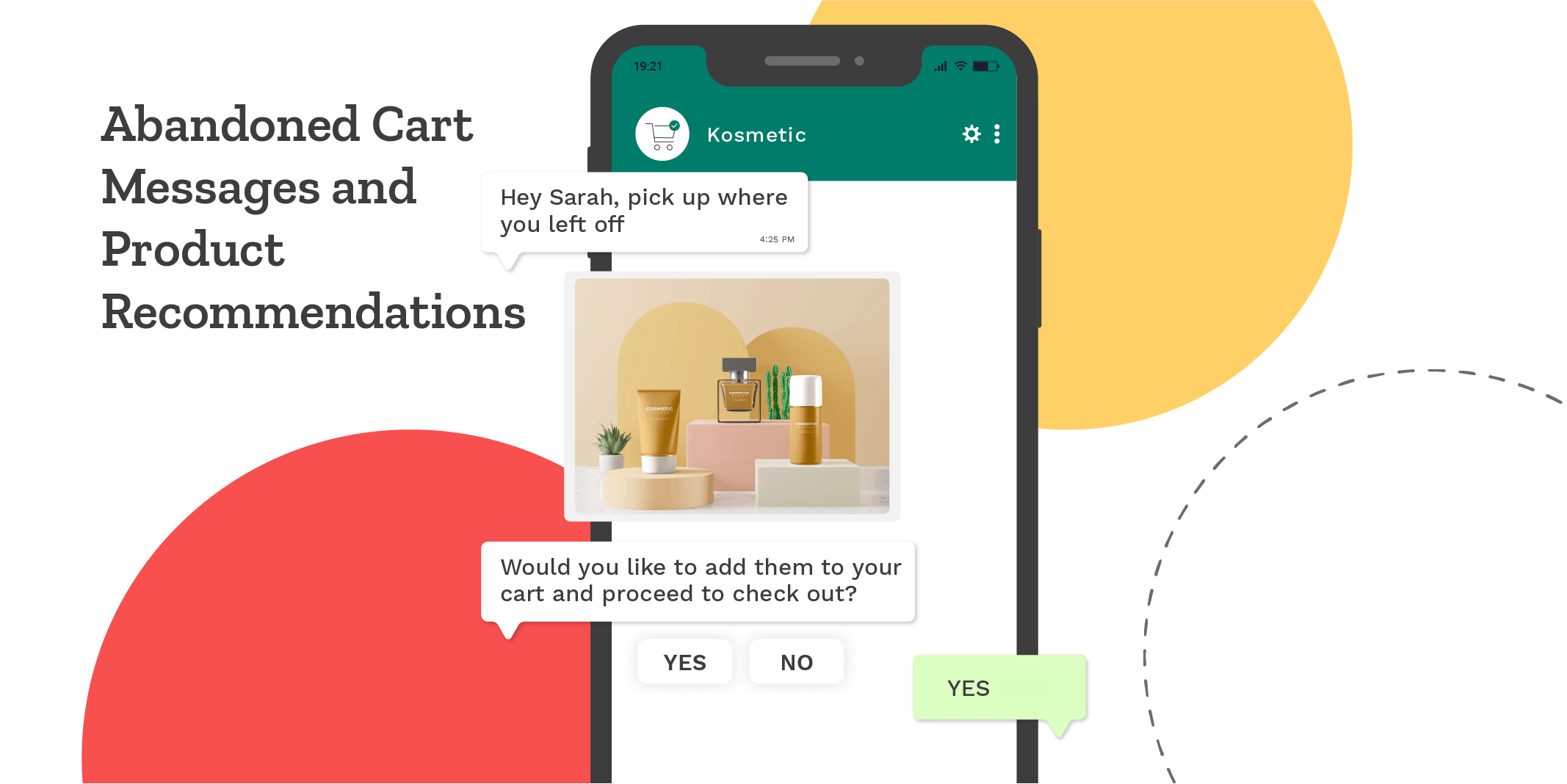 8. Away messages  
Purchase decisions happen around the clock and are not limited to business hours. For many businesses, employing a 24/7 customer support team may prove to be expensive. WhatsApp Away messages inform your customers of your business hours, letting them know when you are reachable. Away messages help engage customers even after business hours, ensuring customers get information about when they can contact you. You can also share a link to your FAQ section while you are away to ensure quick resolution.
9. Feedback and reviews   
Feedback and reviews act as social proof, indicating that others are happy with a purchase. By automating feedback collection, you can motivate prospective customers to buy from you. 
Once a customer has completed the purchase, send automatic messages requesting honest feedback about your product/service. You can also send a link where customers can leave a review. In addition to conveying trust, feedback can provide insights that guide business processes and decisions.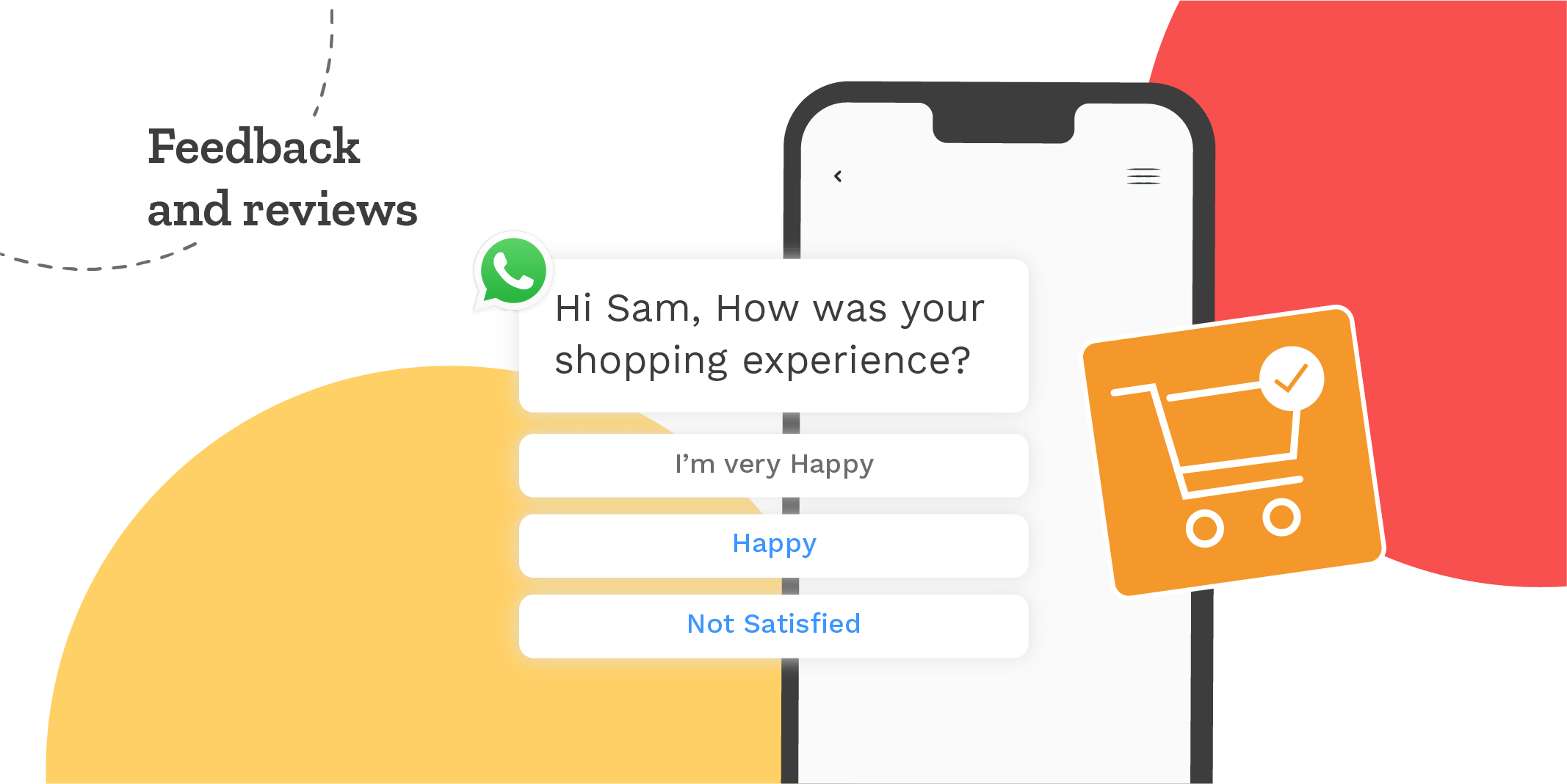 Drive Conversions Through Automated Messages with Kaleyra
WhatsApp APIs offer several advanced functionalities that enable customer communication at scale. With APIs, you can have meaningful conversations with your customers through WhatsApp templates and pre-defined responses. 
With a trusted Business Solutions provider such as Kaleyra, you can leverage enterprise-grade WhatsApp API and WhatsApp automation to send messages securely and reliably. Moreover, APIs allow integration with several business systems, such as CRM and automation platforms, for streamlined lead management.
Ebook: A Mobile-First Guide

Learn how to optimize your mobile marketing strategy to boost sales and revenues.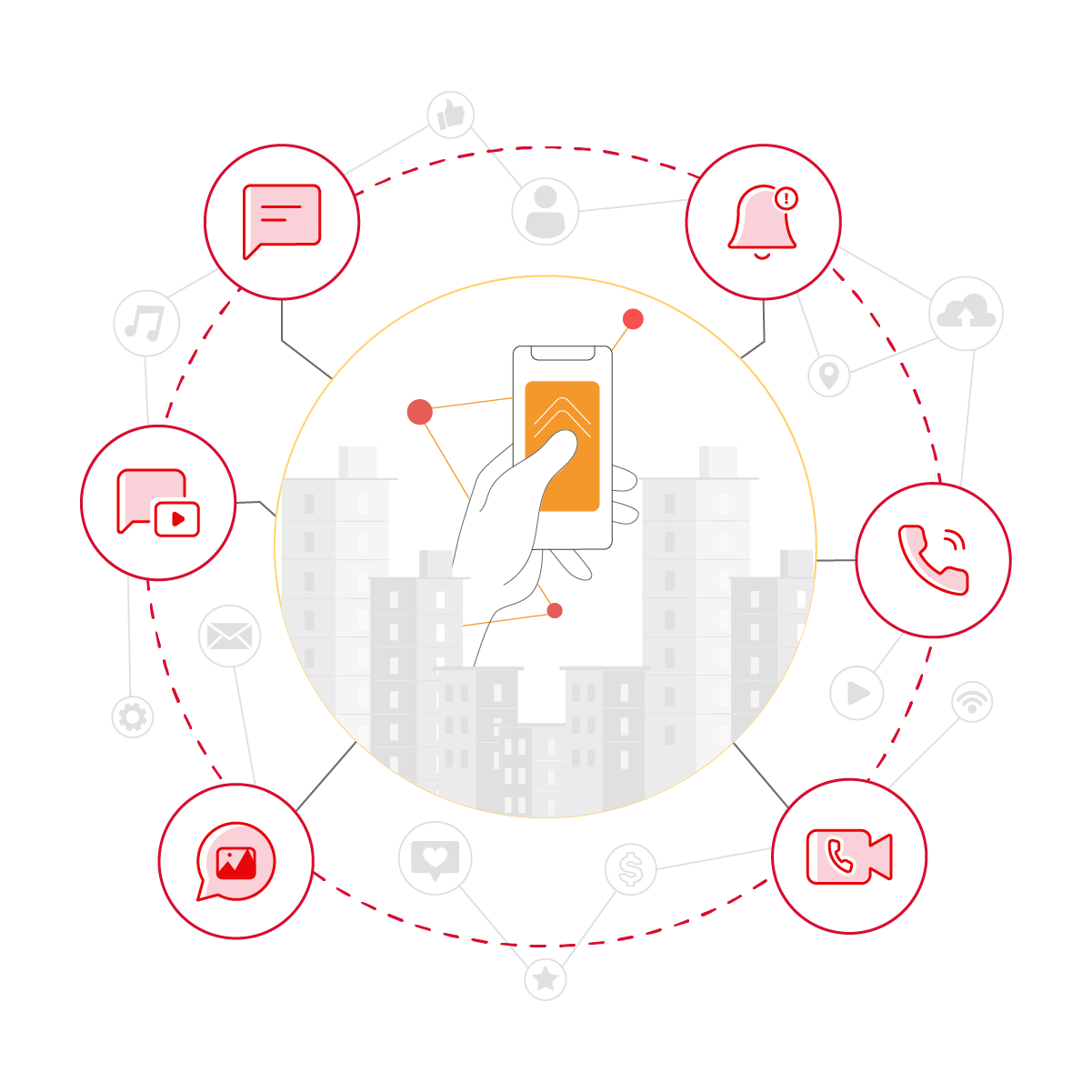 Supercharge Your Communication!
Get in touch with our experts who strive hard to bring the very best in cloud communications technology to you.