Conversational Marketing: A Comprehensive Guide to Boost Customer Engagement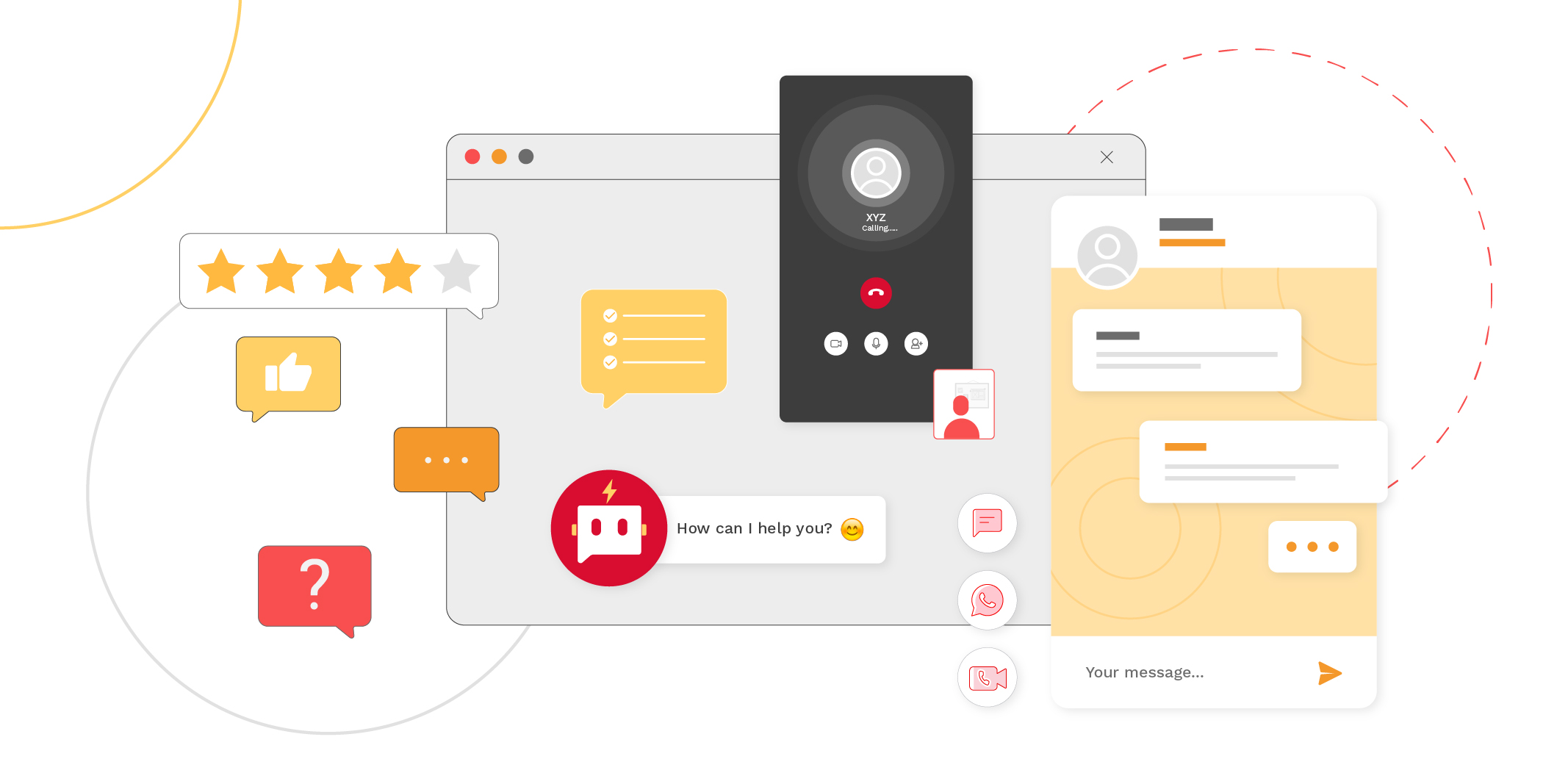 Customers are at the heart and centre of conversational marketing.
Today's customers have made it clear that they expect nothing short of excellence from their favorite brands. 63% of customers want businesses to understand their unique needs and expectations. By gaining strategic insights, you can win over customers by enabling authentic interactions. 
Genuine customer interactions act as a key differentiator and help drive conversions and engagement. What's more, by having organic, relevant, and proactive communication, you stand a better chance of converting prospects into customers. 
Brands that communicate proactively and provide prompt responses score big on customer loyalty. About 80% of customers said they are more likely to be loyal to brands that are proactive in communicating issues, according to a study by Qualtrics. In addition, a Drift study shows that more customers have started to expect brands to respond immediately to their queries. Read on to learn how you can use a conversation-driven approach to inspire lifelong customer loyalty and earn brand advocates.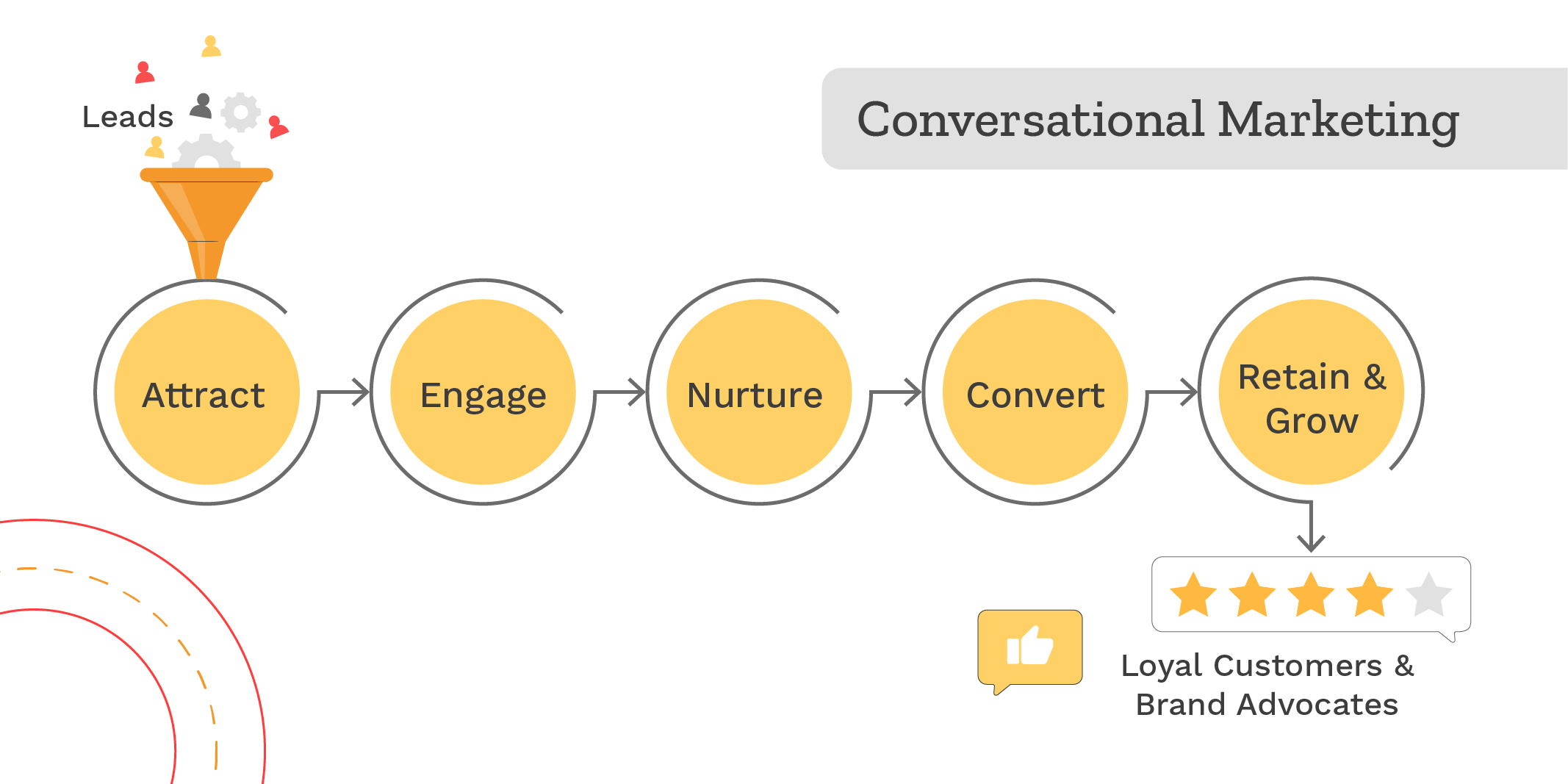 What is Conversational Marketing? 
Conversational marketing refers to meaningful communication that puts customers first. It prioritizes dialog, improves customer engagement and loyalty, and increases customer lifetime value. 
A conversational approach to marketing is all about one-to-one customer interactions and typically involves platforms such as WhatsApp, Facebook Messenger, and chatbots. Always-on communication channels help add a conversational layer to your marketing strategy.  
Customers bombarded with marketing messages can often experience communication fatigue, which is counterproductive for brands. Instead, two-way and conversational brand interactions keep customers engaged and help foster long-term customer relationships.  
Conversations enable businesses to listen to customers. By understanding their preferences better, you can offer tailored solutions and win the hearts of customers.  
With instant and rich messaging platforms becoming commonplace, businesses can easily engage customers across multiple channels. Conversational strategies ensure that you pay attention to customer behaviour across the various digital touchpoints.  
By implementing conversational messaging, marketers can leverage real-time conversations to guide customers through the buying journey. Moreover, businesses can level up their CX game through personalized interactions.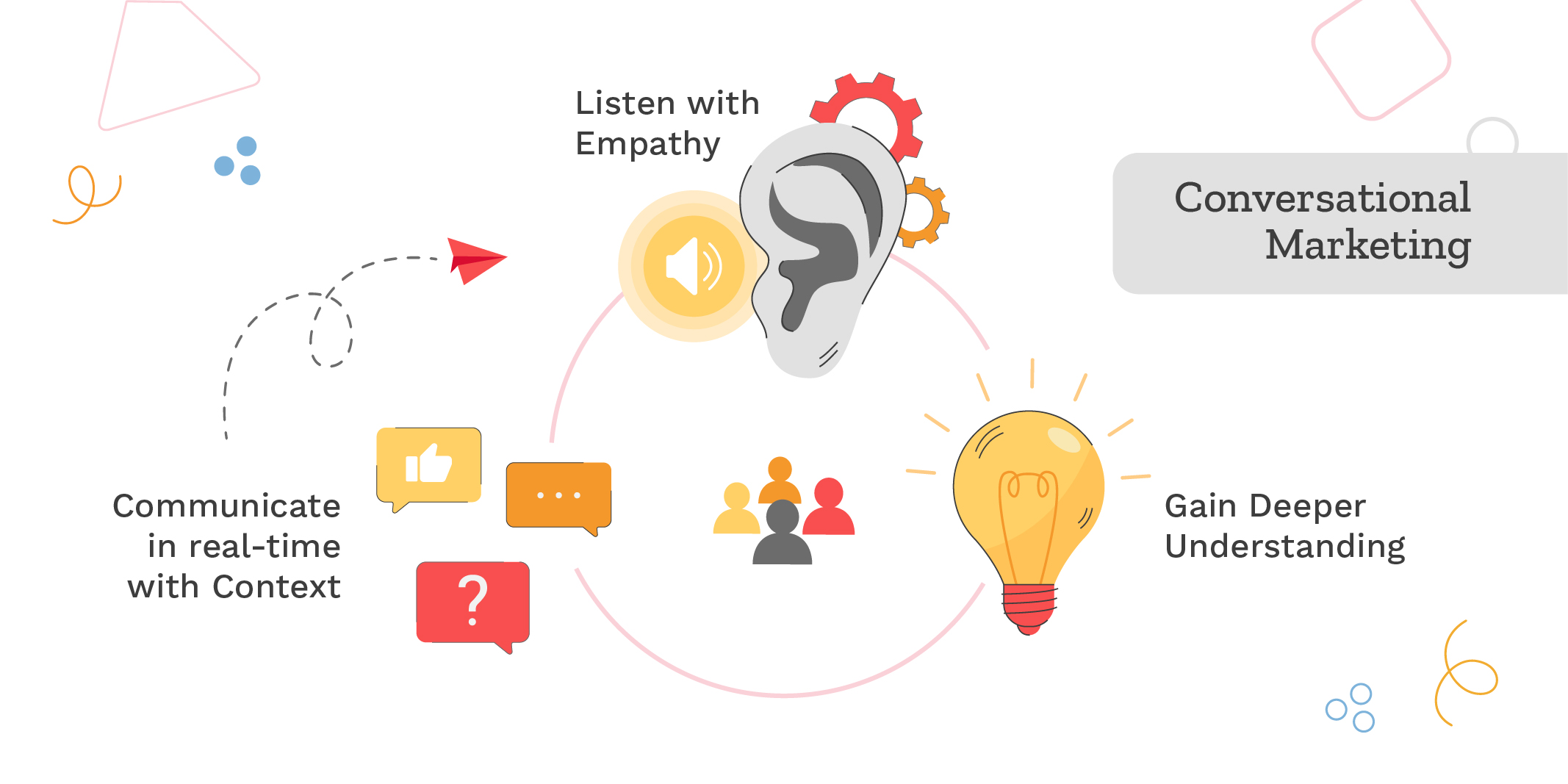 Benefits of Conversation Marketing
Here are a few of the benefits of conversation-driven marketing:
1. Customer-centric conversations 
Keeping customers happy is the key to achieving desired business outcomes. Therefore, all marketing and communication strategies should aim at exceeding customer expectations. More importantly, customers gravitate towards businesses that show empathy in their interactions. For example, a customer texting an insurance company while in distress would be happy when an understanding customer service agent addresses the issue with sensitivity.
Businesses can take advantage of rich media formats in RCS Business Messaging or automated replies in WhatsApp Business APIs to provide an excellent customer experience. Moreover, the rich features of new-age channels, such as message templates, allow businesses to communicate with customers at scale. Thus, conversational messaging ensures that customers always feel heard and understood.
With a conversational approach, you can ensure that customers have the right information to take purchase decisions. For example, a customer who browsed an e-commerce website for holiday gifts will likely take action with targeted messages containing specific gift recommendations.  Similarly, customers who reach out to businesses with queries are more likely to make a purchase on receiving timely, accurate responses.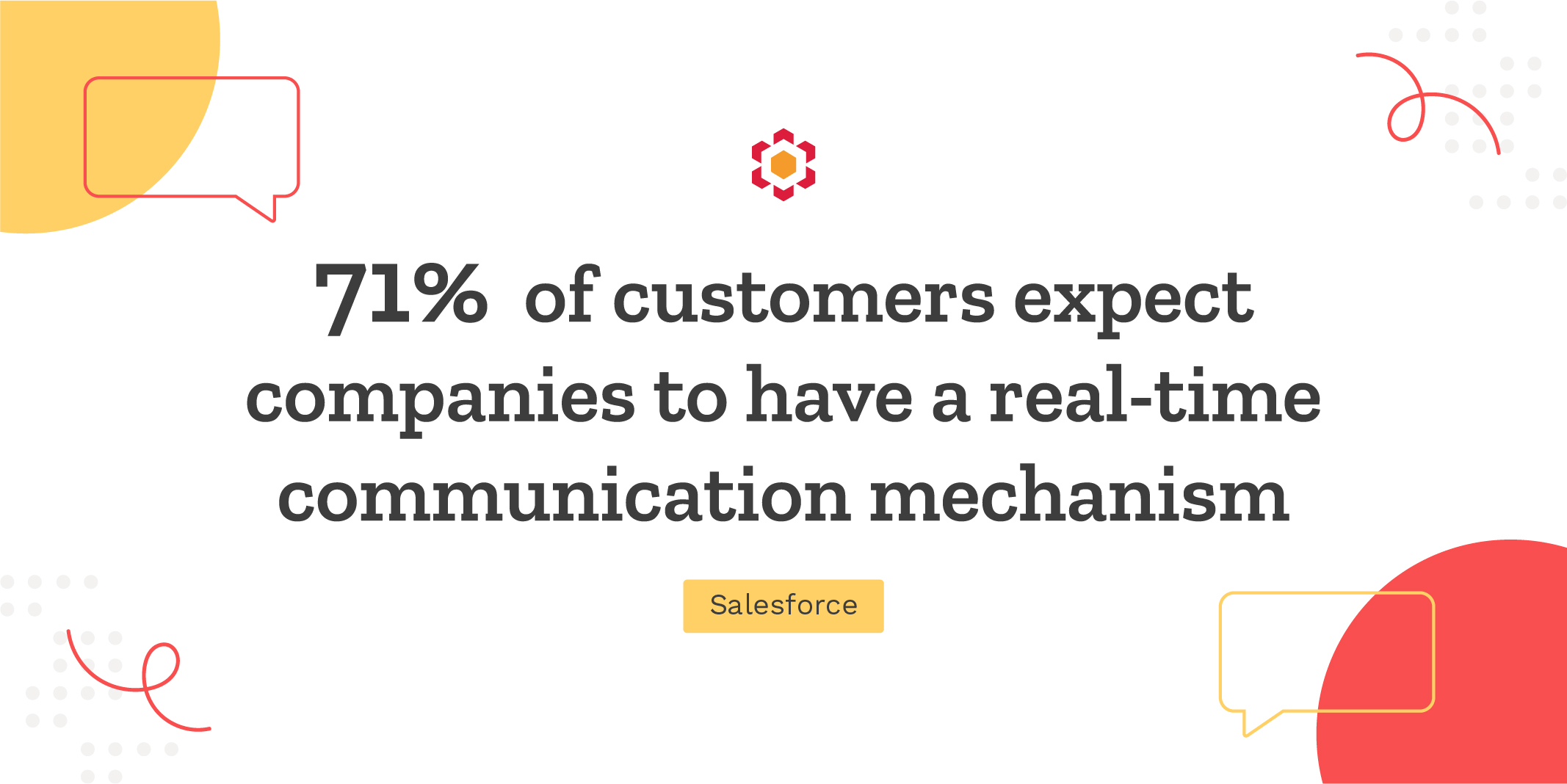 2. Gain Actionable Insights
Businesses that understand customer pain points and behaviour patterns can reduce churn and sell more. Businesses should listen to what customers are saying to gain a deeper understanding. 
By deploying messaging APIs, businesses can automate data collection and offer customized recommendations based on the customer's needs. Moreover, APIs can be integrated with various business tools, such as customer relationship management (CRM) platforms, allowing seamless collaboration between departments. Thus, messaging APIs ensure all team members have access to updated and accurate customer data.   
In addition to understanding customer pain points, two-way conversations help businesses cash in on cross-selling and up-selling opportunities. For example, if a customer has recently browsed for hoodies, sending a product catalog of hoodies or jackets via WhatsApp increases the chances of additional purchases. 
Customizing your interactions based on customers' interests ensures that your business communication is always relevant. The resultant meaningful engagement paves the way for building trust, essential to earn loyal customers.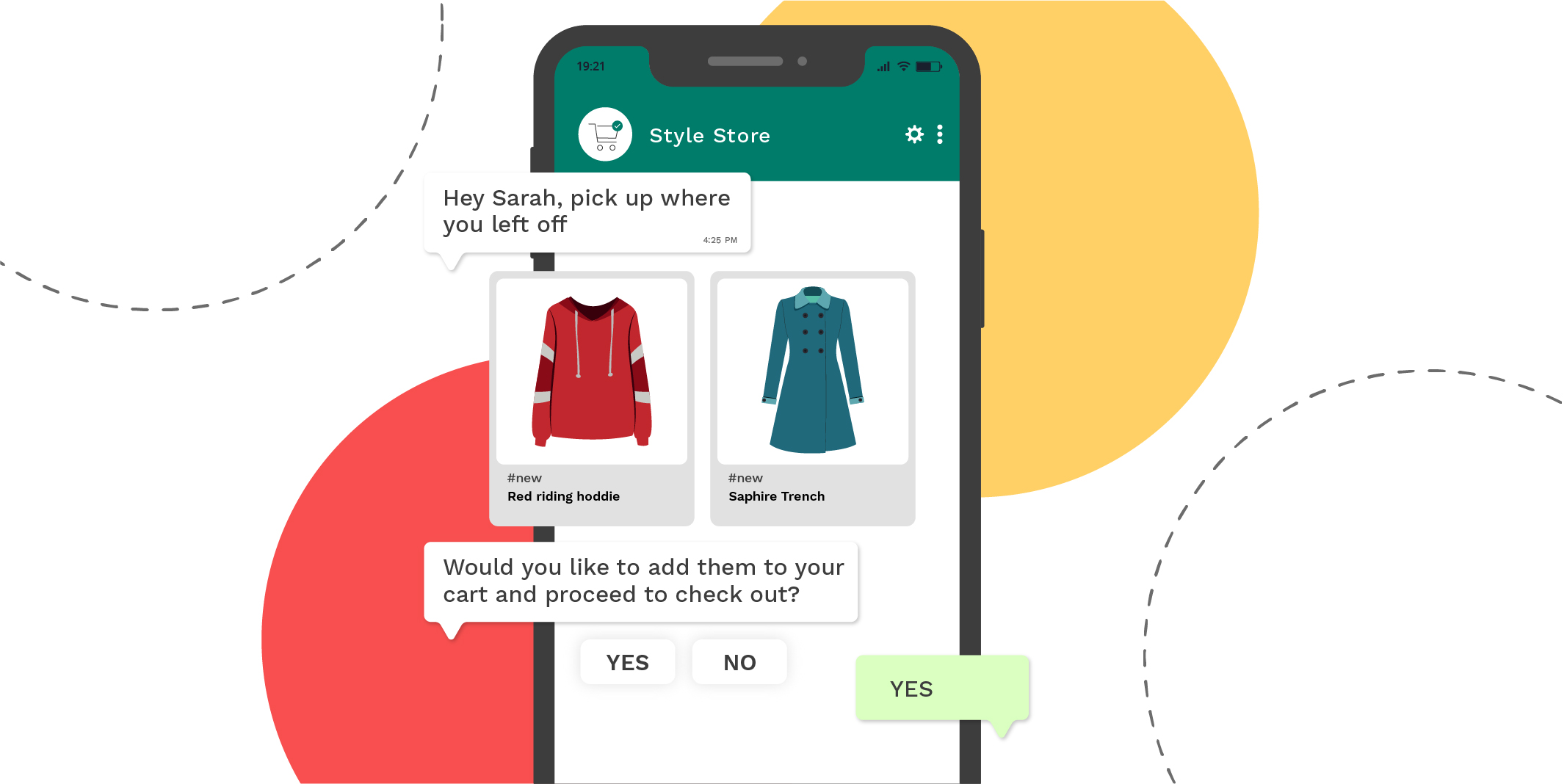 3. Increase Customer Lifetime Value at a Low Cost
By sending automated messages such as order and shipping updates, payment reminders, appointment reminders, and cancellation updates, you can free up customer service agents and sales representatives for high-priority tasks. Moreover, deploying chatbots that can address the queries of multiple customers at once helps provide quicker resolution, improving customer satisfaction in the process. 
Communication APIs support conversational strategies and require minimal investment in infrastructure. Instead of building communication capabilities from scratch, businesses can use APIs that involve little to no developer intervention. Thus, businesses can implement conversational marketing at a low cost by subscribing to services from reputed CPaaS (Communication Platform as a Service) providers.
4. Improved lead management
When prospects have an interactive way to engage with you, you are more likely to deliver tailored experiences and convert them into customers. In addition, two-way business conversations help qualify leads for sales by asking the right questions. 
For example, automated questions can help a bank figure out if a lead is interested in a mortgage plan or opening a savings account. Similarly, chatbots can help you identify leads with high purchase intent and intelligently route them to your sales team through CRM integration. With chatbots, customers can book meetings with sales agents in real-time, shortening the sales cycle. 
Moreover, chatbots are available 24/7 and engage with all potential customers, thus ensuring that no opportunity falls through the cracks. They also help the different teams, such as customer service and sales, to converse with the customer at the right time and provide resolution or close deals quicker.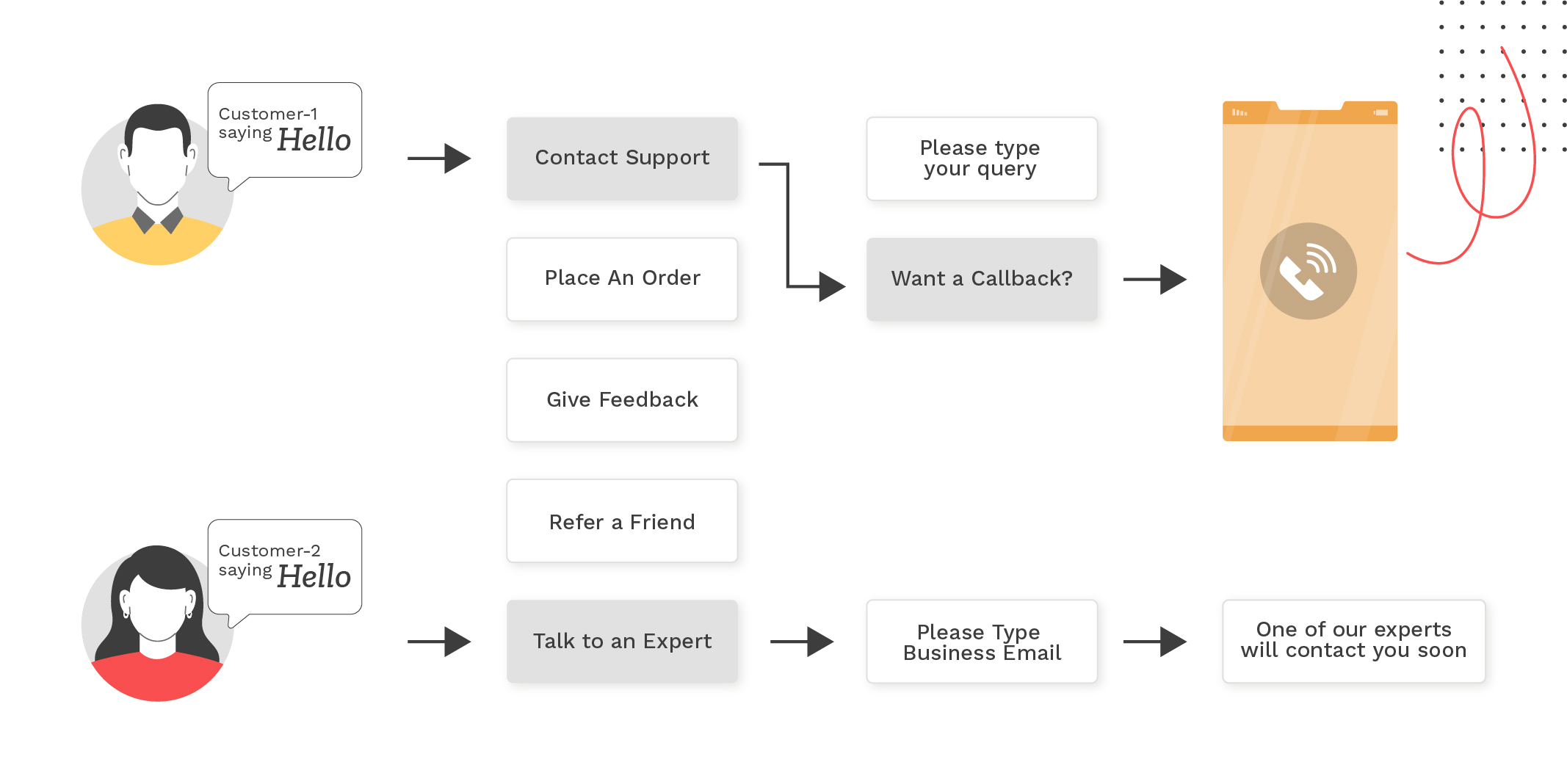 Conversational Strategies for Marketing
Here are the key strategies to keep in mind while implementing a conversation-driven marketing approach in your campaigns 
1. Pick the Right Channels
The more ways you offer your customers to contact you, the greater the chances of attracting a wide audience. Providing various communication channels gives customers the freedom to interact with you on the channel of their choice. For example, some website visitors may like Chatbots to talk to a business, while others may prefer conversations on an instant messaging app such as WhatsApp. 
Chatbots and Live Chat are usually considered the most effective for conversational communication. However, since customers nowadays use multiple channels, businesses can expand their reach and boost engagement when their communication strategy involves a variety of channels.
Here are some of the popular options for conversational channels:
Instant Messaging Apps such as WhatsApp 

Chatbots

Live chat

New-Age Messaging channels such as RCS (Rich Communication Services)

Social media

Voice 
While conversational tools are powerful, please remember that a good conversational strategy should also have room for human interactions. For example, allowing customers to talk to a support agent directly from WhatsApp helps arrive at a quicker resolution. 
Unifying multiple communication channels enables businesses to offer premium brand experiences. By implementing a common interface, such as an omnichannel platform, you can ensure that your customers have a frictionless journey across channels.
2. Prioritize Personalization
Each customer is unique and has their preferences, interests, and buying capacity. Therefore, your mass marketing messages can end up getting ignored if you do not personalize your business communication.
Does it make sense to send a discount code for TVs to a customer who just bought a TV at your store last month?
Will a customer in the sunny part of a country be interested in a product catalog for sweaters?
Unless you send individualized messages based on customer data such as demographics, past purchases, browsing behaviour, etc., your messages are likely to be remain unread.
Have relevant conversations with customers to increase open rates and boost engagement. Deploying messaging APIs such as WhatsApp Business API allows you to take advantage of CRM integrations and use customer data for personalized messages.   
Including details such as name, company name, and recent order/activity in the message allows you to personalize your interactions and share the right information based on which stage of the buying journey the customer is in. 
3. Collect Feedback

To achieve business success, you need to keep optimizing your marketing campaigns. Listening to customer feedback is an excellent way to understand which of your strategies are working and where there is room for improvement.  
Sending regular customer surveys helps you zero in on roadblocks and issues that can potentially result in churn. Feedback forms tell your customers that you value their opinions. Moreover, they help businesses identify ways to tweak processes for better customer satisfaction.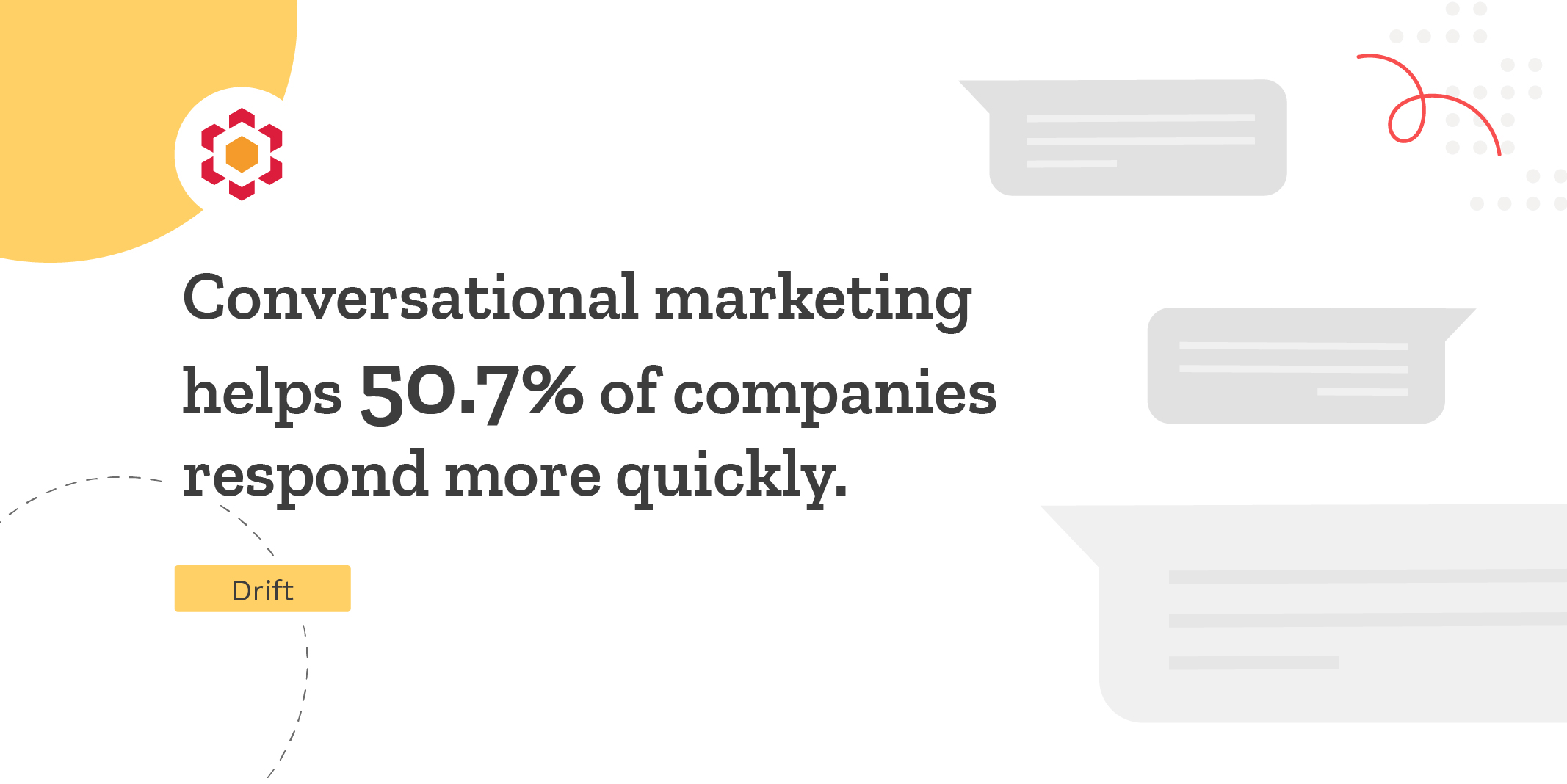 Businesses cannot afford to get their communication wrong in the current competitive environment. By implementing a conversational marketing platform, you can ensure customer retention, resulting in increased revenues. If you want an omnichannel solution for purposeful customer interactions, try Kaleyra's innovative solution powered by communication APIs today. Our team of experts will guide you to leverage conversational data to drive more conversions and sales.
Ebook: A Mobile-First Guide

Learn how to optimize your mobile marketing strategy to boost sales and revenues.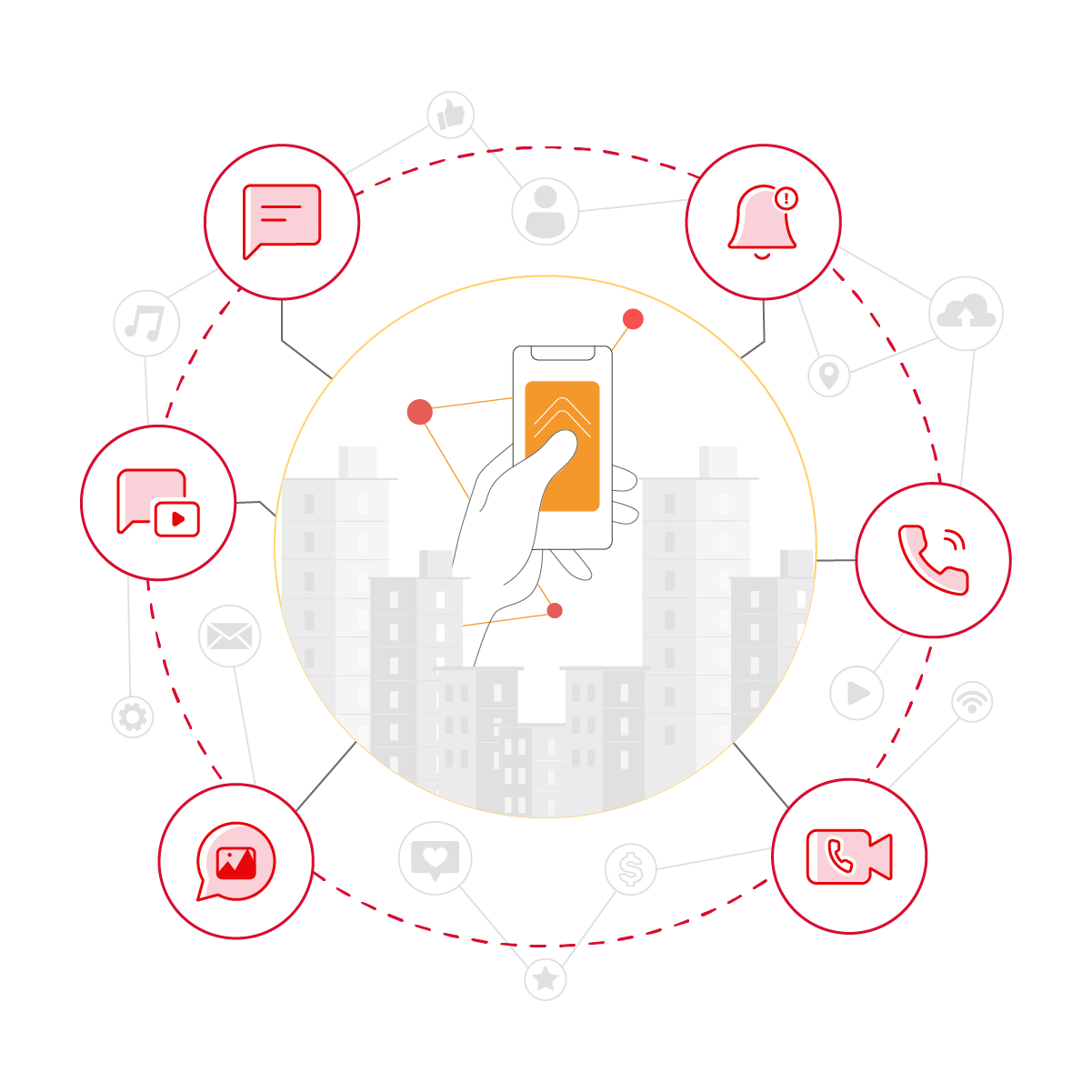 Supercharge Your Communication!
Get in touch with our experts who strive hard to bring the very best in cloud communications technology to you.