Customer expectations have evolved in recent years with a shift towards immersive experiences, natural conversations, and quick solutions. More importantly, the message is loud and clear that customers absolutely hate having to wait for answers. 72 percent of customers said they want immediate service from brands. Real-time communication (RTC) helps businesses provide speedy resolution and be there when customers are exploring the product/service and seeking answers. Being available and ready to connect helps businesses improve customer experiences, resulting in loyalty and more conversions. 
What Is Real-Time Communication (RTC)?
Real-Time communication refers to any form of telecommunications that happens between a sender and receiver with negligible latency. The interaction involves the instantaneous exchange of information without significant transmission delays.  
Although there may be intermediate points, RTC generally has a direct path from source to destination. The data typically travels from source to destination across geographical locations without being stored anywhere in between.   
Asynchronous communication, on the other hand, involves a delay since data is typically stored in intermediate nodes. Email is an example of asynchronous communication where both parties anticipate a delay in responses.   
The two modes of real-time communication are 
Half-duplex – Users can send data in both directions but not at the same time. Communication happens in only one direction in one channel at a time.  
Full duplex— Users can send data simultaneously in both directions on parallel telecommunication pathways.
Isansys Saves Lives with Kaleyra's WhatsApp Solution 
Learn how Isansys uses Kaleyra's WhatsApp API solution to notify healthcare providers about patients' health in real-time.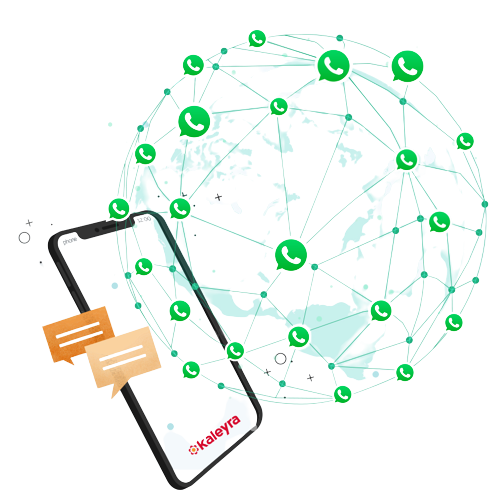 Why is Real Time Communication Important?
Real-time communication is important for businesses because customers demand prompt attention and communication. For example, a banking customer who wants to report a stolen card would not be sending an email. Instead, they would immediately call the bank or chat in real-time to get immediate support. So, providing a real-time communication channel is critical to keep up with mounting customer expectations.
RTC is a significant component of customer interactions because it helps businesses have contextual exchanges. For example, say, a customer requests information about an upcoming trip. RTC helps agents talk to other team members in real-time and provide the customer's travel booking information quickly during handoff. In that case, agents are in sync, and customers do not have to repeat themselves.
RTC enables businesses to be responsive. This is useful, especially when sharing critical information. Moreover, with businesses operating globally, RTC helps break geographical barriers and enables the exchange of information without delays.
Real-Time Communication Tools
There are many real-time communications tools that are being used for business interactions. The telephone is an example of a real-time communication tool used over the past few decades. Newer technologies include cloud communication applications that businesses use for customer support, virtual shopping, and product demos.
Instant Messaging
Instant messaging (IM) involves the sending and receiving of messages in real-time using Internet services. Messages that include text, multimedia content, and documents can be sent and received over a standalone application or embedded software.
WhatsApp and Slack are some of the popular Instant Messaging tools, each with its unique features and advantages. For example, WhatsApp Business is an instant messaging platform that is excellent for real-time interactions, seamless communication flows and automated messages.
Video Chat

Video chat is gaining prominence amongst businesses that want to connect with customers in real-time. It is being widely used across industries to provide best-in-class immersive experiences that boost engagement.
Video chat platform helps businesses add a human touch to customer interactions. Moreover, with APIs and SDKs, it's easy to incorporate a video channel into your business's communication portfolio. In addition, the ability to integrate with existing backend systems enables businesses to use video chat for customer service and offer streamlined communication experiences. 
Chatbots

Conversational AI chatbots help businesses have natural human-like conversations in real-time with customers. With mounting customer expectations, chatbots help improve ROI by automating tasks and personalizing business communication.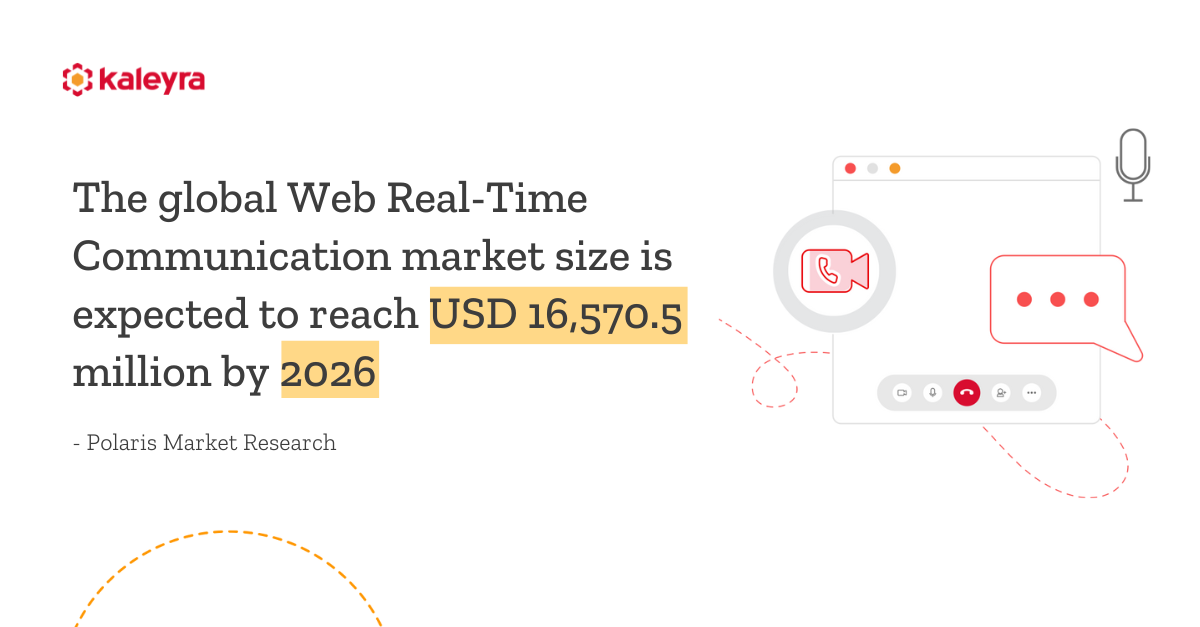 WebRTC for Real-Time Connections
WebRTC (Web Real-Time Communication) is an open-source technology that allows secure, peer-to-peer communication directly between web browsers and mobile applications. By enabling audio, video, and data communication without the need for any plugins or installs, WebRTC is quickly becoming the future of real time communications solutions.
Here are a few reasons why businesses increasingly use WebRTC: 
Cross-Platform and Device Interoperability:

WebRTC protocol works seamlessly across different devices, such as laptops and smartphones. It is also compatible with several platforms, such as Windows, macOS, Linux, Android, and iOS.

Cost Efficiency:

WebRTC allows businesses to significantly reduce costs since there is no need to build expensive proprietary systems from scratch.

Enhanced User Experience:

With its low latency audio and video capabilities, businesses can ensure high-quality, crystal-clear conversations.

Security and Privacy:

WebRTC uses robust encryption methods to ensure secure peer-to-peer communication and data privacy.

Ease of Implementation:

Businesses can easily incorporate WebRTC into new or existing applications, leading to quicker deployment and implementation.

Scalability:

WebRTC offers an efficient, scalable solution for growing businesses, ensuring consistent performance even as user numbers rise.
Benefits of Real-Time Communications for Businesses

There are several business use cases for real-time interactions. For example, ride-sharing applications rely on RTC tools to instantly connect riders and drivers. Here are the top benefits of RTC – 
1. Seamless Collaboration

In addition to adding communication abilities, tools such as file sharing, screen sharing, and whiteboards promote collaboration. For example, screen sharing can be great for onboarding banking customers. Agents can visually show customers how to perform banking tasks, leading to more engagement. Moreover, integrating real-time communication channels such as WhatsApp and Video with existing backend systems helps optimize workflows and elevate customer experiences.
2. Enhanced Customer Service

Customers do not think twice about moving away from brands with poor customer service. 69% of customers stopped doing business with a brand due to a negative customer service experience. Some of the things customers expect from brands are instant responses and relevant conversations. Real time communication tools are excellent for customers seeking quick resolution and personalized interactions. 
WebRTC-based video chat applications help retailers and hospitality businesses to provide customized experiences to maximize engagement. For example, with video chat, travelers can explore properties through virtual tours before booking a stay. In case they want to cancel a reservation, they can communicate in real time and get immediate assistance. Similarly, conversational AI chatbots can automate routine tasks for healthcare providers and reduce agent workload, thus improving patient engagement.
3. Accessibility
RTC tools enable remote access to customers and employees. In this era of a global workforce and customers dispersed across the globe, RTC helps businesses stay connected and work more efficiently. 
For example, a motor insurance customer can quickly connect from anywhere with their provider in case of an emergency. RTC applications like video chat help providers have empathetic conversations and provide immediate guidance. Moreover, you can also easily upload documents and photos that are required to speed up the claims process. 
Experience Real-time Engagement with Kaleyra
Kaleyra, being a global leader in providing enterprise business communications solutions, offers several channels for real-time engagement. You can leverage Kaleyra's WebRTC-based solution and enhance your digital presence by embedding a white-label video/audio communication channel. Kaleyra Video helps you provide a secure and seamless calling experience while preserving brand identity. Read how Leonardo, a premier aerospace company, uses Kaleyra's video solution to streamline communication between their back-office staff and field operators.
If you are looking for a messaging platform that supports automation, you can take advantage of Kaleyra's WhatsApp solution to instantaneously connect with customers. See how Kaleyra's WhatsApp API solution helped Isansys, a leading digital healthcare company, save lives through real-time patient updates.
Contact our experts to learn more about delivering outstanding customer experiences by incorporating real-time communication into your CX strategy. 
Supercharge Your Communication!
Get in touch with our experts who strive hard to bring the very best in cloud communications technology to you.