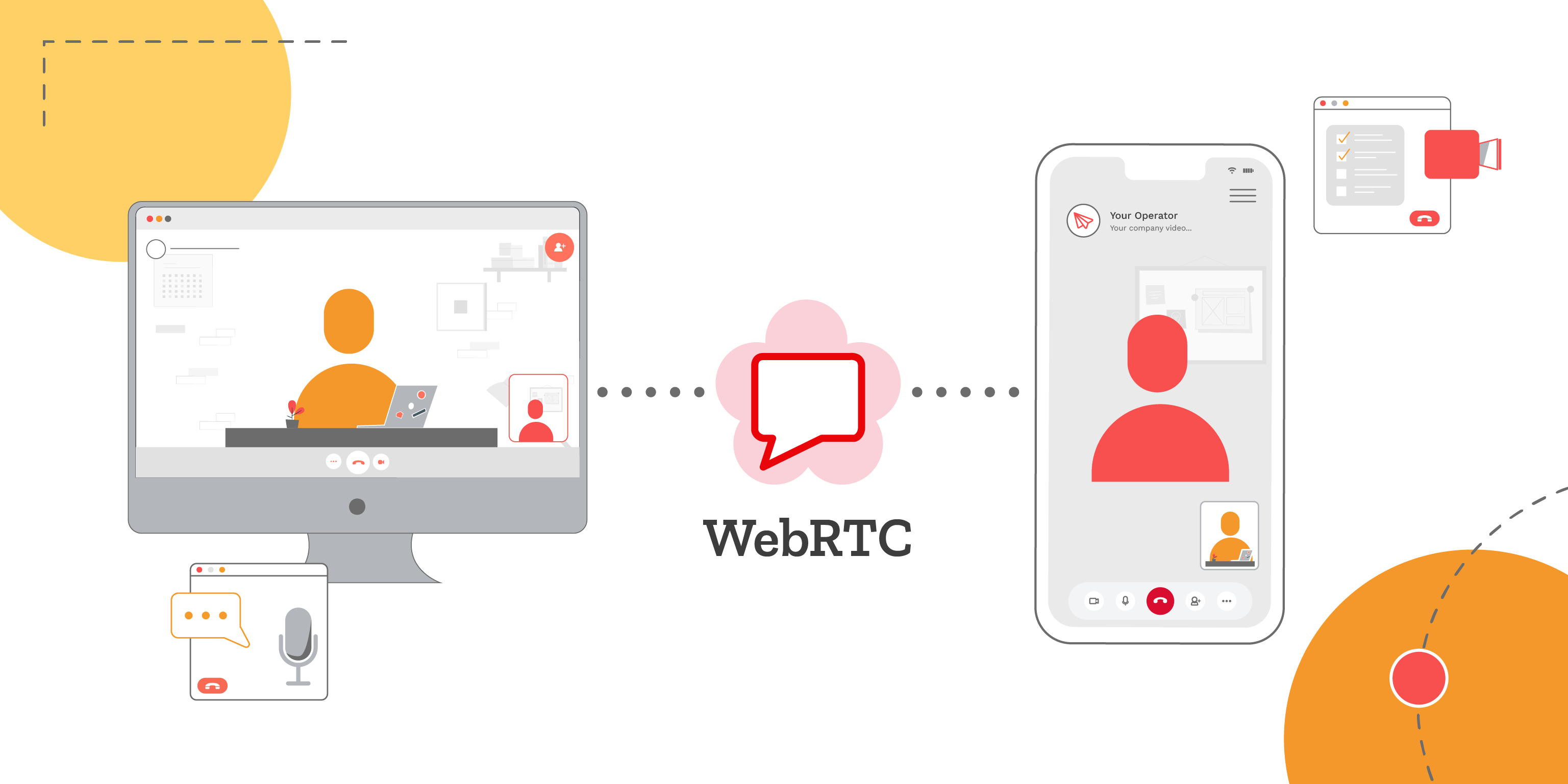 As we continue to work and do business more remotely, there is an increasing expectation and requirement for greater efficiency and security from our digital communication channels. In recent years, we have seen a boom in video conferencing platforms, but how do we replicate the seamless interaction that we get from being in-person? 
This is where Web Real-Time Communication (WebRTC) comes into its own as a true differentiator when it comes to human interaction in the digital world. We discuss here what WebRTC is, and how Kaleyra's offering can offer businesses and their customers a proxy so authentic connection is still forged and maintained. 
What is WebRTC?
On the face of it, WebRTC sounds like any other type of online communication channel, be it video conferences and meetings, live chat or online audio calls. However, there is a difference whereby WebRTC isn't only about the ability to converse and see each other's faces at the same time.  
Being an open source project, it allows for these capabilities between web browsers and various devices; however, by using an API, the peer-to-peer communication doesn't rely on compatibility and support for the different types of content or communication methods used.  
Instead, WebRTC's data transfer is real-time without the need for additional plugins or specialist software for integration, meaning that the audio and video communication starts as easily as just opening a webpage. There is no need to download an additional app or move away from the existing interface – making this a game changer for the customer experience. 
Kaleyra's WebRTC Solution
With a gap to fill when it comes to authentic and productive communication that has previously only taken place in person, Kaleyra offers a solution. The WebRTC offering which includes audio and video calling via browser or in-app solves the challenge of providing a frequent and direct communication channel that many businesses are up against today, both internally and client facing.  
With the ability to embed into existing digital environments and touchpoints, customers don't need to leave the website or app to start a real-time conversation with the business. Not only does this maintain solid brand identity, it provides a frictionless customer experience. This ease transfers to internal management too as the solution is cloud-based meaning there's no need to maintain and monitor the underlying infrastructure. Instead, the plug and play integration uses Kaleyra's rest APIs and SDKs for instantly secure and private video and audio calling experiences. 
Collaboration Features 
When in-person meetings are to be replaced, there are several factors that need to be considered that go beyond the ability to solely converse. Typically during meetings, we have had to to get paper contracts out on the physical table, use markers and flip charts to explore ideas, and utilise immersive methods to drum up enthusiasm and thought. Kaleyra's WebRTC solution offers all these features in the digital realm so productivity remains high and is no longer compromised. 
While using the audio or video call, documents can be uploaded live on the interface as if handed out around the table; instead of only sharing screens or providing yet another external link to access the document, the interaction remains in-app and within the meeting itself helping everyone stay connected. The solution even provides an e-signature ability enabling live contract closures and negotiations as if in the same room.
The live whiteboard feature provides teams the space to collaborate and freely explore together and in real-time. While there are various whiteboard apps available, being able to raise this feature without leaving the interface means that creativity and the flow state within the digital meeting room are maintained for the best ideas and thoughts to be documented and leveraged. 
In-app calling 
Kaleyra's WebRTC can be integrated within  the app itself, which helps businesses and their customers in multiple ways. Not only can collaboration take place as already mentioned, it provides a sense of security to a digital world increasingly full of  privacy and fraud concerns.  
Using the app allows the call to be customised so that a business' brand is front and centre ensuring caller identification whereas the use of traditional GSM calls use unknown numbers. The traditional method, while not requiring an internet connection, can lead to low response rates from the customer who sees the random sequence of numbers as spam and avoids taking the call altogether. From a user experience perspective, the need to jump to yet another channel makes for more fragmentation when it comes to issue resolution or productivity as well as time wasted.  
The simple one-click in-app call ultimately means faster access to customers and businesses, whether using video or only audio, and utilises existing digital touchpoints to engage new prospects and existing customers further. 
Benefits of Kalerya's WebRTC
Kalyera's solution for real-time communication brings businesses further into the digital space where they can more confidently embrace and extend their digital transformation without losing the human interaction. 
Maximises existing digital touchpoints and brand awareness 
As businesses have invested in their apps and made significant changes to their digital touchpoints along the user journey, WebRTC provides the opportunity to truly maximise what's already there making the ROI on the technology multi-fold.  
Additionally, as much of digital transformation has been about creating greater brand awareness and instilling more brand identity, the ability to remain in-app with an add-on, white-labelled product drives these efforts further.  
Higher efficiency
Kaleyra's solution offers all users more efficiency through real-time collaboration that moves processes forward faster and makes valuable use of the time spent on the call. Where issue resolution, contract closures and storyboarding can take place in real-time, the tasks post-call can now simply be about confirmation, celebration and starting next steps. 
More security and privacy 
As fraud, spam and data breaches continue to rise, customers are increasingly reluctant to share their personal information with companies. Kaleyra's solution addresses these security concerns of many through its call encryption and user identification, which avoids spoofing and phishing. The WebRTC is also fully GDPR compliant with the support team fully based within the EU.  
Web real-time communication has stepped up a gear giving users the opportunity to be more productive and engaged in today's digital business environment, without a compromise on personal connection, relationship building and security. As digital transformation continues to evolve, WebRTC will firmly be a contributor to the success of forward thinking businesses.  
To learn more about how your organisation can utilise real-time communication channels, register today for our upcoming webinar, where we will take a deep dive into WebRTC with some detailed case studies and use cases. 
Supercharge Your Communication!
Get in touch with our experts who strive hard to bring the very best in cloud communications technology to you.