9 Digital Customer Experience Trends to Watch out for in 2023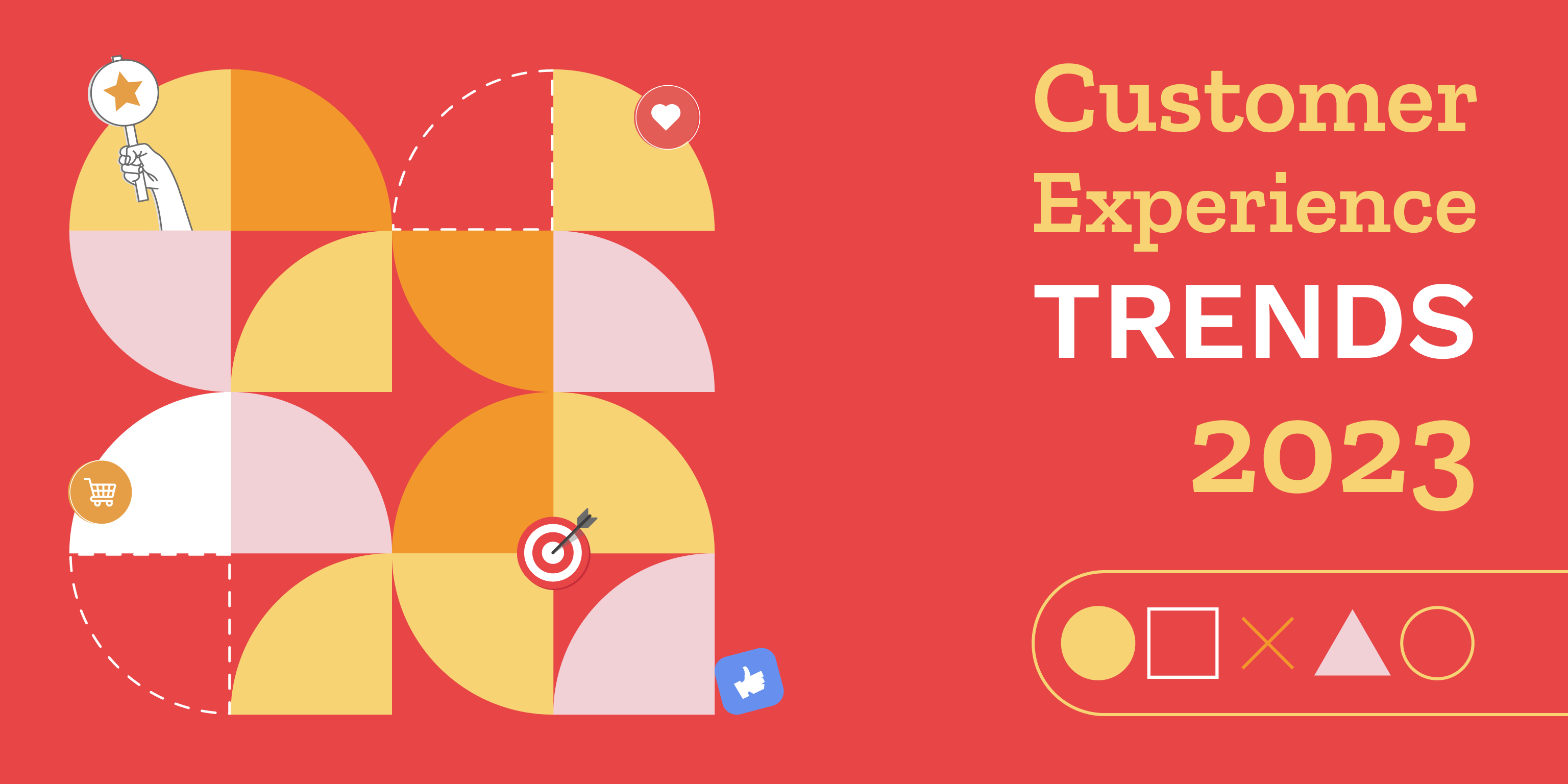 Although brands have long recognized the significance of CX in reducing churn, they may still be wrestling with outdated systems that present a skewed picture of their CX performance. Staying aware of current digital customer experience trends helps brands keep up with evolving customer expectations and gain a competitive edge.
It's a no-brainer that happy customers tend to stick with a brand and share raving reviews that can potentially bring in more customers. A whopping 92 per cent of B2B buyers are more inclined to buy from a brand after reading a credible review, according to G2. So designing a positive customer experience based on the latest CX trends is the simplest way to achieve the much-coveted customer satisfaction that brands are after.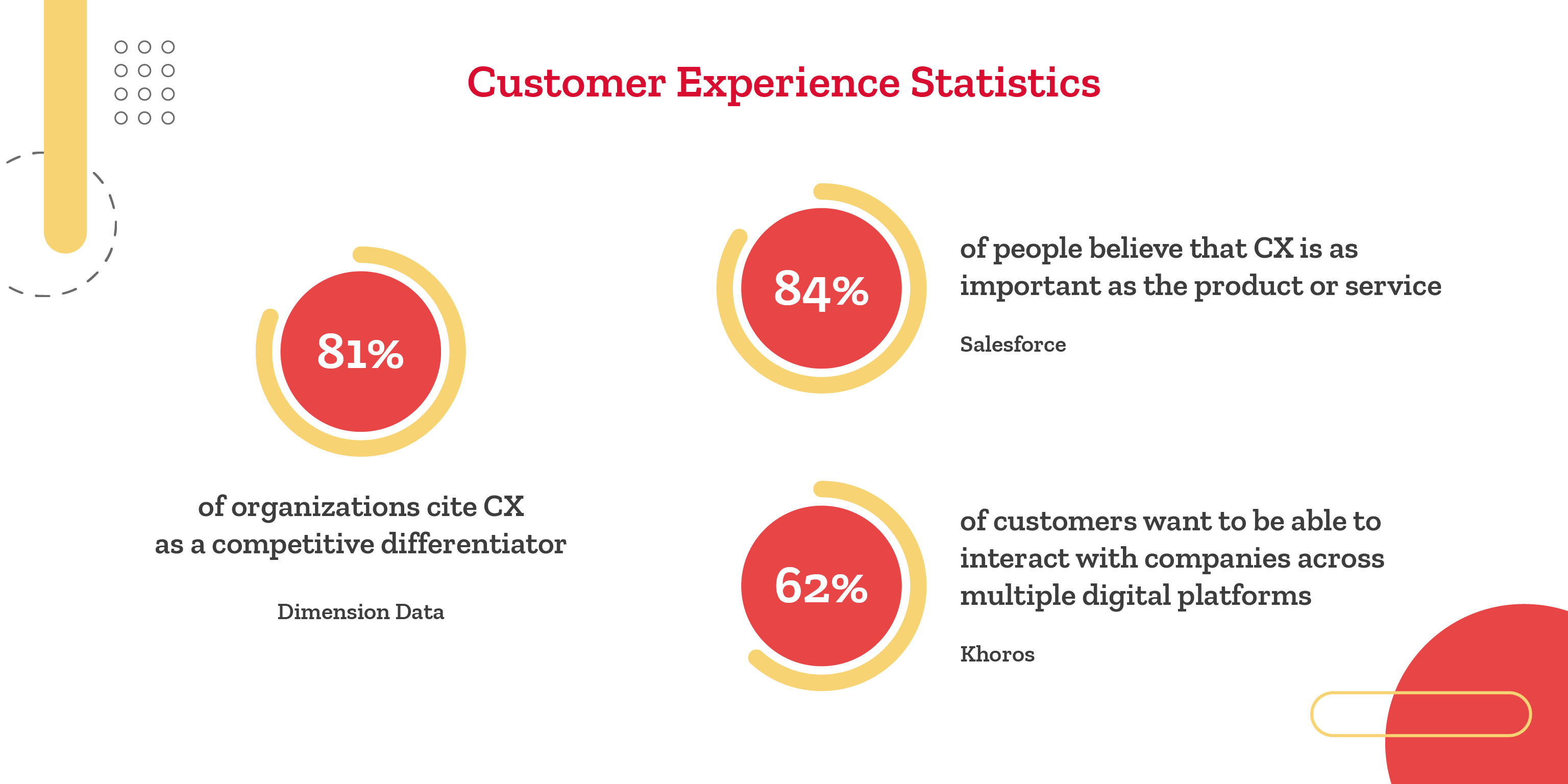 CX Statistics to Keep in Mind for 2023
There are theories and conjectures galore about what constitutes a good CX. But, as compelling as these hypotheses may be, you need to eliminate the noise and stay clear about what really matters – what the customers are saying.
Customers have stated in no uncertain terms that they want premium experiences. Some don't mind spending more for exceptional experiences. 42% of respondents said they would pay extra for a pleasant, welcoming experience, according to PWC.
The message is loud and clear. Delight your customers to retain them and boost your revenues. Here are a few key CX statistics to guide your business strategy in 2023:
The Stat: 81% of organizations cite CX as a competitive differentiator – Dimension Data

The Message: Want to stand out from the crowd? Focus on your CX strategy.

  

The Stat: 84 % of people believe that CX is as important as the product or service – Salesforce
The Message: You can have a great product, but customers may turn their backs on you if your CX isn't any good.

The Stat: 62% of customers want to be able to interact with companies across multiple digital platforms -Khoros

The Message: Don't expect customers to switch platforms to talk to you. Meet them where they are and be available on channels they prefer to connect with you on.
Ebook: A Mobile-First Guide

Learn how to optimize your mobile marketing strategy to boost sales and revenues.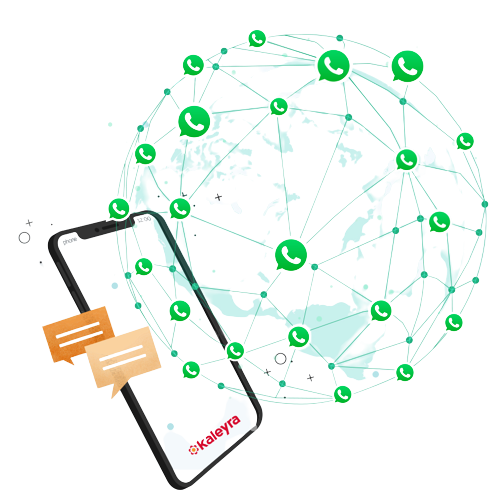 Top Digital Customer Experience Trends 2023
Here are the top CX trends that you want to stay on top of in 2023:
1. Omnichannel Engagement
Multichannel has been a trend for a while, but if you are not yet on the omnichannel bandwagon, now's the time to get with the program. Omnichannel customer engagement is valuable for businesses striving to delight modern customers. In addition, for customer interactions that span multiple channels, such as WhatsApp, SMS, and email, an omnichannel approach allows a cohesive brand experience.  
Customers nowadays use multiple channels and may start a conversation on one channel and choose to continue the conversation on another channel. With omnichannel solutions, companies can streamline communication and ensure that all departments have consolidated customer data. As a result, customers can have seamless conversations without having to repeat themselves.  
Purchase frequency was found to be 250% higher on omnichannel compared to a single channel, according to Omnisend. Companies can build trust and foster long-term relationships, leading to repeat purchases, positive reviews, and increased customer lifetime value by providing an omnichannel environment.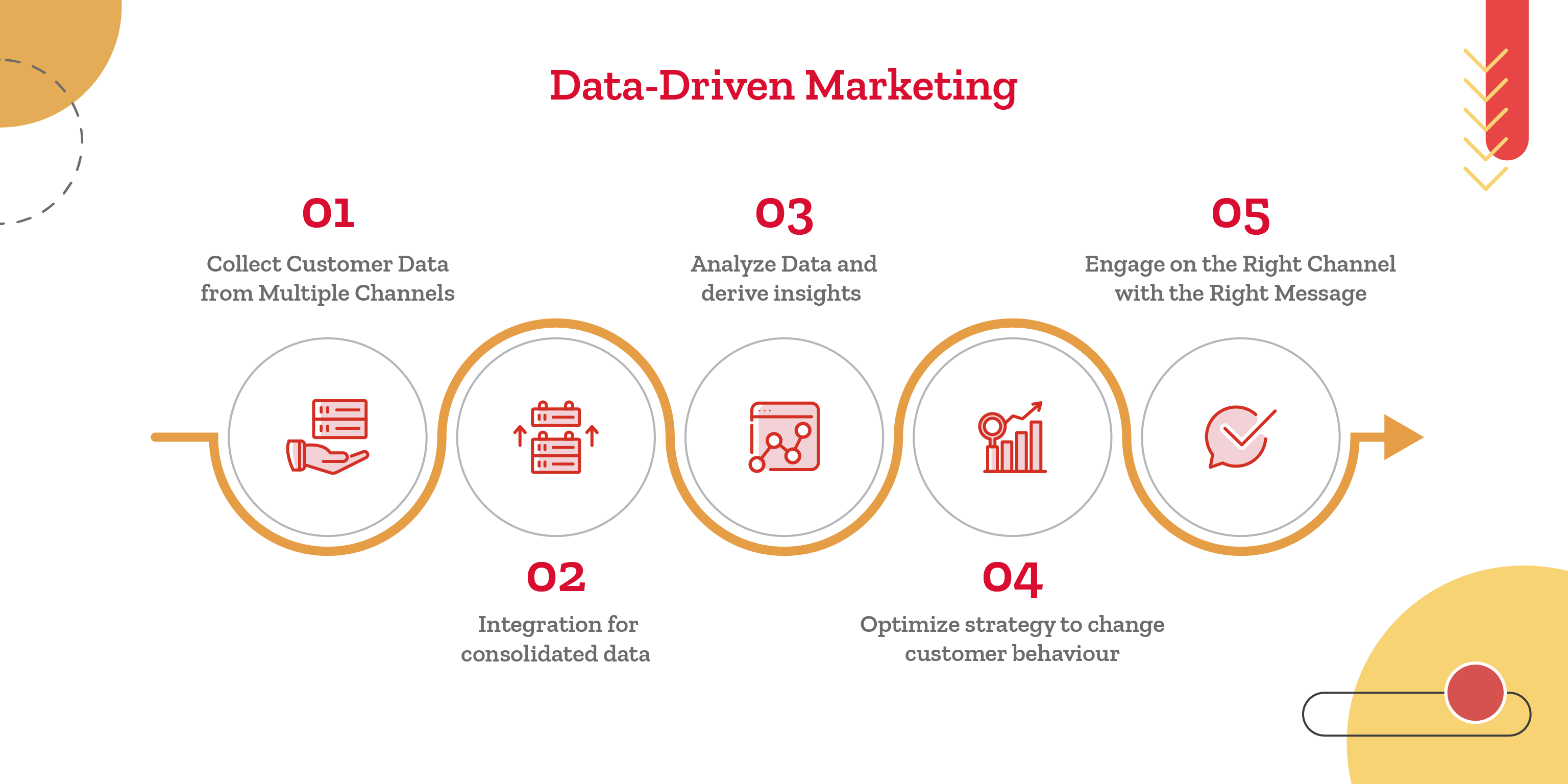 2. Data-Driven Marketing Strategy
Data analysis is a critical part of the CX puzzle and will continue to play an essential role in 2023. However, analyzing tons of data can get quite complex as a business grows. Without modern systems, your understanding of customer behavior may be fractured, resulting in a misdirected CX strategy.
Business intelligence relies on having accurate data and the ability to draw actionable insights that inform your decisions. Using omnichannel platforms that collect data from multiple channels provides consolidated data that marketers, salespersons, and customer service representatives can use for engagement. For example, Kaleyra's omnichannel solution helps you analyze data from multiple channels, such as SMS and WhatsApp. In addition, the ability to integrate with other platforms such as CRM and marketing automation solutions helps simplify workflows for better business outcomes.
AI was a game-changer and took the marketing world by storm in 2022; there are no signs of it slowing down in 2023. AI can analyze huge volumes of data, enabling scalability. Moreover, using AI and machine learning helps reduce human errors for improved efficiency.
3. Chatbots Everywhere
If you are a marketer, a CX strategist, Sales Professional, Customer Success Manager, or a CEO keen on following CX trends, then you definitely are cognizant of the rapid growth of chatbots in 2022. Chatbot adoption will only grow in 2023, with businesses of all sizes planning to leverage bots to manage customer interactions at scale. 80% of enterprise businesses will plan to use chatbots, according to Business Insider.
Adding chatbots reduces agent overload and helps companies to provide customer service beyond business hours. AI-based chatbots are capable of revolutionizing the customer experience by providing customer responses. AI technologies can detect user intent, analyze data, and offer accurate, real-time recommendations. In addition, AI chatbots enable companies to streamline processes and maximize performance, improving the bottom line of businesses.
4. Personalization and Custom Journeys
Personalization has been around for a while, but it will amp up in 2023. Gone are the days you segmented customers into buckets and created journeys for personas. Instead, for customers to be satisfied, brands must craft custom journeys that cater to their needs, preferences, and expectations.
Turns out, exceptional CX is reliant on more than just the latest technology. It's about a human-centered approach. It's about delivering an individualized experience that ticks all the right boxes for the customer.
Hyper-personalization allows companies to provide solution recommendations that are more likely to lead to a purchase. Mining data for strategic insights is vital for businesses to pay attention to the small things that add up to make an exceptional customer experience. Personalization can go a long way in boosting sales – from addressing the customer by name to suggesting anniversary gifts or recommending accessories for the product they recently purchased.
5. Data Security and Transparency
Data security has never been more important. The amount of business revenues lost due to cyber-attacks averaged 1.52 million dollars, according to an IBM study. 
Data security is critical to ensure customers feel safe and confident when interacting with your business. Consent is of the utmost priority, and you must be upfront when collecting data and transparent about how you plan to use it.
Being honest about security threats or data breaches is essential. Similarly, you must reassure the customers that you will promptly address the issues and keep them informed of the steps you are taking to mitigate the risks.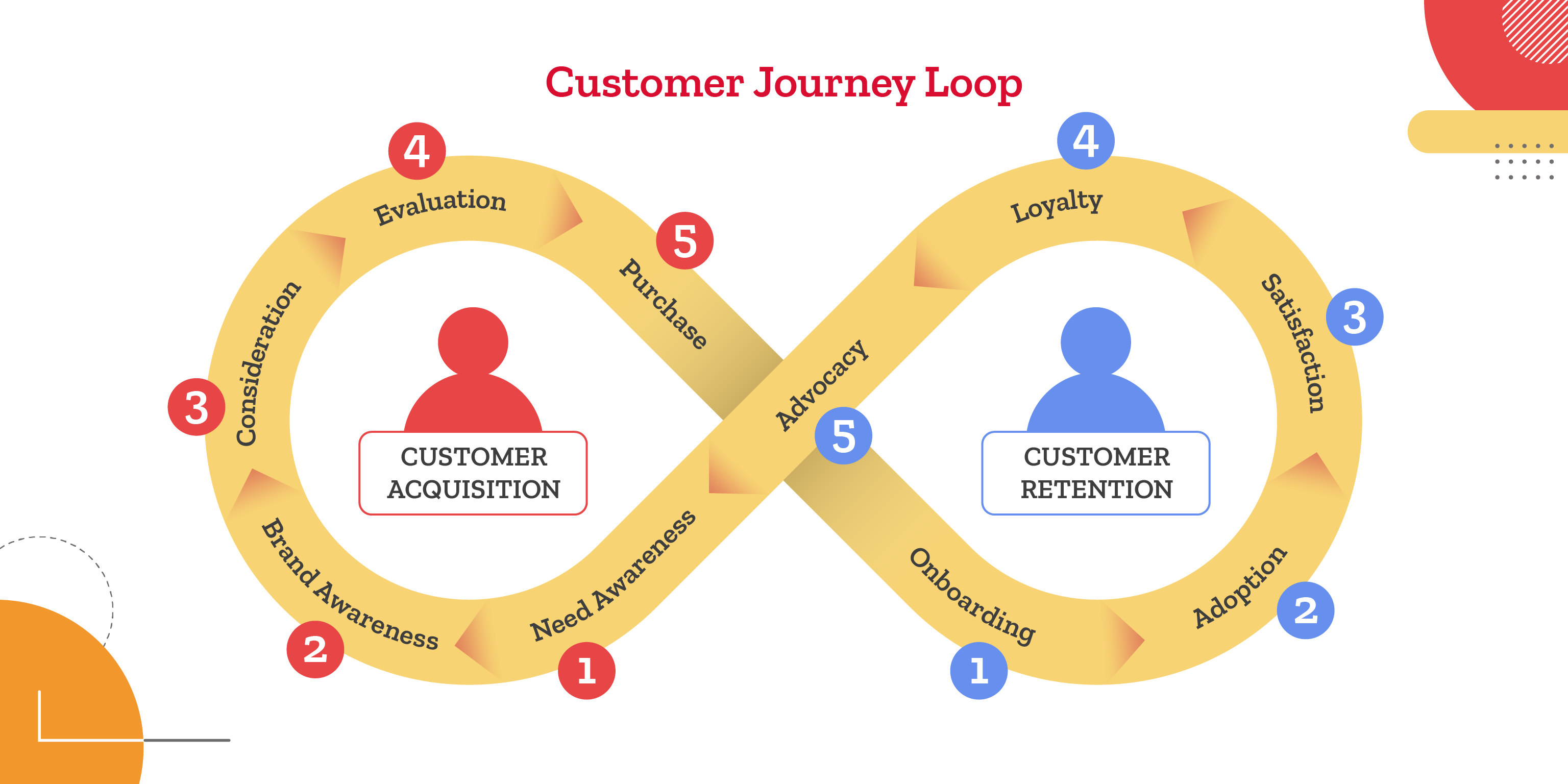 6. Customer Loyalty Loops 
Enjoyment, Advocacy, and Bond are the three phases of the loyalty loop. The Enjoyment phase is all about experiences. As you meaningfully engage with your customers at this phase, it sets up the stage for loyalty. 
75% of customers will favor a brand with a loyalty program, according to PR News Wire. Loyal customers are the core of successful businesses, and more companies are focusing on loyalty programs that can lead to repeat purchases.  
If the customers enjoy your interactions, they move to the Advocacy phase. 
Customers with outstanding experiences are more likely to share positive reviews and recommend your products to family, friends, and followers.  
In the Bond phase, customers seek repeat experiences based on their delightful past interactions. As a result, brands are positioned well for the customer to make additional purchases and have long-term relationships, leading to increased revenues.  
7. Predictive Analytics
Predictive analytics helps marketers predict digital customer experience trends that can help shape business strategies and optimize spending. It involves making predictions based on current or historical data to ensure that marketing and CX strategies are always in sync with what customers want. 
With predictive analytics, you can identify potential customers based on your existing customer profiles. Moreover, predictions help in lead scoring and targeting high-intent leads by scheduling sales outreach messages when the lead is likely to convert.
8. Proactive Communication
Proactive communication is about brands making the first move instead of waiting for the customers to reach out. It's about regularly communicating information and anticipating a customer's needs and concerns. By keeping customers informed every step of the way, you get into their good books, leading to an upsell or cross-sell.
Proactive customer communication prevents problems and addresses situations before they escalate. When you reach out to a customer, it presents an opportunity to build connection and trust. In addition, by actively stimulating engagement, you stay aware of shifting customer needs and preferences, allowing you to design interactive customer journeys.
9. Conscious/Authentic Branding 
Customers have grown tired of dishonest advertising strategies, and brand trust is lower now than before. Today's conscious consumers want brands that are real. They care about the stands brands take on societal issues of importance. Millennials and Gen Z prefer brands Nike and Patagonia, who don't shy away from raising their voice against injustices or making political statements.
From body positivity to environmental consciousness, brands that hit the right notes stand tall in the customers' eyes. Conscious or Authentic branding goes beyond social media posts and emails put together by marketers. It involves a genuine and socially responsible approach across the board. Your marketing messages need to speak the right language and your brand must be ready to have difficult conversations and not afraid to answer tough questions.
A stellar customer experience is increasingly becoming vital to business success. Companies that can deliver exceptional experiences stand ready to take advantage of digital customer experience trends and steer the business in the right direction. Staying agile and open to adopting new technologies and approaches will help you thrive in the ever-shifting marketing landscape.
Supercharge Your Communication!
Get in touch with our experts who strive hard to bring the very best in cloud communications technology to you.