Leverage Whatsapp Messaging API for Insurance Marketing
Leading insurance providers across the globe are embracing digital solutions and customer-centricity for business growth and success. Timely and relevant communication is vital to the Insurance industry, and WhatsApp Messaging API is a potent tool to help insurers meet rising customer demands. With more than 1.5 billion users, WhatsApp has emerged as a widely used
conversational messaging
channel and is an excellent platform for Insurance providers to expand their reach and increase conversions.
The pandemic has led to a significant shift in how customers purchase insurance plans and interact with providers. Customers are looking for flexibility, personalization, and promptness in communication and are seeking new ways to engage with insurers. The Insurance industry is all about providing a sense of security, and customers expect nothing short of streamlined communication and relevant, instant responses from providers.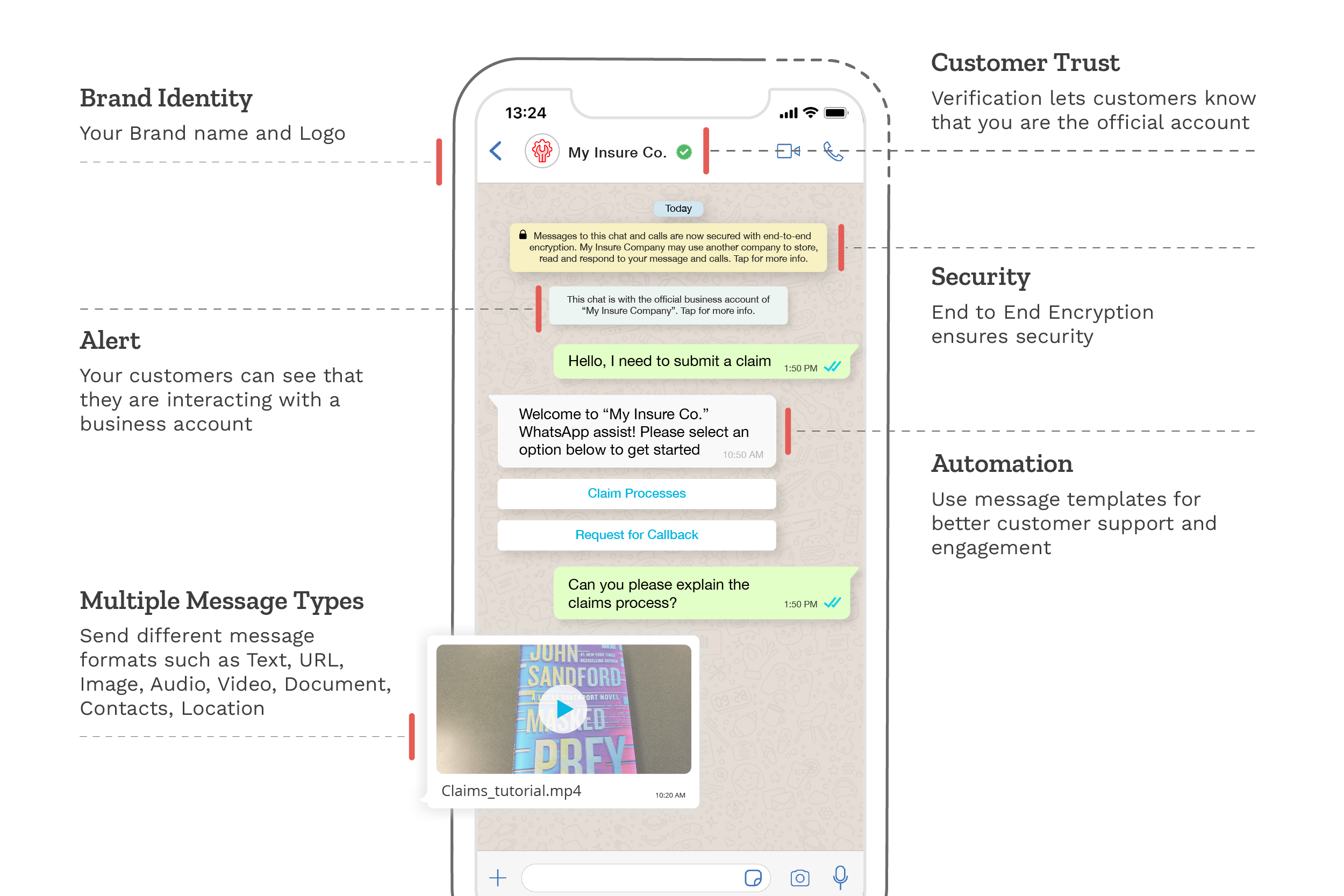 Benefits of WhatsApp Messaging API 
WhatsApp API is primarily for businesses that want to communicate at scale. Unlike the WhatsApp Business App, the Whatsapp API supports bulk messages, which is crucial for small, medium, and enterprise businesses. Moreover, Whatsapp API enables marketing automation through integrations and provides analytics information for actionable insights. 
With WhatsApp APIs, it's easier to onboard new partners and incorporate new solutions into your existing digital capabilities. By seamlessly integrating customer data with a customer relationship management (CRM) platform) and other solutions, businesses can get a holistic picture of a customer's pain points and purchase patterns. Moreover, APIs enable effortless collaboration between teams, with members quickly accessing valuable customer data and analytics for deeper insights. 
Whatsapp Business API for Insurance
Insurance companies currently face several challenges, such as higher customer expectations. According to The Accenture Strategy report, only 29 percent of customers are satisfied with their current insurance providers. Whatsapp APIs allow the automated collection of customer data with which providers can offer highly personalized premiums. Moreover, message analytics can help insurers to provide customized interventions and relevant responses, resulting in improved customer satisfaction. 
Furthermore, customers may be overwhelmed by the different Insurance plans and claims processes. Whatsapp conversations can help Insurance providers to walk them through complex processes and educate customers about the various offerings and policies. Whatsapp supports two-way communication, which can help providers keep customers engaged throughout their buying journey.
Let's take a look at a few ways the Insurance industry can take advantage of Whatsapp API for business-

Faster Resolution Due to Rich Data
Customers may have questions and concerns across their buying journey, from requesting a quote, and purchasing a plan, to submitting a claim. Unfortunately, due to insufficient data, customer service teams often cannot provide fast enough resolution, negatively impacting metrics such as average handle time (AHT) and first contact resolution (FCR).
Since WhatsApp supports rich media formats, customers can easily share documents, photos, or location information. For example, suppose a customer's house was affected by a flood. In that case, they can immediately share photos of the damage to their home, copies of property documents, and IDs to speed up the claims process. When customers provide quick information, insurers can offer timely responses with helpful information. Customer support representatives can also share videos and audio to guide customers efficiently. Access to accurate customer data allows insurers to have meaningful communication with customers and leads to faster resolution.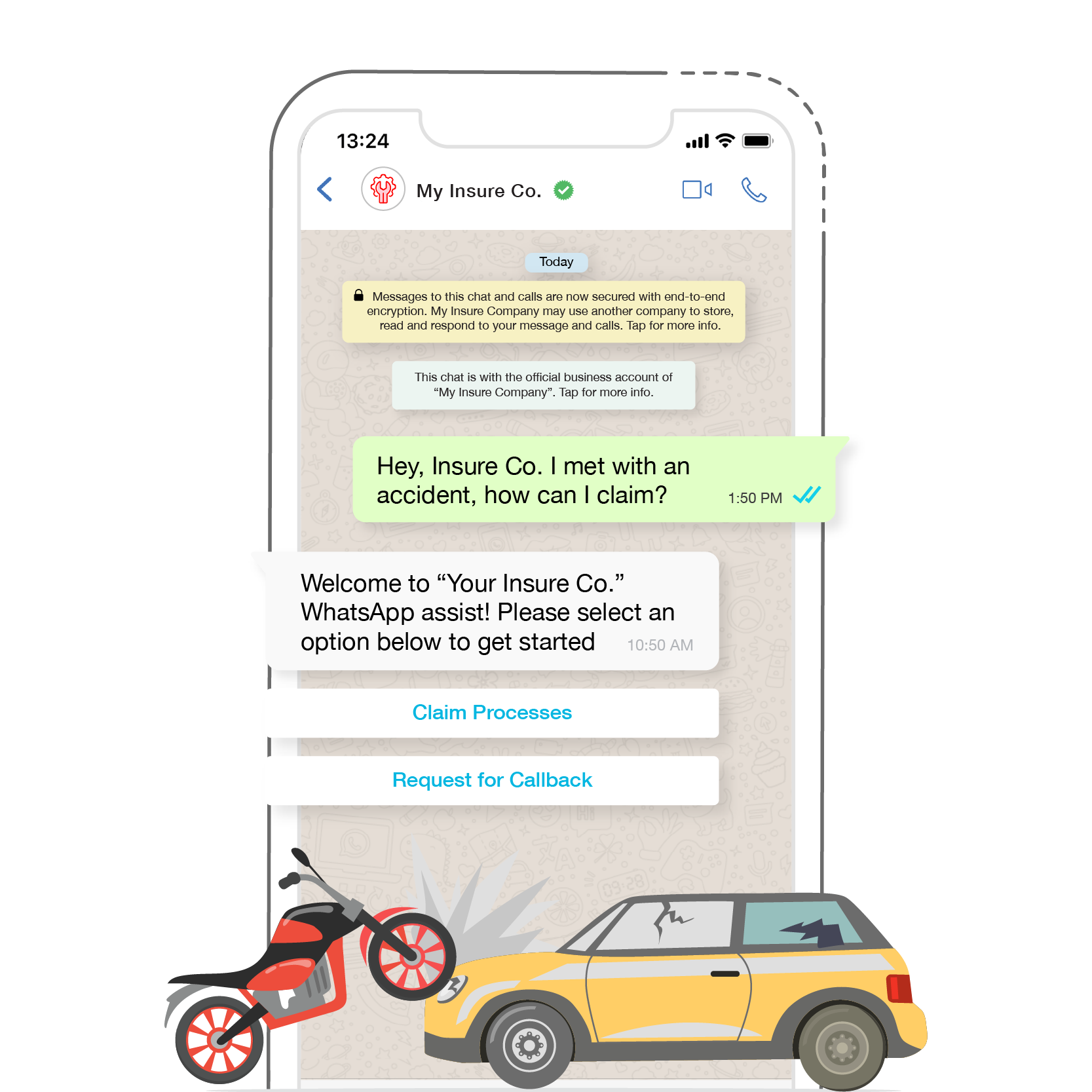 Automated Conversations
WhatsApp API allows businesses to create custom message flows for automated conversations. Automation is pivotal for the operational efficiency of a business's customer support, sales, and marketing teams. Automating the sending of bulk messages, notifications, announcements, and updates gives businesses the bandwidth to engage a large number of customers with minimal human intervention. For example, providers can use Whatsapp API to send a message template in bulk to customers whose policies are up for renewal. These template messages can be customized to reflect a business's brand tone, thus providing a consistent experience for customers across all digital touchpoints.
Automated messages help Insurance providers gain a competitive edge. With WhatsApp, insurers can send pre-set replies to queries from new or existing customers. For example, providers can create auto-replies to customer FAQs such as eligibility requirements, contact information, and business hours. 
Automated messages enable providers to engage customers by sharing status updates or notifications about appointments, payments, events, or service requests. Prompt responses improve customer satisfaction, builds trust, and enhance the brand experience. WhatsApp API automation frees up valuable time for enterprise businesses to focus on more critical tasks.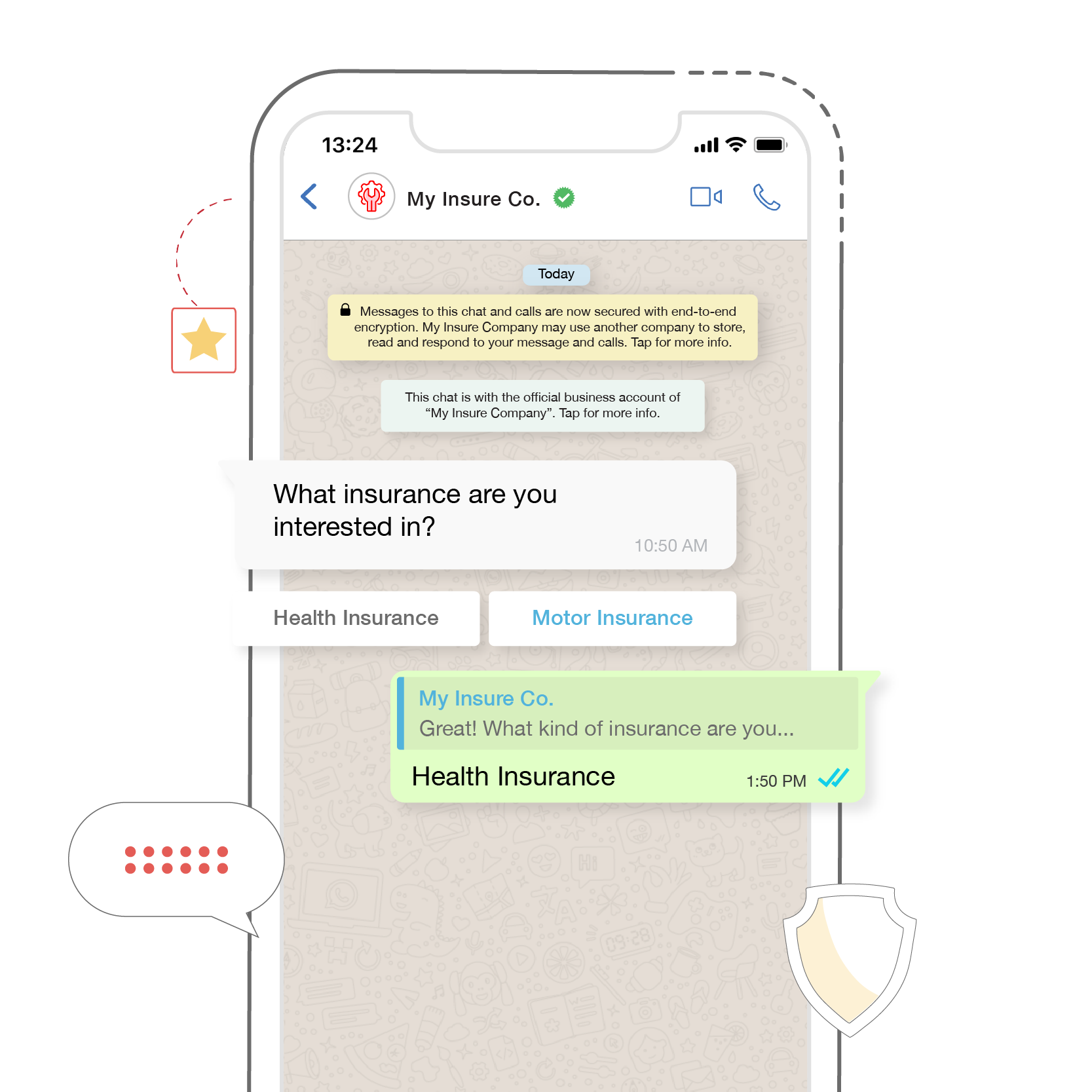 Increases Conversions
Insurance providers can automate data collection with WhatsApp APIs and use that data to sell specific plans suited to the customer's needs. Onboarding new customers is also easy with Whatsapp because customers can quickly share PDFs and images for identity verification.
Information such as age, type of insurance required, and location provides agents with a rich customer profile to identify qualified leads most likely to convert. By filtering out low-quality leads, agents can focus their energies on nurturing prospects with high purchase intent. In addition, providers can easily share links to landing pages on the website that lists the relevant policies. For example, suppose a prospect is not a homeowner. In that case, insurers may have better chances of conversion while selling motor or life insurance instead of property insurance.  
Using multimedia instead of traditional methods can help gather valuable data customers may not otherwise share. With CRM integration, agents can easily access customer data to send personalized messages.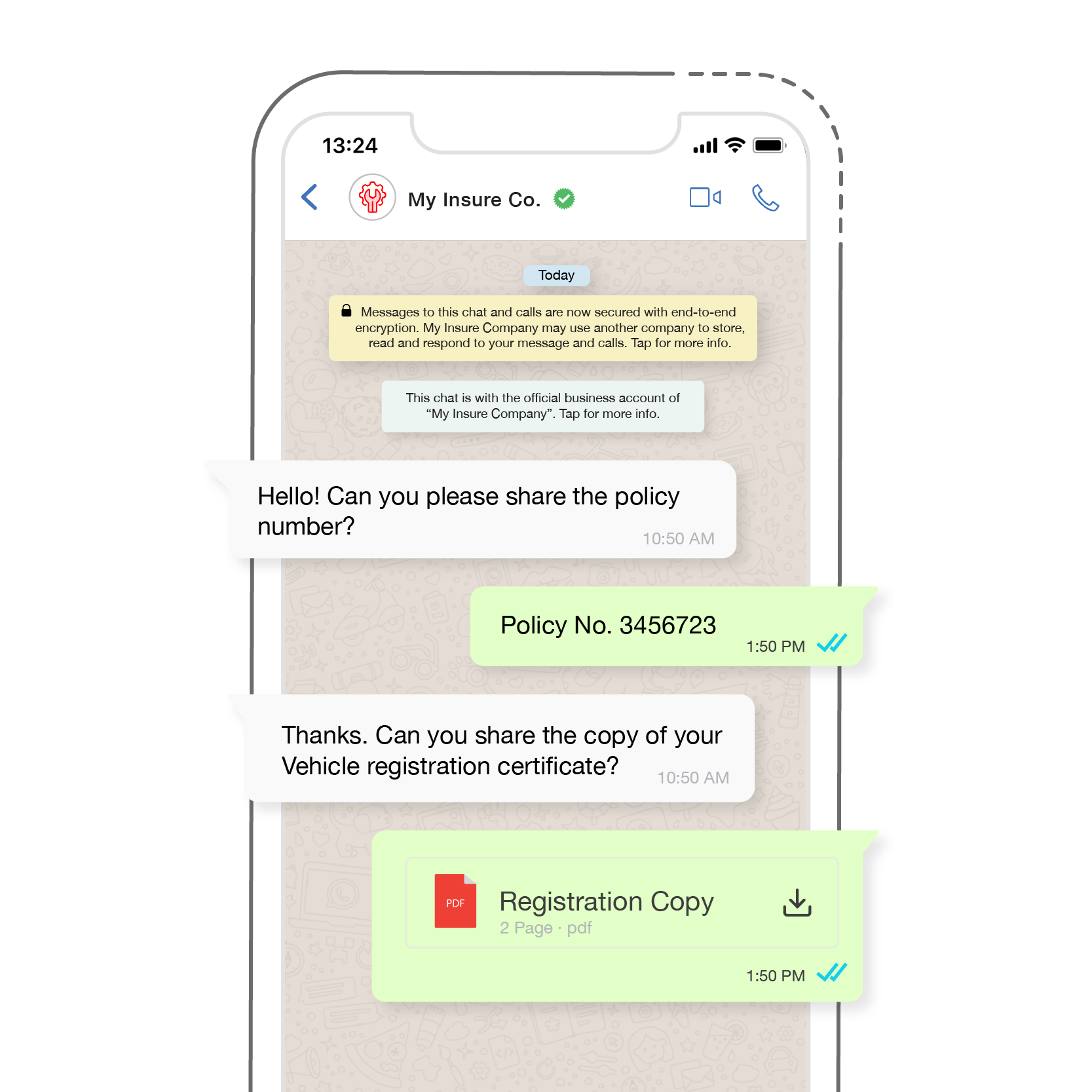 Better Customer Support
Insurance is a highly competitive industry, and customers are typically on the constant lookout for better Insurance plans. A bad customer service experience may result in customers opting for competitors. 
Insurance customers usually call the support team during a personal crisis, bereavement, or loss. Irrelevant responses and delay in resolution only add to the cutsomers' stress. 
 A conversational messaging platform such as WhatsApp allows insurers to have empathetic conversations. Customers can resolve problems and get answers to their queries on an instant messaging channel with which they are familiar. Moreover, customers can receive status updates on claim approval or reminders for policy renewals, avoiding payment lapses. Customer care teams can provide excellent service by sending quick replies to common questions through automated responses and stepping in when human intervention is required.  
Supercharge Conversions with Kaleyra's WhatsApp Business API
With Kaleyra's WhatsApp Business API, companies can meaningfully engage with customers at various touchpoints. Businesses can use our robust platform to send messages, including appointment reminders, order confirmation notifications, payment alerts, customer surveys, and support messages.
WhatsApp is suited for businesses of all sizes to reach customers in all geographies and engage them with a personal touch. Furthermore, WhatsApp messages are also end-to-end encrypted, ensuring customers' utmost security. With Kaleyra's Whatsapp Messaging API, businesses can optimize this potent channel and take their business communication and revenues to the next level.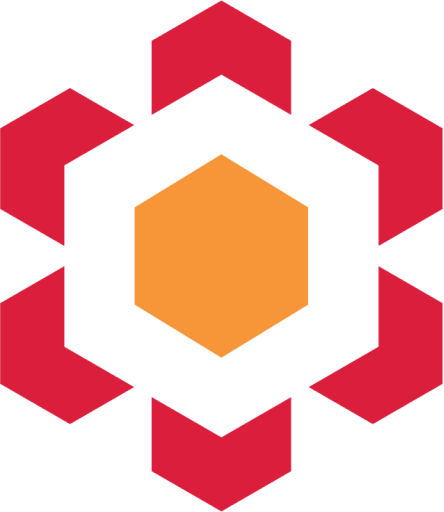 Kalaivani Narayanan
Content Specialist