The virtual healthcare or telehealth industry is rapidly evolving, and video solutions are becoming increasingly popular for providers to connect with patients. Healthcare systems that want to ensure the highest quality customer care in telehealth can significantly benefit from using video chat support. Let's see how to enhance patient experiences using video in this blog.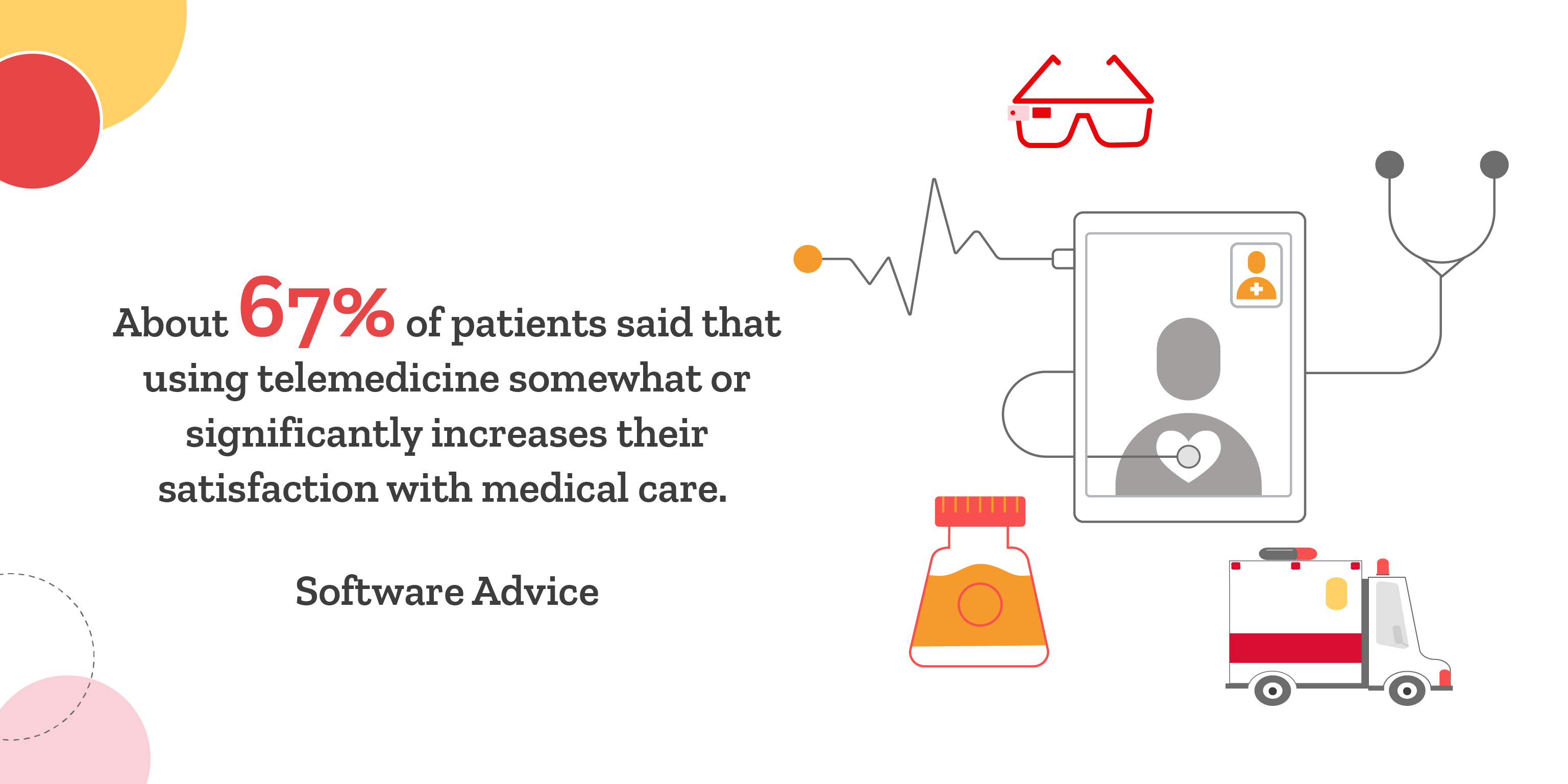 Why Use Video Chat for Customer Service?
Good customer service is all about making the customer heard and understood. It involves letting customers know you care by showing empathy in communication. Video chat allows service agents to pick up vital non-verbal cues, making video chat feel personal and enabling customers feel connected. Moreover, face-to-face interactions tend to build trust and rapport. 
A positive customer experience gives businesses a competitive edge. Since service agents can better ascertain customers' emotional states, you can significantly improve your customers' journey by providing video call solutions. According to a Forbes Study, about half of those surveyed said video improves understanding.
Data privacy is paramount in customer interactions, and modern video technologies offer a secure channel for customers to share sensitive information. Moreover, video chat allows agents to confirm customer identity, preventing fraud. 
Video chat enables agents to demonstrate solutions and quickly identify customer issues through visual inspection. In addition, since it adds a personal touch and builds credibility, customers are likelier to be loyal.
Ebook: A Mobile-First Guide

Learn how to optimize your mobile marketing strategy to boost sales and revenues.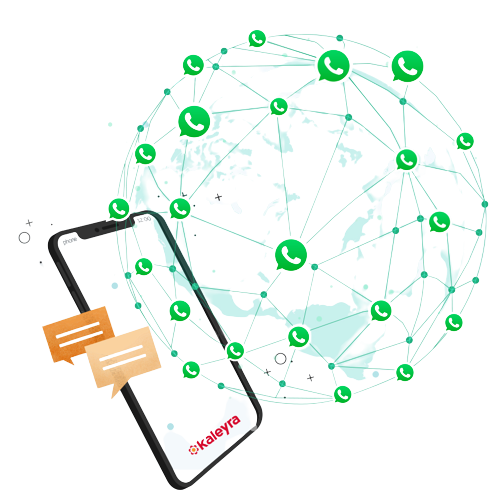 Benefits of Video Chat Support for Healthcare
The implementation of telehealth has skyrocketed over the past few years, and healthcare systems are looking for technological solutions to keep up with the times. The healthcare industry faces challenges such as increased competition and evolving patient needs and expectations. Existing customer service solutions may be inadequate to meet rising patient demands. Let's look at 5 ways video chat can benefit the healthcare industry: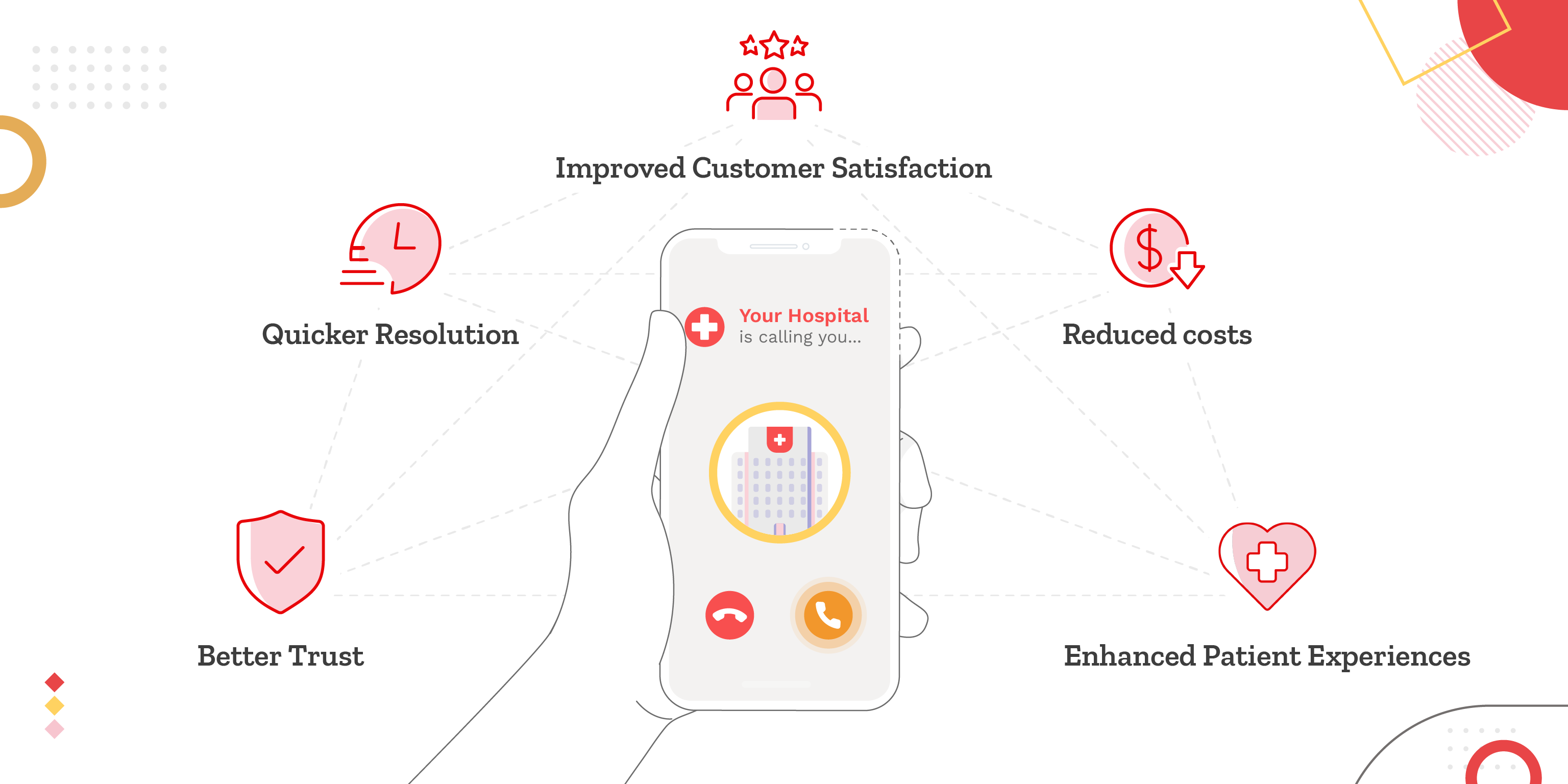 1. Quicker Resolution
Waiting in a long queue or interacting with automated messaging systems can be frustrating for patients. Furthermore, explaining complex issues can be difficult over traditional customer support systems.
Video chats demand the attention of the agent and the patients so that it becomes easier to address the issues and arrive at a resolution. This reduces the number of follow-ups and increases first contact resolution. Moreover, repeated customer service requests can be a source of annoyance for service agents.
Emails and texting can result in miscommunication because written language can sometimes be misinterpreted. With video solutions, Service agents can use tonality, body language, and facial expressions to avoid miscommunication. In addition, video calls provide context and help agents connect the dots to understand the issue better.
Typing can be slower, and each party has to wait for their turn to share a response. Video calls allow customers and agents to have two-way conversations in real time. Such conversations keep customers engaged, leading to lower customer abandonment rates and churn.
Similarly, customers may struggle to explain the issue in written language. They may also find it difficult to understand the necessary steps to resolve the issue. Video chats, on the other hand, allow customers and agents to see the issues and the solutions visually. This results in reduced average issue handling time, freeing up agents so that they can respond to other customers.
2. Improved Customer Satisfaction 
Customers today want to be able to use their preferred channel to interact with healthcare providers. Mobile messaging is convenient for most customers because it facilitates instant communication, and customers can have conversations from anywhere. However, when customers feel the need to connect with service agents and share something visual immediately, they are likely to opt for video calls.
Video calls help agents get context about the customer's problem and hence allow agents to provide a satisfactory solution quicker. A customer who started a conversation on text chat can easily switch to video when required for an omnichannel experience. Communication mix-ups can lead to cancelled appointments and delays in prescription refills. Video chat lowers the chances of communication breakdowns and increases overall customer satisfaction.
3. Reduced costs
Video chats bring down the number of touchpoints and help customers get a solution with fewer interactions instead of back-and-forth communication that can span days. So, organizations with tight budgets may be able to achieve customer satisfaction with fewer resources.
Instead of investing in expensive customer support systems, an integrated video chat solution can help healthcare organizations save costs. Video chat can also help save customers from unnecessary hospital visits, reducing customer costs. This, in turn, makes healthcare more equitable and accessible to people in underserved communities.
4. Enhanced Patient Experiences

While telehealth is gaining popularity, healthcare providers must ensure the quality of service is not compromised. Health discussions are incredibly personal, and face-to-face interaction can make the patients feel relaxed.
Older patients and those with disabilities may find it challenging to explain their issues or understand solutions. Video chats can be less stressful for such patients because they can see the agent they are interacting with.
Patients with a recent diagnosis may have several questions about their condition and treatment options. Video chats allow agents to show empathy and educate patients using visual aids and sign language if necessary. Agents can share their screens and walk patients through test results. They can also demonstrate how to use medical equipment or do remedial exercises suggested by doctors.
5. Increased Trust
In any business, trust results in repeat business. Especially in the healthcare industry, trust is essential. Since video chats allow instant resolutions and personal interactions, it helps healthcare organizations build trust.
Chatting with an avatar or writing emails may feel impersonal. Instead, customers see the human agents they interact with in video chats, which builds credibility. For high-stakes topics such as medical care, customers may feel safe in an environment of trust created by video chats.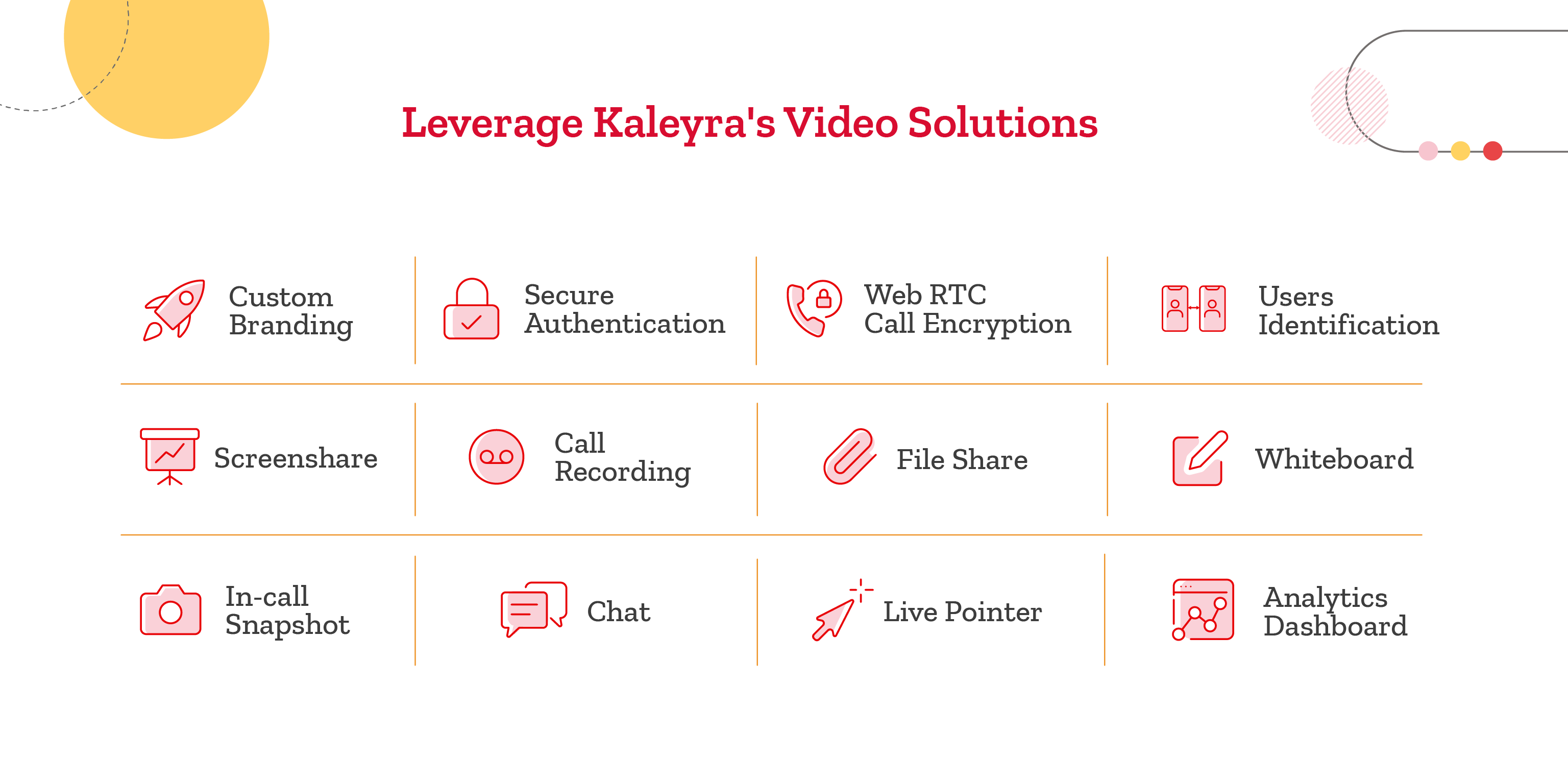 Video chat support allows patients to get timely information and prompt responses to their queries. For example, patients with mental and behavioral health issues can easily talk about their symptoms and learn when to consult a doctor. Video calls also go a long way in helping patients monitor chronic illnesses and ensuring they continue to get the best care between hospital visits. Try Kaleyra's video solutions to boost your customer satisfaction and bottom lines.
Supercharge Your Communication!
Get in touch with our experts who strive hard to bring the very best in cloud communications technology to you.