WhatsApp commerce is making waves in the retail world, with the platform's recent features enabling an end-to-end shopping experience for customers. Shopping habits are evolving, with
up to 71%
of consumers shopping in unplanned "micro-moments". For retailers looking to take advantage of these micro-moments and dial up their engagement strategies, WhatsApp marketing is turning out to be a game-changer. This blog will explore how you can use WhatsApp Business API to improve conversions through customer engagement.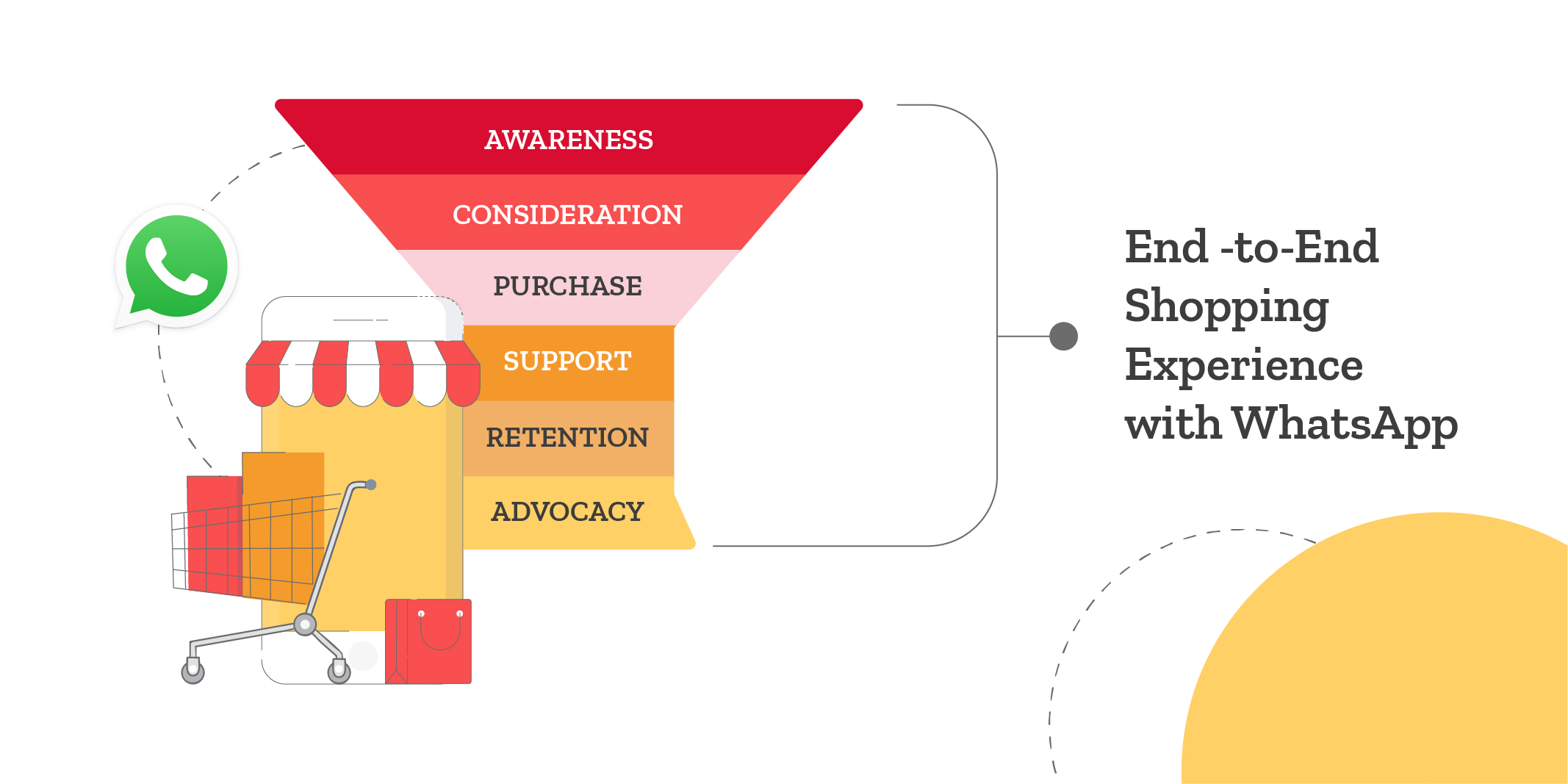 WhatsApp for Conversational Commerce
Conversational commerce refers to the use of messaging channels for customer interactions. It is a business communication method which involves retailers taking advantage of popular messaging and chat apps to engage customers and sell their products. 
As the number of online shoppers is growing, it's crucial that brands step up their customer conversations. Whatsapp is brilliant for conversational commerce because it is an instant messaging app making it convenient for customers to interact with businesses in real-time.
With Whatsapp, you can
Guide customers through every step of the buying process

Boost engagement through rich media formats such as videos, images, and PDFs

Upsell by giving personalized recommendations

Retain customers by providing excellent customer service
Ebook: A Mobile-First Guide

Learn how to optimize your mobile marketing strategy to boost sales and revenues.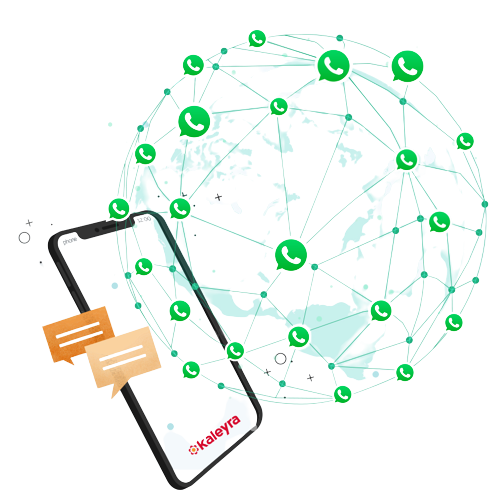 WhatsApp Commerce for the Modern Customer Journey
Let's see how you can grow your business by engaging customers throughout their shopping journey.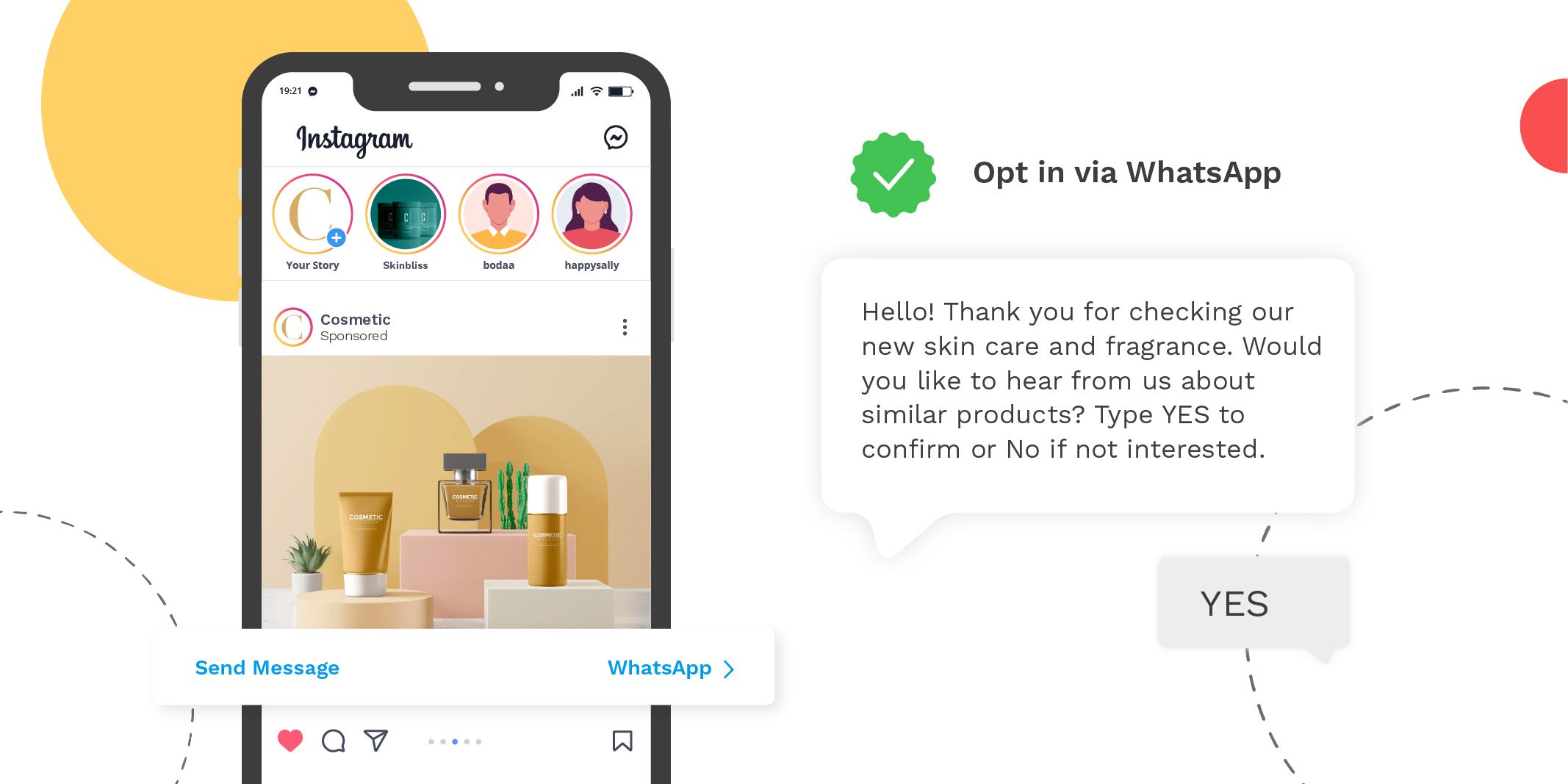 Awareness

Users in the awareness phase identify their problem or a pain point and are seeking solutions. They may not be actively looking to purchase products but may be receptive to valuable resources to help them identify solutions. How can you drive users to your Whatsapp where you can nurture them?
Run Facebook/Instagram/Search Ads that Click to WhatsApp
Reach new audiences through ads with a simple CTA "Send Message" that open an instant WhatsApp conversation with you.
Use QR Codes on Offline Advertising Properties
QR codes on billboards, subway signs, and brochures can help you expand your reach and gain massive exposure
Organic Social Media Posts
Add a clickable WhatsApp button or your WhatsApp business number to your profile so that new users discovering you on social media can quickly get in touch with you. Adding a QR code on the Website Contact Us page or a button on the Home page can make it effortless for the social traffic to reach out to you.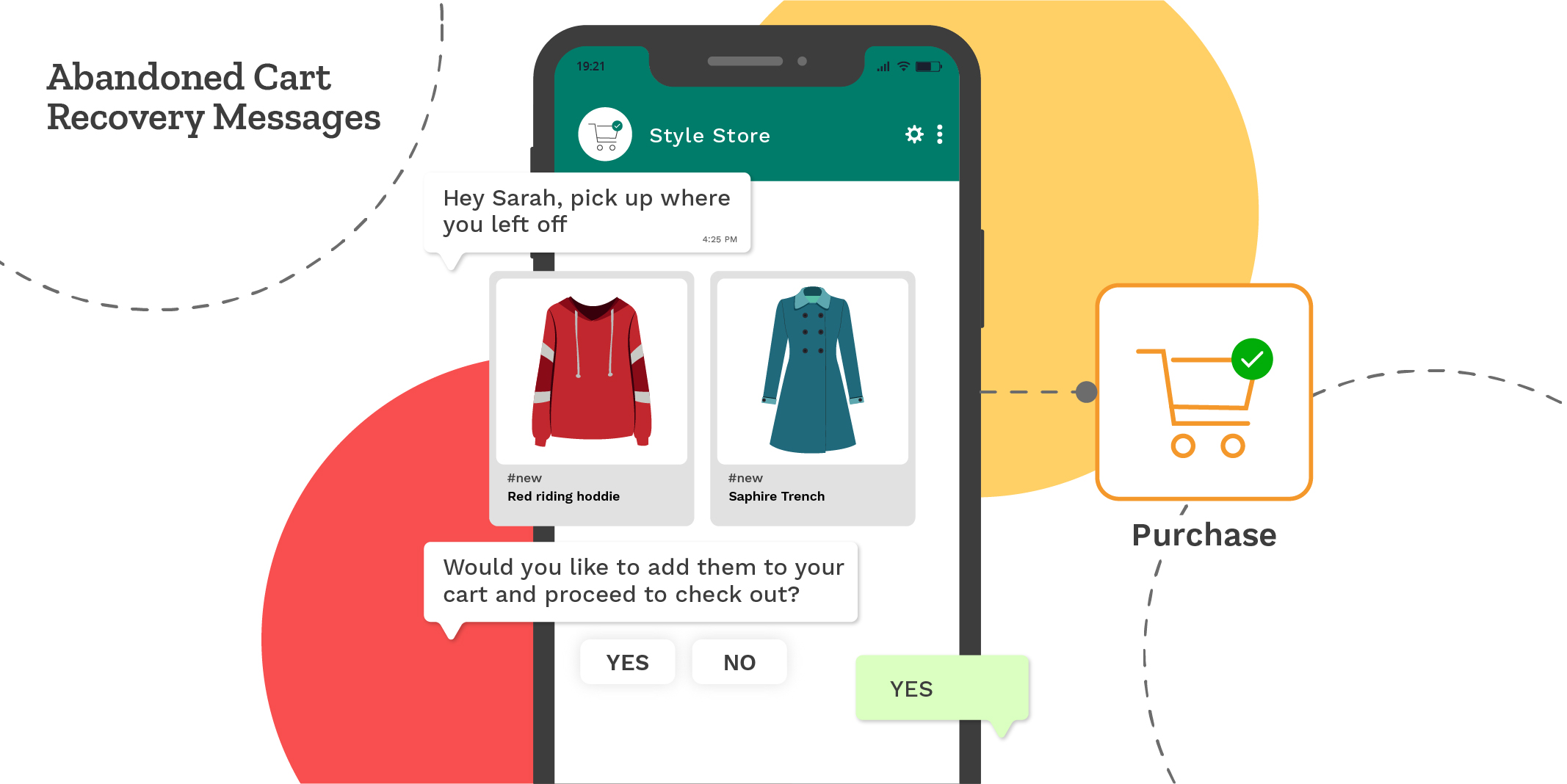 Consideration Phase
Users in the consideration phase are researching potential solutions to their problems. They are exploring all options and evaluating the products.
50% of customers use 3/4th of their shopping time for online research. At this stage, you can sway customers your way by sending useful information that will help them decide. Send product information, demos, case studies, reviews, and product comparisons. Show off your product range and include details necessary for the buying decision with WhatsApp e commerce features.
According to a Statista study, 43 per cent of shoppers value in-stock availability of items and fast delivery in retailers. Make sure you share free shipping offers or stock alerts to nudge shoppers toward a purchase.
Relevant Promotions and Discounts
Send seasonal offers because that's when people are usually planning a gift purchase or looking to upgrade their wardrobe. Offer free shipping and fast delivery options for high-value orders. Incentivize immediate purchases by creating a sense of urgency with sale alerts.
Price Drop Alerts
If the price of an item a shopper has been eyeing has been marked down, make sure to let them know. Sending timely alerts will encourage customers to cash in on the price drop and complete the purchase.
Back in Stock Alerts
Out-of-stock items suggest that the product is useful and in high demand. Back in Stock alerts are a great way to use scarcity and social proof in your messaging. Customers are more likely to take action immediately because they think the restocked item can sell out again.
New Product Announcements
When you launch a product, you want to ensure that the information has reached all your customers and potential customers. Send WhatsApp messages announcing your new products or an upgrade to your existing products. Showcase new items or features that are likely entice shoppers to your business.
Cart Abandonment Reminders
The modern shopping journey is filled with distractions, and shoppers can often add items to their cart and leave without purchasing. You can recover the sales potentially lost due to abandoned carts by sending reminders. Since the customer likely had purchase intent, you can also sweeten the deal by offering discounts or free shipping for items in the cart to increase conversions.
Upcoming Events
Events are an excellent way to generate excitement around your products. They appeal to customers who seek unique experiences. Share your event information beforehand so people can mark their calendars and free up their schedules for the event. For example, messages about a fashion brand's online session with a style guru or a kid's holiday event at a craft store help engage shoppers with high purchase intent.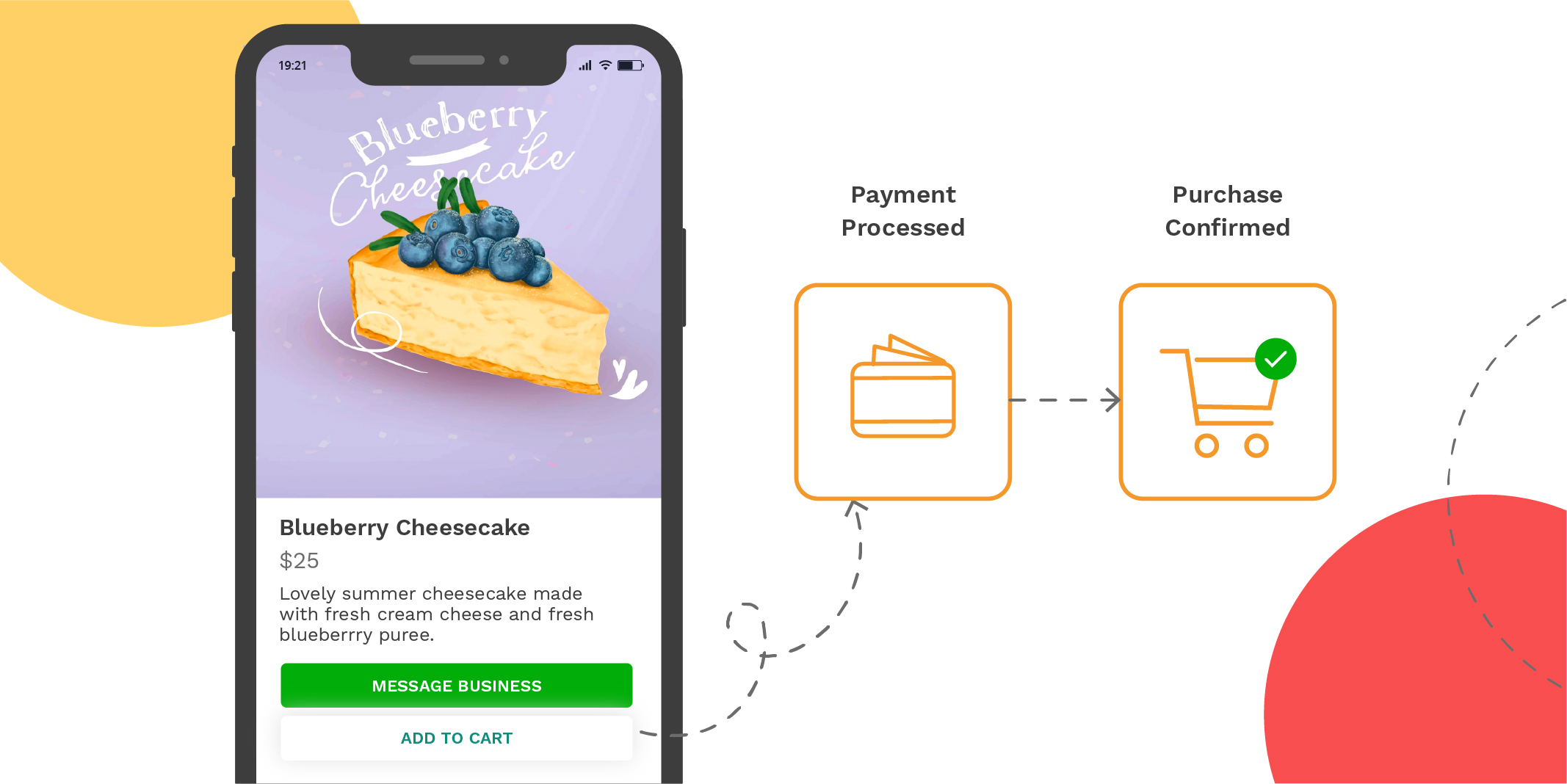 Purchase/Decision
Purchase is one of the most challenging phases in the modern customer journey. Shoppers are more likely to convert if the path to purchase is seamless, and customer conversations are satisfactory.
According to eMarketer, transactions on mobile devices are projected to account for more than 10% of all retail sales by 2025. With its multiple message types, WhatsApp serves as an excellent platform to implement shopper marketing strategies that convert prospects into customers.
Product Details
You can have your own WhatsApp e commerce store where you can showcase product details through single-product and multi-product messages.
Product Catalogs allow shoppers to explore a business's products or services and check stock availability. Once shoppers choose items they're interested in, they can ask relevant questions that help make a decision.
Payment
You can send the customer a payment link on WhatsApp to the checkout page where the cart is pre-populated with the customer's purchase, ready to check out.
Order Confirmation
Order confirmation messages are essential for the customer to feel confident that the order will be delivered on time. You can include the expected date of delivery and links to change or cancel the order if necessary.
Support /Delivery
Modern customers look for a hassle-free shopping experience throughout their buying journey. They want businesses to be easy to talk to. They also prefer businesses that are prompt in their responses and extend support even after the purchase. According to Salesforce, a positive customer experience results in 89% of customers being more likely to make another purchase.
Order Tracking
Order tracking messages reassure your customers by keeping them informed of when they will receive the product. You can send updates about early or delayed delivery, the delivery agent, and delivery time so customers can be prepared for the order delivery.
Addressing Complaints/Concerns
WhatsApp features such as auto-replies and interactive buttons ensure that customers get timely answers to their queries. WhatsApp template messages can also help you share links to frequently asked questions after the purchase.
Product education messages
Many businesses incorrectly assume customers will start using their product/service immediately after the purchase. Sending product demos, tutorials, and other engaging content will make sure customers get the most out of the product. For example, if your customer has purchased a blender, you can send demos or smoothie recipes that encourage them to use the blender.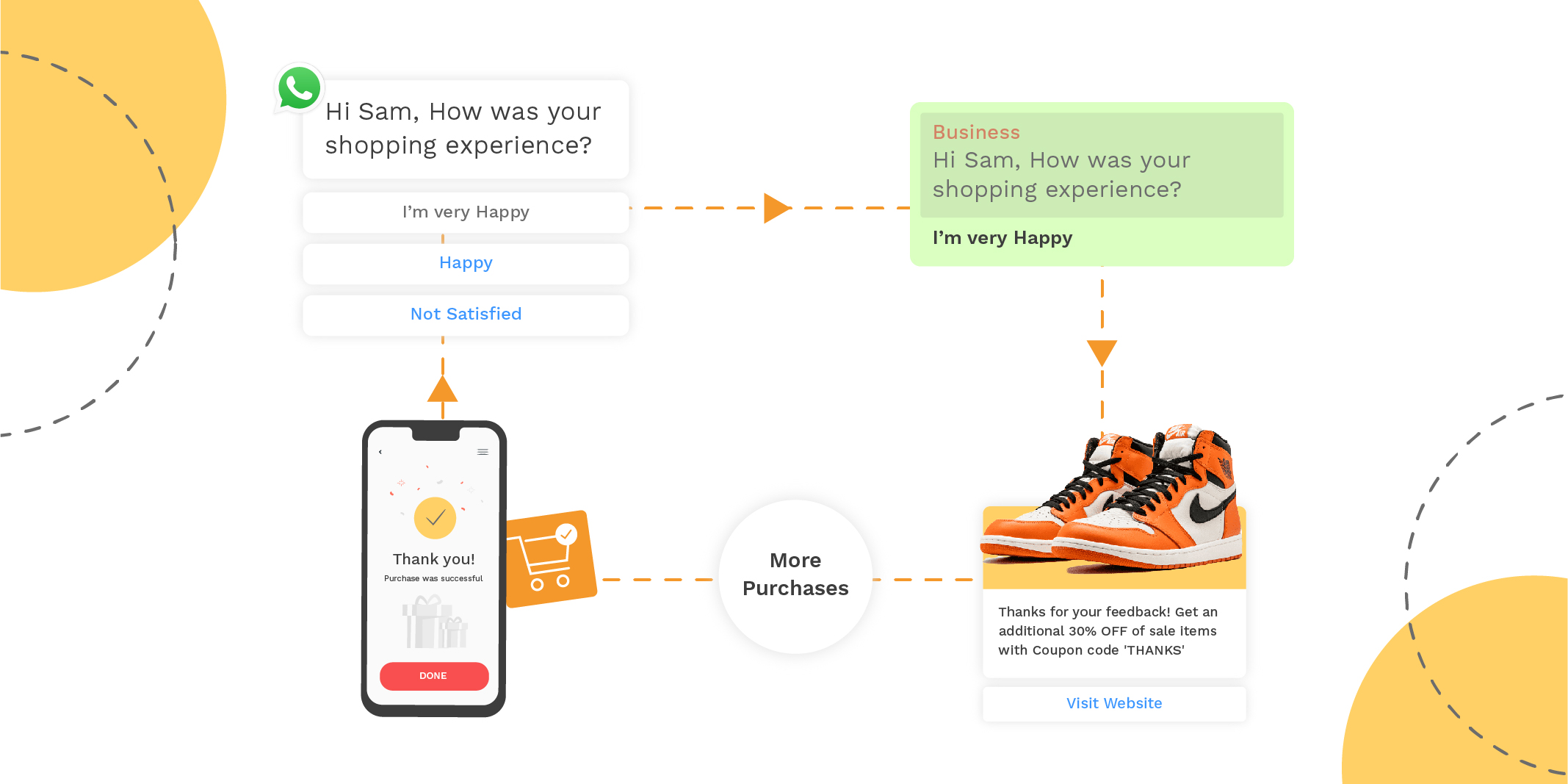 Retention
The customer journey continues even after the product/service is shipped/delivered. The post-purchase experience is a key driver for customer retention. According to Invesp, retaining existing customers is beneficial because Investing in new customers can be up to 25 times more expensive.
Post-purchase customers can also be receptive to information about complementary products. With WhatsApp Commerce, you can send relevant product recommendations and significantly increase the customer lifetime value of your shoppers. Such engaging messages are part of a proactive approach to retention Instead of waiting for a cross-selling or an upselling opportunity.
Loyalty club information
Invite customers to your loyalty program, where they can earn points for each purchase. Converting your regular customer to loyal customers will encourage them to spend more as they redeem the rewards points for more purchases.
Re-engagement
Send messages to your existing customers so that you stay on top of their minds. For example, if a customer has last purchased a printer cartridge from you three months ago, you can send a message reminding them of the range of cartridges available.
Exclusive Promotions
Share an exclusive sneak peek into upcoming deals or offer members-only discounts to incentivize loyal customers. Let customers know the perks they enjoy from being a rewards program member and make them feel special with personalized offers.
 Upselling/Cross-selling
You can use Whatsapp messaging to sell a higher-valued item, an upgrade of a product the customer already purchased, or a bundle. You can also use customer's purchase or browning patterns to send suggestions for related supplementary products/ services.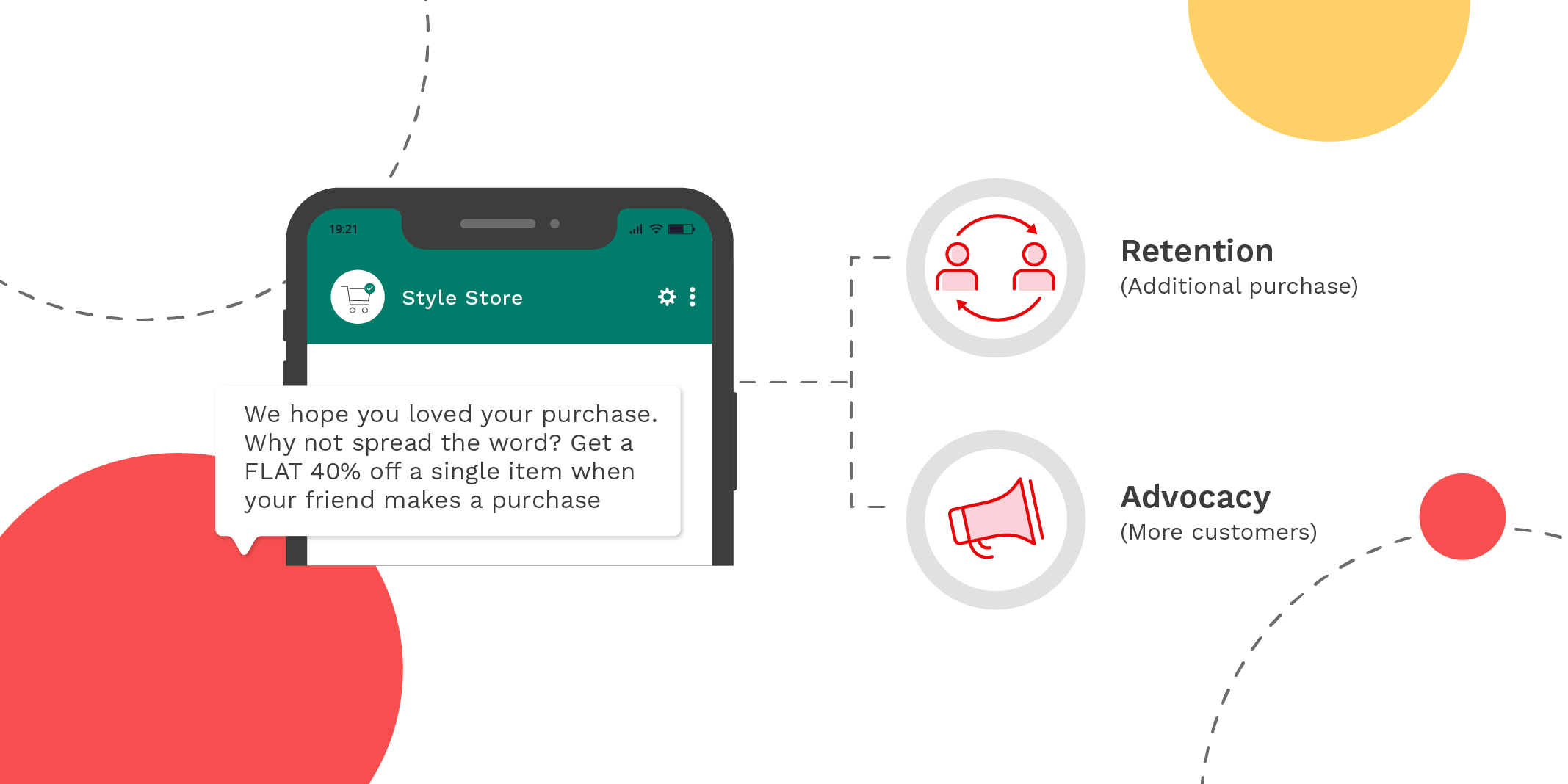 Advocacy
Customers who love your product are more likely to refer it to friends or family. Since most customers tend to trust peer reviews, brand advocates can help you reach more people who are ready to make a purchase. According to a Harvard Business School Press report, companies can see a 2X growth in revenue with only a 12% increase in advocacy. So, sending WhatsApp messages requesting reviews or user-generated content can help you add social proof to your website and social media content. If you have provided a first-class customer journey, your customers will be happy to spread the word.
Referral Messages
Share referral links in messages with which your customers can get discounts for referring your product/service. You can also offer a friends &family discount and encourage customers to share it with others.
Request for Review or Feedback
Share surveys or request reviews or volunteers for a case study. Such WhatsApp conversations can help a brand gain valuable insights into customer needs and expectations, which in turn will help improve the overall CX strategy.
Win Over Customers with Kaleyra's WhatsApp API
Whatsapp Business API enables businesses to manage customer interactions at scale efficiently. Working with a trusted Whatsapp Business API provider such as Kaleyra helps you quickly deploy the messaging solution without coding knowledge. Moreover, you can easily integrate the API with existing business tools such as CRMs and Marketing Automation platforms to provide a unified and smooth customer experience.
Kaleyra's WhatsApp API is a robust, intuitive tool for conversational commerce that enables retailers to grow their businesses. Our innovative solution goes beyond being just a messaging channel for business communication. It helps you leverage WhatsApp Commerce to gain actionable insights and have meaningful customer interactions across various digital touchpoints.
Supercharge Your Communication!
Get in touch with our experts who strive hard to bring the very best in cloud communications technology to you.