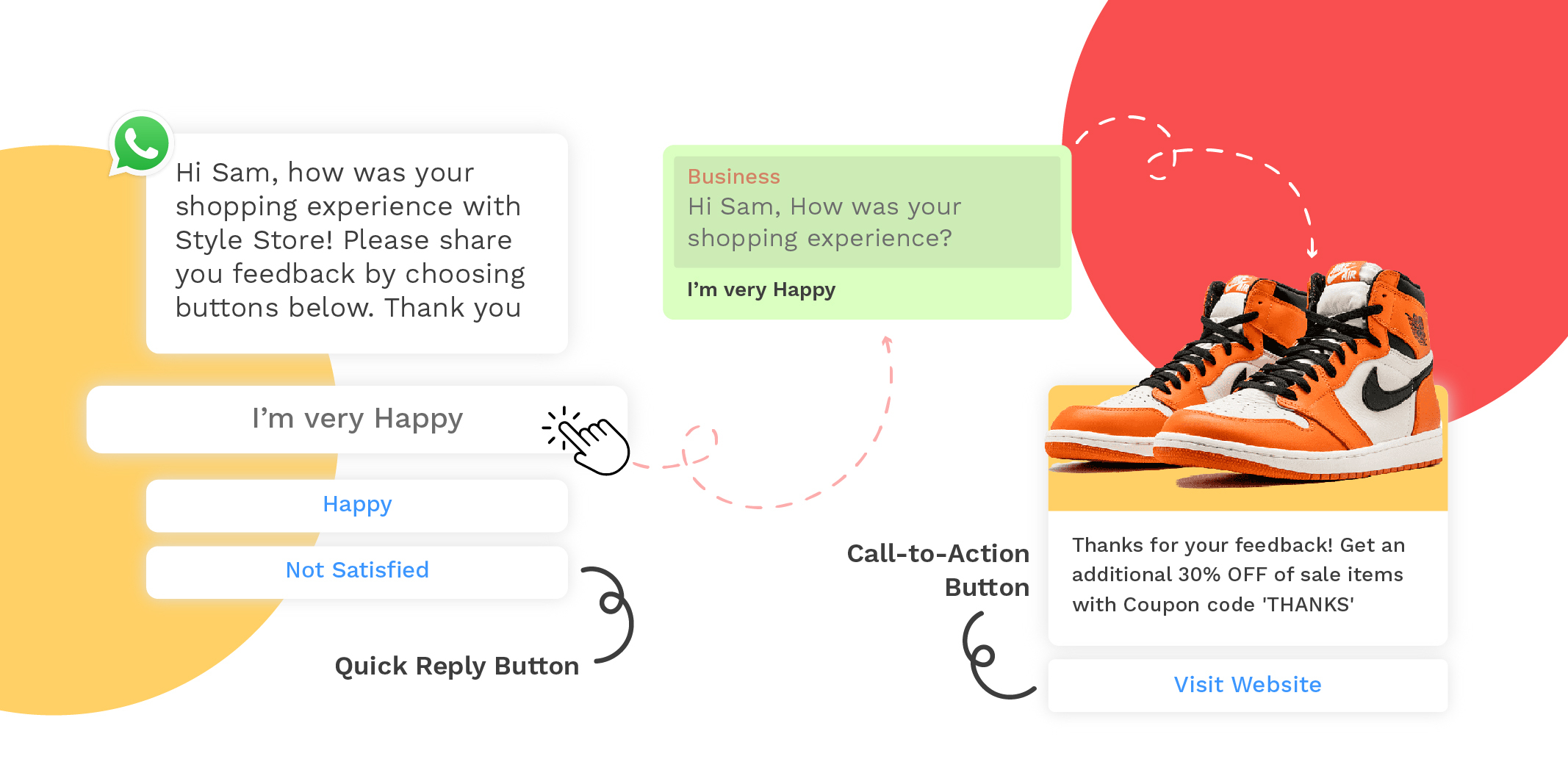 With WhatsApp Business Platform, brands can send pre-approved templates that include numerous message types, such as images, audio, video, and documents. In addition to that, businesses can use WhatsApp buttons and interactive message templates to make customer interactions more engaging and meaningful.

What are WhatsApp Interactive Buttons?
WhatsApp buttons are an excellent feature that Meta added to the interactive message templates to improve response rates. 
The pre-defined buttons help in quick communication and minimize any possibility of confusion by allowing customers to choose from available options instead of typing. Buttons help you anticipate customer responses, thus simplifying communication. You can integrate the interactive buttons into notifications and alerts, such as appointment reminders and shipping information. 
What are the Types of WhatsApp Buttons?
WhatsApp supports two types of buttons in business message templates – Quick replies and Call to action buttons. You can use these only after the message templates with buttons have been submitted to WhatsApp and approved. 
Quick Reply Buttons
Quick Reply buttons allow users to send a text message response by tapping the available pre-set buttons instead of typing. Once the user taps a button, the corresponding button text is sent as a response, as if the user has typed them. 
You can include a maximum of three quick reply buttons in the interactive message template. The customer can click each button only once. Each button text can have a maximum of 20 characters.
You can use quick reply buttons for appointment confirmations, collecting feedback, providing payment options, and customer support.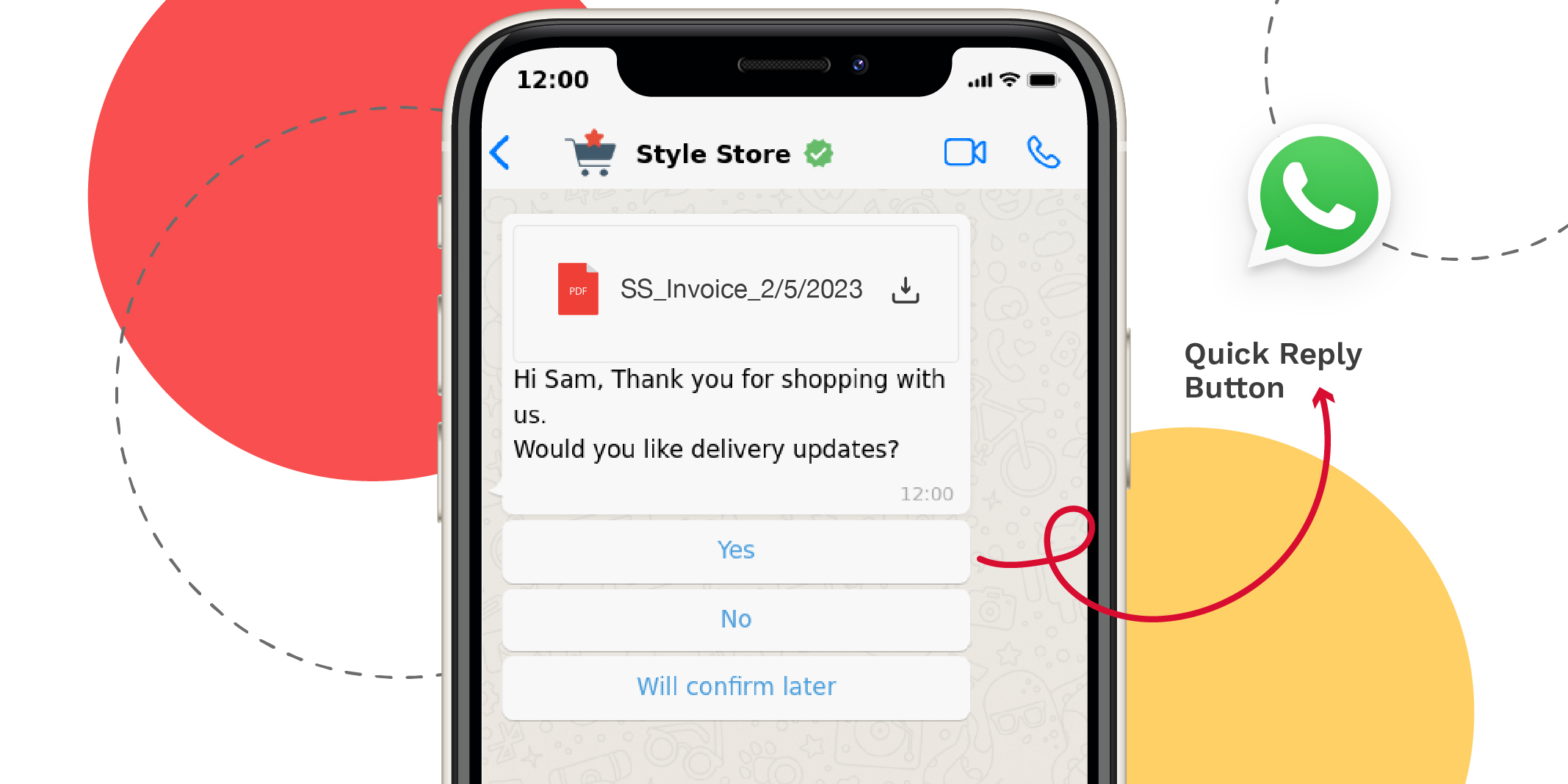 Call to Action Buttons
The Call to Action (CTA) button lets customers quickly take action by tapping the available buttons. You can add up to two buttons for customers to choose from – one that triggers a phone call or one that directs users to a website. 
Each Call to Action button can be up to 20 characters long, and each template with the button can have a maximum of one phone number and one website link.
Once the customer taps the 'call us' button, their device will automatically call that number. If they choose the 'visit the website' button, their device will automatically open that website page.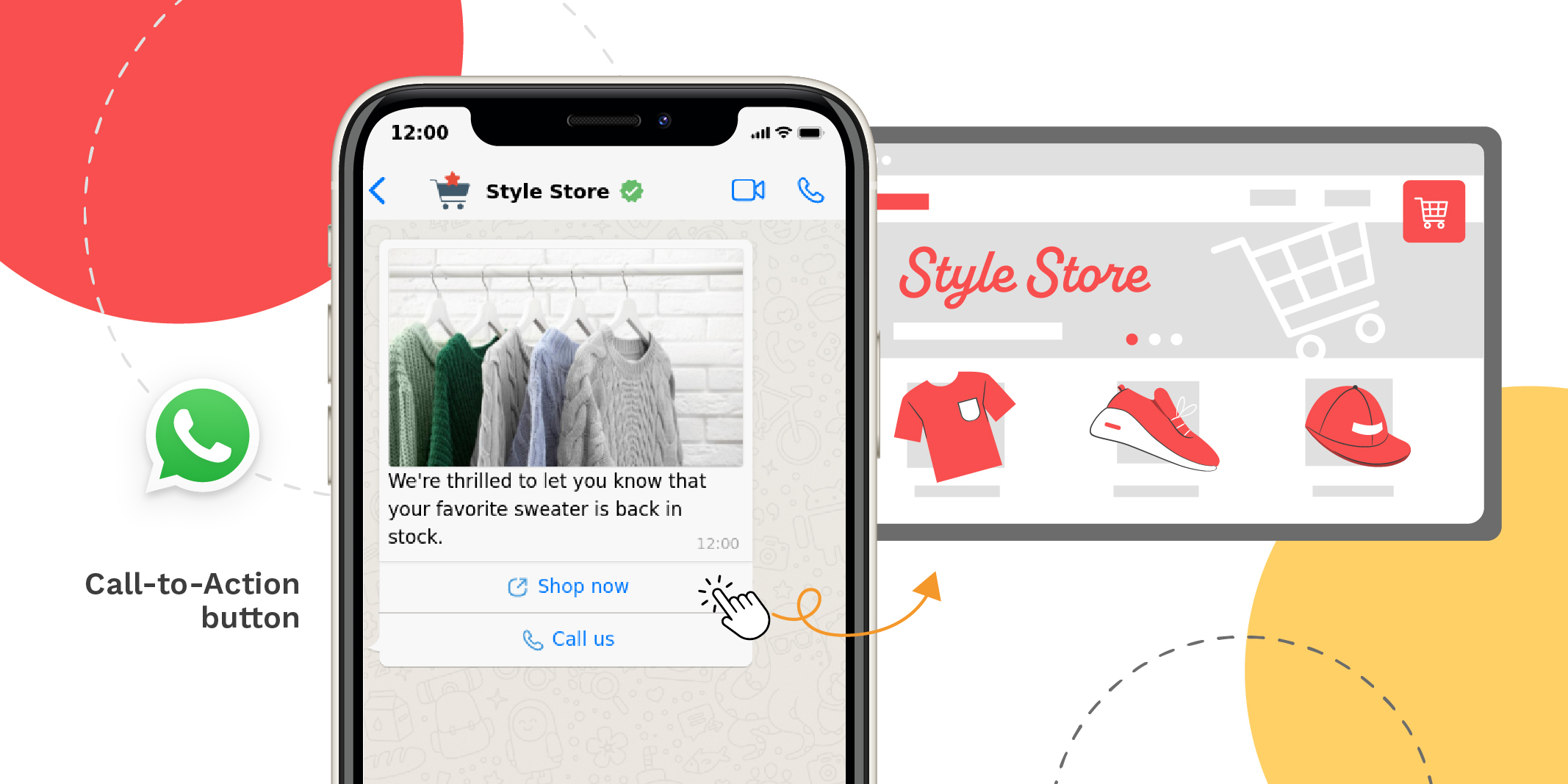 Reply Buttons
Please note that Reply buttons available for free-form messages are the same as Quick reply buttons and do not require template approval. However, if you want to use this interactive feature, you need to send the message with the reply button while the session is still active, which typically means within 24 hours of the last message sent by the user. 
What are the Benefits of WhatsApp Button Messages?
WhatsApp Buttons offer an excellent way to deliver seamless customer support and an outstanding user experience. Pre-defined buttons provide an automated conversation flow that allows quick communication. Since the options available are clear, it's easier for customers to pick a response. More importantly, buttons eliminate conversation dead-ends when a customer has mistyped, and the chatbot does not understand the response.
Here are the top benefits of WhatsApp business buttons:
1.  Faster Customer Journeys 
Users can communicate quickly by tapping buttons and get prompt support for queries. Moreover, users need not wonder about what they should type. Instead, they can choose from the available options and keep the conversation going. 
2. Simplified Conversation Flows
Pre-defined buttons help streamline conversations into logical flows. Since the customer taps a response that chatbots can easily interpret, it results in smoother conversations.
3. Better Engagement
 WhatsApp has found that interactive features have considerably higher response rates compared to text messages. Moreover, the ease of using buttons makes it more engaging.
4. Enhanced Business Communication
Whatsapp buttons offer a way for more personalized and convenient communication with customers, potentially increasing retention and building positive relationships. 
How to Add Button in WhatsApp Message?
You need WhatsApp Business platform to use interactive buttons in message templates. You can quickly get access to the WhatsApp Business Platform with a Business Solution Provider (BSP), such as Kaleyra.  
Once you get the Business Platform, you must submit the WhatsApp interactive message template for approval. If you want Quick reply, you can fill in the text fields you want to display on the options. You can include a phone number and/or a website address for CTA buttons. Your WhatsApp interactive message will have buttons once the template is approved
Supercharge Your Communication!
Get in touch with our experts who strive hard to bring the very best in cloud communications technology to you.