Whatsapp Business API benefits: the next step in communication
More than 1.5 billion customers from over 180 countries use WhatsApp regularly to stay connected with their family and friends.  With the introduction of WhatsApp business API, many businesses across the globe are embracing this communication channel to connect with their customers.                     
With billions of messages sent through WhatsApp each day, customers have made it clear that messaging apps, like WhatsApp, Facebook messenger, etc., are the most preferred communication channels. In today's internet-based world, customers want to interact with businesses the same way they interact with their friends and family- through texts, chats, and posts.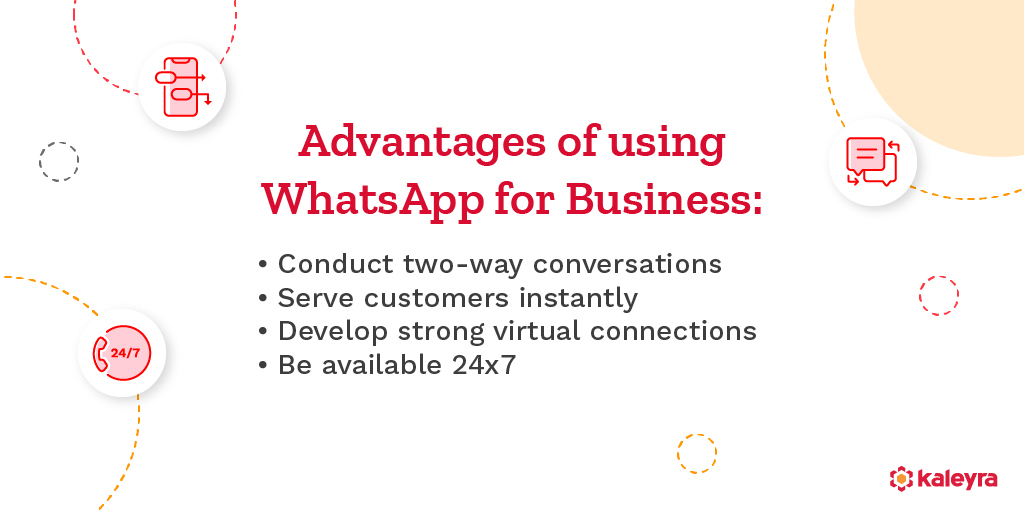 This is exactly why businesses are looking forward to using this completely new and more personalized way of reaching out to their customers. Through WhatsApp Business API, businesses can now create unique experiences for their customers and effectively engage them. With high levels of competition across all industries on one side and instant messaging apps frequently used by customers on the other, it is time businesses change their communication strategies.
Here are six reasons why WhatsApp Business API is what you need to connect with customers and gain competitive advantage:
Whatsapp Business API benefit no. 1: interactive communication
Organizations can use WhatsApp Business to send messages with a twist. With a plethora of interactive features, including group formation, display pictures, status, and stories, you can create engaging content to get one step closer to your customers. Through just 1 API, businesses can enhance their messaging with seven different types of additions. These seven supported formats of the message include the following:
– Texts
– Audios
– Images
– Contacts
– Location
– Documents
– Templates
Moreover, businesses can send messages on WhatsApp through desktops, mobile phones, etc., by using the same API. So essentially, the WhatsApp API for website, WhatsApp API for mobile and WhatsApp API to send messages will all be combined into one. As a result, customers can now read business updates at any time, from anywhere.
Stronger customer relations: the second benefit of the Whatsapp Business API 
All types of businesses are trying to build stronger relationships with their customers through every message they send out. WhatsApp makes this process easier by providing a closed and secure platform, through which you can enable one-on-one communication with each and every customer. In addition, by connecting with customers on a platform they are familiar with, businesses can enter a different place in customers' lives, which was never possible before, making it one of the top advantages of using WhatsApp for business.
Every Business using WhatsApp as a medium of communication will need to create a unique business profile. This profile will enable them to provide company details such as email, phone number, website/ social media URLs, and more. With such details, businesses can gain the element of trust from their customers, thus enhancing customer loyalty and fostering long-term relationships.
Whatsapp business API: a secure platform
When you use a Whatsapp API to send messages, the 'business profiles' will be unique to each company and only be made after WhatsApp has verified your business accounts. Moreover, with end-to-end encryption and two-factor authentication (2FA), both businesses and customers are safeguarded. This further eliminates the possibilities of your customers coming across fake accounts or facing instances of fraud. This level of security also means that you will never face bad publicity or be accused of any misconduct because no one else can use your company name to exploit customers. As a result, customers trust you more. 
Benefits of Whatsapp Business API for customers: connection their way
Traditional communication channels are long lost. The new digitalized ways like SMS and email are also not enough to meet consumer demand. Therefore, to connect with customers, businesses must communicate with them through the channels they already use. With tons of social media platforms and messaging apps, the last thing customers want is to add a new channel to their list, to allow business communication.
Interacting with customers at their convenience: the benefit of a Whatsapp Business API
Using a customer-preferred channel, like WhatsApp, you can interact with your customers at their convenience. This makes them more likely to see your message, read the content, and further interact with your Business. 
Also, by using WhatsApp API for website, mobile and desktop, you can surely be present round the clock and in all possible avenues to communicate with your customers.
Global Reach via Whatsapp Business API
You no longer need to use a different communication channel to communicate with customers from different regions. A global messaging application like WhatsApp, which is free for users and has a high global penetration rate, is all you need! Technological advancements and the rise of smartphone usage in Latin America, Asia, Europe, and Africa have further accelerated the growth and popularity of WhatsApp. Therefore, with this universally used platform, businesses don't have to think twice about their communication strategies while tapping into new markets. They can simply use WhatsApp Business to send messages worldwide. 
The final Whatsapp Business API benefit: two-way communication
Through WhatsApp Businesses API, companies and customers can directly interact with each other. With detailed information available on the internet, customers are more aware of products/services than ever before.
Customers now want to reach out to businesses and have genuine conversations. This is very different from trying to communicate with your customers by sending one-way messages or allowing them to call customer support and reach a company representative after a long wait in the queue.
With WhatsApp's two-way messaging, you can have real conversations. With delivery tracking, payment confirmations, contact details, etc., you can keep your customers updated and provide them with all the information they need before they ask you.  
Kaleyra, a globally trusted cloud communication platform, has made it simpler for businesses to benefit from the above advantages. With WhatsApp Business API, you can seamlessly send messages through WhatsApp and enjoy the best of both worlds. To learn more and further understand how your business can leverage this latest technology, that has changed the way businesses communicate, read the detailed guide on WhatsApp for business use here. 
WhatsApp Update – With more consumers turning to chat with businesses on WhatsApp, the instant messaging service provider recently announced updates to the WhatsApp Business API that will make it quicker for businesses to get started and for people to easily chat with these businesses. As per the latest update received from WhatsApp, all the existing businesses on the WhatsApp Business API from the following countries, i.e., Singapore, Malaysia, South Africa, United Arab Emirates, Russia, Saudi Arabia, Israel, United Kingdom, Netherlands, Spain, Italy, Germany, Nigeria, Egypt, Brazil, Colombia, Jamaica, USA, Indonesia, and Mexico will be able to send non-transactional notifications to their opted-in customers.
With this new update, businesses can drive many new use cases on the platform, such as sending product recommendations, promotional offers, and most importantly, re-engaging with their users by sending regular reminders and updates related to their products and services. All the businesses that belong to one of the countries listed above as the country setting in Business Manager can send non-transactional notifications. There won't be a need for any additional integration.