Your business messaging strategy can pretty much make or break your business in the current economic climate. An effective way to outshine your competitors is to use a communication channel that efficiently conveys your business's offerings and values to your customers. The global reach and advanced features of WhatsApp make it an obvious choice for real-time customer communication. WhatsApp Business Vs WhatsApp Business platform – If you're wondering which better suits your business, we've got you covered.
Before we break down the similarities and differences between the two WhatsApp offerings, let's look at a few compelling stats that make a case for the instant messaging platform.  
64% of users

reported that WhatsApp helps foster a personal connection to businesses.

 
Moreover, 68% of users consider WhatsApp the easiest way to reach a business.

 
83% of users contact a business using messaging platforms like WhatsApp Business, and 75% complete the purchase.

 
Now, let's look at what the two distinct WhatsApp business solutions are all about. 
What is the WhatsApp Business App? 
The WhatsApp Business app is a free-to-use messaging app primarily catering to the needs of small businesses. It's a step above the WhatsApp messenger app that's for personal use and 1:1 conversations with family and friends. 
The WhatsApp business app includes several useful tools and is better than the Messenger app for business messaging.  
Here's what you can do with the Business app:   
Establish a professional presence with a business profile that includes essential information about your business

Provide a digital catalog to showcase your products and services

Automate communication with quick replies

Engage 24/7 with automated away messages

Categorize messages with labels, making it easier to sort and respond to them
What is WhatsApp Business Platform?
The WhatsApp Business platform (also known as WhatsApp Business API) is essentially for medium, large, and enterprise businesses that want to communicate with customers at scale. Using the platform's advanced capabilities, you can proactively interact with customers, send personalized messages, and foster meaningful connections. 
The WhatsApp Business platform allows businesses to connect customers to thousands of agents and bots for maximum engagement. Moreover, you can streamline processes by integrating the platform's APIs with business systems, including CRM, marketing automation, and payment solutions. 
Here's what you can do with the WhatsApp Business platform:  
Implement conversational messaging through customized templates


 

Optimize workflows at scale with countless integrations

Leverage WhatsApp automation for better issue resolution and customer engagement

Reduce reliance on customer service agents and speed up customer service with chatbots

Drive conversions with interactive CTAs and rich media
WhatsApp Business vs WhatsApp Business Platform
What is the Difference Between WhatsApp Business App and WhatsApp Business Platform? Let's take a look.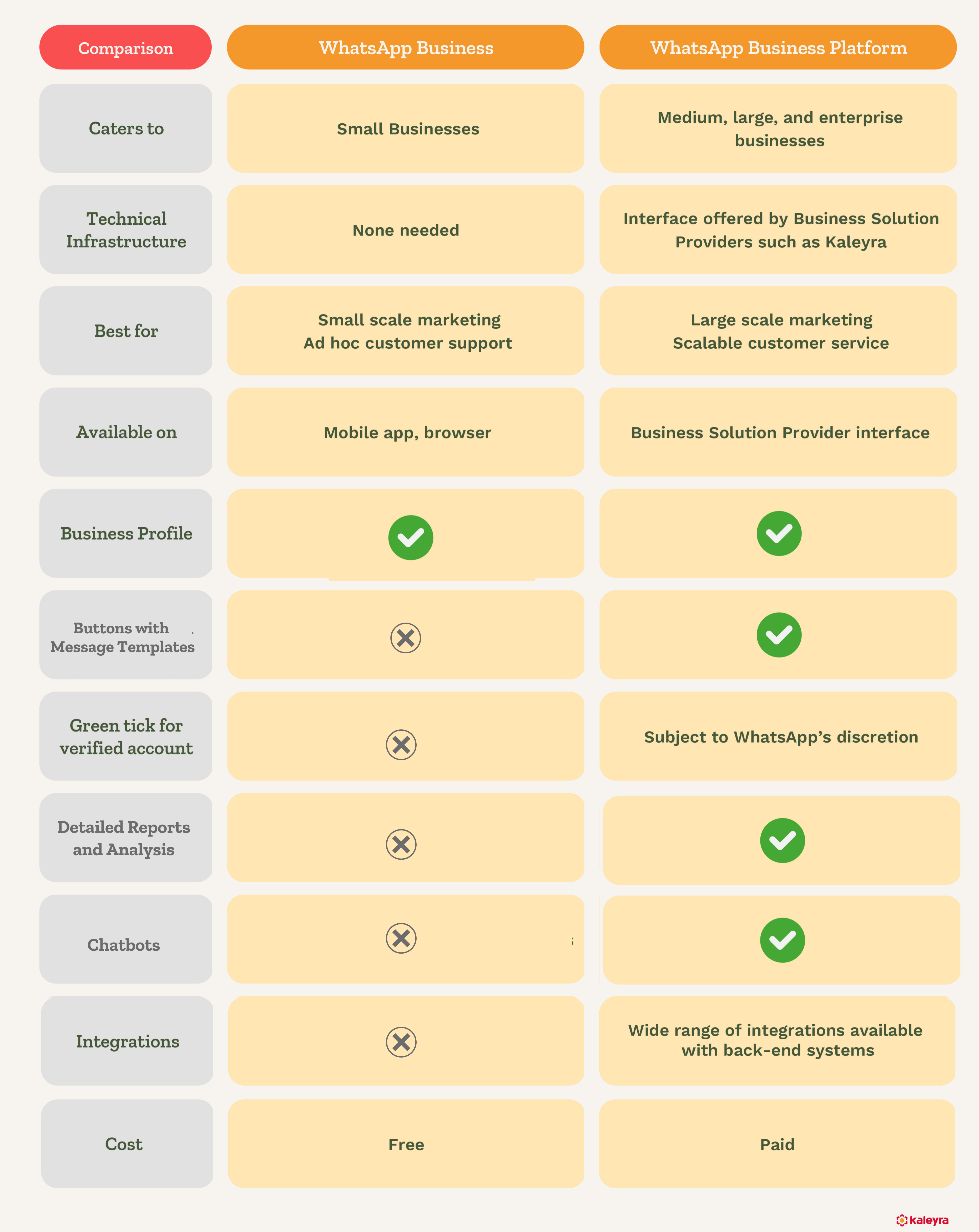 Can WhatsApp Business API and App be on the Same Phone Number?
No. You cannot have WhatsApp Business App and WhatsApp Business Platform on the same phone number.
However, if you want to use a phone number already registered with the WhatsApp Business App, make sure to back up your chat history. Also note that after migrating a phone number to the WhatsApp Business Platform, you cannot concurrently use the same number on the WhatsApp Business App. 
How to Move from WhatsApp Business App to WhatsApp Business Platform? 
If you have a WhatsApp Business app and are planning to use the WhatsApp Business platform, you can choose to create a business account with a Business Solution Provider (BSP) such as Kaleyra. With BSPs, you need not worry about setting up any infrastructure. Instead, you can effortlessly create an account using the embedded signup (recommended) or on behalf of (OBO) onboarding method, and the BSP will take care of the rest. 
The embedded signup feature lets you register directly for the WhatsApp Business Platform from the BSP's website. The feature significantly accelerates and simplifies your onboarding process. With embedded signup, you will own your WhatsApp Business Account (WABA) and share access with BSP to help you manage your accounts. Your businesses can message customers immediately after without waiting for a Business verification and display name review. 
You need a valid phone number dedicated to the WhatsApp Business Platform. The phone number for your WABA should be owned by you and have a country & area code. Moreover, the phone number cannot be a short code and must be able to receive SMS or voice calls. While comparing WhatsApp Business vs WhatsApp Business Platform and choosing the Business Platform consider the above points before migrating the phone number.
Build Outstanding Conversational Experiences with Kaleyra
The WhatsApp Business Platform helps you unleash the power of WhatsApp APIs to connect with millions of customers at a time. Kaleyra lets you leverage the platform's advanced capabilities to transform the way you connect with customers. You can effortlessly send bulk messages to customers worldwide using WhatsApp Campaign and get delivery status reports on the Kaleyra platform. Moreover, you can seamlessly integrate WhatsApp with your existing technology stack, such as CRM, ticketing systems, wallet solutions, knowledge base, or a bot platform to maximize your business's reach and engagement.
Supercharge Your Communication!
Get in touch with our experts who strive hard to bring the very best in cloud communications technology to you.