Kaleyra In 2020 – Year In Review And The Progress We Made
The year 2020 will be remembered as one of the most distinctive years in modern human history. Each year typically has a few defining moments; however, the past nine months of 2020 have contained so many paradigm-shifting events that they have drastically altered the way businesses function. Even to this day, most companies across the globe are still trying to navigate their own financial and operational hardships.
As a global brand, we have learned more about growth this year than we have during any of our other years in business. We entered into partnerships with some of the most popular industry giants, introduced exciting features to our product, actively assisted NGOs and healthcare organizations in managing the COVID crisis, and redefined the way we work.
Here are some of our key achievements and highlights from the year.
Improvements to Kaleyra, with exciting features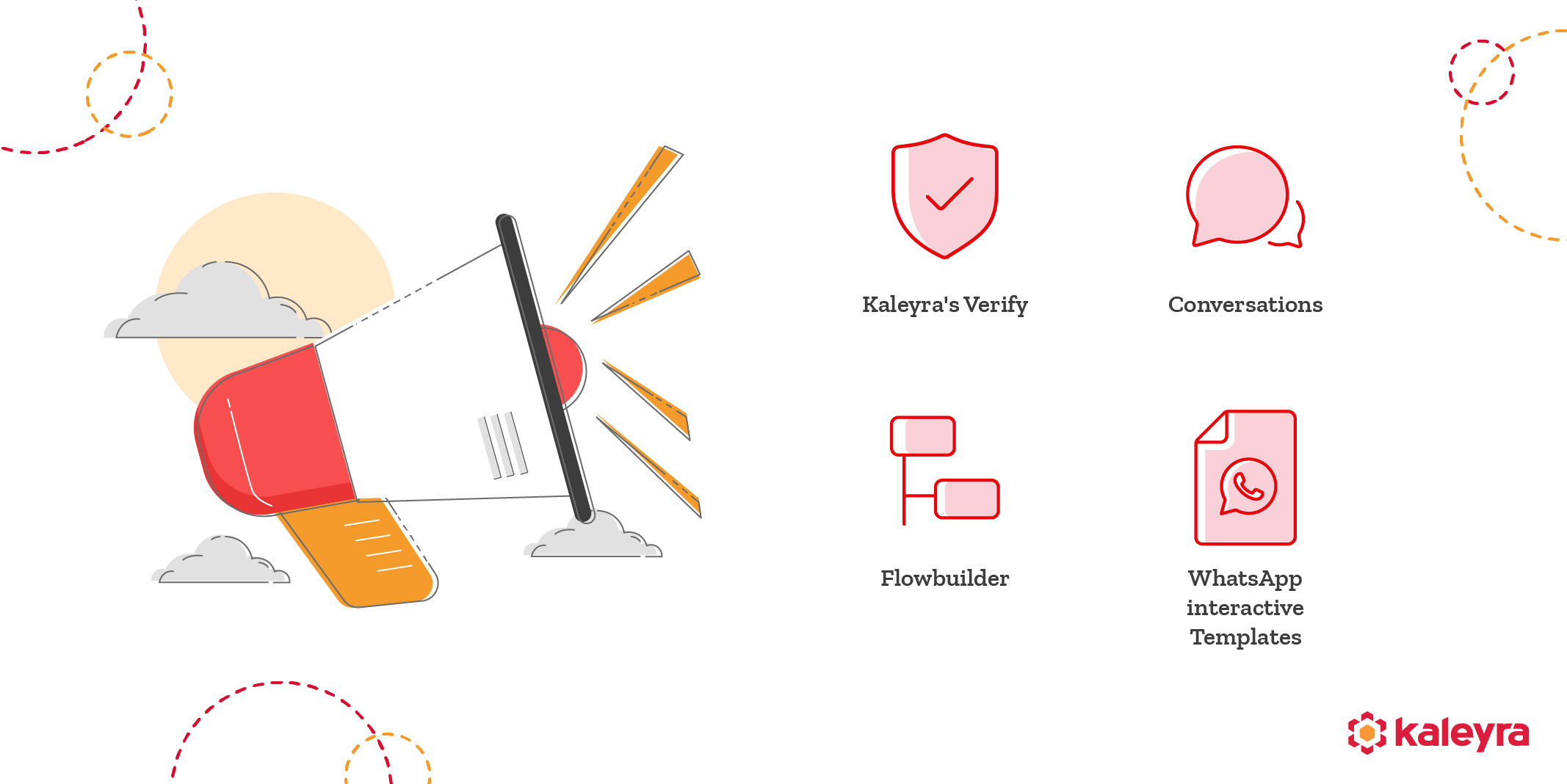 This year has been great in terms of offering an improved version of our platform to our customers. We have worked relentlessly to add new features and scale the platform's performance to drive communication for some of the world's largest brands. 
After successfully scaling operations in India, Kaleyra's Voice capabilities have now been made available in the U.S., the U.K., and Italy. We have also broadened our scope to deliver SMS in over 100 countries even more swiftly than before. We are proud to state that Kaleyra can now send over one million messages in just 16 minutes and simultaneously run one million campaigns in less than half an hour.

Our cloud communication platform's robust technology functions on its bare minimum configuration. When there is an increase in demand, our auto-scaling abilities can also drastically change the numbers to larger scales without impacting performance. We have implemented specific changes in our platform's back-end to optimize our platform's stability, scalability, and availability. This year's primary focus was to bring down response time and handle more API requests efficiently. 
Kaleyra is now equipped with some valuable features.
Kaleyra's Verify
Our customers can use the Verify feature to validate their users' identities by triggering OTPs via calls, SMS, and e-mails. One-time passwords can be sent on any one channel or on multiple channels together in a pre-timed sequence to create a fallback system.
Flowbuilder
With Flowbuilder, businesses can design the flow of an incoming call using simple drag-and-drop widgets that enable call forwarding, prompting the IVR menu, playing an audio clip, and more. We have simplified the user interface of our Flowbuilder for easier adaptability and a better experience. Our clients can now wholly customize the caller's journey without having to rely on external agencies.
Conversations 
With this feature, businesses can handle multiple customer conversations across different channels in a single thread. 
WhatsApp Interactive Templates
Kaleyra now supports WhatsApp Interactive Templates. These templates are essentially pre-approved content pieces that our clients can reuse for running multiple WhatsApp campaigns. 

Partnerships with some of the most popular brands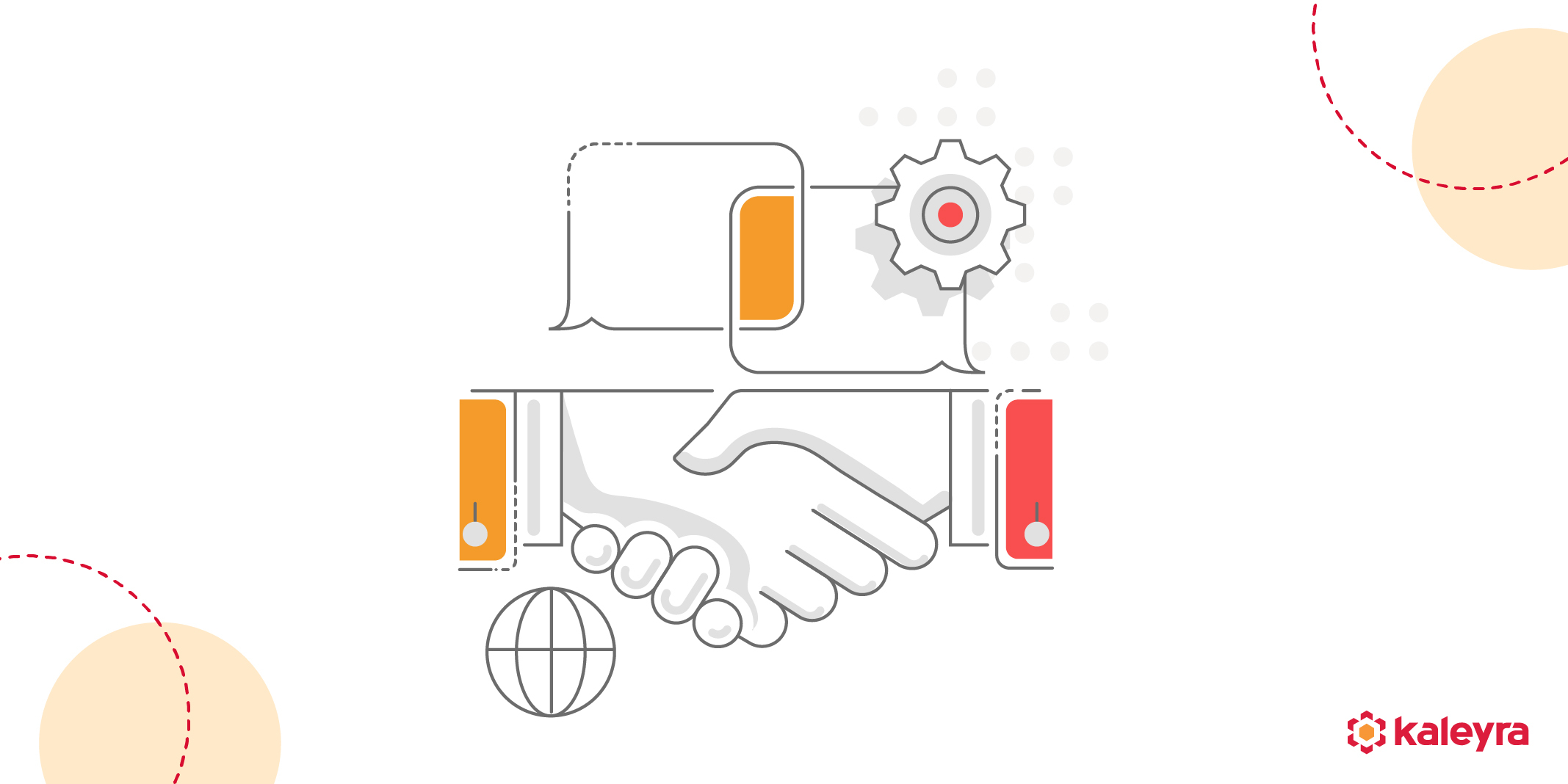 Google

This year turned out to be quite eventful for us as we entered into a partnership with Google to help our clients have safe and secure conversations with their end-users.
Google has helped us integrate two of their products (Verified SMS and Verified Calls) into our communication suite. With Verified SMS, each SMS that a business sends will be thoroughly verified, so recipients are ensured that the SMS is sent by a trusted company. With Verified Calls, end-users can now see the name of the company that is calling along with their logo and the reason for the call. This will help brands gain customers' trust.
VISA
Kaleyra partnered with Visa to provide an exclusive offer on its global communication services to all the esteemed customers of Visa. Visa's customers can now engage with their clients with personalized messages, programmable voice services, WhatsApp conversations, and more. 
AB InBev
Kaleyra, with its Startup Booster program, looks forward to enabling startup communities across the world with its global cloud communication services. Inspired by the same concept, Kaleyra partnered with AbInBev earlier this year as the official communication partner for its startup initiatives and events. With this alliance, startups can engage their clients with Kaleyra's personalized messages and programmable voice services. This empowers organizations to deliver to their customers a brilliant omnichannel experience they deserve.
The launch of k-lab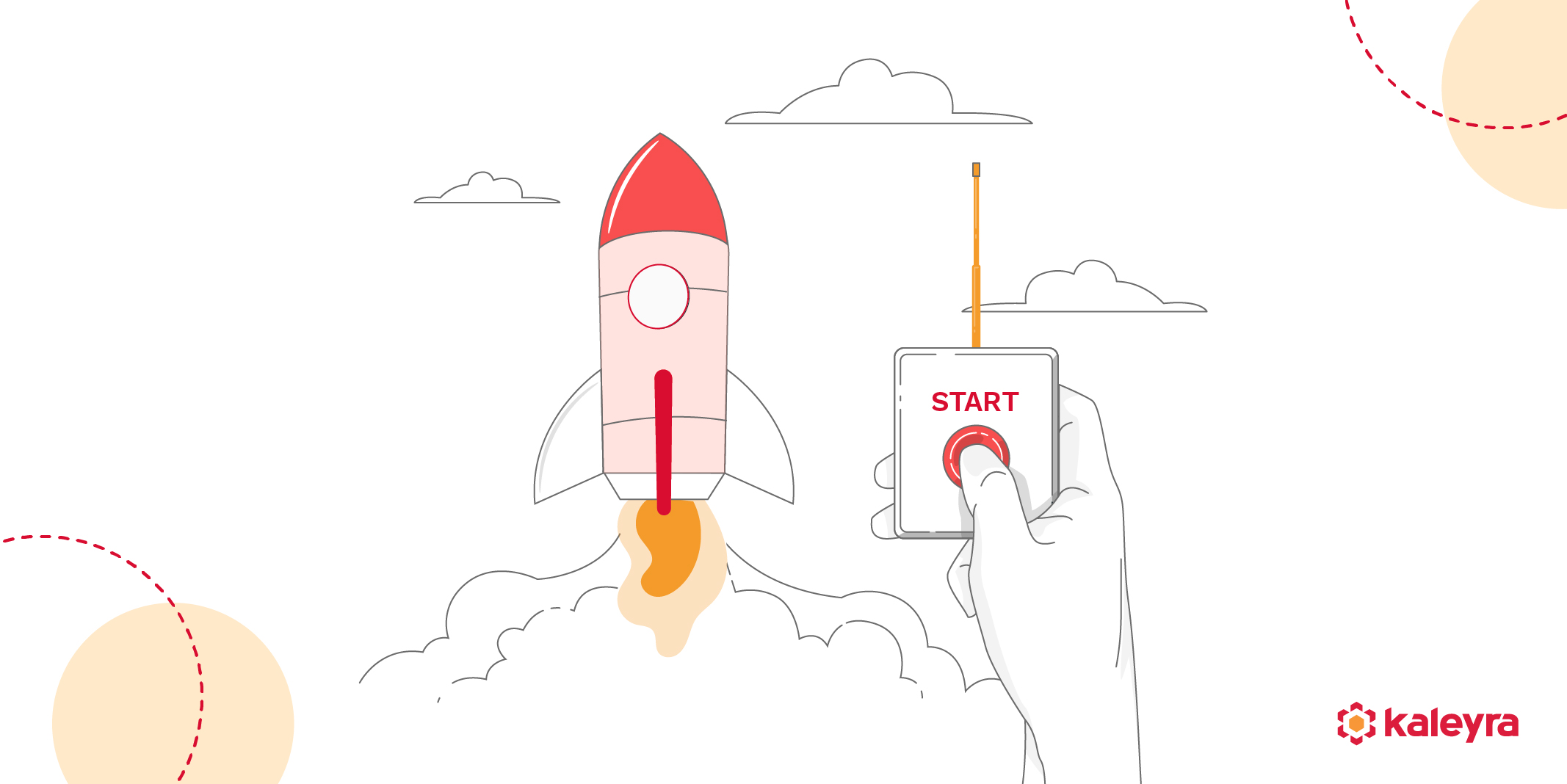 In April, Kaleyra launched k-lab, a dedicated innovation lab to develop impactful mobile CX solutions for financial services. With the growth of on-demand financial services and online transactions, there is an immediate need for companies to focus on delivering a fantastic mobile customer experience. We at Kaleyra have strengthened our commitment to providing solutions for the BFSI sector with the launch of k-lab.
Emergency services to help healthcare workers around the globe combat the Covid-19 crisis

In the wake of the COVID-19 crisis, Kaleyra equipped several organizations, NGOs, and governments, with the right set of communication tools and services to help them sustain remote business operations and deliver critical communication in time.
In India, NGOs, startups, and the government collaborated to create specialized solutions to protect citizens from COVID-19. StepOne was one such initiative that included volunteer participation from companies such as Kaleyra. Project StepOne wanted to launch a National COVID-19 Telemedicine Helpline and offer Indian citizens 24×7 access to healthcare experts, where citizens could connect with doctors from home without even having an internet connection or a smartphone. Kaleyra helped Project StepOne design and develop the first government-approved COVID-19 Telemedicine helpline numbers for several states in India.
Similarly, in Italy, the Italian Red Cross society's helpline number was overburdened with incoming calls due to the increasing number of COVID-19 cases. Kaleyra created a messaging service to alleviate stress on the incoming call number. The Italian population could send SMS for requesting medicine and grocery delivery, and emergency transportation services. The doctors and nurses could also apply directly via SMS to volunteer their time and effort.
Reshaped the organizational structure and remote working policies
With workforces around the world working from home, Coronavirus has profoundly impacted the way we work. While we had policies to support remote working even before the pandemic, this switch was numerous levels apart. We developed new ways of working within and across teams to deliver on our promise of enabling businesses to offer exceptional customer experiences. When companies of all shapes and sizes were finding it difficult to operate smoothly with existing resources, Kaleyra proved its mettle by accelerating our hiring plan and expanding operations worldwide.
Kaleyra, known for its employee-friendly culture, lived up to its promise by ensuring that there were no layoffs or salary cuts during this period to ensure that our staff felt fully supported in this challenging time. We even went on to conduct annual appraisals in April. The global HR team also took a bold step by introducing a new, structured employee grading system based on experience and skillsets and defined a clear organizational hierarchy. As an ambitious company, we wanted to continue to hire the best and expand our operations. We actually saw this period as an opportunity to aggressively hire across teams.  
As part of accelerating our hiring process, our HR department virtually interviewed around 800 candidates from various universities in India for numerous graduate roles within the organization. Those selected will join us in early 2021 at a key time of growth for Kaleyra. 
Kaleyra now has 340 employees working from 12 different geographical locations. With online hiring and onboarding tools, we will continue to expand our team to support our mission to make communication services available for businesses across the globe.
Marching into 2021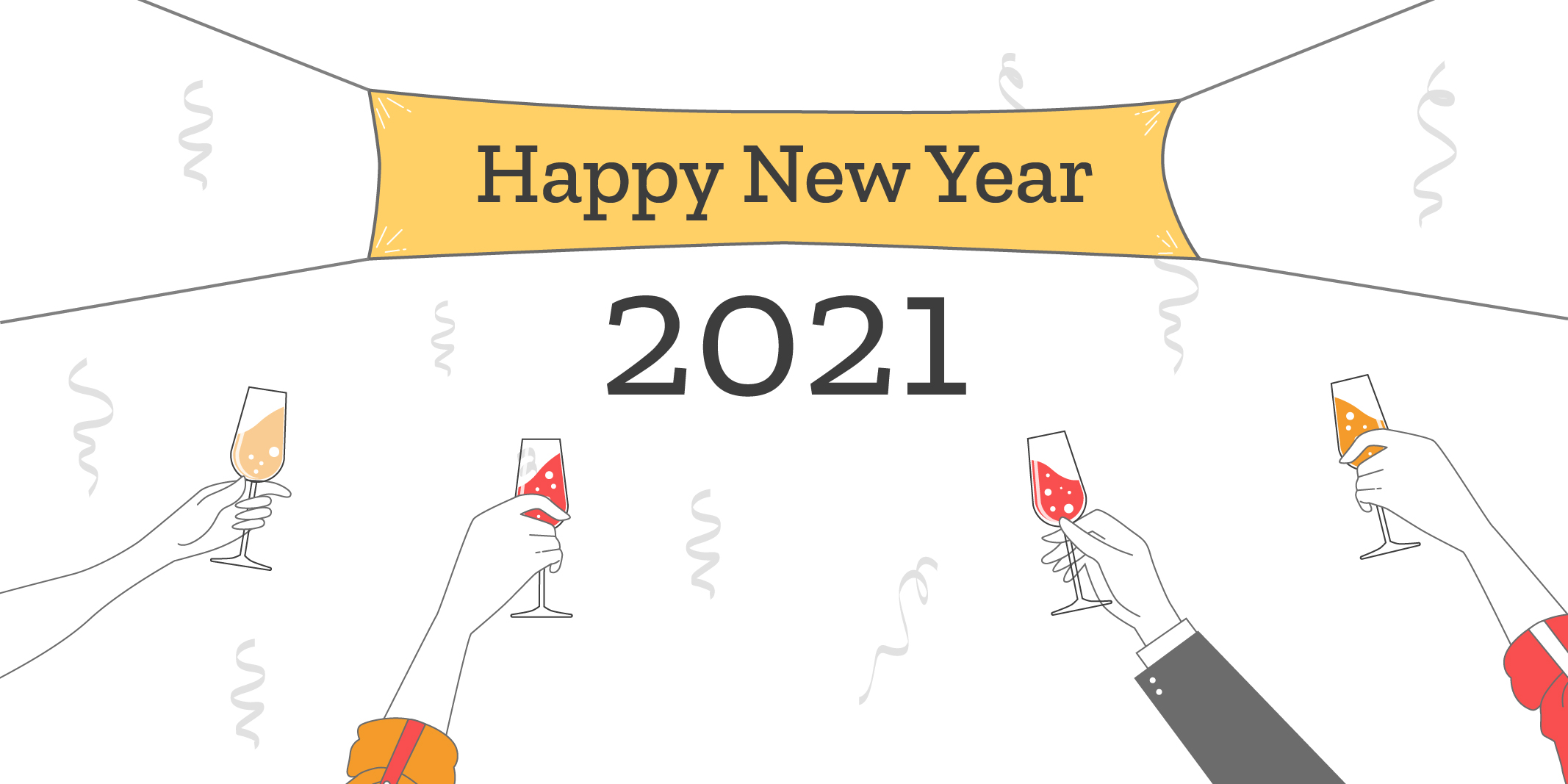 2020 has been full of uncertainty, and Kaleyra had to adapt to a new normal, just like other businesses worldwide. Things have not been easy; however, with each challenge comes an opportunity. We have a whole new set of opportunities emerging that we can take advantage of and come out stronger than ever.
As we enter 2021, we will continue to focus on driving value to our clients and invest in new initiatives to strengthen our product portfolio. As a Trusted CPaaS provider, we will continue to build impactful solutions that can enable our customers to streamline their communication process and help them easily connect with their stakeholders at all hours of the day.