What is RCS Messaging and how it is Revolutionizing Communication
Messaging plays a primary role in business communication today.
New messaging trends
, like RCS messaging, have revolutionized communication. 
Every month, businesses and users exchange over 8 billion messages! It is the fastest and most convenient way to interact with customers. This is why it has become such a popular method for marketers to build campaigns around. 
Whether it is a bank texting its customers about their financial transactions, airlines sending flyers their tickets or a brand updating customers about their package delivery. Messages have enabled businesses to guide and update their customers at each step of their journey.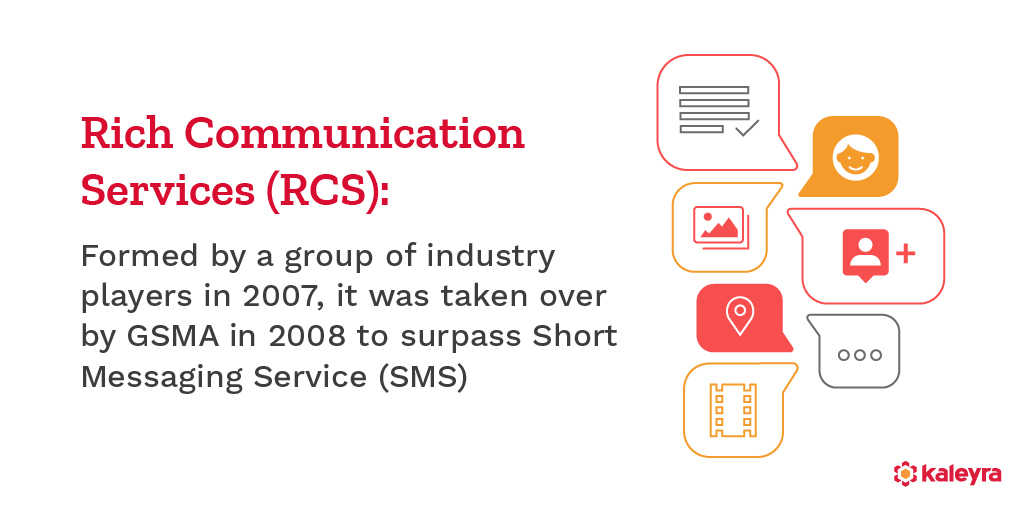 What is RCS Messaging?
RCS (Rich Communication Services) is an initiative to enhance regular SMS. While modern apps provide read receipts, last seen details, media messages, group chats and more, RCS aims to bring these features to default-messaging apps. It also limits the number of user restrictions that come with regular text messaging. It is a lot like WhatsApp, where the chat can support live conversations, include multi-media support and everything is handled via the data network. 
RCS is what businesses need to enhance B2C messaging. By using all the above-mentioned features and other interactive elements, businesses will be able to provide customers an engaging and branded mobile experience. 
Industry experts first started working on the concept of RCS back in 2007. In 2008, GSMA officially took the lead in guiding the development of RCS. In 2016, GSMA launched the first standard for RCS and its specifications called Universal profile. This was globally-agreed upon. Since this launch, RCS has got significant support from Google and Samsung. 
Today, RCS and Universal Profile are supported by 79 operators around the globe. According to Mobilesquared, 450 mobile operators will be running RCS and 3 billion people will be using it worldwide by 2023.
The impact on business communication
Customers today want to use messaging that lets them share high-resolution photos, PDFs, make video calls and more. RCS makes all this possible. 
Businesses will now be able to send detailed, customized messages to customers. This will not only reduce the call center traffic and support tickets they receive but also help customers enjoy a smooth experience with the brand. 
For example, airlines will be able to send a customer their boarding and seat options. Imagine how different it is from today's text-only confirmations that are possible via SMS. There are multiple opportunities for businesses, in all industries, to leverage RCS. For instance, it can be used to send travel package details, credit card alerts, product demo videos and more. It's 2-way messaging capabilities, allow it to be used both as a communicational as well as a conversational tool.

Are RCS messages secure?

RCS messages are sent through data and are client-to-server encrypted. This upgrade in SMS will also prevent spam messages as companies need to get verified before they can send RCS messages. Once the business is verified, they can interact with their customers through RCS. The messages received by their customers will show the company's name instead of just the mobile number. 

There is a lack of end-to-end encryption that is currently available in some current messaging applications such as WhatsApp.
Where is RCS currently supported?
Many businesses and operators are supporting RCS. Google is releasing a new feature built through RCS – Chat. Chat is a part of its existing Android Messaging app along with SMS and MMS. It is currently targeting France and the UK. In the UK, the service went live on 28th June 2019 for some users but the use will still depend on the device being used. Vodafone supports RCS, since 2014, in the UK, but only with other Vodafone users.
In the US, Verizon, Sprint, AT&T, and T-Mobile have agreed on a cross-carrier solution for RCS. This will bring RCS to the US soon. In Australia, telecommunications giant, Telstra, announced RCS support for some Android devices. New Zealand has also seen support from some operators.
Right now, support for RCS is limited to only a few carriers and devices. RCS availability will depend on the operator and hardware support. Note that, if you send an RCS message to a phone or mobile network that doesn't support it, it will be received as a regular text message by that user. 
With an increasing number of deployments and in-marketing trails, RCS Messaging is ready to upgrade SMS. RCS has revolutionized messaging. Businesses know more about consumers today than ever before, with RCS they can use this information to communicate with customers effectively.