Messages have high open-rates. According to Techpedia, it is as high as 98%. Moreover, 83% of the messages sent are seen within 3 minutes! In a time, when almost everyone has a phone and keeps it with them wherever they go, these statistics are not surprising. The mobile messaging trends have created a huge opportunity for businesses to communicate with their customers and prospects through this medium.
Over the years, several businesses around the world have already started leveraging this opportunity to engage with their customers on a day to day basis. Since 2015, messaging has overtaken social media as the most common activity users engage in, on their mobile phones. Messaging apps are effectively setting new trends.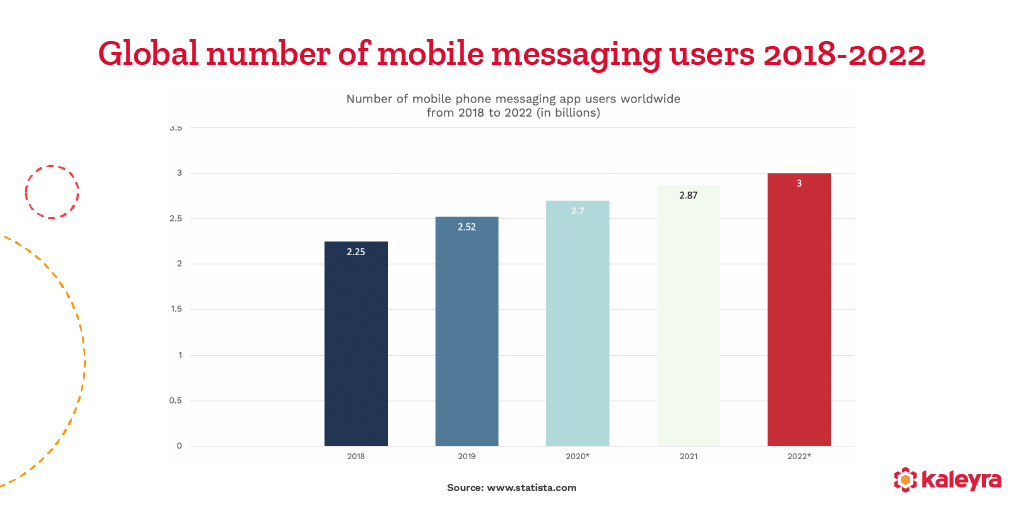 The future of SMS marketing starts in the '90s
The invention of AOL Instant Messenger transformed our phones into devices from which we could view emails, receive app notifications, and stay in touch via messages. 

With rapid innovation, mobile messaging has evolved to allow sending of photos, gifs, and even hand-drawn illustrations. It has transformed to MMS messaging. And now, more so than ever, instant communication is at its peak. Here's a quick glimpse of the future of messaging technology and the trends we witnessed in 2020. 
Messaging trends in 2020
Verified SMS by Google
At the end of 2019, Google launched Verified SMS (vSMS) to promote safer messaging communication between businesses and customers, and protect the latter from spam and SMS phishing attacks. vSMS has revolutionized the future of mobile messaging by adding new-age features in our existing SMS inbox.
When the identity and authenticity of a business gets verified by Google, it shows the logo, registered business name and a verified badge in the chat. This helps customers differentiate between fraudsters and legitimate business owners. By rolling out vSMS for all Android devices, Google has penetrated a large base of mobile messaging users.
Many enterprises have already adopted the Verified SMS service by Google in 2020, and several more are anticipated to follow suit.
The future of Instant Messaging
Instant Messaging apps such as WeChat, Facebook's Messenger and WhatsApp, etc. are also adapting to include features that allow quick customer interactions. In the distant future, we are going to see a lot fewer people actually picking up the phone and talking to brands to either solve a problem or get more information on a product/service.  The future of messaging apps lies in the advancements of Artificial Intelligence, wherein technology will enable businesses to provide more personalized and real-time communication.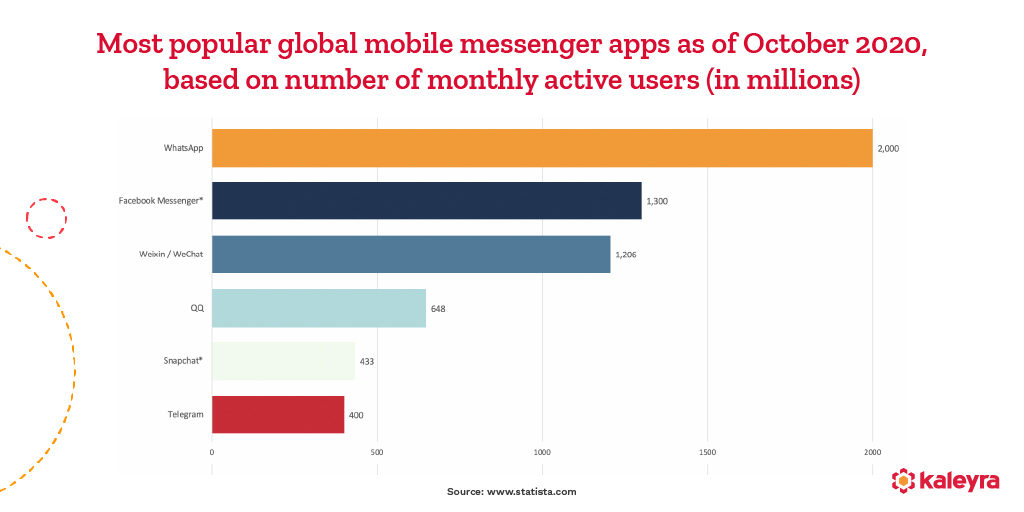 The use of chatbots on such platforms will allow businesses to directly engage with customers without needing additional resources or spending on new equipment. 
Chatbots, the new mobile messaging trend of 2020
According to HubSpot, 85% of consumers will engage with businesses without ever interacting with another human being by the end of 2020. Moreover, according to Google, 61% of people expect brands to deliver personalized experiences. As a result, it is important for all companies to move towards strategically using chatbots and messaging tools like WhatsApp to engage with their customer base. 
For companies, chatbots are an easy way to offer additional services. Chatbots are nothing but software that enables communication with users through messengers apps and on websites. By using them, businesses can schedule client meetings, provide customer support, answer frequently asked questions and much more, all through their website. On the other hand, prospects receive a more personalized experience through a one-on-one conversation and can easily move closer to making their purchasing decision. 
The future of messaging and instant payments
The feature of apps and websites that allowed direct payments – such as PayPal – is now also available on messaging apps. Users can go about their day-to-day activities, manage their finances and socialize, all through one platform.
Instant payment via messaging apps is a recent advancement. Apple and Facebook messenger allows their users to make payments easily. All you need is a bank account and a debit/credit card to process the payment. 
From feature to mobile messaging trend: higher security
Making instant payments through apps or linking bank accounts surely does make it convenient for customers to perform their daily tasks. But, having all the personal and financial information online, makes security a high priority. The latest trend when it comes to providing privacy and security online is encryption.
Increasingly, Over-The-Top (OTT) messaging apps, which include WhatsApp, WeChat, and more, have become end-to-end encrypted. Even In-app messaging on Instagram, Tinder, and other social networks belong to this domain and are required to maintain high levels of security to protect consumer information. Encryption aims to provide protection from cyber-attacks. Messages are encoded in a random sequence and can only be read and deciphered with a password or key. WhatsApp Business is end-to-end encrypted. In the near future, other apps are likely to offer similar capabilities.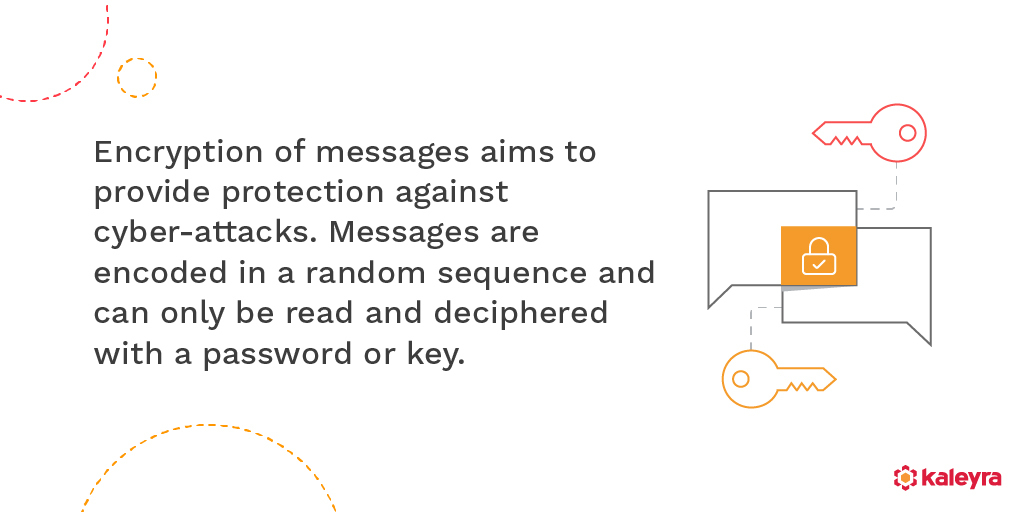 Another way to increase security is by allowing users to post content that is deleted – as soon as it is viewed or in a certain time frame. Snapchat, for example, immediately deleted chats and photos shared between users. This has increased security among users.
Rich Communication Services (RCS): mobile messaging trends of the last years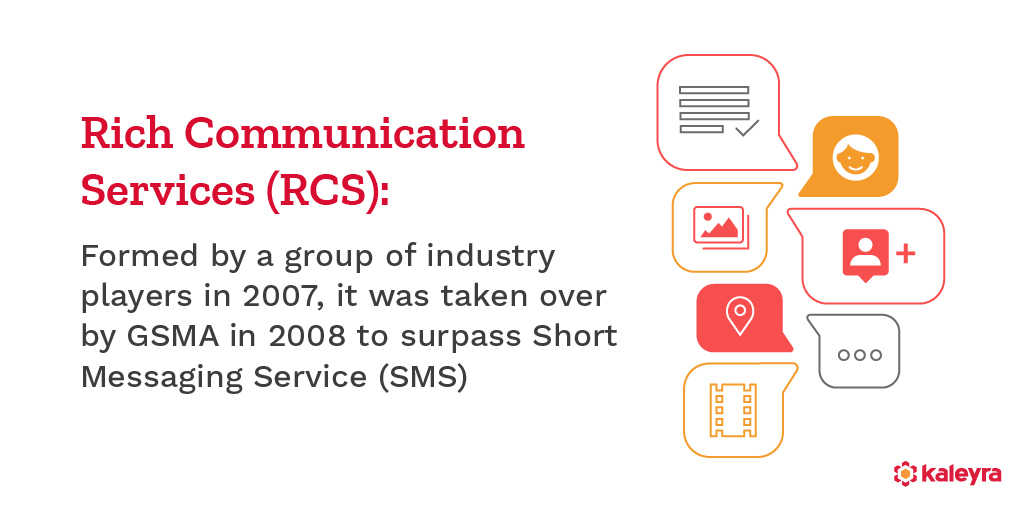 RCS's features include read receipts, location sharing, typing indicators, media uploads, and emojis among others. It is designed to work on all mobile operating systems, implement encryption, and send messages through Wifi.

Both parties must use a compatible app and network to be able to send and receive RCS messages. 
RCS messaging is available in various regions but is based on carrier developed versions, not the Universal Profile such as AT&T and T-Mobile. With the release, of Profile Version 2.0 for Advanced RCS Messaging, there is scope for universal adoption across carriers. However, there is no work being done currently to make RCS support available on iOS. This eliminates a huge user population and can slow the RCS trend in the future if all the iOS users will not be on board.
The true future of messaging
Today's consumers are more connected with each other and with brands than ever before. As brands evolve their customer engagement strategies, communication with customers on the channels they already use/ prefer will be critical.
SMS is the most common medium of communication used by enterprises all over the world and has remained a key channel for organizations in all verticals in 2020. In the coming times, SMS will cover communication, payments, content distribution, video sharing, and more. The future of mobile messaging seems promising.
Enterprises are also continuously increasing their use of instant messaging. It is the second most used mobile messaging medium after SMS. The use of other communication channels like outbound voice, email, and social media will depend on the industry and the target audience. It is important for enterprises to have keen insights about the latest marketing trends, understand how customer behaviours are changing, and use this growth to enhance their business communication.