How CPaaS Solutions are a Game-changer for the Hospitality Sector
Brands in the hospitality sector have always recognized the competitive advantage a positive customer experience gives them. No wonder professionals in the industry are betting on technological innovations such as CPaaS solutions to fulfill the growing demands of their customers.
What is CPaaS?
CPaaS (Communications Platform as a Service) is a cloud-based delivery model that enables organizations to connect to their customers through the addition of real-time communication capabilities. CPaaS platforms have gained prominence over the years and are increasingly helping brands stand out by giving customers authentic and direct interactions. Gartner forecasts that 95% of enterprises worldwide will implement API-enabled CPaaS to level up their digital presence by 2025. Let's learn more about CPaaS and its pivotal role in transforming the hospitality sector.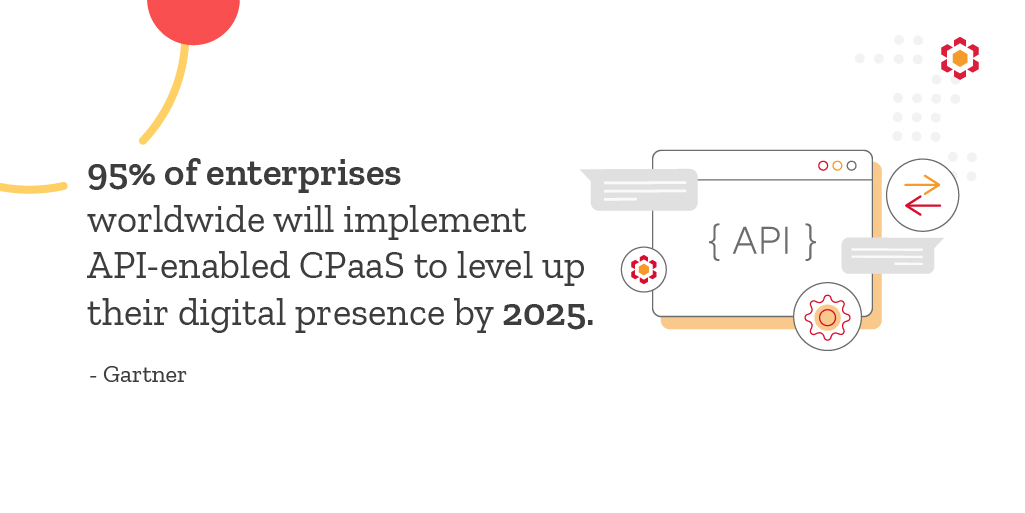 The Need for CPaaS Solutions 
In recent times, the hospitality sector has implemented several digital solutions that enable customers to book tickets or hotel rooms with just a few clicks. However, customers these days want more. Since they are exposed to technological advancements in almost every aspect of their lives, customers expect to experience the same technological innovations in the hotels or restaurants they dine in. Moreover, hotel or airline customers typically spend hours (or days) with a brand. So, timely, personalized communication becomes a significant component of their experience and can make or break how they perceive a brand.

CPaaS providers allow organizations to catapult their communication capabilities by embedding chatbots, instant messaging, notifications, voice, and video features into their existing business applications. For example, CPaaS solutions can help hospitality brands give their customers an enriching experience by sending real-time alerts and updates on reschedules, delays, and cancellations. Since a lot rides on communication, companies in the hospitality sector can use cloud communication platforms to take their customer service to the next level and win over their customers.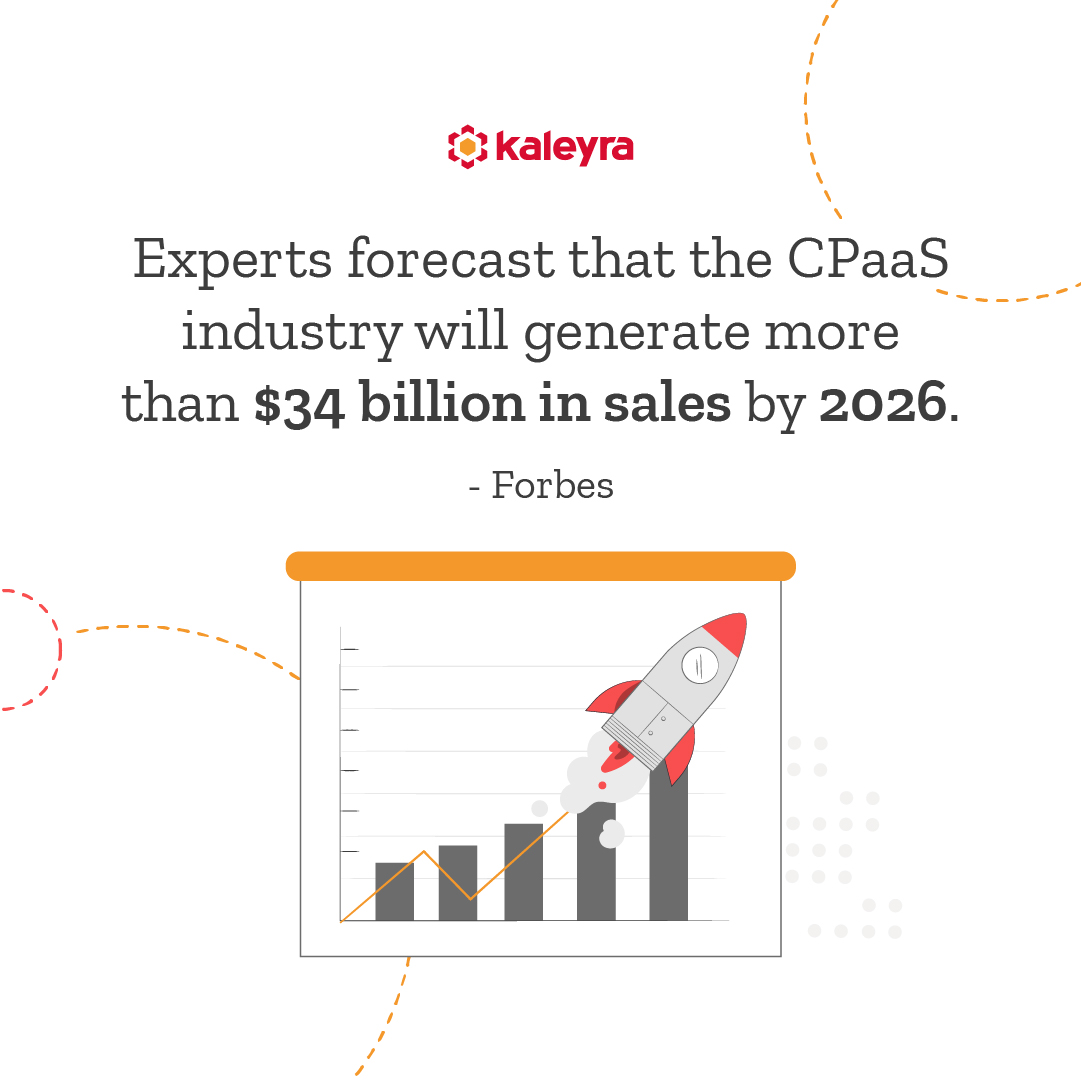 Stepping up the Customer Experience Game

Brands using CPaaS can provide an exceptional digital experience that leaves a lasting impression on their customers. Let's look at some of the ways CPaaS helps in keeping the customers informed and engaged:





●

Scalable Customer Service



There are many touchpoints in hotels where customers regularly interact with the staff. It may be next to impossible for hotel staff to stay on top of the huge number of calls, emails, and chats on busy days. CPaaS platforms automate many tasks such as addressing customer requests like room swaps and informing customers about offers and billing. Thus, CPaaS helps guests enjoy a stellar customer experience even when the hotel staff is flooded with inquiries and requests for information.
●

Instant Information



It is no secret that customers don't enjoy waiting at the front desk to get information. With CPaaS solutions, hotels and airlines can use chatbots to instantly provide guests with information such as the cost of lounge services or the menu at the hotel bar. Chatbots can also speed up the decision-making process for customers by responding to messages within minutes.
●

Omnichannel Support



Brands can reach their customers through multiple communication channels such as Facebook Messenger, Whatsapp, or SMS with CPaaS. CPaaS also allows the use of video or voice in interactions based to customer preferences.
●

Blending Technology with Human Experience



While technology provides targeted, personalized, and relevant information, there is a notion that interactions with digital agents cannot adequately replace the experience of connecting with a human. CPaaS platforms have capabilities that allow organizations to use digital engagement tools and still provide access to human interaction when required. In addition, the versatility of CPaaS enables live agents to work along with conversational assistants, thus striking the right balance between technology and human experience.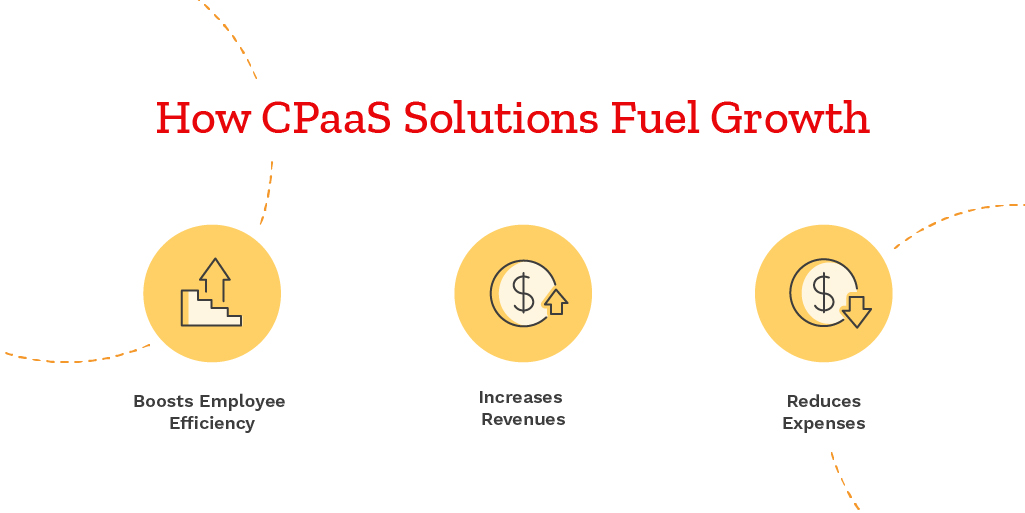 How CPaaS Fuels Growth
CPaaS providers ensure cohesion between several elements of business processes, thus improving efficiency, limiting latency, and reducing expenses. Let's look at a few ways the hospitality industry can benefit from using CPaaS.
●

Boosts Employee Efficiency:



CPaaS platforms have the potential to eliminate or minimize human error, thus improving employee efficiency. Moreover, effective collaboration options embedded into business applications enable employees to access information quickly. For example, since hotel and airline employees can easily connect with their peers, it ensures that everyone has updated information on flight cancellation or booking policies.
●

Increases Revenues:



CPaaS providers empower companies to leverage the power of technology to improve their sales and profits. For example, understaffed car rental companies and hotels can use CPaaS to send automated reminders about deadlines or cancellations, information about add-on services, and provide self-service options for customers online. Moreover, since better customer experience fosters brand loyalty and improves customer retention, cloud

communication solutions can result in increased revenues.
●

Reduces Expenses:



If a company wanted to add a new service to its business process, it usually entailed investment in expensive infrastructure, the latest hardware systems, and additional human resources. The CPaaS model offers flexibility and allows companies to employ digital engagement tools at much lower costs. Moreover, the streamlining of communication between companies and customers helps reduce expenses. For example, airlines and hotels can reduce money lost due to no-shows by sending automated reminders to customers about their bookings.





Customers today expect nothing short of excellence in their overall experience with a brand. They want to feel empowered and appreciate brands that engage through seamless and personalized communication. CPaaS platforms have emerged as a reliable way to elevate customer interactions in the hospitality sector over the last few years. Since a cloud-based platform is almost plug-and-play, companies find it easier, and less costly, to implement CPaaS that augments their existing customer service systems. For a consumer-facing industry like hospitality, technological innovations such as CPaaS solutions can go a long way in delighting customers and boosting revenue.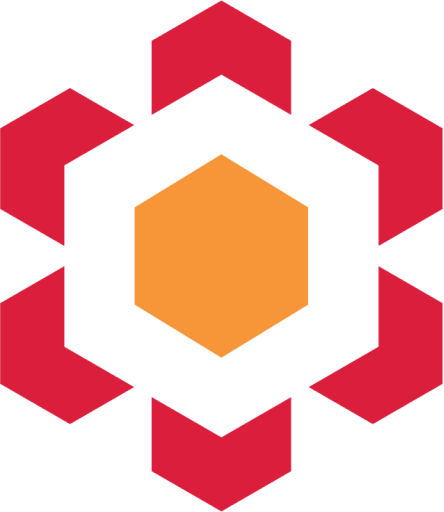 Kalaivani Narayanan
Content Specialist