The banking and financial services industry is undergoing a digital transformation, with conversational banking being an emerging avenue for innovation. Conversational technology holds immense potential to transform customer service while allowing better security measures and cost savings. Let's see how conversational tools enhance customer experience by enabling dynamic customer interactions and personalized communication.  
49% said that customer service drives loyalty, according to an Accenture Financial Services global study. With conversation-driven banking, companies can provide a round-the-clock presence, not limited by geographical boundaries or time zones. In addition, automated responses improve efficiency, helping companies stay ahead of the curve in the ever-changing financial landscape.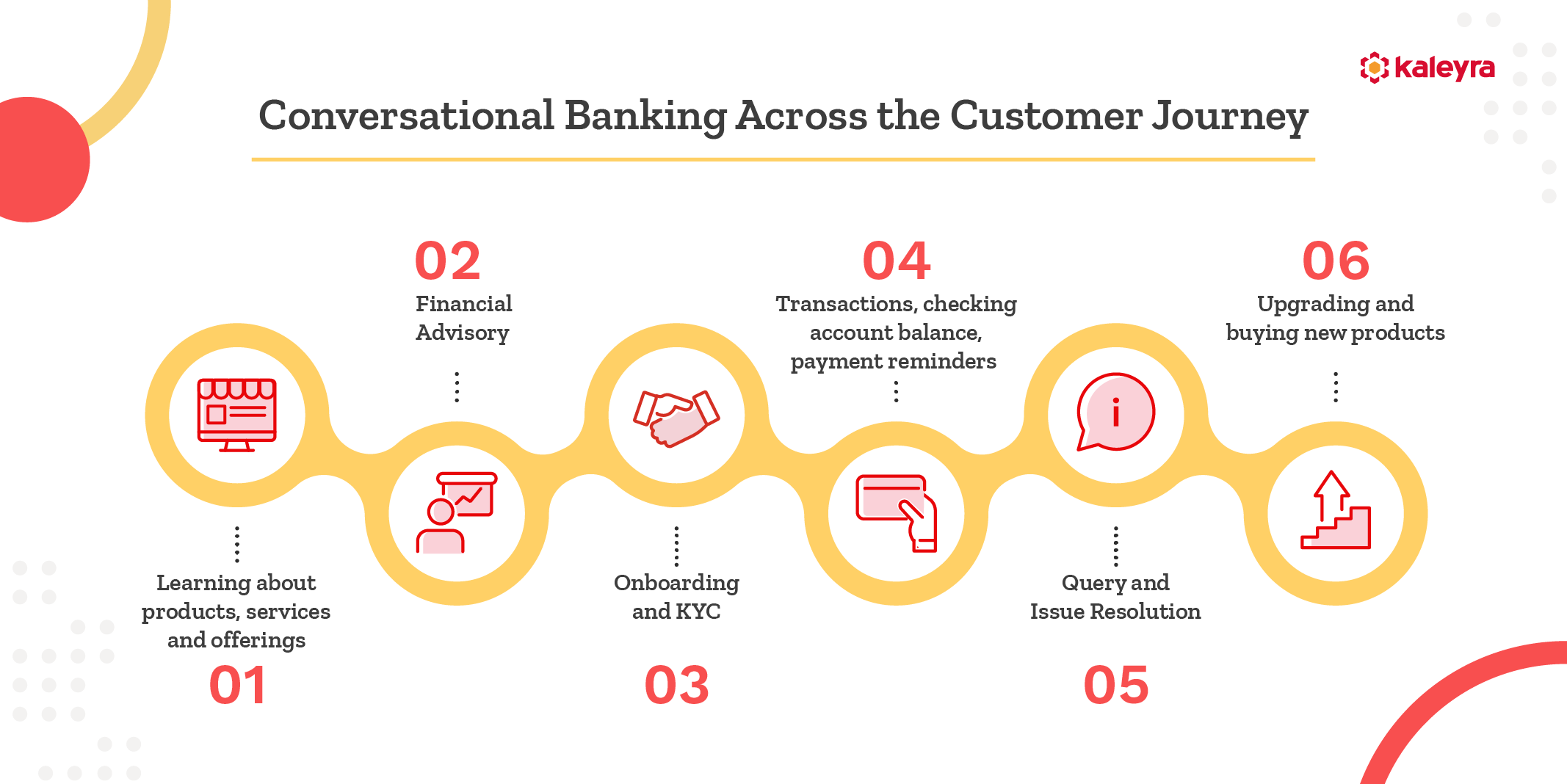 What is Conversational Banking?
Conversational banking is a new-age way of offering financial services to customers. It involves the use of tools and technologies that help create an engaging, personalized customer experience.
With a conversational approach, banks can offer a tailored customer experience. They can provide timely, relevant, intuitive, and consistent responses resulting in improved customer satisfaction. Since conversational tools allow communication on the customers' preferred messaging app, they make banking services more accessible. Moreover, they streamline the customer journey, significantly reducing the number of steps for customers to accomplish their goals.
For example, customers can access banking services from conversational apps on their mobile phones instead of calling customer care, visiting a bank, or logging into their account.
In addition to interactions that cater to customer expectations, conversational tools offer actionable insights that help leverage data to deliver highly personalized experiences. As a result, financial institutions can engage customers through meaningful two-way conversations across various digital touchpoints.
Conversational solutions can provide automated recommendations relevant to the customer based on prior exchanges. For example, banks can share customized suggestions and advice on investments, mortgages, interest rates, tax savings, and more based on customer preferences and needs.
Ebook: A Mobile-First Guide

Learn how to optimize your mobile marketing strategy to boost sales and revenues.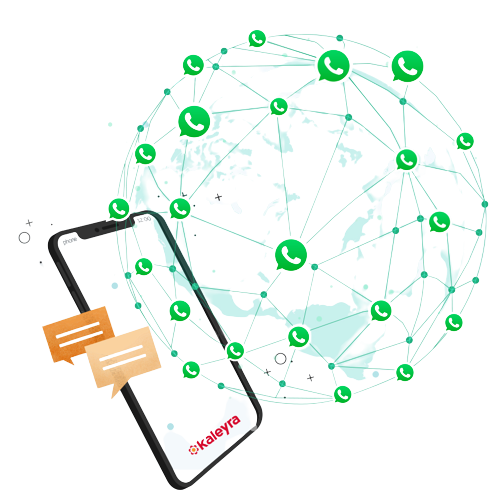 Conversational tools
Conversational banking is powerful because it uses a combination of chatbots, messaging apps, and live agents to provide an always-on, real-time communication channel. Financial institutions can deploy conversational channels that customers commonly use, such as WhatsApp and Facebook Messenger, in addition to voice and video solutions for a richer customer experience.
Unlike conventional digital banking, conversational technology allows easy sharing of images, videos, carousels, and buttons, simplifying communication. Moreover, conversational tools help customers seek human assistance when needed.
For example, banks can share videos on how to set up notifications for transactions, and customers can share documents on WhatsApp. In case the customer wants agent assistance, they can choose to receive a callback right from the messaging app.  
Why Shift to Conversational Banking?
The banking and financial industry is facing challenges such as increase in competition and rising customer expectations. Retaining customers has become more difficult and acquiring new customers costs more. Conversational banking helps meet customer demands and streamlines operations to provide a consistent banking experience.
For example, many customers now prefer paperless account statements, instant transaction notifications, and timely payment reminders. Financial institutions can boost customer satisfaction by leveraging WhatsApp automation and sending prompt responses to customer queries.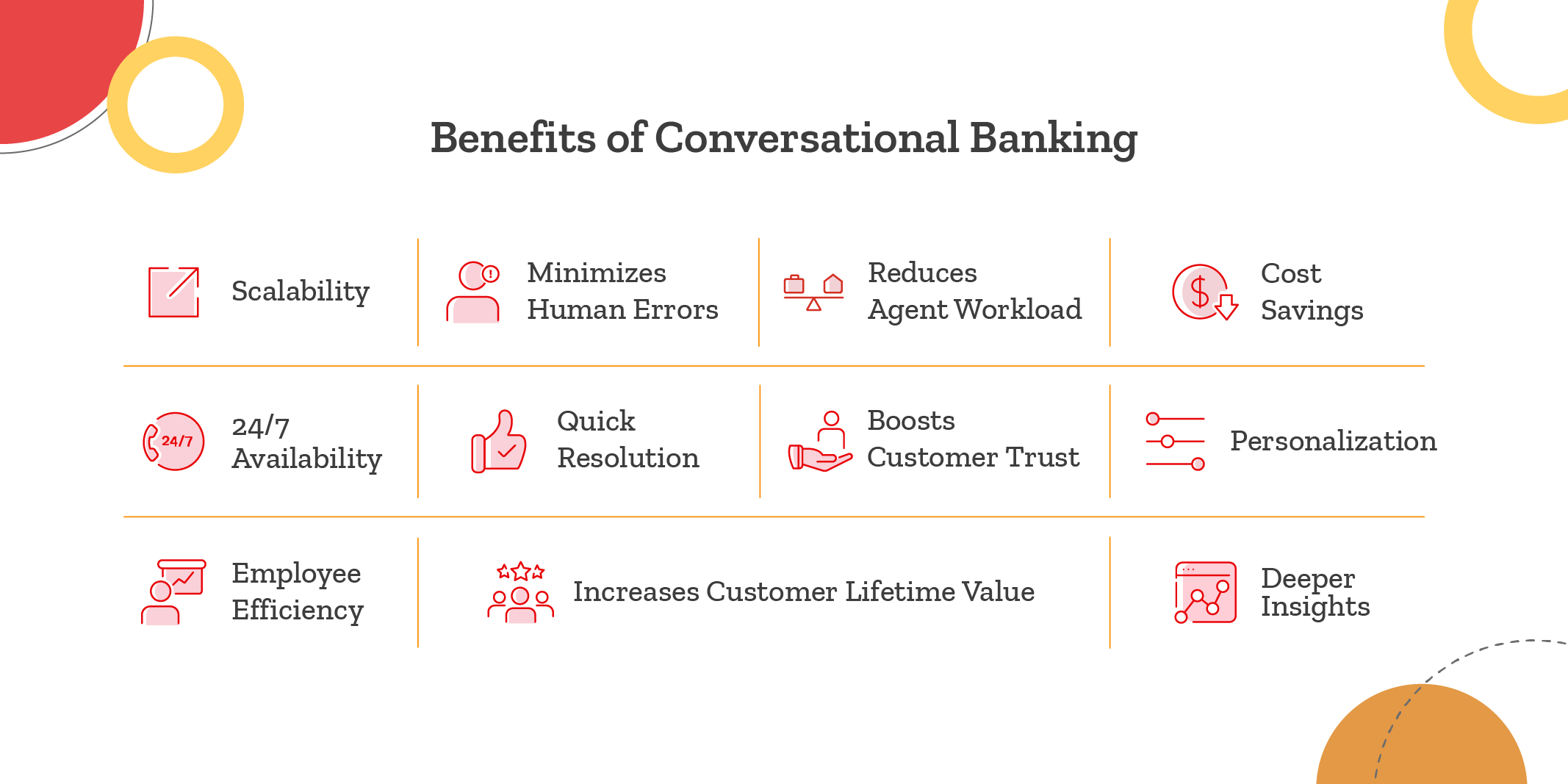 Benefits of Conversational-based Banking
Here are some of the key benefits of conversation-driven approach in banking:
1. Scalability
When your customer base grows, your customer service team needs to evolve to keep up with the increase in queries. However, maintaining a large team's round-the-clock availability can prove costly for banks and financial institutions. Instead, they can incorporate conversational channels that can simultaneously address multiple queries. Thus, conversational tools ensure meaningful customer engagement at scale since they can handle huge volumes of tickets.
2. Reduction in Human Errors

Human agents undoubtedly make communication feel personal and are great at picking up nonverbal cues to have empathetic conversations. However, humans are also prone to errors resulting in dissatisfied customers.
Deploying conversational technology helps keep errors to a minimum. It allows banks to provide accurate responses based on customer data. For example, when you schedule automated responses based on triggers such as an upcoming payment due date, you ensure that reminders are sent on time without fail.
3. Lessens Agent Workload & Dependence
Automation helps take care of mundane, repetitive tasks and allows customer service agents to focus on high-impact customer interactions that are likely to lead to conversions. For example, WhatsApp chatbots can effectively collect customer data that would have required several back-and-forth emails. Moreover, integration with CRM ensures that the sales and marketing teams can access data without human intervention.
4. Cost Savings
Conversational AI technology allows banks to engage more customers on a variety of channels without a huge investment in technological infrastructure. Since messaging APIs are low code, they are easy to implement and require little developer intervention. Moreover, it's cost-effective to deploy messaging channels that can help you reach a wider audience than investing in a bigger human resource pool.
Conversational tools help banks bring down operational costs by reducing manual processes and paperwork typically used in conventional banking. By automating tasks and integrating with other business solutions such as CRM and Marketing automation platforms, conversational technology ensures banking services are accessible to more customers without hiring an extensive customer service team. Moreover, agents can have productive interactions, lowering churn rates and reducing customer acquisition costs.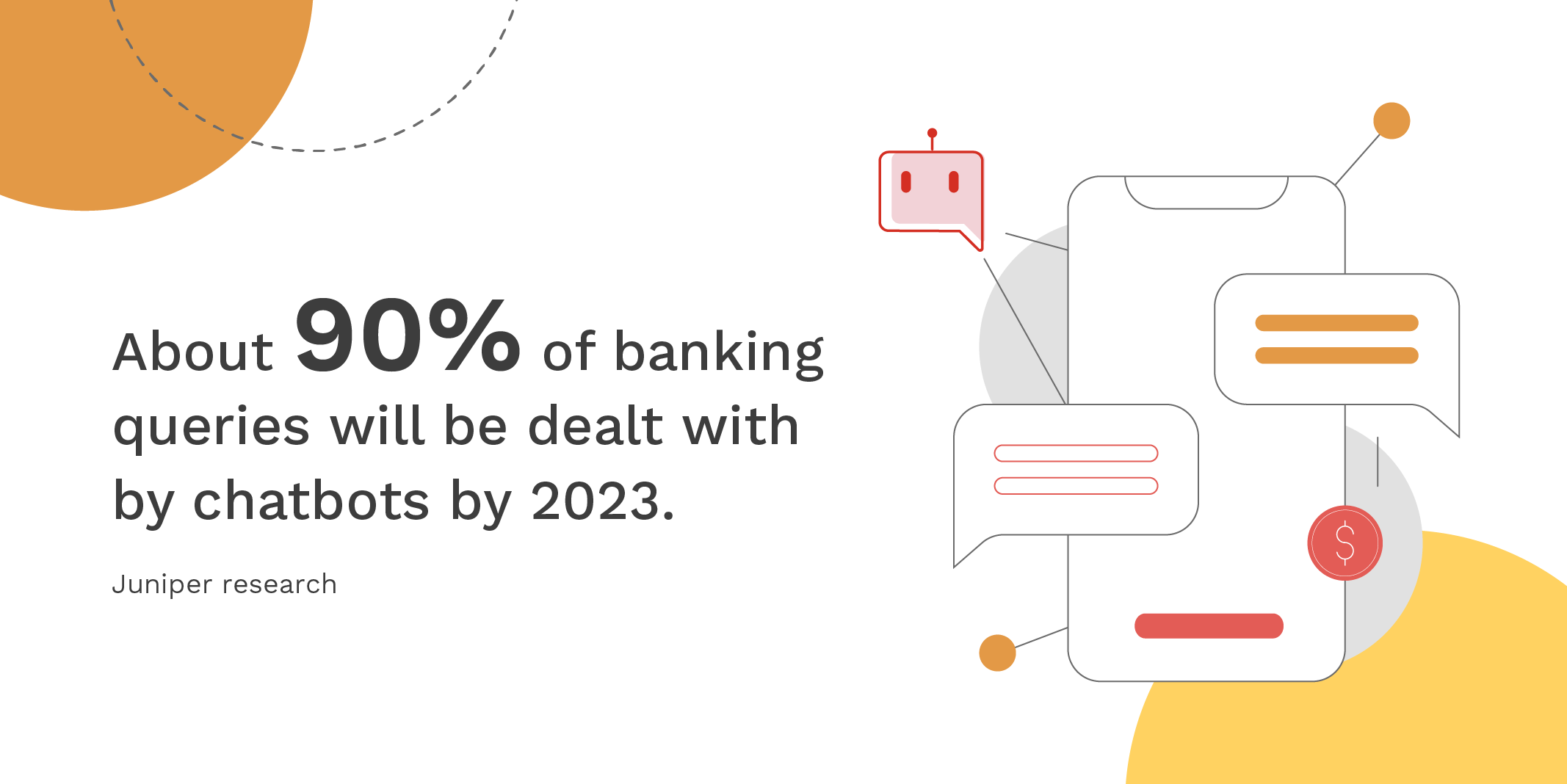 5. Personalized Customer Experiences
Each banking customer may have unique preferences and needs that can be adequately addressed only with personalized communication. For example, a customer above fifty may be interested in retirement plans, while a younger customer may be keen to know more about mortgages.
Banks can drive more conversions by having relevant interactions and offering customized advice. Moreover, conversational channels allow natural conversations and rich media that help customers make informed decisions.
6. 24/7 Availability
Shopping happens 24/7, which means transactions occur round the clock too. 24/7 availability helps banks address urgent customer queries like requests to block a stolen credit card or report fraudulent transactions.
Chatbots allow a round-the-clock presence, enabling brands to engage customers beyond business hours. For example, sending timely alerts for midnight sale increases the chances of conversions and sharing automated transactional updates reassures customers, boosting customer retention.
7. Quick Resolution
Conversational banking helps customers get precise and prompt responses, leading to a quick resolution. By sharing how-to videos and other rich media such as images and PDFs, support agents can better guide customers to perform common banking operations. In addition, automated responses to FAQs, such as bank hours and branch locations, help resolve customer queries instantly.
8. Deeper Insights
Automated data collection powered by conversational tools helps derive actionable insights for a personalized customer experience. It allows a deeper understanding of customer behaviour patterns, spending habits, pain points, and preferences.
Banks can share relevant product recommendations and help customers make smart product selections based on prior conversations.
9. Improves Employee Efficiency
Employee experience is crucial for productivity, but unfortunately, several companies fall short of expectations. Automated message flows, integration with business solutions, and an omnichannel environment can streamline processes and ensure that all teams have easy access to accurate data.
Conversational tools improve organizational agility and help employees stay on top of complex tasks. Moreover, they help Marketing, Sales, and Customer support teams work in tandem and efficiently aligned with business goals.
10. Increases Customer Lifecycle
Customers need support even after the purchase. If deployed strategically, conversational tools can serve as sales tools that cash in on upselling and cross-selling opportunities.
When customers are satisfied with a bank, they will be receptive to information about other offerings that may be beneficial to them. Conversation-based banking helps build long-term customer relationships that increase the customer lifecycle.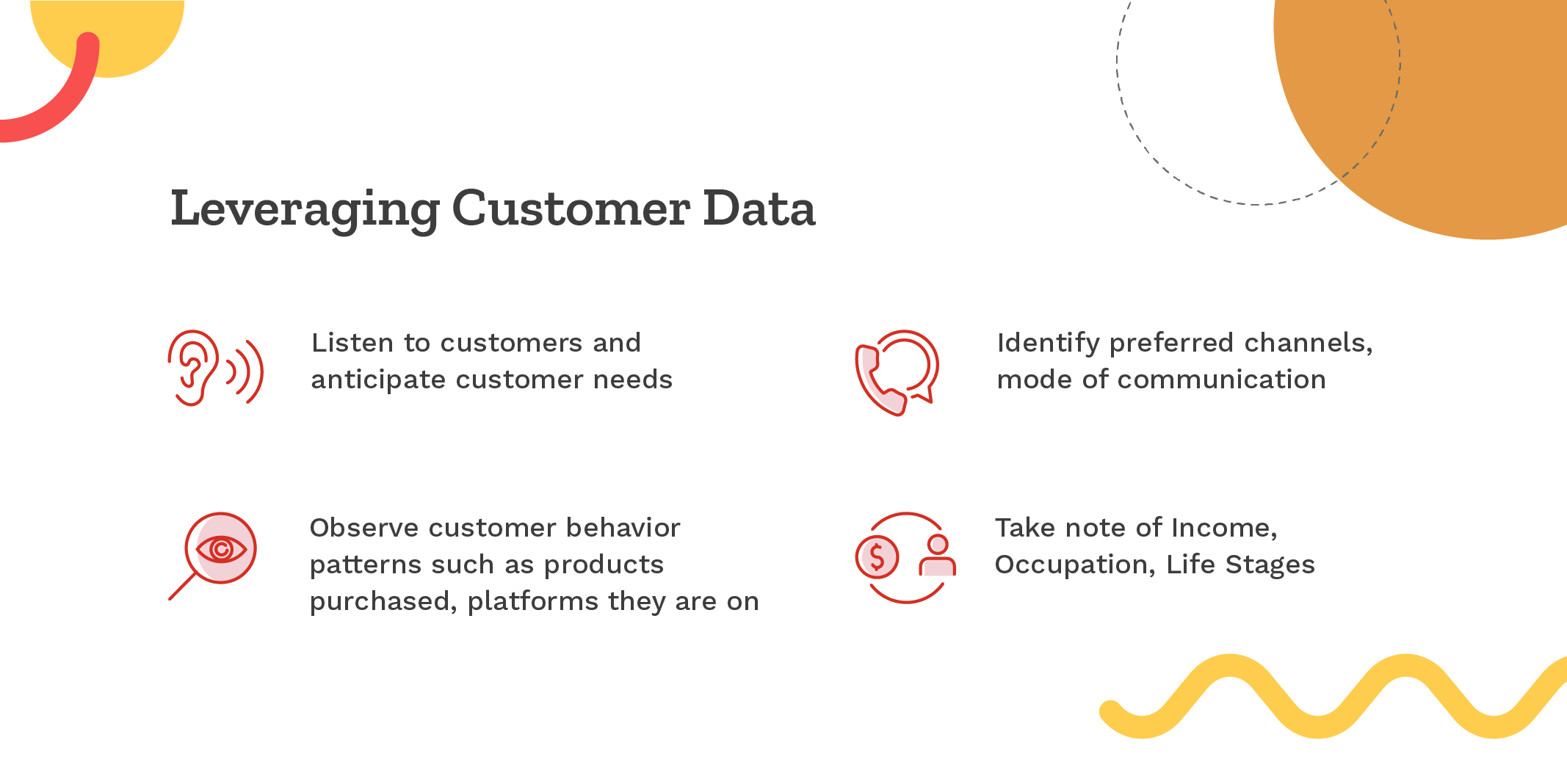 Elevate Your CX with Kaleyra's Conversational Technology
About 90 percent of banking queries will be dealt with by chatbots by 2023, according to Juniper Research. Conversational technology can significantly improve profits and offer distinctive omnichannel experiences to customers. Kaleyra's intuitive messaging solutions have helped several banks and financial institutions achieve desired business outcomes through personalization. To learn more about Kaleyra's innovative solutions support conversational banking, talk to one of our experts today.
Supercharge Your Communication!
Get in touch with our experts who strive hard to bring the very best in cloud communications technology to you.