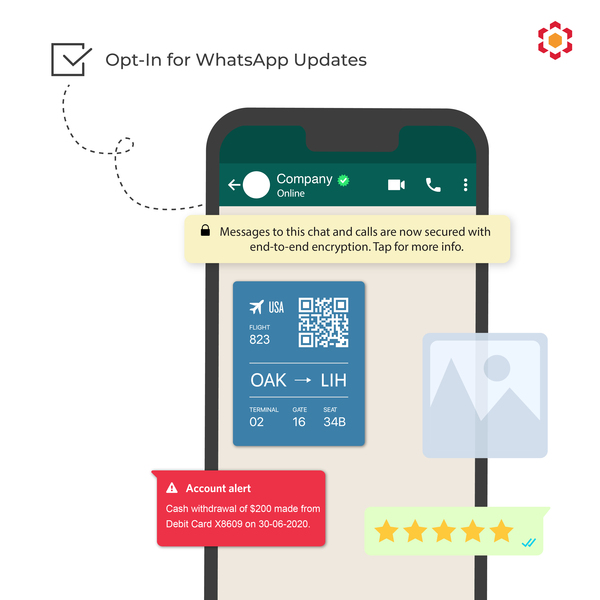 7 Compelling Reasons To Use WhatsApp Business For Your Marketing Strategy
When Facebook announced its plan to acquire WhatsApp for a whopping $19 billion back in 2014, many doubted if WhatsApp could contribute to Facebook's already impressive portfolio of Social Media and messaging apps. However, six years later, in February 2020, WhatsApp's user base surpassed the two-billion milestone.
Taking notice of its popularity and vast business potential, the instant messaging brand launched WhatsApp Business, a feature that can help small and large-scale businesses engage with its users and market their brand.
Since then, many brands have started using WhatsApp Business to offer dedicated customer support and run marketing campaigns.
Here are seven great reasons to consider using WhatsApp Business for your marketing strategy: 
Secure Messaging
WhatsApp provides businesses and consumers with a highly secure messaging platform that safeguards all confidential data. Data security remains a priority in the current era, and WhatsApp lives up to the latest mobile security standards. WhatsApp's end-to-end encryption allows only the recipients and senders to view the message content, and it completely restricts third-party accessibility.
2. Create brand awareness and product promotion
With the introduction of new features like status update and catalog in the WhatsApp Business account, the platform now gives more room for visual content, and users can check out what your offerings are without having to message you for this information. 
Status update – you can run promotions and market newly launched products to generate more sales.
Catalog – Catalogs act as a mobile directory to put products on display. Thereby, you no longer have to send product images and supporting documents one at a time. Consumers will be able to see your brand's full product inventory from its WhatsApp Business user interface.
3. Unleashing conversational commerce 
Conversational commerce refers to the way end-users interact with their brand via chat-apps to get personalized and dedicated support.
Due to technological advancements across industries, the modern-day consumers can instantly connect with brand representatives or chatbots to get personalized product recommendations, quick support, or options to purchase products, all from within the messaging app.
With WhatsApp-enabled conversational commerce, you will be able to connect with multiple customers and provide personalized customer support and increase sales without any hassle.
4. Permission-based messaging
​​​​​WhatsApp Business does not allow you to directly contact your users if they have not opted-in to receive your messages. If you want to start a conversation with your end-users, you must either request them to share their number with you or allow them to initiate a conversation.
In both cases, you, as a company, will respect the consumers' right to reject or receive your message. This is more beneficial to you as a brand, as you will end up with a highly segmented audience base that is interested in your brand's message.
5. Deliver personalized communication 
Regardless of the marketing channel, sending customized messages to end-users is vital to driving higher conversions and engagement.
With WhatsApp Business, you can build on your personalization efforts at different stages of the customer lifecycle. You will also be able to add rich elements to these messages, such as video, audio, images, files, and QR codes.
6. Valuable insights
With the  WhatsApp Business Statistics feature, you understand your customers' experience better. The feature provides some necessary details, such as the total number of messages sent, delivered, received, and read.
This can help you develop a more targeted messaging campaign that will resonate better with your audience.
7. Feedback Mechanism
Feedback can help you improve all aspects of your business; this is why many companies request customer feedback. With WhatsApp Business, it is very easy to ask for one and get a reply in a matter of minutes since the platform has a high open-rate.
If you wish, you can also post your customer feedback on your WhatsApp status as social proof to show others that you are a reliable brand. 
WhatsApp Business can be a powerful app to have in your toolkit. WhatsApp users send more than 65 billion messages every single day.
According to Nielsen's Facebook Messaging Survey, 67% of people using messaging apps said they expect to use chat as a primary option to communicate with businesses over the next couple of years, and more than 53% of users state that they are more likely to shop with a brand they can message directly.
Using WhatsApp Business as part of your marketing strategy can help you engage with your audience better, and thereby help you provide a fantastic customer experience.
If you wish to learn more about WhatsApp Business, download our WhatsApp eBook. This guide will give you an in-depth understanding of WhatsApp Business and show you how to leverage WhatsApp Business as a channel of communication to create a seamless customer experience. 
WhatsApp Update – With more consumers turning to chat with businesses on WhatsApp, the instant messaging service provider recently announced updates to the WhatsApp Business API that will make it quicker for businesses to get started and for people to easily chat with these businesses. As per the latest update received from WhatsApp, all the existing businesses on the WhatsApp Business API from the following countries, i.e., Singapore, Malaysia, South Africa, United Arab Emirates, Russia, Saudi Arabia, Israel, United Kingdom, Netherlands, Spain, Italy, Germany, Nigeria, Egypt, Brazil, Colombia, Jamaica, USA, Indonesia, and Mexico will be able to send non-transactional notifications to their opted-in customers.
With this new update, businesses can drive many new use cases on the platform, such as sending product recommendations, promotional offers, and most importantly, re-engaging with their users by sending regular reminders and updates related to their products and services. All the businesses that belong to one of the countries listed above as the country setting in Business Manager can send non-transactional notifications. There won't be a need for any additional integration.