Kaleyra Completes 6 Months of Working-From-Home
The year 2020 brought forth one of the most difficult challenges our world has collectively faced in decades. The Coronavirus pandemic pushed everybody indoors and crippled several economies. Businesses of all scales struggled to find solutions. The impending question looming on everybody's minds became, "how do we carry on during this dark, long hour?"
Having no time to squander, we took some calculated measures and some leaps of faith to find our ground.
At Kaleyra, we practiced the very foundation on which we are based; we communicated – with each other, across levels, with our families and friends. We talked. We discussed. We came up with empathetic answers that prioritized our employees and their health while preserving the fabric that connected us all – our business.
We switched to working from home across our global offices in March. 
While we had policies to support work-from-home even before the pandemic, this switch was numerous levels apart. Our entire workforce went remote overnight. It was nothing short of a challenge to adapt to this new style of working. In-person conversations were replaced by Slack channel chats; discussions in meeting rooms were moved to Google Meets or Zoom; brainstorming squeezed in wherever it could find a place. We made spaces in our homes that we could call "office." Our team members' presence was replaced by our family and kids. And all of this took place while we actively combated the fast-spreading coronavirus, mentally and physically.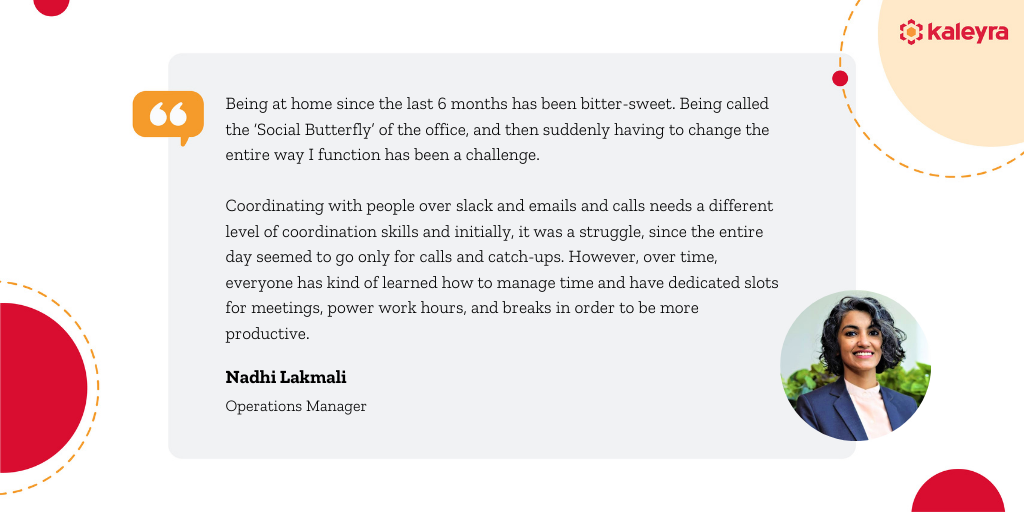 The Kaleyran spirit to not just survive but thrive, kept us all going despite all odds. We developed ways of working within and across teams to deliver on our promise of enabling businesses to offer exceptional customer experiences. We achieved big feats together even in the face of adversity, like building the first government-approved COVID-19 telemedicine helpline service in India, launching K-Labs (a dedicated innovation lab to develop mobile CX solutions for the financial services industry), and giving our website a complete makeover.
At no point, though, did we lose sight of the people at Kaleyra who made it all possible. Two months after adopting remote working, in May 2020, we conducted a company-wide comprehensive survey to understand how everyone was coping with the new working style and if they required any intervention. For every employee who responded, Kaleyra donated $19 for a cause related to the COVID-19 emergency. From that survey, we found:
96.97 percent of Kaleyrans had received all the required technical support to work from home with no stress

96.07 percent of respondents thought they had all the support needed from their managers

96.5 percent of employees felt that the company had made them feel highly safe since they joined

81 percent of Kaleyrans felt comfortable working from home
The overwhelmingly positive results from the survey reinforced our belief that we were headed in the right direction. Our efforts towards growing continued to be amplified. We hired several members for different teams globally during the pandemic.
It has been six months now since we started working from home. The threat of coronavirus is still lingering in the air, but a lot has changed. We have grown more resilient to difficulties and agile in adapting. 
Going forward, we will open our global offices slowly, strictly adhering to WHO guidelines, for employees who are feeling isolated or struggling to stay connected. The upcoming new phase of Kaleyra's flexible working style promises excitement and improved efficiency.