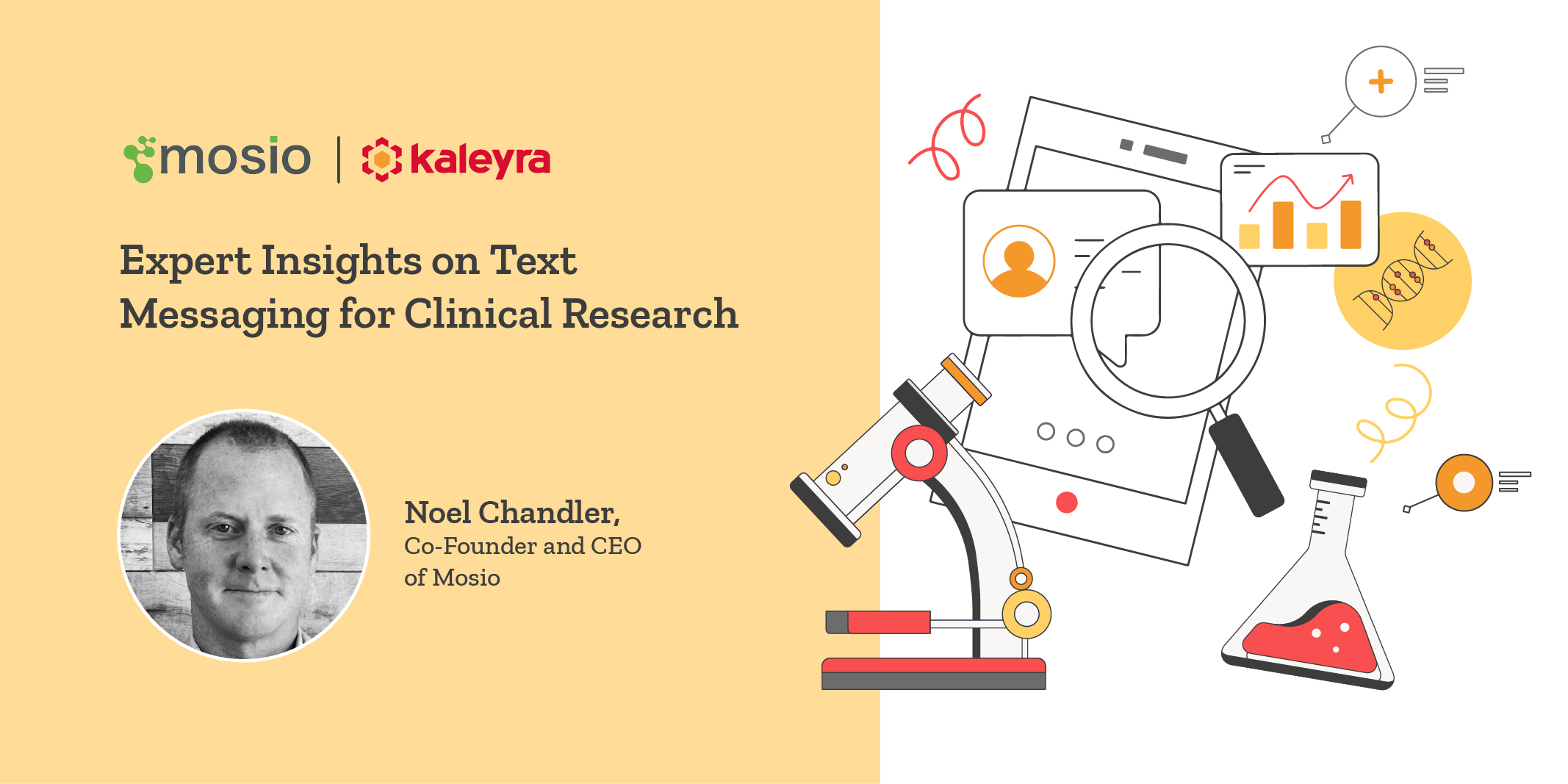 Have you ever tried to execute a simple customer survey? Engaging participants and ensuring accuracy can be much more difficult than expected. For researchers, these difficulties are multiplied tenfold because any misstep can jeopardize the entire study, resulting in a waste of significant time and money.
We interviewed Noel Chandler, the Co-Founder and CEO of Mosio, to learn more about how text messaging can be utilized to improve the results of clinical research. Mosio is a comprehensive platform that helps researchers engage, retain, and collect data from study subjects more efficiently and effectively with SMS. 
What are some of the common challenges in clinical research that can be reduced using SMS?
There are many ways that SMS reduces the challenges of clinical research. It's an accessible and timely platform, making it perfect for engaging participants, improving adherence, and optimizing data collection. The combination of SMS and process automation software makes it a powerful tool for clinical researchers.
1. Study Participant Engagement
Maintaining participant engagement throughout a study can be challenging. Text messaging offers a convenient and accessible way to reach participants, enhancing communication and reducing the risk and costs of dropouts.
2. Adherence and Compliance
Participants may struggle to adhere to study protocols or data collection regimens. Regular text message reminders can serve as effective prompts for appointment reminders, medication intake and adherence to study procedures, thereby improving compliance.
3. Data Collection

Collecting accurate and timely data is crucial in clinical research or public health programs. Text messaging can be utilized to send automated surveys or questionnaires with reminders for completion, allowing participants to conveniently provide data, which can then be easily collected and compiled for analysis. 
Mosio harnesses the power of SMS to create a platform that is designed specifically for clinical research. Our software automates communications, reducing the tasks for study coordinators and project managers required to keep study subjects informed, compliant, and feeling appreciated. 
What is one of your favorite customer success stories?
We are quite lucky in that some of our clients mention or thank us in their published research papers. It isn't a requirement, of course, but when we find out about it we post them on our Studies page, located here.
The biggest compliment we've received is "We refer to Mosio as another member of the team." We make software for research teams. Those on the front lines of working directly with study participants are our heroes. They work very hard and juggle many tasks, so Mosio listens to them and strives to build text messaging software to automate their communications workflows so they can focus on other important tasks. 
What are some of the ways you predict emerging communication channels like Video and WhatsApp will continue to revolutionize the way we conduct research?
During the height of COVID we saw a big uptick in the use of video and our interactive "TextChat" modules because less study subjects were doing in person visits to offices. We expect to see more use of video for decentralized ("virtual") clinical trials, where study teams can communicate "face to face" using mobile devices. This is a net positive for the industry as it reduces costs by improving the study subject pool size to people all over the country instead of cities where clinical sites are abundant.
International text messaging in clinical trials is quite a challenge. There are hundreds of mobile carrier networks with constantly changing rules, coverage areas and prices. WhatsApp is very popular globally as a solution to this problem. Mosio's interest in leveraging WhatsApp as a method of communication provides us with a more predictable messaging channel so we can keep a consistent offering for clients with global studies. 
Ready to learn more or try it yourself? Clinical research teams can get in touch with Mosio for a demo or fill out a project plan to get a quote at https://www.mosio.com.
Multichannel Strategies for Growing eCommerce Brands
Learn how E-Commerce brands can effectively implement multiple platforms to propel growth, foster customer loyalty, and streamline their processes.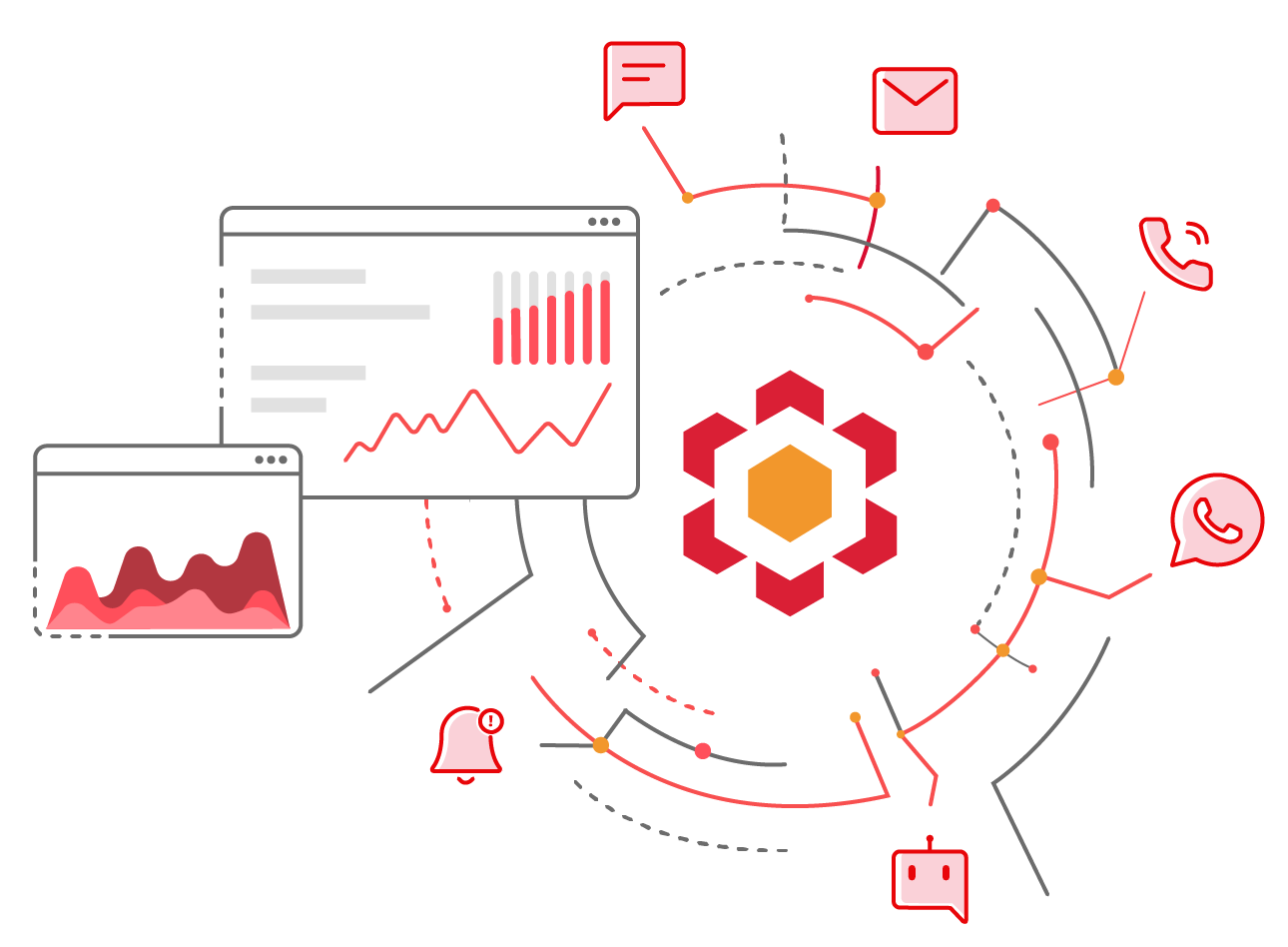 Supercharge Your Communication!
Get in touch with our experts who strive hard to bring the very best in cloud communications technology to you.