Kaleyra SMS for Shopify – Redefining E-commerce Shopping Experiences
In 2020, the global e-commerce sales amounted to 4.28 trillion USD, and e-tail revenues are expected to touch 5.4 trillion USD in 2022.
An incredible platform like Shopify has made it possible for people to start their own e-commerce business with just a few clicks. The company has more than 1,700,000 businesses in approximately 175 countries, using its platform to manage its eTail stores. According to Builtwith, 1.58 million websites run on the Shopify platform as of 2021.
One of the most powerful channels of marketing that Shopify Merchants can use to promote their store is SMS. With a 98% open rate, SMS is one of the most effective and reliable communication channels. 
Kaleyra recently launched an SMS plugin for Shopify to help Shopify Merchants send SMS to customers located anywhere around the globe. Kaleyra gives Shopify users the perfect way of engaging with their customer base.
Using SMS messages, the merchants can target their customers with automated messages such as sending order confirmations, delivery notifications, special offer announcements, or even abandoned cart reminders to return to the store to complete their purchase.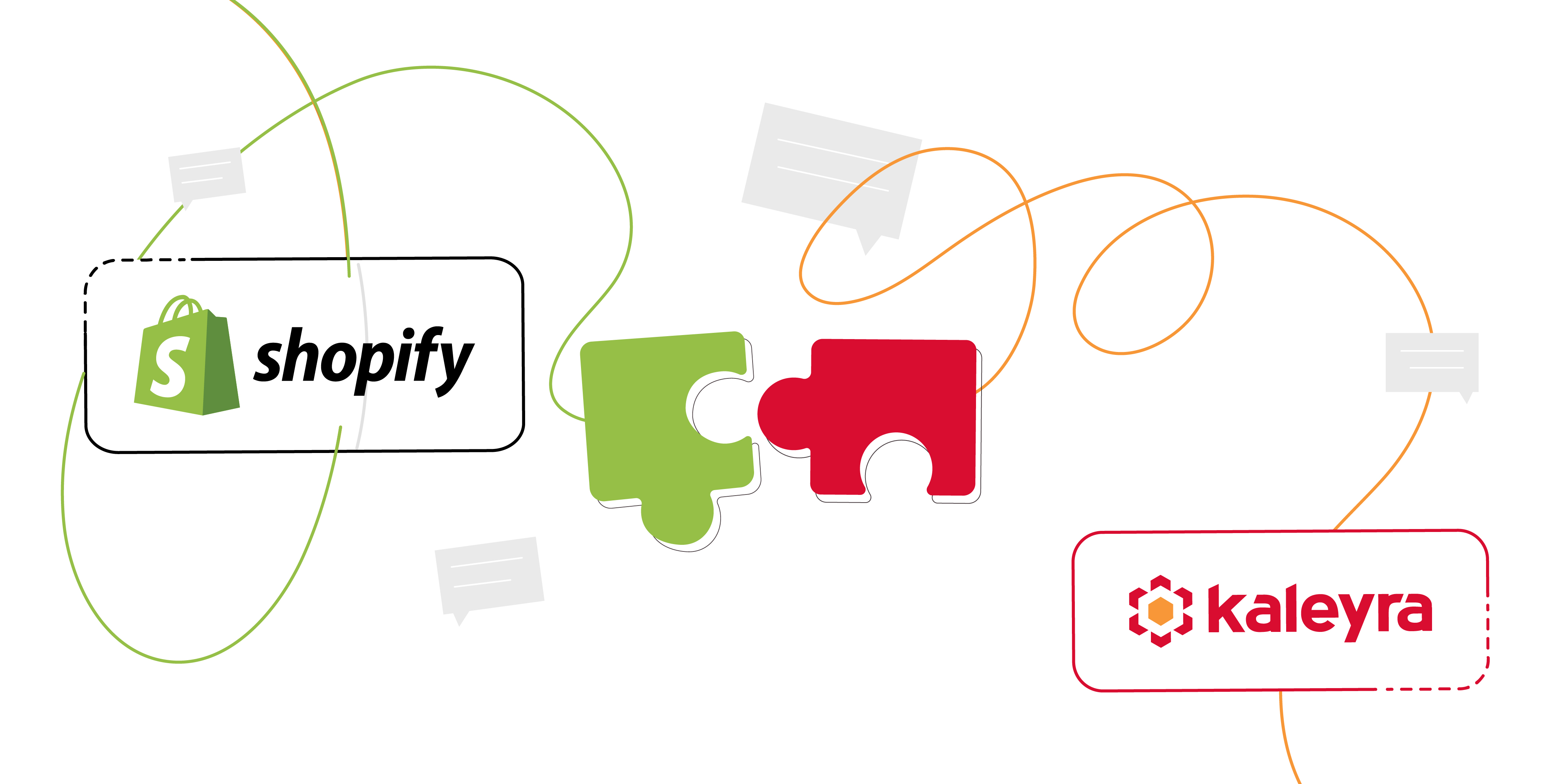 How to set up Kaleyra SMS on your Shopify Store
Setting up Kaleyra SMS on your Shopify store is quite simple. All you have to do is download the Kaleyra SMS plugin from Shopify's App Store and complete the setup process.
After this step is complete, you can either sign up for a new account on Kaleyra or log in with your existing credentials. Once logged in, you can start implementing your SMS marketing strategies by creating your personalized text messages. To make the process even easier, Kaleyra SMS allows you to select one of its several templates. 
Kaleyra's Plugin for Shopify enables you to send and receive messages instantly or schedule planned campaigns. The plugin gives you access to view detailed reports and logs to track and manage the delivery of their messages, allows you to customize workflows, use dynamic variables and URLs in messages, and create templates. 
Kaleyra's strength is to provide a robust API system, scalable technology and enhanced analytics.
Developing an effective SMS Marketing Strategy for Shopify
Due to massive competition in the e-commerce space, brands need to create customer loyalty to stay relevant in the industry. One of the best ways to build customer loyalty is by offering premium support to existing customers. 
E-commerce companies have limited face-to-face customer interaction; therefore, they need to make their online interactions exciting and powerful.
By mapping their customers' journey, finding opportunities at each phase, and enabling personalized service through messaging channels, brands can build a stronger relationship with their customers and provide them with a better shopping experience.
Let's take a look at how Kaleyra's SMS plugin can help in automating SMS campaigns that can help you establish a stronger bond with your customers and increase your e-commerce sales.
1. Trigger welcome messages
There are millions of e-commerce brands out there fighting hard to create that unique experience to make that first impression. It is therefore vital to have a front foot on the welcome messages. 
For an SMS campaign to become successful, you should trigger a compelling first message that helps your customers recognize you on the first go.
With Kaleyra's easy-to-use SMS templates, you can compose a welcome message for your customers that not only makes them feel like they are your premium customers but also makes them proud to be associated with your brand. 
Strengthen their trust by sending exclusive discounts, freebies, coupon codes, and membership deals to add a lifetime value.
2. Send updates on delivery and returns
From the time a customer places an order, you can share a real-time delivery update through SMS until the product is delivered. Kaleyra's SMS solution makes it easy for end-users to connect with e-store owners, clarify all their queries related to the product delivery and get an update regarding the same.
Our SMS plugin for Shopify will also enable the e-store owners to streamline the product returns process by scheduling collections. Using SMS to handle distribution and returns considerably improves operational efficiency and customer satisfaction.
3. Send limited-time promos
You can send out FOMO messages to create urgency during flash sales,  end of the season, or set up event-based promotion campaigns. The text in the message can include the link directed to the website and should also specify the time of the sale. 
For instance, if your deal of the day starts at 2 PM and ends within 1 hour, you should send a message before the sale begins. To make it easy, Kaleyra also has some great SMS templates that you can use.
4. Send cart abandonment reminders
Cart abandonments are a hard reality for all e-commerce stores, even those with high traffic and huge customer volume. On average, the cart abandonment rate is around 69.80%, as per Baymard Institute's study. The reasons can be plenty, such as high shipping costs, complex returns policy, not getting a discount on the cart total, and so on.
But it is not impossible to re-capture this lost sale. It is all about making a timely conversation and sending a reminder or offering that discount to give a little nudge. SMS is undoubtedly one of the most effective ways to recover lost customers as it helps you engage with your audience and customers on a one-to-one basis.
By getting a few elements right, you can reap the rewards and improve the sales for your e-commerce store. You can remind your customers about the abandoned cart using Kaleyra's SMS and notify them about the price drop for the item in their cart, provide a massive discount on the products, or promise a free delivery. Sending such reminder messages will help you gain that attention, which is crucial for getting your customers to take action and complete that purchase. 
5. Collect post-purchase feedbacks
Collecting customer feedback via SMS surveys can help improve crucial processes within your business, besides filling critical gaps in the customer experience process.
According to a recent study, SMS has eight times the response rate of email, which is why SMS feedback makes it to the top of the list to capture customer satisfaction. SMS being more personal and instant nudges the customer to engage honestly with your survey.
Be it simple Yes/No questions or even open qualitative questions, Kaleyra's SMS templates can help you create a natural flow in the feedback collection process. You can set up your SMS surveys to automatically send out thank-you messages to people who participate, or better still, further engage with them based on the response rates.
Using SMS to capture customer satisfaction is a strategy you cannot afford to ignore – it is cost-effective, non-intrusive, and of course, highly efficient.
In Conclusion
E-commerce companies should effectively map their customer journey and find opportunities on how their brand can over-deliver on customer service at each phase. Once that is done, it is quite easy to have systems and processes to provide an outstanding customer experience. 
Kaleyra's newly launched SMS plugin for Shopify enables Shopify merchants to meet the growing expectations of today's customers seamlessly. Kaleyra's SMS will further strengthen your e-commerce brand's multi-channel strategy for engaging with customers at each stage of the customer journey and help you maximize conversions and ROI of your Shopify store.