2021 Mobile Marketing Predictions – Will Text Messaging Replace Digital Advertising?
While many of us are glad to see 2020 come to an end, some of the drastic shifts we witnessed this year are definitely here to stay. Despite the challenges, there were some positives—we found new ways to stay connected and discovered the ways in which technology can simplify our lives. What we have witnessed is that the Covid-19 pandemic accelerated the digital transformation. Many companies turned to text messaging to embrace these changes, and we expect texting will continue to support market trends in 2021.
Consumer Preferences for Convenience Will Continue
2020 gave many consumers a taste of the convenience of completing tasks without changing out of your pajamas, and we don't see that changing any time soon. From curbside pickup to same-day delivery, many companies leveraged the power of text messaging to enable socially distanced services without requiring consumers to download an app.
A growing consumer preference for shopping, eating, and enjoying entertainment from home will continue impacting many industries. As of August 2020, 43.7% of 245 retailers surveyed offered curbside pickup, a sharp increase from 6.9% of the same group surveyed at the end of 2019[1]. Restaurants like Chipotle and Red Lobster believe the elevated usage of home delivery will persist and are investing in operations such as "ghost kitchens," which offer pickup and delivery only. In the entertainment sector, Warner Bros announced that all 2021 releases would stream on HBO Max in addition to showing in theaters.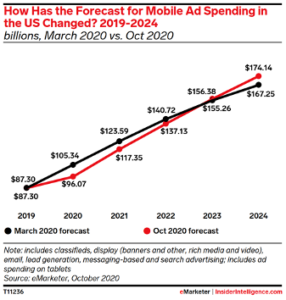 While the pandemic initially slowed growth in mobile ad spending, eMarketer's latest predictions anticipate that it will surpass pre-pandemic figures in 2021 due to the increased popularity of mobile browsing[2]. In fact, in-home mobile data usage grew 30% from March 2019 to March 2020[3]. According to Adobe, mobile spending grew more than 25% on Black Friday this year compared to 2019.
These stats tell us that consumers have turned to mobile for the ultimate convenience. It only makes sense for brands to simplify the buyer's journey by taking advantage of the channel we use to communicate most on our phones – text messaging. Text messaging strategies such as sending shoppable links, enabling curbside pickup, and automated delivery updates make the buying process more convenient and straightforward than ever before.
Increasing Value on Privacy and Personalization Will Force Companies to Try New Channels
Google and Apple recently announced plans to increase privacy measures on their platforms. Apple's change will bring previously hidden data tracking settings to the forefront by asking users via a pop up if they would like to allow the app to track their data for advertising purposes. Google announced that Chrome will stop supporting third-party cookies by early 2022. These changes will dramatically impact the ability to target advertisements on platforms like LinkedIn or Facebook and will ultimately require companies to rely on their own data and marketing channels.
Many brands will turn to text messaging to fill this gap with highly targeted, perfectly timed messages delivered directly to the consumer's cellphone. Careful list management and an understanding of the customer journey across all channels, including web and mobile, will be critical for companies to maintain the level of personalized, relevant content that was once simplified by third-party advertising.
Some argue that the shift away from the impersonal nature of advertising has been on the horizon and has only been accelerated by the events of 2020. Forrester's 2021 B2C Marketing Predictions report forecasts that marketing message volume will increase by 40% next year via email, text messages, and push notifications as an alternative to advertising. In the fallout of Covid-19, brands will try to establish more direct, closer relationships with consumers through more personal channels.
The Race to Automate
 Covid-19 forced the workforce to stretch the limits of what we believed could be accomplished remotely. For many of us, this experiment was surprisingly successful. 44% of executives report that employees have been more productive while working from home[4], but many companies are still interested in supplementing with automation. A survey from Deloitte mid-pandemic found that 73% of respondents said their organizations have embarked on a path to intelligent automation, a 58% jump from the previous year. We will likely see automation perform tasks such as employee self-service, customer service support, and document extraction in order to improve efficiency and reduce costs.
For B2B marketers, AI-powered martech ranks high on the wish list for 2021. More than a third of B2B technology buyers rate chatbots as a top-10 engagement channel[5], yet less than 20% of firms are currently using AI to create conversational experiences to optimize personal engagement at scale.
This push is in no small part an effort to pursue cost-savings after an economically challenging year. Experts estimate that chatbots will help businesses save more than $8 billion per year by 2022. Enabling chatbots on mobile devices makes it easy for customers to self-serve and quickly reach a representative if necessary but at a much lower cost.
The challenges of 2020 accelerated shifts in consumer behavior that we have been warned about for several years now. Brands that have already invested in text messaging for marketing, customer service, and operations are ahead of the game and will enter 2021 with a distinct competitive advantage. If you haven't yet considered the many ways that text messaging can improve your overall business strategy, it's not too late. Text messaging is a simple way to embrace these changes, and Kaleyra can help you get started today.
[1] Digital Commerce 360
[2] eMarkter Mobile Advertising Outlook 2021
[3] Statista, Impact of coronavirus (COVID-19) on in-home data usage in the US 2020, by device
[4] PWC Remote Work Survey
[5] Forrester 2021 Predictions Report