What a stellar year 2022 turned out to be for Kaleyra! Despite the challenges faced by us and the tech industry at large, there's a lot to celebrate. More importantly, there's a lot to be grateful for. So, as we inch closer to 2023, we take time to reflect on all that we got to accomplish and experience in the year that was. We want to start this post by expressing our heartfelt gratitude to our customers, employees, partners, investors, and all stakeholders who have helped us flourish through their tremendous support over the years.
For most of us, a look back at the year gives an excellent opportunity to gain valuable insights into what worked for us, what didn't, and what needs improvement. In addition, reflection gives us a clear vision for the future and sets us up for success in the upcoming year.
One of Kaleyra's core values centers around growing stronger together, be it with employees, partners, or customers. So, here's a recap of all that went down in 2022 that established us as an award-winning global leader in the CPaaS industry.

Setting the Bar High
We continued to push the envelope to transform business communication and enable meaningful, authentic, and empathetic customer conversations this year.
2022 saw us welcome several leading businesses to our fold, including Amazon Pay India, who we will be providing SMS services for as a preferred SMS provider, Telesign, Chalhub, Alshaia, and Shopfully.
Product Updates
Kaleyra rapidly expanded its integrations portfolio to include business and productivity tools such as Shopify, Hubspot, and Zoho. We want to ensure our clients improve revenues by streamlining their processes and have more integrations in the 2023 pipeline.
Research has shown that, nowadays, firms utilize around 976 applications on average, yet only 28% are integrated. Our emphasis on expanding integrations strives to ensure a smoother workflow between departments and better alignment between various business departments.
Awards/Recognition

We kicked off 2022 in grand style, with Kaleyra being named the 'Gold Winner' of the 'CPaaS Provider of the Year' category at the 'Future Digital Awards 2022: Telco Innovation' awards hosted by Juniper Research in February.
More recognition followed later in the year, with Kaleyra set to join the broad-market Russell 3000® Index, a global index leader that provides innovative benchmarking, analytics, and data solutions for investors worldwide.
Customer centricity is at the heart of what we do, and we were thrilled to win the "Best Customer Relationship Marketing Award" at the India D2C Summit in Goa, India. We earned the prestigious award based on how MFine, an on-demand, digital primary healthcare platform, used our SMS, WhatsApp and Voice solutions and improved the overall healthcare delivery experience by connecting patients from distant locations with doctors from the most trusted hospitals.
Winning 'Best Omnichannel Provider' at the India CX Summit in India was another proud moment for Kaleyra in 2022. 2022 ended on a high note with Kaleyra being positioned as a Leader in the 2022 SPARK Matrix™ for Communications Platform as a Service (CPaaS) by Quadrant Knowledge Solutions, a global advisory helping clients achieve business transformation goals. We sincerely thank the Kaleyra team for pursuing excellence and helping us earn accolades and awards.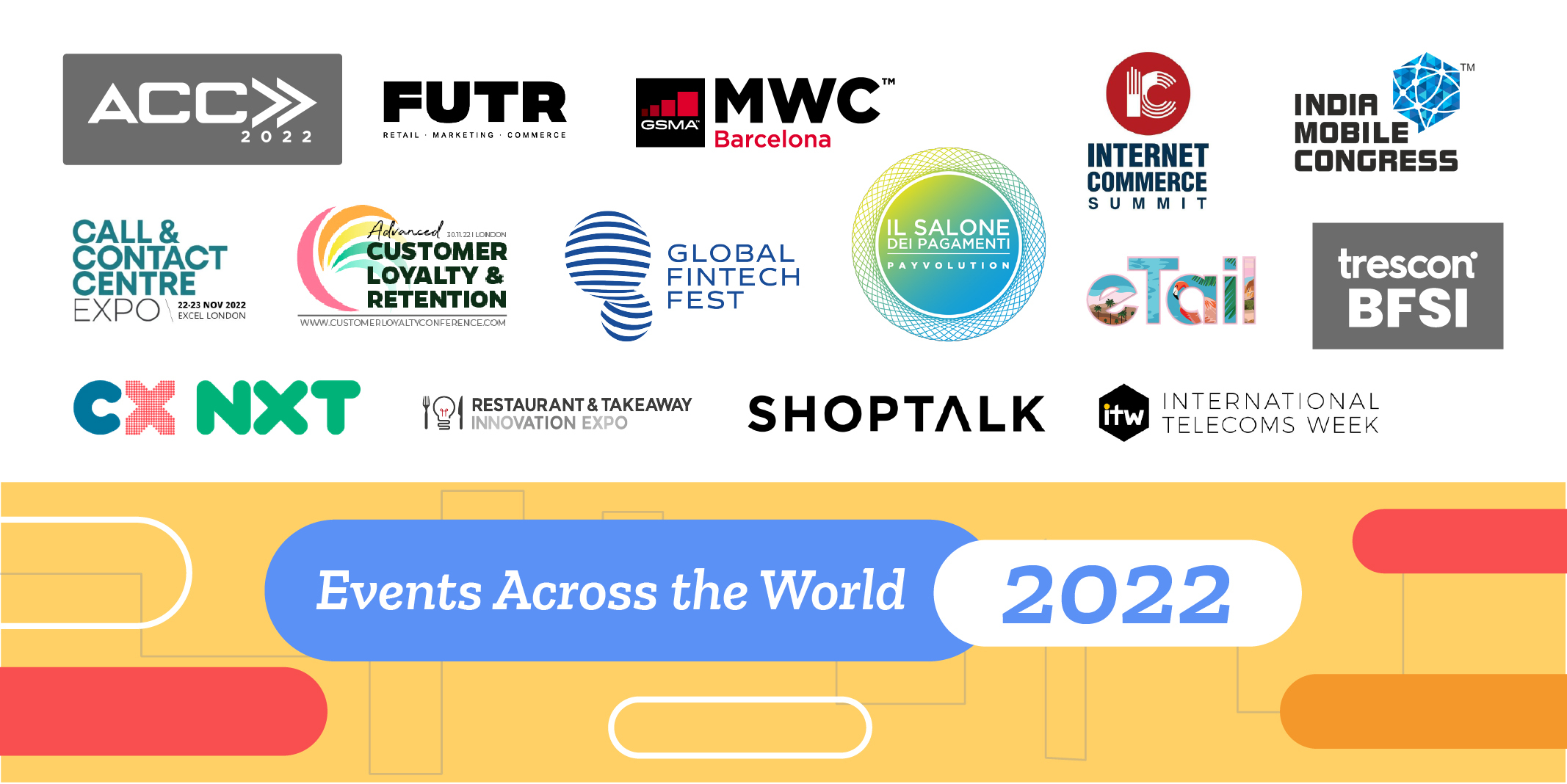 Events Across the World
With the global pandemic easing, we were delighted to attend exciting industry events in person. The Kaleyra global team had a wonderful time meeting the best business messaging, CPaaS, Omnichannel, and CX experts worldwide.
We started the year with the eTail West Conference, one of the top eCommerce and multichannel retailers' trade shows. Next, we sponsored Future Digital Finance 2022, the ultimate conference for digital finance innovators. Then, when MWC Barcelona was back, Kaleyra was a proud exhibitor. Finally, the Kaleyra Team was in Vegas in March to meet the nation's best retailers at Shoptalk 2022!
The Asian Carriers Conference (ACC), Philippines, was a significant event in Asia where we were excited to meet the top telecom and ICT professionals in the region. Likewise, the Global Fintech Fest 2022, one of the biggest fintech events in India, led to several productive conversations with experts and thought leaders of the industry.
November was a busy month, with us attending several global events, including Il Salone Dei Pagamenti, one of the premier payments and innovation events in the Italian banking industry. Kaleyra also put on an incredible show at the Internet Commerce Summit, the largest eCommerce event in India.
Partnerships
Out strategic partnerships over the years have helped businesses deliver positive customer experiences. We are thrilled to add more to our ever-growing partner network, enabling easy integrations that simplify workflows and omnichannel experiences for customers.
We announced a new partnership with Truecaller, an industry-leading caller ID service provider, to further establish trusted and safe business communication services through Truecaller's proprietary Verified Business Caller ID solution.
We extended our existing partnership with Oracle to reach thousands of customers more effectively. We plan to use Oracle Cloud to power some of our newer services due to its superior performance, cost efficiency, improved security, global availability, and on-demand scalability. The combined offering can bring speed, reliability and security to thousands of customers worldwide.
Ebook: A Mobile-First Guide

Learn how to optimize your mobile marketing strategy to boost sales and revenues.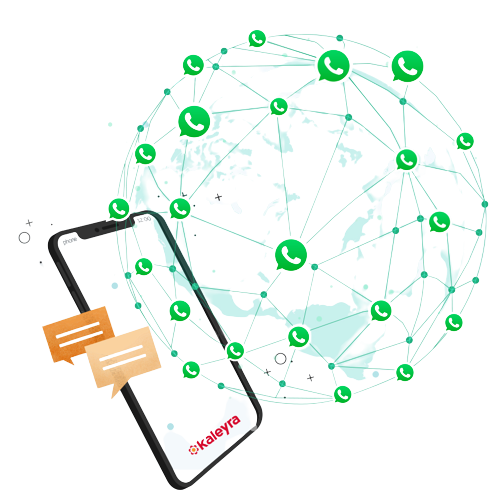 We Continue to Be People-First

Kaleyra's teams are expanding fast to bolster its international presence and help us be prepared for the next growth phase. This influx of new talent will help Kaleyra drive global expansion support for its existing international clients.
This year we also launched our iLEAD program, our Senior leadership development program to ensure all our leaders are achieving and working to a benchmark standard that we expect across Kaleyra. Investing in our people is a top priority, and we want to enable our employees to harness the values of what Kaleyra stands for and wants to achieve.
Kaleyra opened regional offices in Dubai and Atlanta within the last few months to help our remote employees bond and collaborate better. The Dubai headquarters, established in August this year, is set to expand Kaleyra's reach into the Middle Eastern market. The October launch of the office in Atlanta gives Kaleyra a more prominent foothold in North America.
As part of our response to the Ukraine crisis, Kaleyra provided a corporate gift of $20,000 in addition to fundraising internally. The funds went to the Ukrainian Red Cross Society, which repairs infrastructure, and helps families with food and medical care. In addition, the Kaleyra team visited Romania to deliver supplies to refugee centres in need.
Onwards and Upwards in 2023!
2022 saw a ton of productivity and growth; we cannot wait to do more and scale new heights in 2023. We again want to thank everyone for your incredible support that has helped us grow and evolve. The insanely talented Kaleyra team is proud of how far we have come and is all pumped up for the exciting things the New Year has in store for us.
Supercharge Your Communication!
Get in touch with our experts who strive hard to bring the very best in cloud communications technology to you.