What is A2P Messaging (Application-to-Person messaging)?
Businesses are increasingly using A2P messaging for marketing and customer service purposes. According to Verified Market Research, the global A2P SMS Market size is projected to reach USD 90 Million by 2027. 
What is A2P Messaging?
A2P (Application-to-Person messaging) refers to a type of business messaging where brands send text messages from a software application to mobile users. Also referred to as business SMS or enterprise SMS, it allows brands to send large volumes of automated, critical business messages to customers.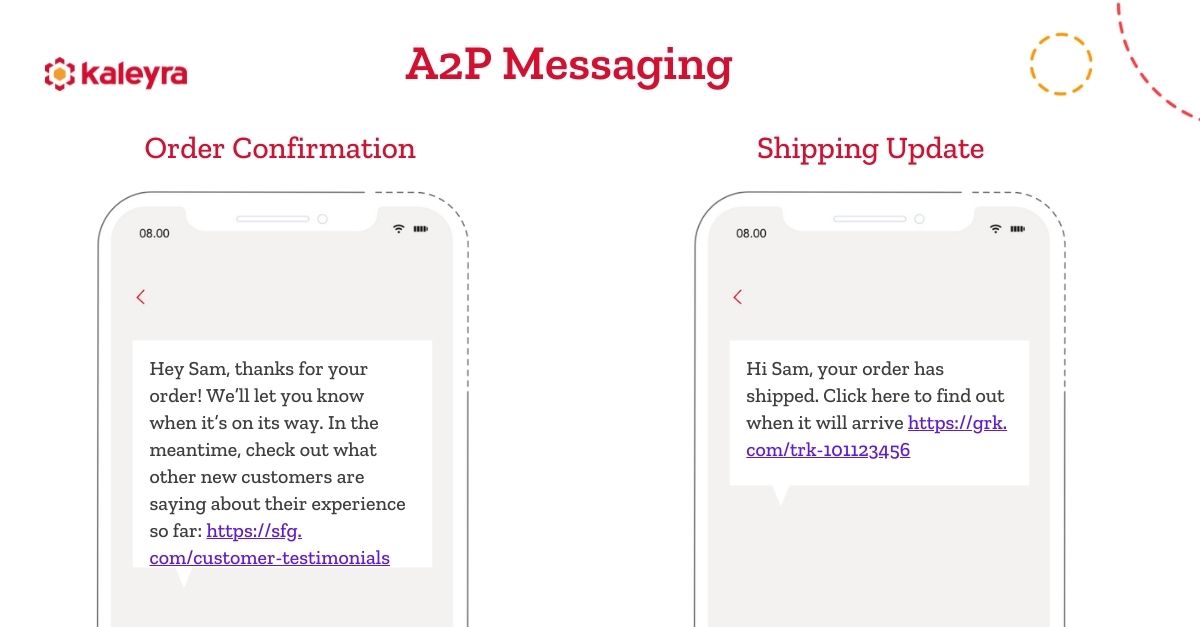 Industries using A2P messages and A2P calling include e-commerce, BFSI, telecom, healthcare, and travel. Transactional SMS such as appointment reminders, bank alerts, order confirmation, shipping updates, personalized customer service updates, and promotional messages such as discount codes or sale announcements are some of the widely used forms of A2P messages.
A2P Message Types
As businesses continue to adopt A2P messaging as a primary communication strategy, more trends are emerging in the way that companies and customers interact with each other. Some of the most notable trends include two-factor authentication, anti-fraud alerts, company support channels, online reservation systems, and device alerts. 
Two-factor authentication (or two-step verification) is an extra layer of security that is being used more and more to protect people's accounts. With two-factor authentication, a user is typically required to enter a one-time passcode in addition to their username and password when logging in. This passcode is usually sent to the user's mobile device, making it more difficult for someone to hack into an account.
Anti-fraud alerts are another way to help keep people's accounts safe. These alerts are sent to a user's mobile device or email address as soon as suspicious activity is detected. This gives the user a chance to quickly take action if their account has been compromised.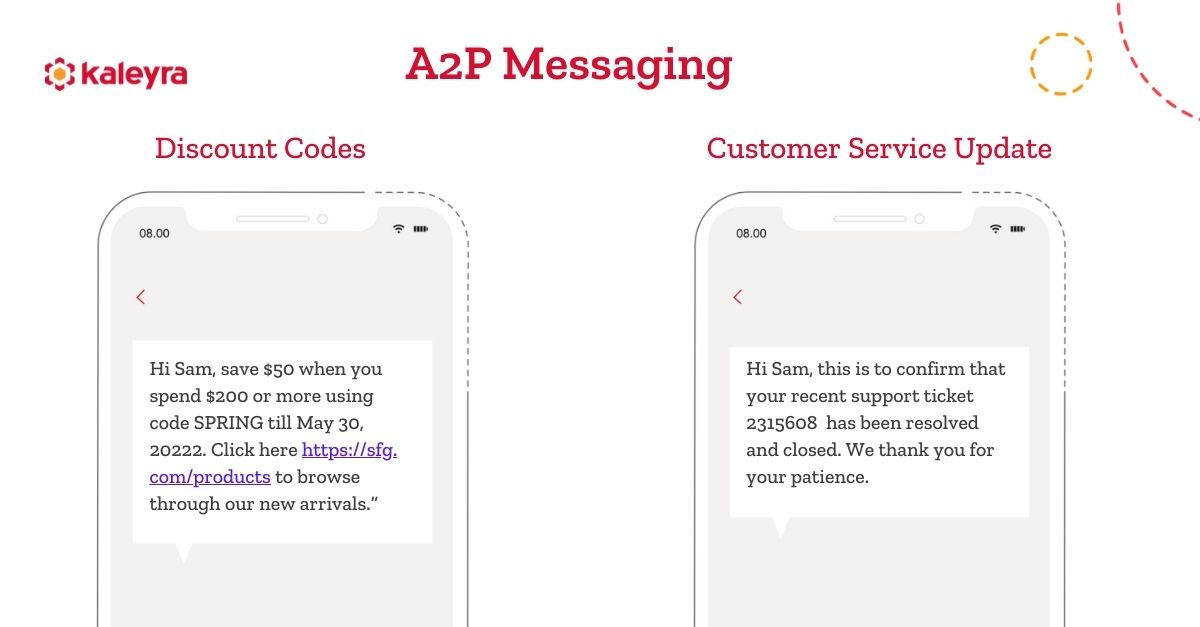 Alert messages can also include package delivery notifications, emergency alerts such as extreme weather warnings, and appointment reminders. They can be sent directly to your mobile device, so customers have updated information at their fingertips. 
A2P vs P2P
P2P refers to Person-to-Person messaging and the primary difference between A2P and P2P is the purpose and volume of messages. P2P refers to messages sent from one person to another, while A2P messages are generally used for marketing communication and the same message can be sent to a large number of recipients at once. 
P2P is dependent on a user's mobile device, carriers, and wireless connection. A2P messaging is routed through aggregators and filters before travelling to the mobile carrier. The carrier uses more spam filters to ascertain security of the message. 
Kaleyra for Business Communication
Kaleyra's robust Communication API enables brands to integrate SMS, toll-free, A2P 10DLC (10 digit long code) messaging, and short code capabilities to their business communication effortlessly. Brands can leverage our innovative solutions and create targeted campaigns and gain actionable insights through analytics.