WhatsApp is a convenient communication channel, and businesses worldwide use it to connect with customers. But how do you bring customers and potential customers into the WhatsApp messaging environment? Although there are several entry points available online and offline, it is important to collect WhatsApp Opt In before you can use the platform as a customer communication channel. Let's look at how to get user consent for WhatsApp business communication and opt-in best practices to follow.
What are WhatsApp Opt-Ins?
A WhatsApp Opt-in means that users agree to be contacted by businesses over the messaging platform.  
WhatsApp mandates that users must provide explicit consent to receive business-initiated messages. According to the WhatsApp Business Platform rules, when a customer sends a message to your business, you can respond within a 24-hour window without prior opt-in. 
However, if you want to communicate with your customers outside the 24-hour conversation window proactively, you must first collect permission confirming that they are interested in receiving WhatsApp messages from you in the future. The opt-in must clearly declare that the user is consenting to receive WhatsApp messages and should clearly mention your business's name. 
Why WhatsApp Business Opt-In Matters?
Opt-ins are mandatory in certain regions to ensure compliance with data protection laws and privacy regulations like General Data Protection Regulation (GDPR). Besides, getting WhatsApp consent before sending message templates has other benefits too. 
Users can block you or report your WhatsApp Business account as spam when they receive messages without prior permission. Spam reports can considerably lower your business quality rating, leading to a potential suspension.  
Obtaining consent establishes that you respect your customers' privacy and follow ethical practices. Thus, WhatsApp business opt-ins promote customer trust and improve credibility. Moreover, customers who have opted in are more likely to interact with you as they have expressed an interest in engaging with your business, improving the return on investment (ROI) of your marketing campaigns.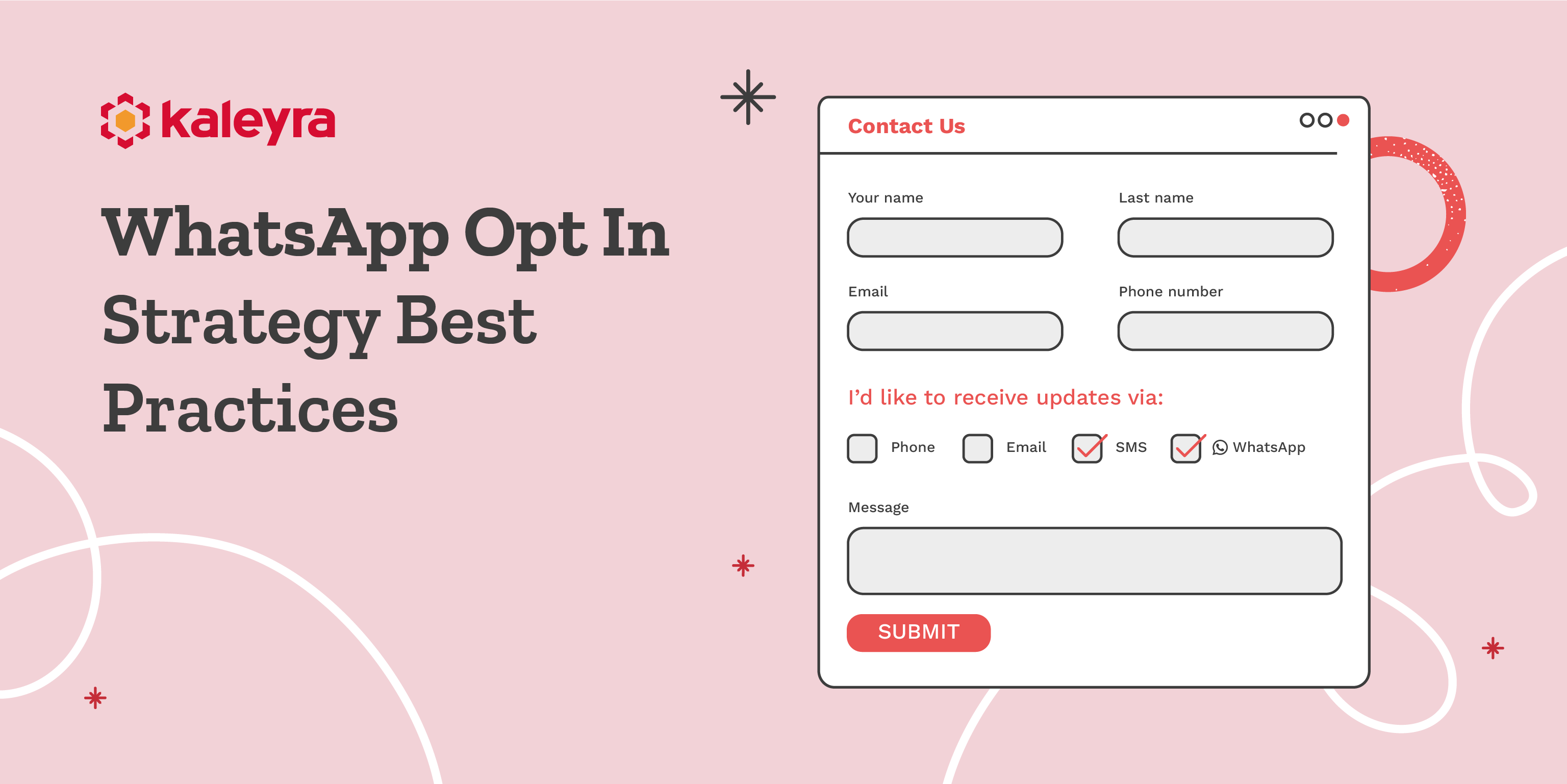 WhatsApp Opt-In Strategy Best Practices
Here are a few best practices for WhatsApp business API opt-in:
Obtaining opt-ins does not authorize you to bombard your customers with irrelevant messages. WhatsApp wants to ensure that users receive messages that are of value to them and can suspend accounts that are reported for spam. 
Make sure that customers are aware of the option to opt out. Provide detailed information on how to opt out at any stage of the customer journey.
A customer opting in to receive communication via other channels does not give you permission to send messages over WhatsApp. For example, you cannot use WhatsApp to initiate conversations with a customer who consented to receive emails or SMS from you.

Convey the benefits of receiving your messages on WhatsApp, such as instant communication and quick issue resolution.
Communicate the message types your customers can expect from you. For example, let them know if you plan on sending a monthly newsletter or relevant offers in addition to order updates. Additionally, make sure they can select which messages they want to receive from you.



Keep an eye on your business quality rating when you try a new WhatsApp opt-in strategy. In case of a drop in rating, refine your opt-in messages to remove ambiguity. 
How to Collect WhatsApp Opt In 
WhatsApp offers a end-to-end communication channel for businesses to engage with customers meaningfully. Here are a few ways to collect WhatsApp business opt-ins so that you can start initiating conversations with customers using the WhatsApp Business platform. 
1. Request WhatsApp Consent at First Contact
A customer reaching out to you already shows interest in engaging with your business and may be more willing to receive future updates from you. So, when a customer messages you, respond promptly, letting them know the value of interactions using WhatsApp. For example, if the customer has requested some information, provide useful resources with accurate details. Similarly, if they reached out to you with a support query, you can ask for opt-in after you have successfully resolved the issue.
Once the customer gives permission, send them a message clearly explaining the type of messages you will be sending and request them to confirm opt-in.
2. Add Website/App Visitors to Your WhatsApp Contact List
Your website is an excellent place for new customers to learn more about your offerings. You can get your customers to opt in to WhatsApp through Whatsapp widgets, contact forms, or website pop-ups.
Home Page
An embedded WhatsApp button on the homepage is a great tool for collecting opt-ins. New customers can sign up to receive future updates via WhatsApp. Existing customers can switch to WhatsApp from other channels or add WhatsApp as an additional channel for faster communication. 
Contact Us Page
By adding WhatsApp to the list of channels on the Contact Us form, you can easily collect opt-ins. Users filling out the Contacts Us form have an active interest in receiving communication from you. Since WhatsApp is one of the preferred channels for customer communications, it increases the likelihood of opt-ins.
Banners/Pop-Ups
Banners at the top of web pages and website pop-ups help promote your availability on WhatsApp.
Dedicated Landing Pages 
You can design custom landing pages to share information about how your customers can connect with you on WhatsApp. Explain the benefits of WhatsApp for communication and include details of what you will be sharing with customers on the channel. Once customers provide consent by filling in their phone numbers, redirect them to a Thank You Page to confirm successful opt-in. Design responsive landing pages so that customers accessing your landing page on mobile and desktop devices can easily sign up for updates via WhatsApp.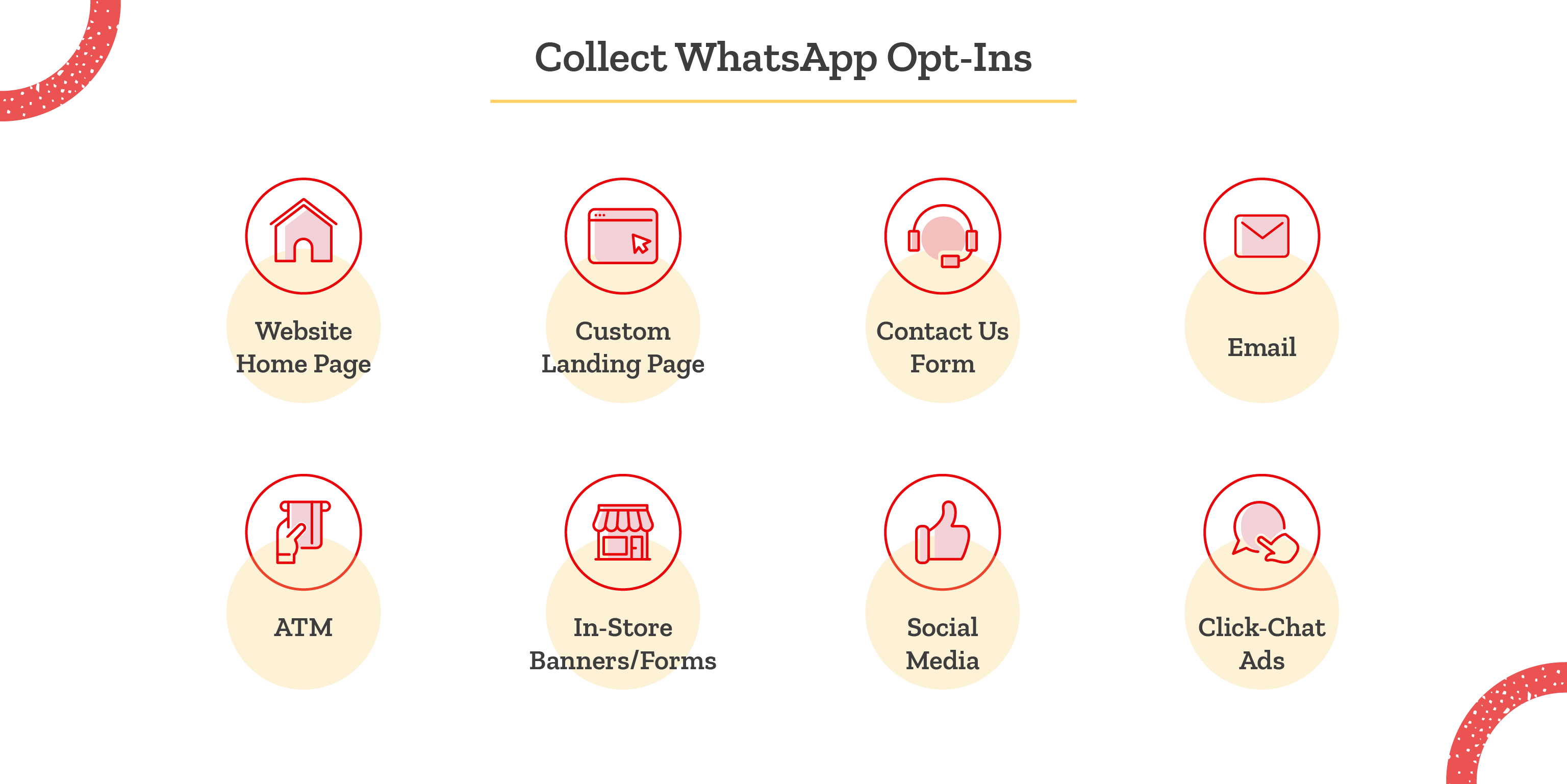 3. Other Digital Communication Channels 
Use other communication channels to let customers know about your availability on WhatsApp. Notify customers encouraging them to port to WhatsApp for business interactions. 
SMS
You can ask your customers whether they would like further messages over WhatsApp. Include a one-click opt-in option in your text message or add a link to your WhatsApp opt-in landing page.  
Email
If your business emails have amazing open rates, they can significantly improve your WhatsApp opt-ins. Collect permission by embedding a form in your newsletter or linking to the opt-in form/landing page in the email signature. Send a creative and personalized mail highlighting the advantages of WhatsApp as a business communication channel. 
For example, an apparel business can craft the following message in an email –
"Stay in the fashion loop and get stylish updates delivered straight to your WhatsApp! Be the first to know about new arrivals, exclusive offers, and trend alerts. Simply click the link to connect with us on WhatsApp and unlock a world of fashionable possibilities.👗💃✨" 
Social Media 
Promote WhatsApp as a customer communication channel on Social Media platforms such as Facebook, Instagram, Twitter, and LinkedIn. Pin your posts requesting customers to sign up for updates via WhatsApp to the top of the feed. Include links to the opt-in form/landing page in stories and profile descriptions. 
4. Offline Calls to Action  
ATMs
Financial services organizations and banks can promote WhatsApp as a channel to receive notifications and support in ATMs where customers are more receptive to that information. Prompt customers to opt-in using the touchscreen. You can advertise the convenience of receiving balance updates over WhatsApp and encourage customers to provide their phone numbers directly via the input interface. 
In-Store Posters and Forms
If your business has physical outlets, you can use the Point of Sale (POS) interactions to collect opt-ins. You can use posters to inform customers how to stay connected with you on WhatsApp. You can also use physical forms to obtain permission to communicate information about reward points, CSAT surveys, and refunds over WhatsApp.
5. Leverage Existing Conversation Flows
Find opportunities in existing system workflows to advertise WhatsApp for customer interactions. Look for conversations in the customers' journey where you can pitch the idea. 
If customers are satisfied with the brand experience, collecting consent during the purchase process will maximize results. Since customers would want to receive notifications such as order confirmations, delivery updates, flight alerts, boarding passes, and appointment confirmations, opt-in rates will likely increase. By including a checkbox on the checkout page, customers can add their phone numbers to be contacted over WhatsApp while entering billing information and delivery address.  
For example, a food delivery company can encourage an opt-in during the purchase process. The company can offer to share 'Order received' and 'Order ready' updates, delivery tracking information, and promotional offers over WhatsApp. 
6. Use Click-to-Chat Ads and QR Codes 
You can run click-to-chat ads to get customers to connect with your business on WhatsApp. You can direct users from Facebook or Instagram to WhatsApp through these ads. Once the customer has started the conversation, you can answer their questions and request consent to send future notifications over WhatsApp.  
You can also use QR codes on product packaging or hoardings to direct people to WhatsApp, where you can collect opt-ins. You can program QR codes to share a WhatsApp pre-filled message that provides context for your conversations. 
Discover the Power of Seamless Communication with WhatsApp Business Platform
A comprehensive Whatsapp opt in strategy can help you make the most out of WhatsApp Business Platform. Considering WhatsApp API account for your business? Contact Kaleyra's WhatsApp experts today to learn how you can increase your customer engagement through our powerful messaging solution.
Supercharge Your Communication!
Get in touch with our experts who strive hard to bring the very best in cloud communications technology to you.