Best cloud telephony services providers worldwide: the top 10
What is Cloud Telephony?
In today's well connected and hyper-competitive business environment, firms need to communicate with customers regularly to ensure steady growth and stay ahead of their competitors.
Cloud Telephony provides business communication solutions to all types of firms with an easy-to-use, pay-as-you-grow model. It serves as an all-in-one platform that meets all the communicational needs of businesses through voice calling, auto-attendant, Interactive Voice Response (IVR). These features help firms understand their customers better, resolve their queries faster, and enhance agent performance. 
Advantages of using cloud telephony services
Through this technological advancement in communication, businesses can increase their presence in the market and attract potential clients. Consumers can reach out to firms in just a click, choosing the most convenient means for them. Cloud Telephony helps saves time and resources for both the customers as well as the business and helps create long-term relationships between the two.
How does a Cloud Telephony provider work?
Cloud Telephony providers create, maintain, and manage all their services from the cloud and their customers require no additional infrastructure or any type of hardware. Businesses can use their services from anywhere in the world, through any device be it their business phone lines, tablets, or computers, at any time.
After assessing Cloud Telephony providers across the globe, based on maximum returns, APIs, cost of service, data security, down-time, and additional services provided, this list was created to identify the  best cloud telephony service providers in the industry. These highly skilled providers ensure business continuity, help manage operations without any geographical barriers through remote-working,  allow firms to scale as per market demand, reduce costs, and enhance collaboration within the work environment.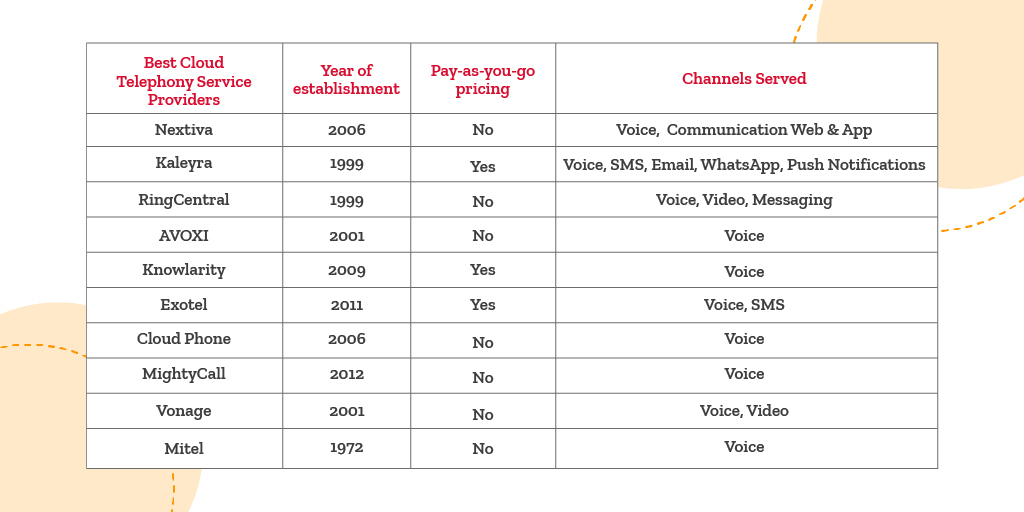 Nextiva, the basis of Cloud Telephony

Nextiva is a cloud-based system that can be used from multiple locations for various branches of a firm but can still be managed from a single platform. Providing unlimited calls in the United States as well as in Canada, Nextiva also offers free trials for a period of 30 days. It offers 3 plans – Office Pro, Office Pro Plus, and Office Enterprise, that have different core features for specific business needs and come with different prices.

Kaleyra, cost-effective Cloud Telephony provider

One of the best cloud telephony companies in the world is Kaleyra. Italian enterprise, Ubiquity, and Indian firm, Solutions Infiniti came together to form this global cloud communications platform. Kaleyra offers cloud telephony solutions via its robust platform and APIs. In 2019 alone, it facilitated 3 billion calls worldwide. What makes Kaleyra one of the most notable cloud telephony platforms is its diverse set of clients ranging from banks and financial institutions to SMEs.

RingCentral: premium Cloud Telephony

Trusted by over 350,000 businesses, Ring Central provides 100+ premium features. It can help set up an entire office for a firm within a day. Through services like unlimited calls, SMS, conferencing, etc. you can easily adapt to fluctuations in the business environment and customize your phone system through an online account.

Grasshopper, Excellent Inexpensive Option

Grasshopper is a great virtual phone solution for entrepreneurs and small business owners who want to grow their company. You can get a virtual phone system for your small business at an affordable price. With features like custom greetings, extensions and call handling – all designed to meet the needs of businesses with limited resources. Grasshopper offers three plans with up to five phone numbers and unlimited extensions. Although It lacks seamless integration, it's a great choice for small businesses.

Knowlarity, personalized UX

Knowlarity provides solutions that have been crafted to meet business communication needs, regardless of their size. Through features like language selection, voice recordings, etc., you can provide a personal experience for your customers. These recordings can also be customized depending on if the customer is calling for the first time or is a repeated caller.

Exotel: Cloud Telephony provider for omnichannel UX

With a 15 day free trial and calls on credit, Exotel allows customers support through phone, Twitter, email, etc. at convenience. It gives businesses the opportunity to easily manage and assess agent performance through features like call recordings, call conferences, and so on. In such a way, you can ensure that your representatives are better equipped to handle customer concerns and provide optimal solutions, faster.

Cloud Phone: call management and telephony

Cloud Phone assists firms in answering, directing and managing your calls. By easily adding extensions to your existing business lines you can route calls to the right department and scale as required. Businesses also have control over these features through your mobile application. In such a way you can not only add more features to it but also save money.

MightyCall: Cloud Telephony and virtual phone system provider

MightyCall offers a virtual phone system that makes it easier for customers to reach businesses. Its mobile application allows you to compile all your business interactions on to one common platform, systematically. Its key features include website-dialing, SMS services, call recording, call forwarding, and abilities to customize voicemails.

Vonage Business for call routing

Vonage Business provides a platform that allows firms to route calls depending on the time of the day/caller, through integrated platforms. Businesses can easily integrate their software of existing use for example, Google Calendar to its platform. This ensures that your agents are fully aware of the platform and require no additional training. They can also forward the call to someone else if they are occupied or to their own mobile phone if they want to take the call on that.

Mitel: Cloud Telephony provider all over the world

Mitel is a virtual phone system that is currently serving in over 100+ countries around the world. Its exceptional mobility function that is secure and reliable helps business understand their customers better and thus, provide better service. With flexible options, Mitel caters to a wide range of industries including healthcare, hospitality, government, education, etc.

Why choose Cloud based telephony solutions for your business?

The smartest way for firms to manage business calls today at a global level is through Cloud Telephony solutions. It allows one to provide the highest quality of service for their customers without incurring high costs. By adopting the latest technologies one can ensure that their firm runs at high productivity, helping them leverage new opportunities for growth. By switching to Cloud Telephony, which is the latest advancement in Cloud Computing, businesses can benefit from a faster, easier, and more efficient phone system that is easily scalable.

Cloud communications providers offer a great deal of financial flexibility because they do not require the use or purchase of phone lines in order to function properly – nor does adding more servers need expensive capital expenditure. Multi-platform Unification is the key to staying competitive in today's market. Use video calling platforms, text messaging apps and integrate those capabilities into sales team interactions with prospective customers. Cloud communications suites offer companies easy integration of various applications under one utility – making it easier than ever before manage systems while also being more productive!


Innovation is the drive behind the growth of successful businesses in today's business environment. Kaleyra's cloud-based business communication platform ensures that firms have the leading edge by providing them the most technologically advanced tools to enhance their customer interactions. Reach out at sales@kaleyra.com for more information on how businesses can leverage Kaleyra's Cloud Telephony services.
Disclaimer: The information produced in this article does not necessarily reflect the official policy or position of Kaleyra or any other agency, organization, employer or company. Information in the article is updated as of 21 December 2020, and is based on publicly available information. In addition, the thoughts and opinions indicated in this article are subject to any change made from time to time as is necessary to cater to our unprejudiced mindset. All information (including any links, quotes, opinions, reviews, etc.) here is provided on an AS IS basis without any liability whatsoever.
It is not guaranteed that the information is 100% accurate, though every effort is made to make it as accurate as possible. By reading and/or using any information given in this article (in the past, present and future), you agree that you are solely responsible for the results and conclusions drawn by you and bear full responsibility for the risk or any harm that may occur.
If any of the information above is outdated or incorrect, or if the concerned organization does not want to be mentioned here, please feel free to reach out at marketing@kaleyra.com.