How Can Your Business Benefit From Click-to-Call API
Sometimes all it takes is a phone call to turn leads to customers, website browsers to engaged users or even a "maybe" to a final purchase decision. By allowing your customers to contact you as easily as they browse the internet, through Click-to-Call, you give customers access to every channel to get in touch with you.
What is Click To Call?
Click-to-Call is an efficient way of letting individuals connect with a company representative through their phone, as and when they're browsing through your website, webpage (social media, Google search page, etc.) or using your app. Through Kaleyra's dynamic APIs you can enable this powerful feature on your website/app and benefit from the following advantages:  
Customer Segmentation
Through web calling, you can strategically segment your customers and thus, determine how and when you interact with the different segments. With detailed information about the time spent on your website, login status and so on, you can interact with each customer differently, allowing personalized experiences. For instance, if a certain customer generally prefers phone calls to communicate, you can engage them through Click-to-Call. Depending on what device the customer segment is using, you can optimize either desktop, mobile ads, and landing pages. In such a way you can target different customer segments differently and maximize results.
Enhance agent performance
The more information your agents have access to, the more efficiently they can resolve customer queries. With details on customer profile including previous conversation topics, names, etc., they have full context before they begin the conversation. This also prevents the need to repeatedly interrogate customers about basic information. In such a way you can increase the quality of every conversation that takes place and in turn, enhances the customer experience.
Efficient Calling Process
Customers no longer need to search for, write down or even dial business numbers to get connected with you. With a single click from their mobile phones, customers can directly place the call to the assigned number that connects them to your agent.
Better customer experience
According to a study conducted by Ipsos, a high 70% of mobile users use click-to-call. They feel that this is an important channel for them to communicate with businesses. By allowing customers to call you with the click of a button, you not only add to the ease with which they can contact you but also, ensure that the customer's queries are resolved instantly. As you create such experiences for customers, their perception about your brand increase and so does their trust for you.
Increased sales and brand loyalty
Happier customers mean that they are more likely to continue their relationship with your brand. In today's online era, having a click-to-call button that connects you to your customers quickly, allows you to build strong, ever-lasting relationships with your customers. Moreover, there are millions of companies for a customer to compare and contrast. As they come across your site or application, they can immediately get in touch with you. As a result, you are solving their queries before giving them a chance to forget about you. With no queries and complete information, they no longer have anything stopping them from making their final purchase. Hence, you stay ahead of the competition and benefit from increasing sales.
Lead generation
As customers make calls to your business to get further details about your products/services, you can easily identify the inbound prospect. With complete details about these identified leads, you can target them through various marketing strategies that could potentially convert them to long-term, valuable customers.
What is the process?
A website visitor or App user submits a web form with their phone number

Your webpage receives this submitted form and initiates an HTTP request to Kaleyra that generates a Click-to-Call

Kaleyra receives the request and initiates a call. This call is sent first to either the agent (callee) or the phone number submitted by the customer (caller). Kaleyra gives businesses the flexibility of choosing either option

The chosen party picks up the call first, followed by the second party
Connect two users on call through Kaleyra's Click-to-Call API

Step 1: Go to Kaleyra's Voice API page
Step 2: Click on the Click-to-Call' API from the numerous other Voice APIs available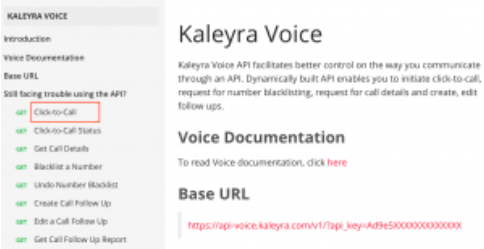 Step 3: Copy the unique URL to use the Click-to-Call API

Step 4: Fill in the required details including the unique URL you copied earlier, your activated API Key and the caller/callee details.

Step 5: Once you fill in the required details and click on the 'send' button, you can immediately view the status of your action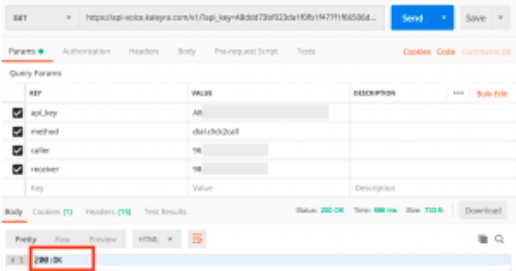 Kaleyra's Click-to-Call API
You can call your customers or let them call you seamlessly with Kaleyra's hassle-free APIs. Our powerful API enables Click-to-Call with just a few parameters to be filled. This eliminates the need for developers or long hours of coding by enabling individuals with basic API knowledge to handle the process.
Big enterprise customers who use their native applications can easily integrate our APIs. Kaleyra's low latency with an average response time of fewer than  5 milliseconds, compared to the industry average of 25-40 milliseconds, empowers our users to take their business communication to the next level.
Click here to learn more about how you can get complete call control and optimize online presence, through our Voice APIs. Through our flagship product, Hexa, you can make your business communication simple. Kaleyra Hexa is an all-in-one cloud communication platform that encompasses SMS, Voice, Instant messages, Numbers and Flow Builder, in a single console. To learn more about you can engage your customers through different channels, read more.