The future of SMS marketing: still relevant in the 2021 landscape
While the universe is estimated to be 15 billion years old, the Earth 5 billion, humans trace back to only 40,000 years. Up until 3 centuries ago, the human race advanced at snail's pace. The industrial era brought about rapid change that many folks find it hard to keep up. What was once the new "in" thing, quickly became outdated and was replaced with newer technology within a year or two. People are always looking to buy the latest phone, gadget, fashion, and just about everything else, as almost the entire human world has become dynamic.
SMS marketing still has a future
The once new technology called the SMS was predicted to be outdated in no time as data-based messaging apps emerged. Make no mistake, when the SMS emerged, it moved very slowly till it suddenly gained popularity. At present, the SMS has held its ground and doesn't seem to be disappearing any time soon. If you too have found yourself asking the question, "Is SMS marketing still relevant," continue reading on. It's proving to be not only the past and present but also the future of communication.
In the future, we'll still use SMS marketing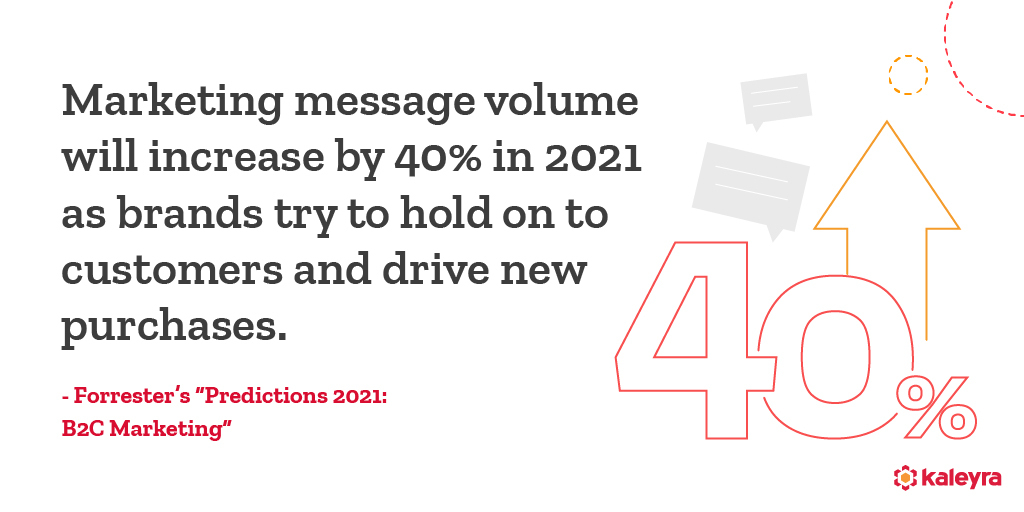 A few reasons for this are that SMS is simple, concise, neat, and quick. Despite the fame of data-based apps like WhatsApp, when it comes to marketing, the SMS trumps all for the simple reason of global reach to anyone who holds a mobile handset – with or without a data pack. And so, the future of text messaging is as bright as ever.
How did SMS Marketing come in with a bang?
The initial take-off of the SMS was indolent. In 1995, the first predictive texting emerged. It took 5 years for the SMS to gain momentum, after which, by the early 2000s, text messaging was rampant all over the world and changed the communication habits of almost everyone. Businesses started to use the SMS to send anything that could fit within 160 characters. This changed the way content was published and the way companies reached out to their customers. And it had overwhelming response rates and results. The humble SMS replaced paper coupons and replaced it with digital codes. Loyalty campaigns sprung up and businesses realized that they could send out targeted campaigns based on different categories of customers.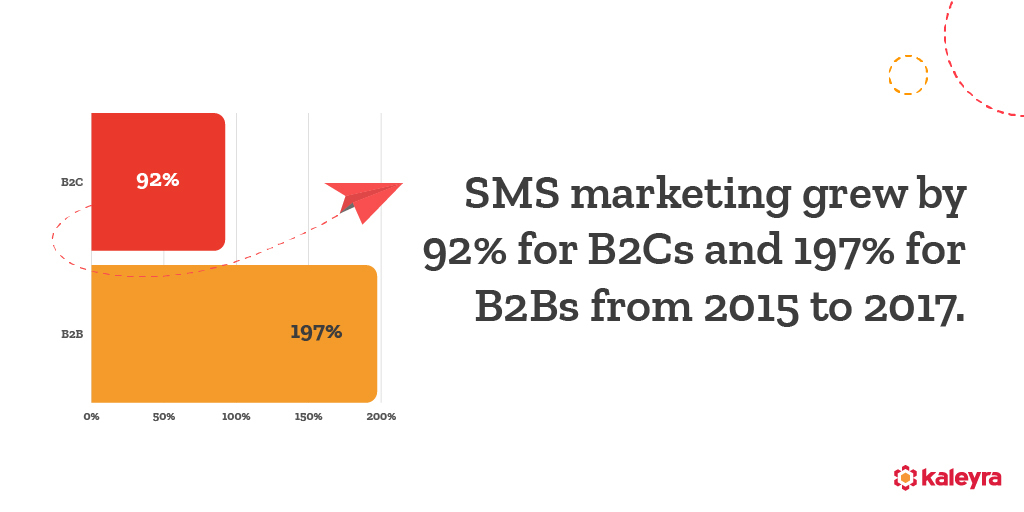 We all know how well the SMS worked in the past, but let's look at why it works today and will work tomorrow as the future of communication.
Past and future of SMS marketing
Over the years, the way people use SMS has matured dramatically. While data-based apps allow a person to send short and long messages instantly at no charge per message, people began to "chat" rather than "message". With the dawn of smartphones and apps, SMSes took a hit as companies turned to in-app notifications.
But the reality is that the SMS is relevant and efficient. Text messaging is still the base of communicating with anyone at any time globally. The SMS carries very few drawbacks compared to other mediums of communication for both businesses and customers. And this has remained the case even till today.
The future of SMS marketing: why it will still work
Worldwide reach –

The SMS requires a mobile phone with active service. Be it a smartphone or a regular one, a data pack or none, an SMS can reach just about anyone. While around 4.5 billion people have a mobile phone around the world, only 2.53 billion own a smartphone. This leaves out 2 billion people from the realm of internet-based marketing strategies that work only on smartphones.

Response rates –

While emails have about a 29% open rate, the SMS has over 90%. A text is concise carrying only the relevant data and should have a call to action. When a company informs customers about sales, discounts, offers, new products, it only takes a few seconds for the customer to read the message.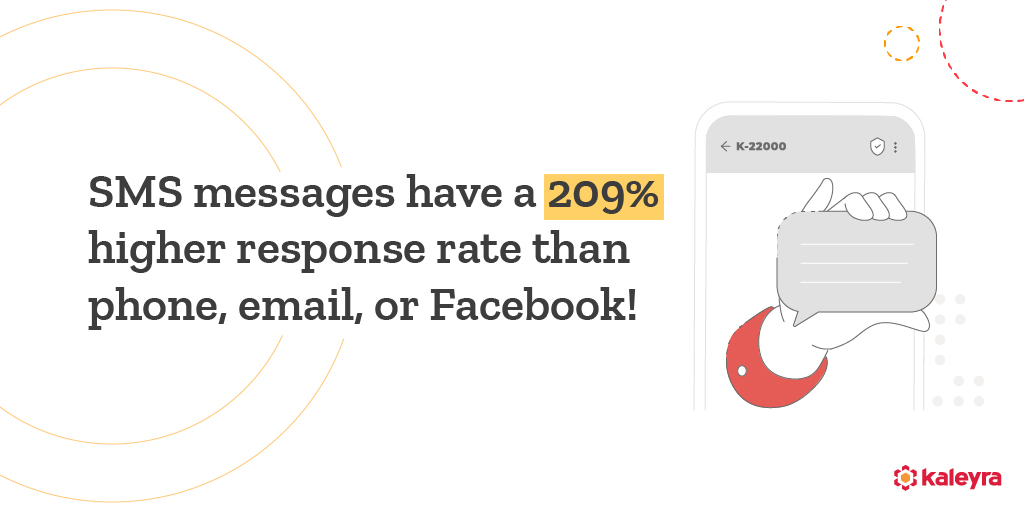 Return on investment – Studies indicate that almost a third of consumers will respond to your SMS messages, and close to 50% of responders will make a purchase. When you compare these findings with those for email, voice calls or instant messaging apps, it becomes fairly clear that the ROI from SMS marketing is much higher than the others.
Best Practices: SMS marketing for business
Avoid Spam – According to J&C, it was estimated that only 10% of SMS marketing was considered to be spam. Whereas with emails, a lot of it is marked as spam and goes unread. Since the SMS is only 160 characters, messages should be concise, to the point and relevant.
Grab Attention – Thanks to the boom in the internet and our ever-growing distractions, all our attention spans have been grossly reduced. Use the first few words of the SMS to grab the customer's attention and deliver the message. Address their pain points or throw light on the biggest benefit. Get creative! The future of SMS marketing lies in your hands.
Call For Action – In SMS Marketing for business, you must always include a 'Call-to-Action' in the message body. It could be a link or merely words that elicit action. By adding a CTA, you ensure that the reader is hooked and prompted to engage with your communication.
SMS marketing of the future: beyond the simple SMS
The SMS can no longer be used as a single marketing tool but rather it works best when used in tandem with other new-age channels. A good method would be an orchestrated campaign that includes different channels of communication – well-strategized and targeted.
Using the SMS to send verification requests, OTPs, or PIN codes during checkout, purchase, registration and the like, offers an extra layer of security that bodes well in the mind of customers. This helps combat fraud and reduces the risk of cybercrime.
Mobile PIN codes and verification requests sent during registration processes or to finalize a financial transaction offer an extra layer of security for consumers and organizations.
The bright future of SMS marketing
It might look like using the SMS is like holding on to something old, but data suggests that the SMS is very effective boasting of over 90% open rate – most of these messages being opened within the first 3 minutes, predicted to be the future of communication. Many businesses get caught up in trying to find new ways to communicate with customers. Though that might be necessary to improve communication, the tried-and-tested ones shouldn't be ignored.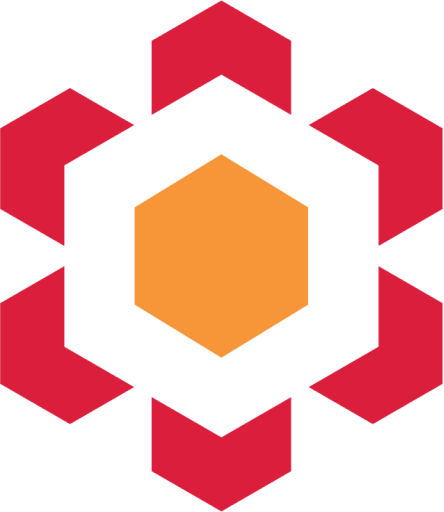 Tharika Tellicherry