How RCS Business Messaging (RBM) Is Transforming Communications Across Industries
Today's customers want to expend no more than a few clicks to get a fulfilling brand experience. They live in a world where they can control home devices remotely with smart apps, and their social media feed is automatically curated according to their preferences. No wonder customers expect business communication to be smarter and more personalized. While SMS is an excellent communication channel, RCS Business Messaging (RBM) provides an even more powerful tool to engage customers. Let's see how businesses can deliver stellar brand experiences and increase conversions with RBM.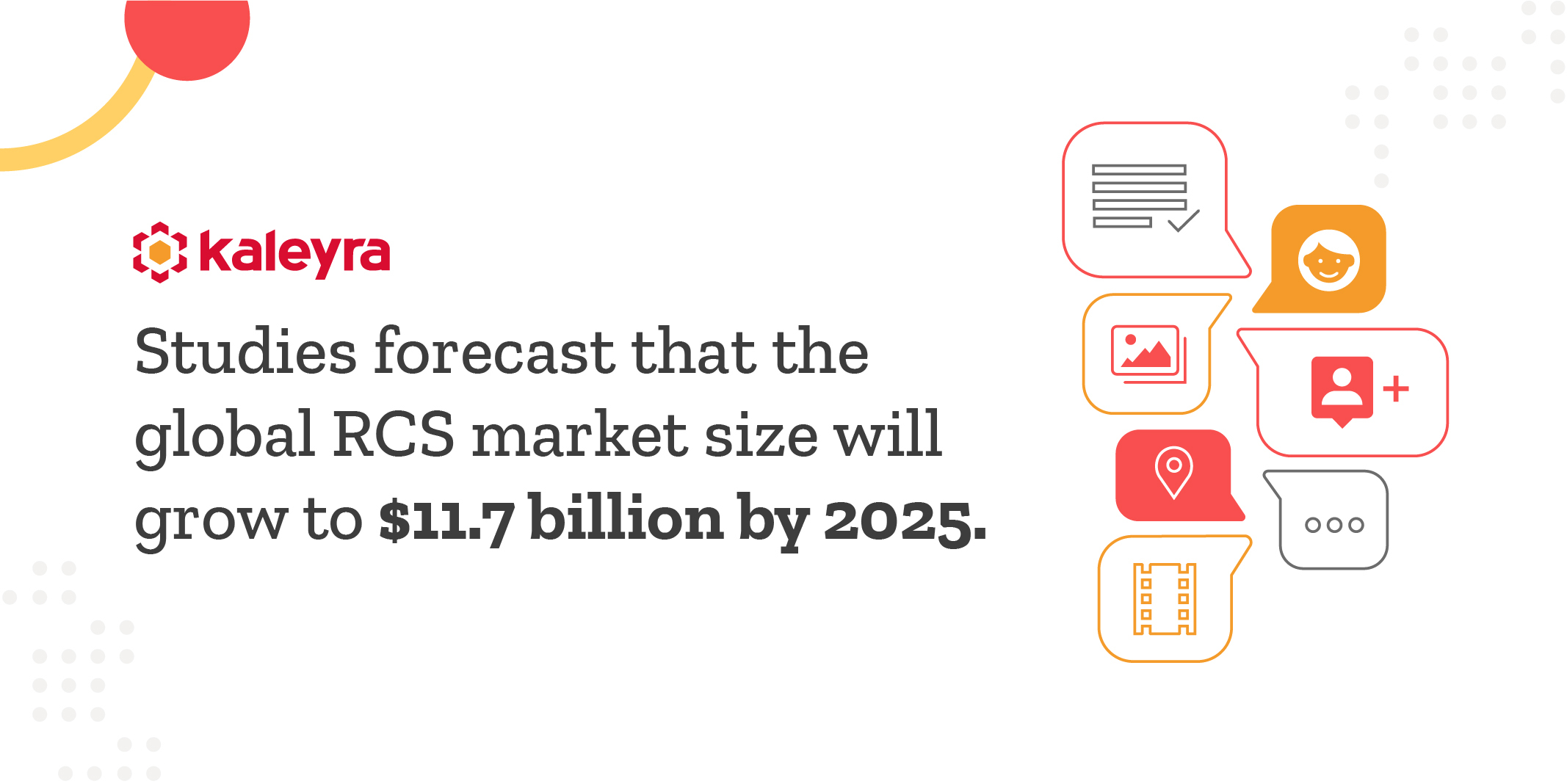 What is RCS Business Messaging (RBM)?
RCS (Rich Communication Services) is a new-age messaging protocol that supersedes SMS by bringing advanced functionalities right to the customer's Inbox. It is part of the native, universal messaging app found on most phones and provides rich functionalities similar to standalone Over-the-­Top (OTT) messaging apps such as WhatsApp and Facebook Messenger. RCS is considered an industry successor to SMS or MMS that can offer messaging services directly through mobile carriers and cellular networks. 
RCS Business Messaging (RBM) refers to P2A and A2P messaging using the RCS protocol. RBM business messages can be branded and can provide engaging and interactive experiences, and the media and analytics capabilities provide actionable insights, making RBM the preferred channel for business communications.
Rich Communication Services (RCS) is currently supported by several operators around the globe, including AT&T, Bharti Airtel, Bell Mobility, Deutsche Telekom, KT Corporation, Jio, KPN, LG U+, Orange, Rogers Communications, Orascom Telecom, SFR, SK Telecom, Telecom Italia, Telefónica, Telia Company, Telus, Verizon, and Vodafone. Several brands are already benefiting from RCS adoption, and studies forecast that the global RCS market size will grow to $11.7 billion by 2025.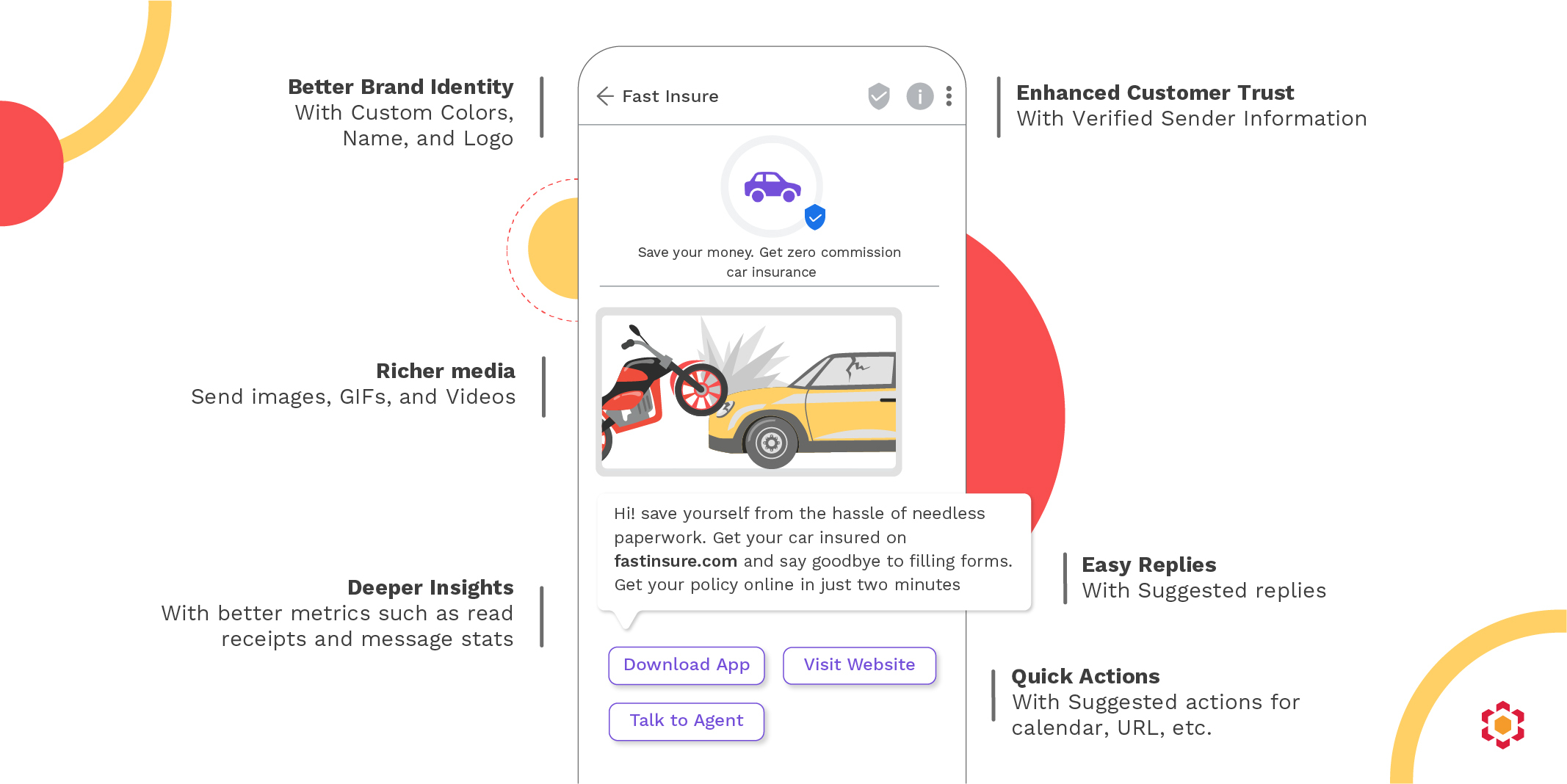 Benefits of RCS Business Messages
The primary advantages of RBM are –
The message is delivered right to the customer's Inbox, where they can immediately open it like an SMS

It has richer functionalities like that of advanced messaging apps such as WhatsApp and Facebook Messenger. 

No sign-up is required like WhatsApp or Facebook Messenger 

Branded experience similar to that offered by a mobile app

Integration with contact apps so users can see which contacts use the platform.

Fall back to SMS or MMS if the recipient doesn't support RCS.

Advanced reporting with greater analytics such as delivery receipts and message stats.
Although SMS has a high open rate of 98% and is one of the best channels for customer communications, it has character and media limitations. With RBM, on the other hand, you can send long messages and include multimedia content to create engaging transactional and promotional messages. In addition, the interactive elements make it a highly efficient channel for conversational messaging.
RBM offers greater customization and uses encryption for secure messaging. Moreover, It provides verified sender information giving customers greater control over the messages they choose to receive. A check mark next to the brand's name serves as validation to customers and builds trust. As an added bonus, brands who employ RBM can use custom colors, logos, and their brand name to deliver a customer experience consistent with other digital touchpoints such as websites or apps. 
RBM Across Industries
Let's take a look at how businesses across industries use RBM for customer communication:
E-commerce
RBM facilitates frictionless commerce by simplifying the purchasing process for customers. Its rich functionalities enable customers to interact with brands on the messaging app effortlessly.  Customers can easily explore your products and services with visually rich content presented as carousels. And, quick action buttons allow the customers to take actions such as finding nearby stores or visiting the website.
RBM can also play a vital role in enriching the post-purchase experience. Once the customer has completed the purchase, brands can send order confirmation messages and delivery updates with tracking information.  
RBM campaigns can also improve the lifetime value of a customer through personalization. Sending product or service suggestions based on previous customer interactions can result in repeat purchases. For example, a customer who recently purchased a laptop can be sent suggestions for Bluetooth accessories compatible with the laptop.
Features like auto-response and suggested replies can also help deliver better customer service, and branding options such as logos and rich media can result in an enhanced brand experience for customers. Thus, RBM can help in engaging customers throughout the buying journey.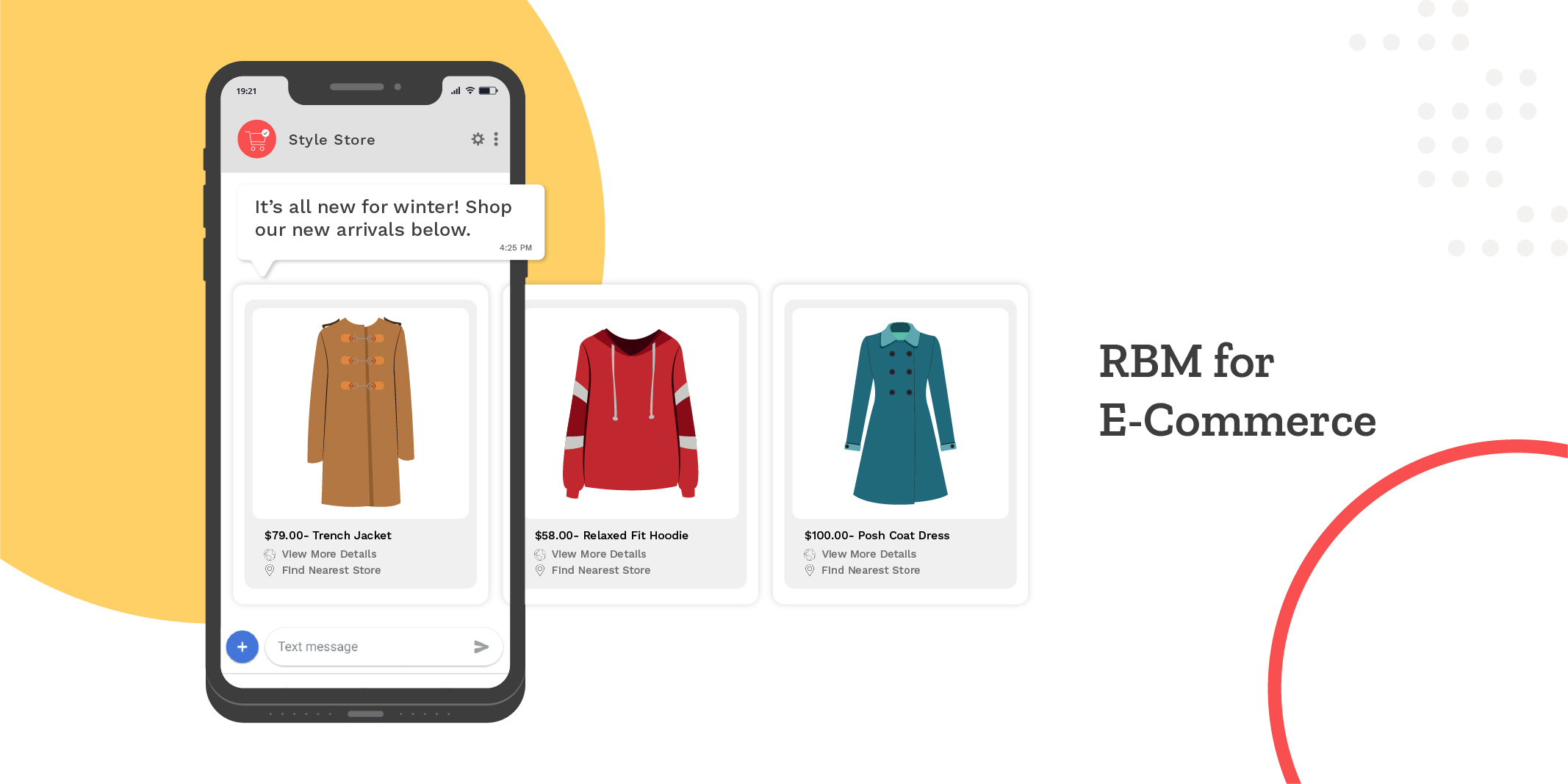 Banking and  Finance
With digital banking on the rise, customers have become accustomed to completing transactions quickly from their mobile devices. RBM enables banks and financial institutions to provide a seamless digital experience while ensuring secure communication.
Since RBM requires businesses to be verified before they are permitted to send and receive messages, it improves the trustworthiness of banking communications. Moreover, the channel can provide real-time fraud alerts so customers if suspicious activity is detected on their accounts. In addition, the interactivity options available on the platform result in smarter conversations. For example, customers can chat with an agent, get support on how to open an account, or apply for loans with the help of explainer videos. Banks can also notify customers of upcoming credit card due dates and reduce the likelihood of missed payments.
RBM allows customers to perform various banking operations such as requesting support, getting account updates, locating the nearest ATM, and receiving statements from the messaging app. A variety of interaction types and quick assistance go a long way to increasing customer loyalty.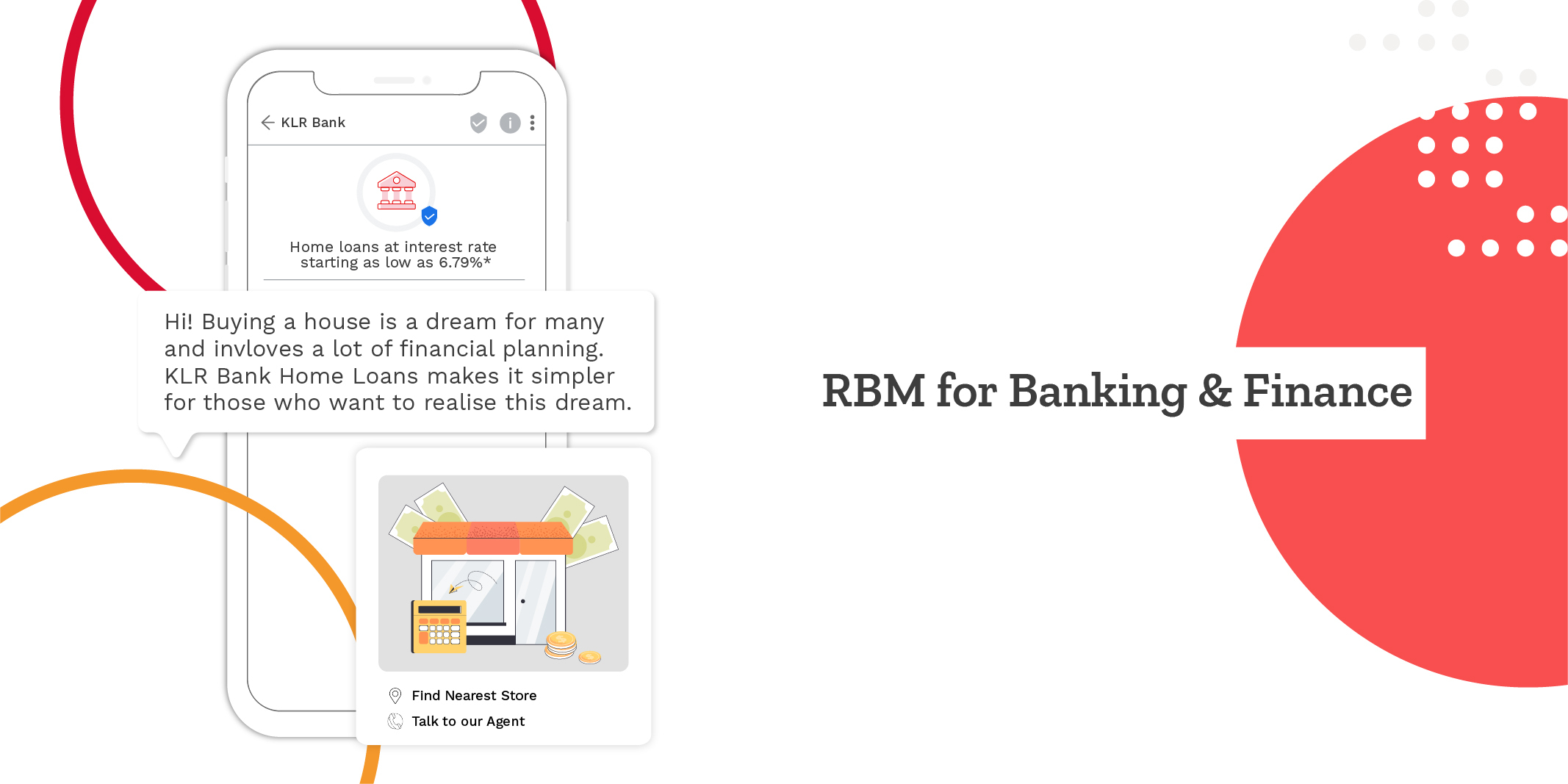 Ηealthcare
Timely customer communication is paramount for Healthcare providers who can use RBM to provide critical information such as diagnostic test results as soon as they are available. The channel also allows healthcare providers to send personalized content such as diet and exercise plans based on patient data.
RBM enables healthcare providers to deliver enhanced patient care, with customers being able to schedule, reschedule or cancel appointments right from the messaging app. Streamlining the scheduling process increases efficiency and reduces costs. Moreover, it prevents the loss of revenue due to missed appointments. Advanced functionalities such as suggested replies and sending videos to share health tips can help improve customer satisfaction.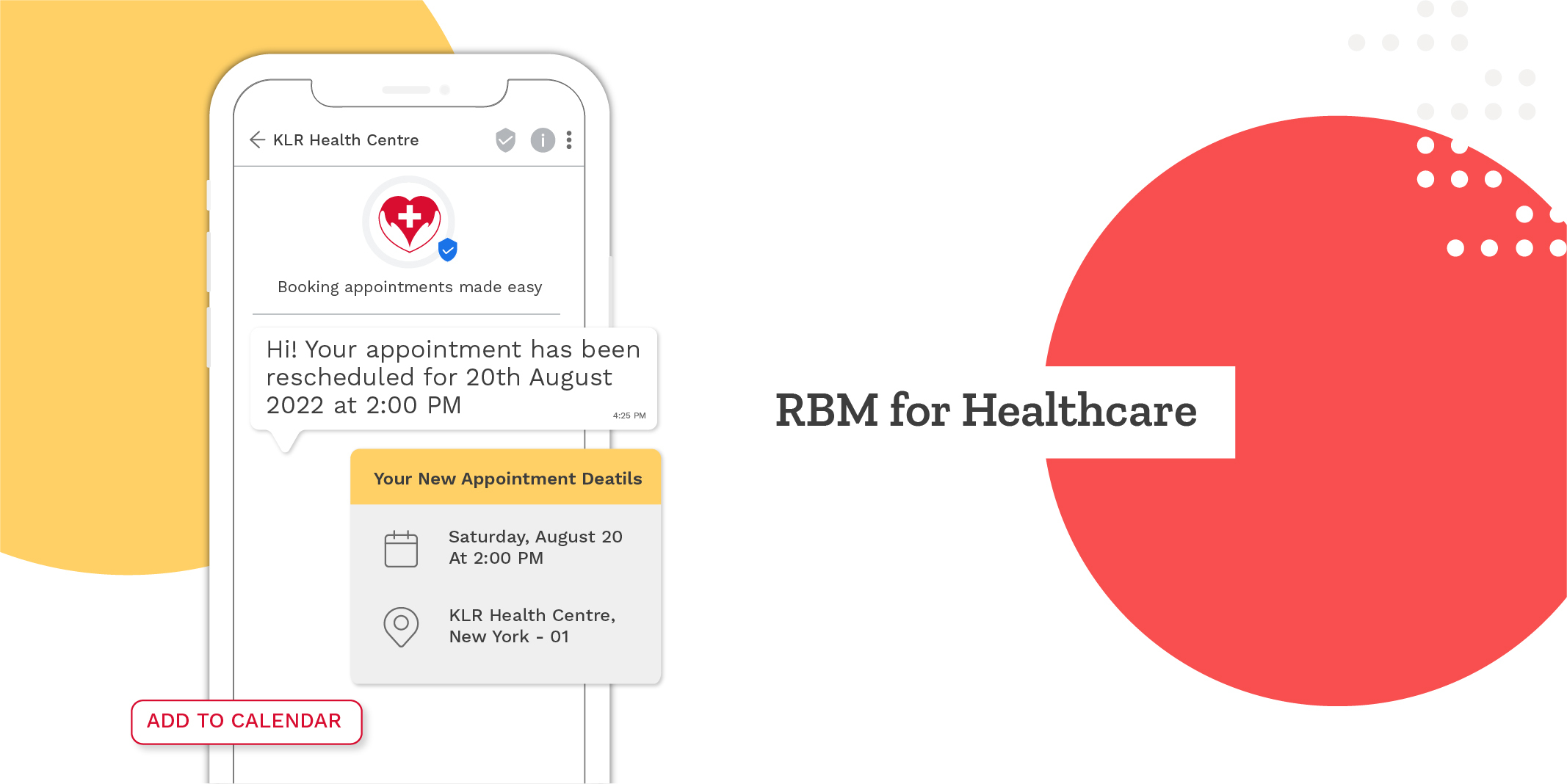 Travel and Tourism
Customers in the travel and tourism industry typically expect premium brand experiences. RBM allows travel companies to offer personalized customer interactions such as exclusive offers and upgrades for loyalty members, flight reminders, and mobile boarding passes.
RBM Campaigns allow airline companies to increase revenues by partnering with cab services and hotels. For example, a customer who booked a flight can be sent suggestions for hotel stays and rental cars in the destination city for a seamless travel experience. 
RBM can also help provide superior customer service by sending prompt notifications of flight cancellations and information on refund status. And instead of waiting in line or calling, customers can chat with a support agent quickly.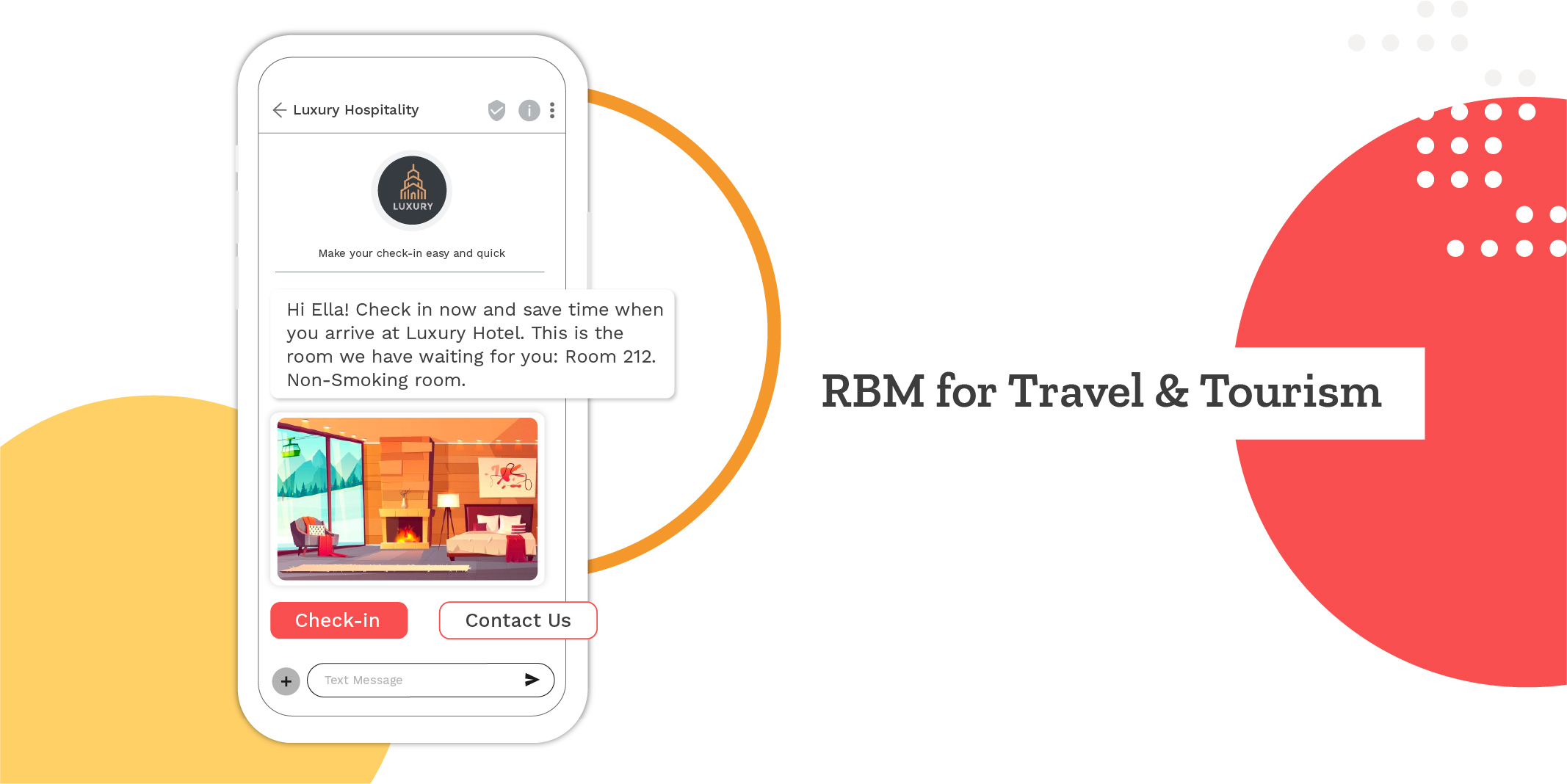 MSO (Multi System Operators)
MSOs are exploring new ways to improve customer retention in the competitive landscape of TV and streaming services. As they consider broader offerings and more digital experiences, authentic conversations through RBM can help increase the revenue lifecycle. For example, sending video trailers makes it easier for the savvy modern customer to access the hottest new shows. This allows MSOs the opportunity to keep customers engaged through personalized alerts and promotional offers.
RBM also offers more convenience with location sharing, where customers can easily locate the nearest office with a click on the messaging app.  Furthermore, it allows brands to promptly address billing-related queries and requests to switch plans. RBM messages are a valuable service option providing enhanced personalized customer experiences across multiple touchpoints, resulting in reduced churn.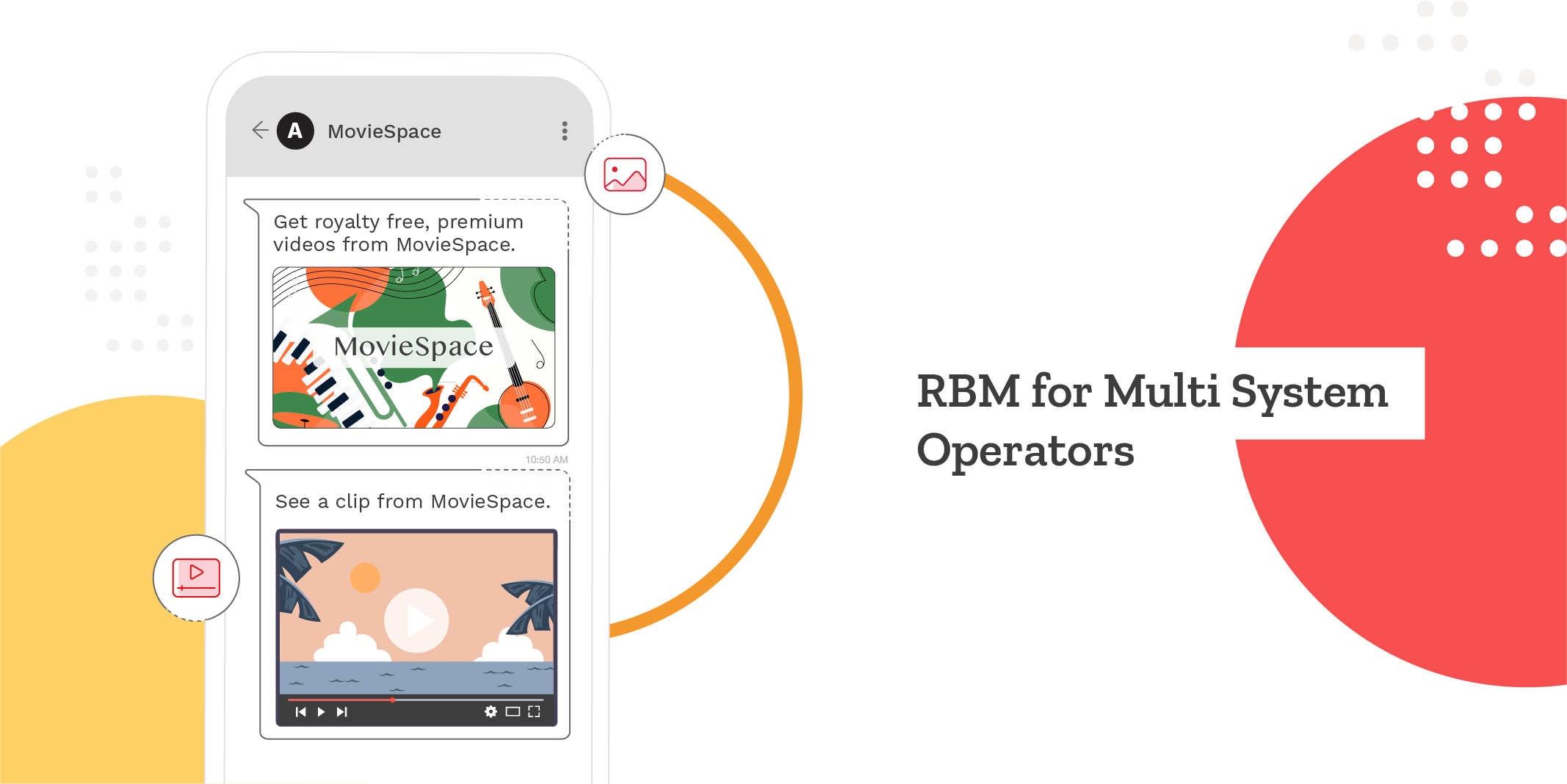 Drive Conversions Through Smarter Conversations with Kaleyra 
Businesses across industries are leveraging RBM Messages to boost conversions through improved engagement. Kaleyra's secure cloud infrastructure empowers modern businesses to take advantage of the exciting new RCS channel that allows for greater customer retention and revenue. Kaleyra's intuitive, easy-to-use interface allows businesses to set up and run RBM campaigns in no time. With RCS Business Messaging, you can strengthen your brand identity and improve customer service through our innovative and reliable platform.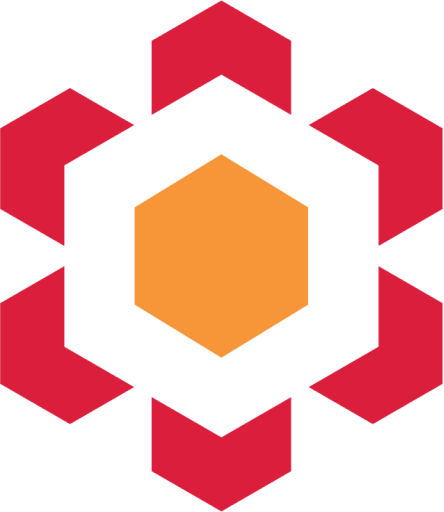 Kalaivani Narayanan
Content Specialist