Enterprise Communications Services: The Way Ahead for Modern Businesses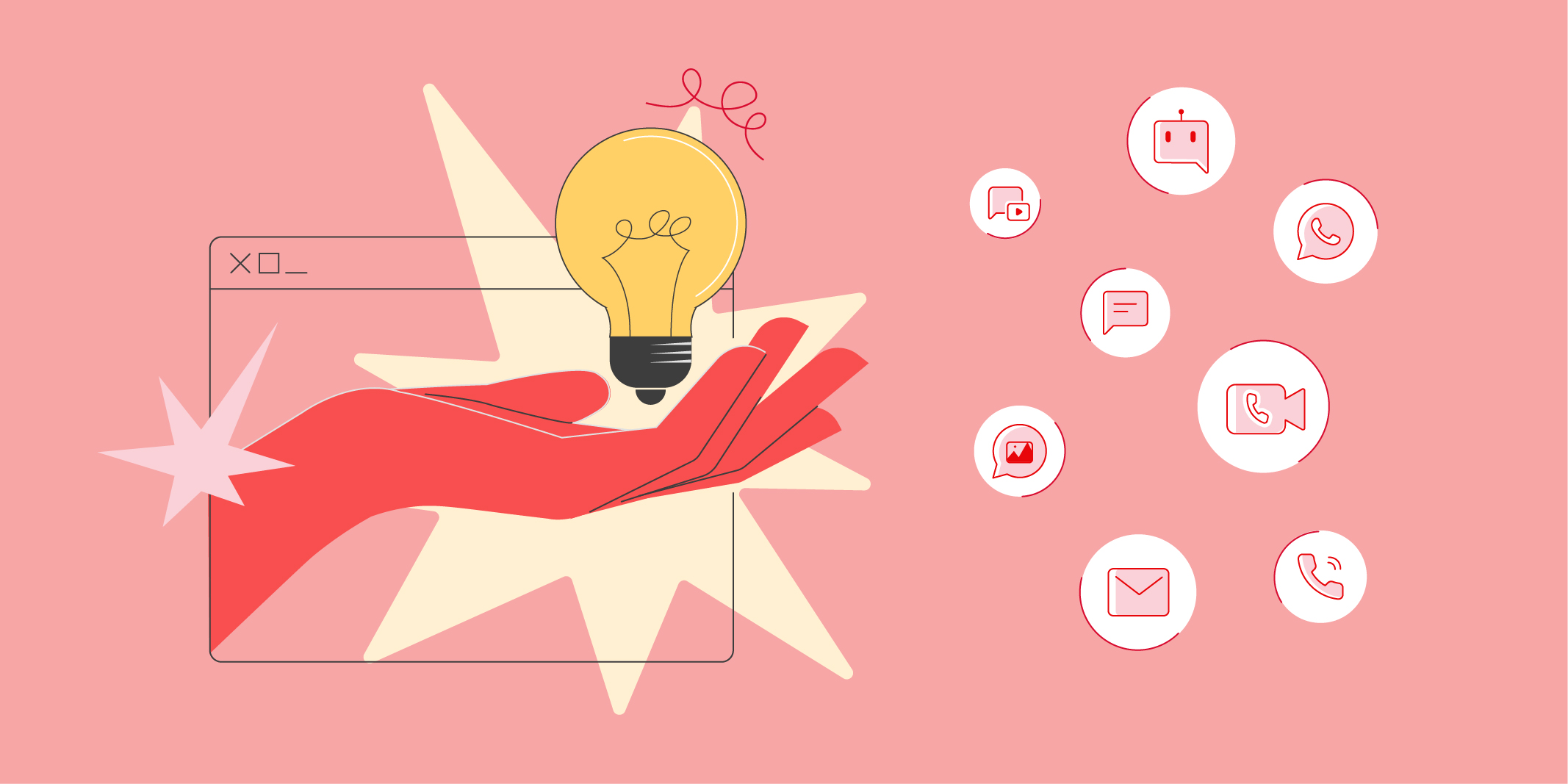 In today's fast-paced world, outdated communication solutions can significantly impede an organization's business success. Moreover, siloed communication systems can double up your work and leave customers with fragmented user experiences. Enterprise communications services can help streamline customer and employee interactions, enabling businesses to accelerate their growth. In addition, they allow contextual exchanges that are crucial for meaningful customer engagement.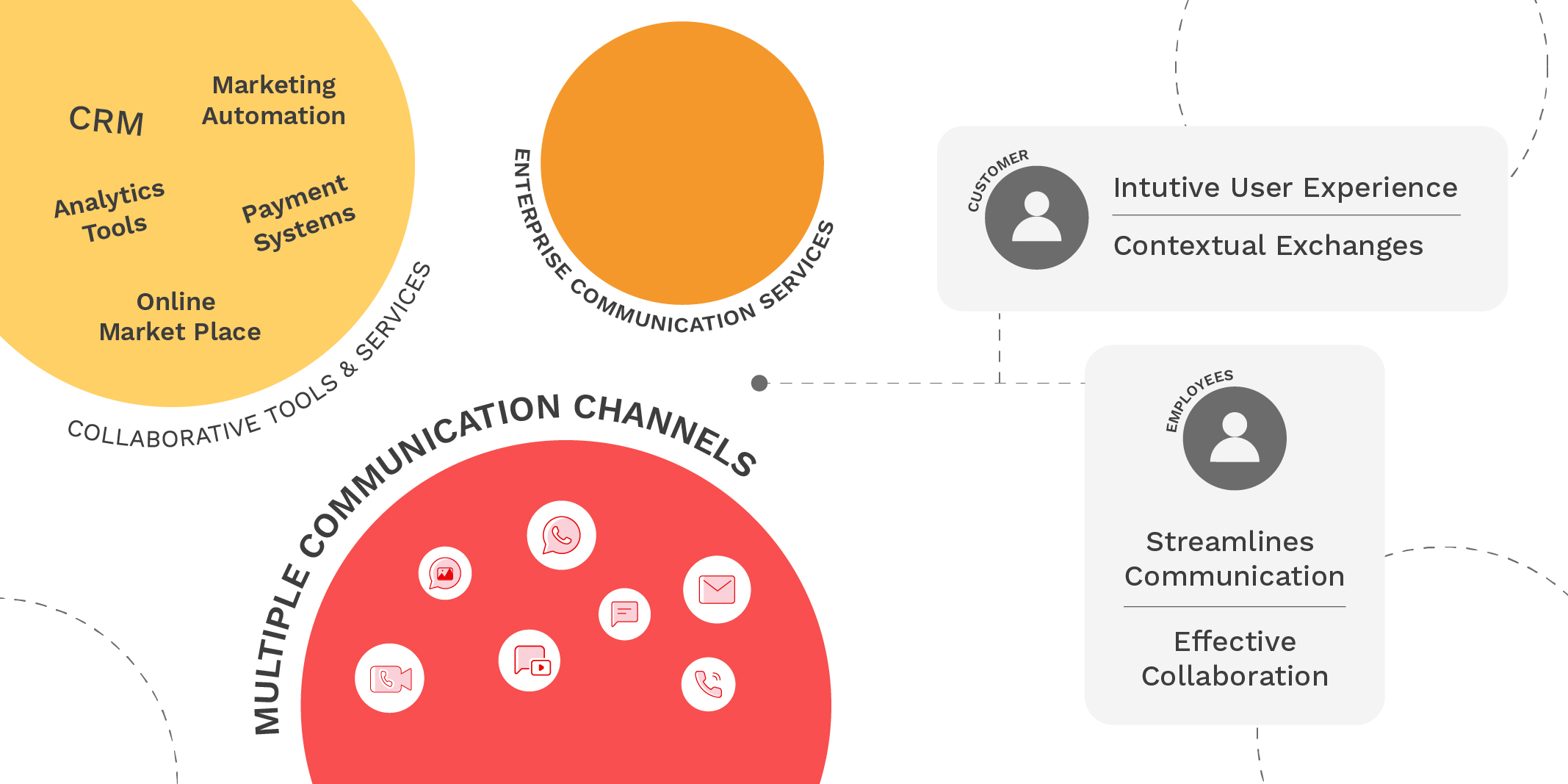 What is Enterprise Communication?
Enterprise communication systems integrate multiple communications channels and solutions to provide a cohesive user experience.
The digital technology revolution has spurred the adoption of a range of tools and services to simplify processes, increase productivity and enhance user experiences. The more the number of decision-makers and collaborative solutions, the less administrative control there is for large organizations.
As organizations scale up, so does the complexity. With modern businesses rapidly evolving, enterprise systems can help keep up with the rising demands for communication reliability and performance.
Enterprise communication systems provide a common interface for managing several business tools and services, such as the following:

Communication Channels such as SMS, WhatsApp, RCS Business Messaging, Voice, and Video
CRM (Customer Relationship Management) software
Customer Support tools
Marketing Automation solutions
Payment Systems
Online Marketplace
Analytics tools
Ebook: A Mobile-First Guide

Learn how to optimize your mobile marketing strategy to boost sales and revenues.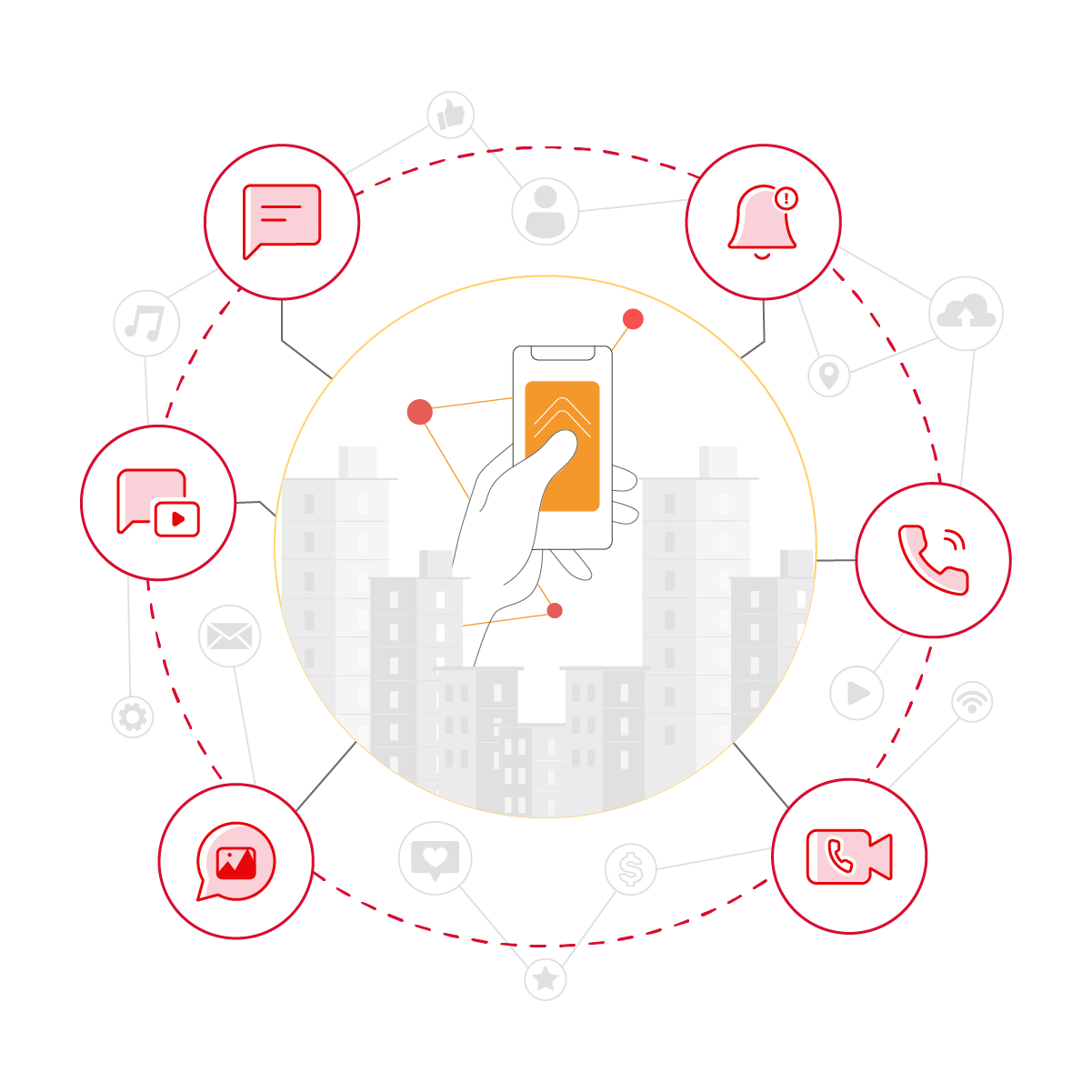 Benefits of Enterprise Communication Services
Modern enterprises rely on a mix of in-house talent, external vendors, partners, and contractors who need to communicate regularly. To ensure that everyone has adequate and accurate information, enterprises need solutions that allow easy collaboration between teams across different locations and devices.
Siloed communications can increase friction between departments and bring down productivity. Enterprise systems help in unifying the several communication solutions used by an organization.
The benefits of embedding enterprise communication systems are
Automating customer conversations that save time

Increasing productivity due to simplified workflows

Improving collaboration through integration with other tools

Strengthening connections between remote teams

Enhancing customer experience through personalized conversations

Boosting revenues due to data-driven decisions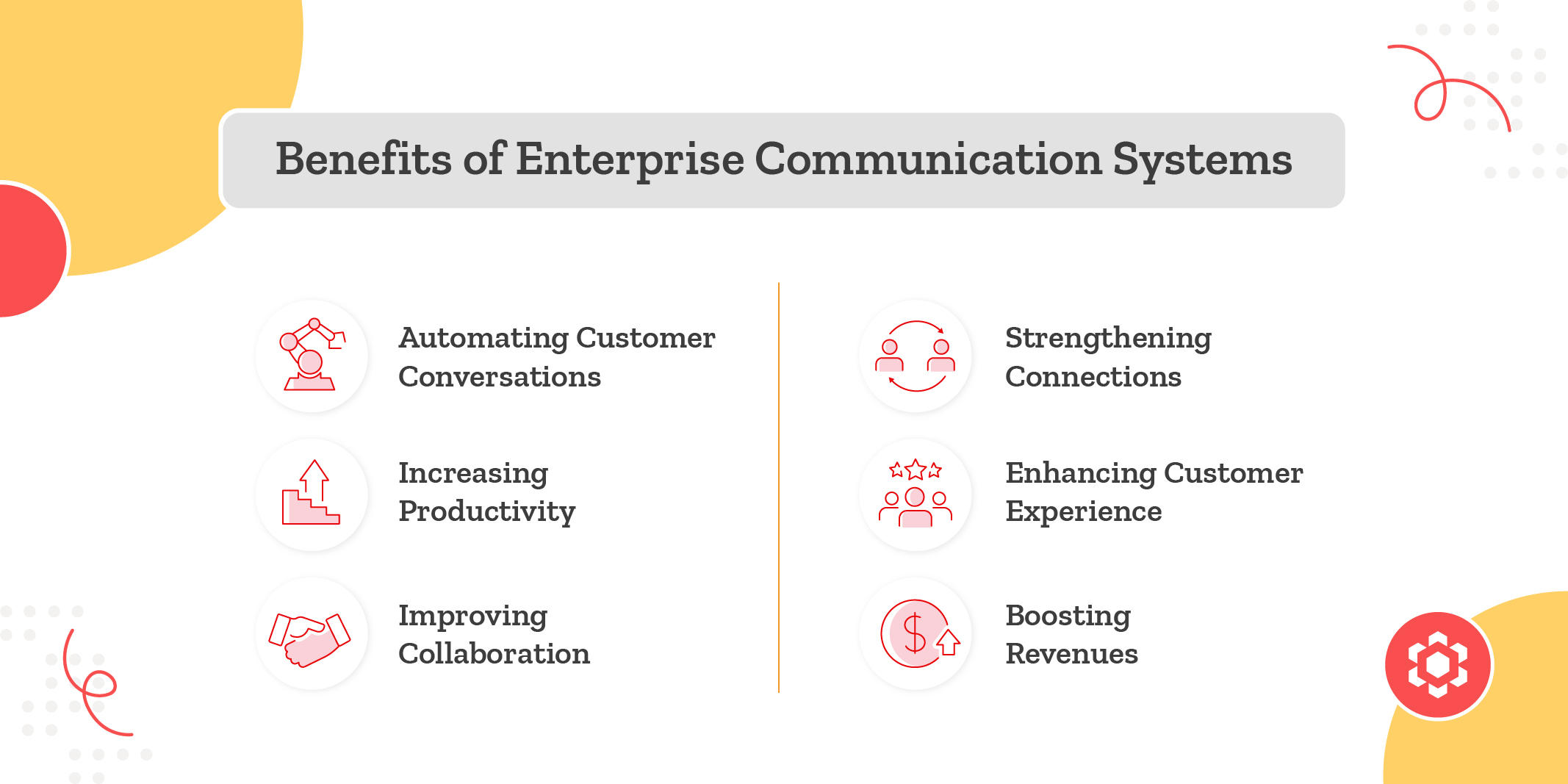 Why Businesses Should Choose Enterprise Communications
Here are a few reasons why businesses should transition to enterprise communication:
1. Intuitive User Experience
An intuitive user experience means that customers can get what they want with minimal effort. An intuitive CX feels natural and effortless to use. For example, If a customer requests the support team for store opening hours, sharing map information and details of other nearby stores makes it easy for the customer to take the desired action.
An effective way to provide an intuitive user experience is to focus on contextual communications. Whether you are communicating with an employee, client, or vendor, the context of your communication is essential. The term "contextual exchange" refers to the who, what, when, where, why, and how of the conversation.
Miscommunication and irrelevant communication can prove to be costly for businesses. Poor communication can lead to lost sales, lower morale, and even lawsuits. Tapping contextual information allows businesses to have relevant conversations with customers. Businesses can send tailor-made messages based on physical location, browsing patterns, customer intent, and past purchases. For example, a customer who bought a six-month subscription to a streaming service can be sent timely reminders that increase the chance of renewal and customer retention.
2. No Code/Low Code with APIs
Almost 50% of businesses say they have lost customers due to poor communication, according to Project.Co. Enterprises that want to improve communication can easily add enhancements to existing systems using an application programming interface (API).
APIs are excellent for expanding a business's communication capabilities with no code or low code. APIs allow businesses to embed various communication channels into existing applications. Scaling is also easy and can be done without requiring the efforts of a team of developers.
With APIs, businesses need not invest in expensive infrastructure or build applications from scratch. Instead, CPaaS (Communications Platform-as-a-Service) providers can offer developer-friendly communication APIs to help add communication capabilities in no time. Moreover, APIs can be connected to different business tools that help design a responsive customer journey. Thus, APIs provide greater control over existing applications and processes, enabling businesses to automate business communication.
Businesses can engage customers across various touchpoints and trigger event-driven communications with APIs. Moreover, customers can seamlessly switch channels and use a preferred channel to continue a conversation they started on another channel. For example, a customer who used the coupon code from SMS to make a purchase can use WhatsApp to request order delivery information.
Moreover, with growing mobile usage, customers these days are using a variety of devices to interact with businesses. Similarly, enterprises have teams across geographies accessing data from a combination of devices. APIs allow businesses to provide an omnichannel environment where customers get consistent brand experiences.
3. Analytics
In this era of a data revolution, It's important that businesses leverage customer data while formulating strategies. Data allows a business to understand customer behavior patterns and plays a pivotal role in achieving business objectives through informed decisions.
For example, a healthcare professional can use vital patient data to send messages with information relevant to the patient. If the data indicates that a patient is likely to develop cardiac issues, healthcare systems can suggest further tests, diets, and exercises that will be useful to the patient.
One of the challenges of multiple communication channels is that data is spread across channels. 79% of people say they found having to repeat themselves annoying. Using Omnichannel data analytics allows businesses to offer a cohesive experience by using actionable insights derived from various sources.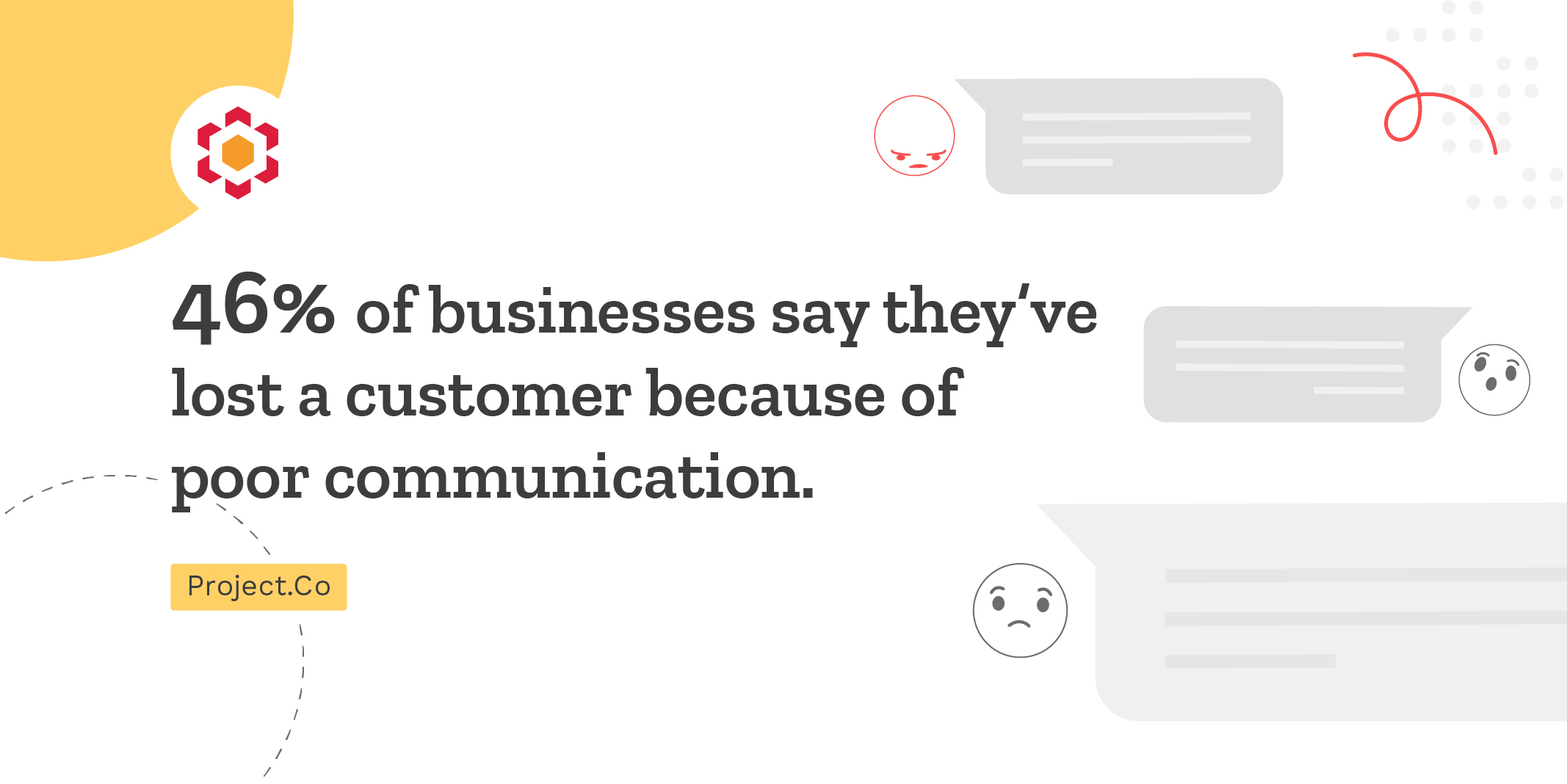 4. Hyper-Personalization
Hyper-personalization refers to sending customized messages to individuals based on information collected with their consent. With hyper-personalization, businesses can foster stronger customer relationships.
Businesses can stand out from the crowd by personalizing communication. Custom offers and messages help build deeper relationships, enabling businesses to convert one-time shoppers to loyal customers.
Say, Data analytics shows that a certain customer responds well to WhatsApp messages, has the propensity to purchase new arrivals, makes purchases at the start of every season, and prefers a specific brand. Personalized WhatsApp messages showing product catalog of new arrivals can increase the chances of the customer making a purchase.
5. Hybrid Workplace
The primary goal of workplace communication is to ensure clear and coherent communication, and a large chunk of an enterprise's IT budget is spent on the same. With mobile-only workforce becoming commonplace, businesses need to find a way to enable secure, real-time communications.
In a hybrid workplace, multiple communication methods and channels should be made available for employees to have accurate and up-to-date information. Moreover, an enterprise communication system allows employees more flexibility in choosing their work environment.
Remote teams can often struggle to create a positive work relationship. Hybrid communication strategies help build trust among employees and reduce employee attrition. Employee performance also tends to improve with multiple communication channels integrated with productivity tools.
Planning the Transition to Enterprise Communication
Businesses that want to enhance their communication capabilities may often feel lost while trying to embed an enterprise solution into their existing software systems. Before choosing a communication service provider, ascertain your business's communication needs. Assess what processes are currently in use and gather inputs from all stakeholders. While the transition to enterprise-grade communication can seem like an uphill task, business communication experts and CPaaS providers such as Kaleyra can help you quickly expand your communication portfolio with innovative solutions. Taking advantage of Enterprise Communication Services can help businesses increase productivity and improve customer satisfaction through unified communication.
Supercharge Your Communication!
Get in touch with our experts who strive hard to bring the very best in cloud communications technology to you.