Ease Your Customer Communication With Kaleyra's Plugin for Zoho CRM
Modern-day businesses require a single repository that can bring their marketing, sales, and customer support activities together and streamline the process of customer communication in one platform. 
Zoho understands the importance of having a centralized system for managing customer databases and communication and has upgraded its CRM to allow you to connect with your customers through multiple channels while centralizing information that empowers your sales team to have contextual, meaningful conversations with your prospects.
If you use Kaleyra as your communication platform and your CRM database is on Zoho, your life is going to get easier.
Kaleyra recently launched a plugin for Zoho CRM to help users send SMS to contacts located anywhere around the globe. Sending messages on the Kaleyra platform previously required you to log in to the application or use the API keys to trigger an API.
Now, with our handy integration with Zoho CRM, you can seamlessly send Kaleyra messages directly on the Zoho CRM application using the Kaleyra plugin.
All you have to do is download and activate the Kaleyra SMS plugin on Zoho CRM, and you are all set to start sending messages to your contacts. Kaleyra's extension for Zoho CRM enables you to send and receive messages instantly or schedule planned campaigns.
The plugin gives you access to view detailed reports and logs to track and manage the delivery of their messages, allows you to customize workflows, use dynamic variables and URLs in messages, and create templates. 
Start meaningful conversations with your customers
Creating customer loyalty is one of the vital objectives of modern-day business. Increasing sales or offering premium support to your existing customers go hand in hand with the success of a business. 
Your business is not just about revenue; it is also about getting the consumers to respond positively. Two-way SMS helps you get there in a hassle-free manner.
Using the Kaleyra plugin for Zoho CRM, you can gather all the relevant data related to your prospects or customers from the Kaleyra platform just with an API key and send informative messages to drive interactive communication. Your recipients will also be able to reply to your SMS. 
Leverage the power of two-way messaging to have direct communication with your prospects, communicate at a more personal level and gain their trust. The plugin also enables you to select specific leads from a large lead pool and target your campaigns more effectively. 
Automate lead communication and nurturing
Integrating the Kaleyra plugin with the Zoho CRM is quite simple. Zoho users can even create automation flows where the specified events will trigger messages to the contacts. You can structure workflows for any activity, from lead creation to conversion, and can set up any number of workflows too.
This way, you don't have to manually sit down and send an SMS on lead creation or update. For instance, every time a lead is created, an SMS could be automatically triggered with zero manual intervention.
Reduced Time and Effort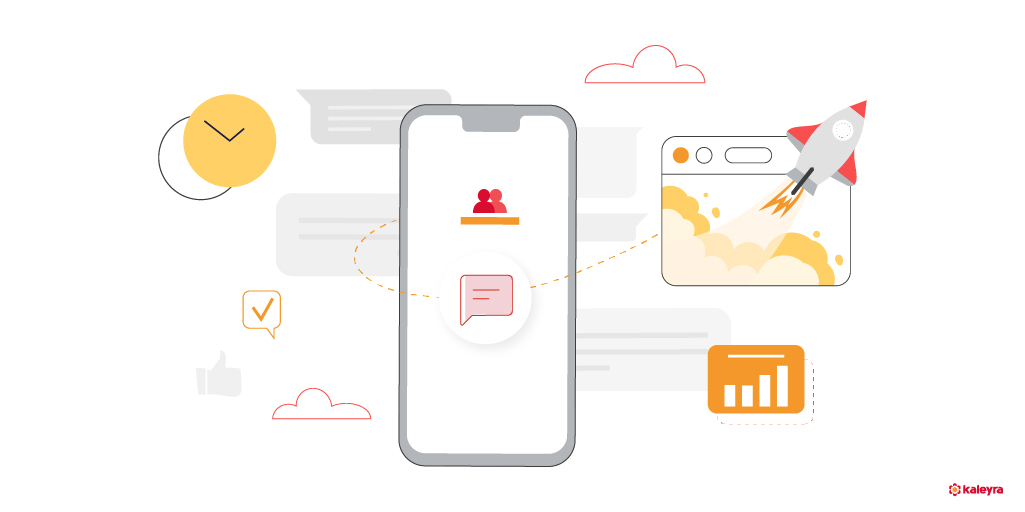 By eliminating all processes in the middle, you can now directly send messages to customer contacts in your database. With this hassle-free procedure that does not require logging into other applications or importing files, Text messages can now be sent with minimal effort. 
Efficient business communication, which saves both time and effort, means that there are free resources that can now be used to fuel numerous other operations as your organization continues to grow.
Integrating Kaleyra's plugin with Zoho allows you to manage all of your business communications in one place in a structured manner. It is designed to make communication easy and convenient for businesses and customers. 
Customer service is not just about addressing their queries but also delivering essential notifications about the services to the end-users and developing an ongoing relationship.
By allowing quick and easy integration of multiple applications, Kaleyra serves as a robust platform that empowers enterprises worldwide.
With numerous integrations, Kaleyra enables you to reach your customers through the platform of your choice. Kaleyra's text messaging extension for Zoho, a globally leading enterprise CRM software provider is live and you can download it from here.