How we rock Remote Working at Kaleyra
The Coronavirus pandemic has forced all of us to change our habits – the way we travel, the way we live, and the way we work. Work from home has become the new norm. Like many other businesses, we, too, are working remotely. 
We are doing our best to equip our employees and other stakeholders to work remotely as far as possible. Work from home however does not mean the end of teamwork or business or having fun while working. Here is how we made that possible: 
1. VPN facilities for secure access to office work
Our first plan of action post the Coronavirus outbreak was to mobilize our IT team to help set up VPN access for our entire team. In trying times like these, the last thing we want is to be not there for our customers when they really need us. To ensure the safety of our employees and minimize business disruption, we provided VPN access to our whole team during the early days of the outbreak. This means that our entire team, from support teams to product teams, can securely log into all our portals from home just like they would at the office. We can thus operate remotely without having to come to the office to access work files or portals. 
2. Remote working tools for collaboration and training
As a product company, we are big on collaboration tools like Slack, Zoom, Asana, and Trello. These tools help us in managing projects and collaborating with teams across the globe more efficiently. Investing in these tools really paid off when the whole team had to work remotely. Communication never stopped. We use Slack as our primary internal communication channel. All the projects are diligently monitored on Trello and Asana. Design teams collaborate with product teams on Figma. We did not stop learning either. Access to online portals like Udemy allows our team to focus on upskilling while they are at home. It is business as usual at Kaleyra, but everything happens online.
3. Online hiring and onboarding
When the pandemic hit us, we were already in the process of expanding our team. We were talking to candidates from both tech and non-tech backgrounds. When we were suddenly hit by the lockdown, we felt it was unfair to shut shop and stop hiring, especially with so many candidates with whom we had started conversations with. Freshteam helps us to evaluate candidates and give feedback. We use HackerEarth for online technical assessments. Our HR team helps us with the final screening through Zoom calls and Google Hangouts. We now have fun onboarding sessions with team members on multiple screens on platforms like Zoom. Our onboarding process is paperless with digital forms. This allows new joiners to complete all formalities online.  
4. Don't forget to have fun
Just because you are working from home does not mean that you stop having fun. Though we were quite skeptical at first about the response, we encouraged our team to share pictures of how they were working from home and join the meet and greet sessions on Zoom. These were cordial, casual sessions, or check-ins, where we promoted open interaction between teams. These kinds of conversations would otherwise happen in an office setting. We were overwhelmed with the response we got.
Our team shared so many pictures of how they were working from home with their kids, pets, and family in the background. Some shared tips on the workout they follow at home, while others gave ideas on pet care. On Slack, mothers shared links to coloring books for children that can be printed. Our weekly zoom greet and meets are so popular now that now we are launching work from home Yoga sessions by popular demand. We are excited to see how that turns out.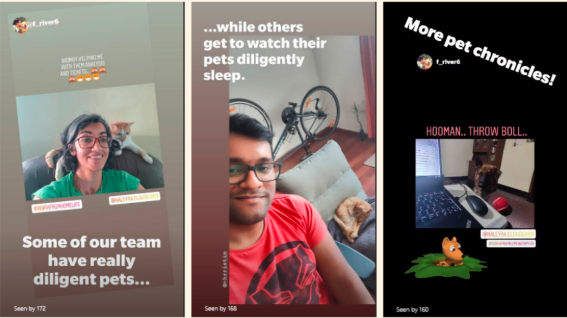 Image Caption: Check out these cute pictures of pets shared by our team working from home.
5. Specialized offering to help customers work remotely
We know that it's not just us but our customers and partners who are affected by this lockdown as well. To help our customers and their teams to work more productively, we launched a series of specialized cloud telephony services. Through these services, our clients can make automatic calls to their teams to raise awareness about COVID-19, set up dedicated Coronavirus helpline numbers, create virtual numbers for support calls from their customer support teams and use browser plugins to make client calls from home. To learn more about these services, you can email us at covid19help@kaleyra.com. 
We will continue our efforts to challenge the old working styles and adopt new measures to minimize business disruption and make the lives of our team, our customers, and our partners easier. We are committed to ensuring the safety of our employees, customers, and the communities we live in. With the right care, support, and tools, we believe that we can win this battle against coronavirus.