Driving Coronavirus Vaccination Program To Success With Cloud Communication
The coronavirus pandemic crippled our economies and wreathed our lives with havoc. It posed challenges that we had never seen before. And yet, we are now, just a little over a year later, all geared up to put an end to this turmoil.
Vaccines have been developed in record time by the brightest minds around the world. The next step is to get doses of it produced in enormous quantities and delivered to billions of people as quickly as possible. Here's what makes this task at hand much more complicated than we can fathom: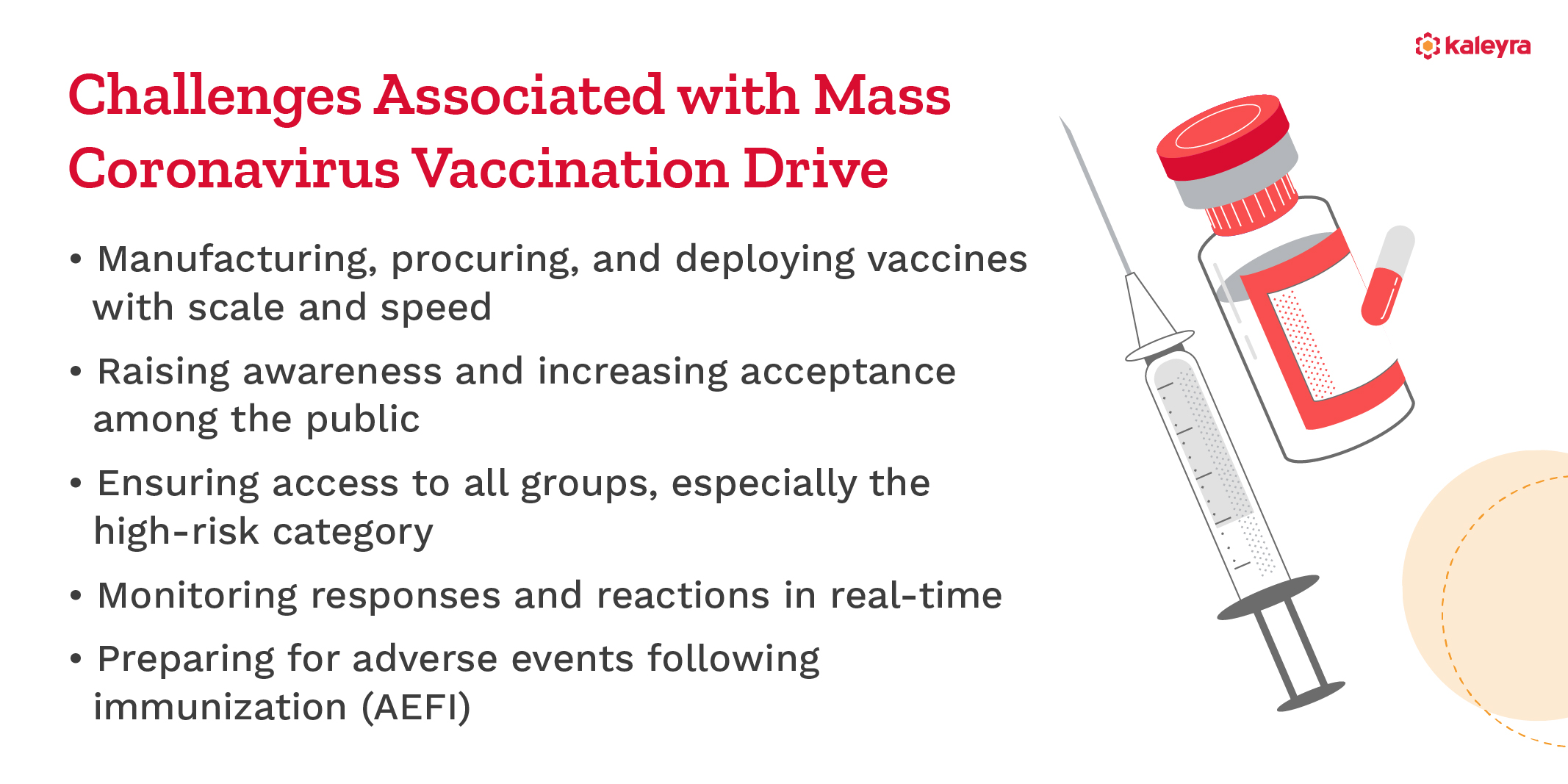 The widespread immunization drive can certainly not be successful without all the industries coming together. We require impeccable coordination between government bodies, private sectors, and the public, across international borders, to combat the coronavirus. Each one of us has to do our bit.
Role of Cloud Communication Providers in Coronavirus Vaccination Program
Strategic and timely communication can play a key role in driving the vaccination program to success. It can help raise awareness, promote information from legitimate sources, bust myths, motivate people to participate, encourage adherence to appointments and timelines, and bring any unusual or unpleasant effects to notice immediately.
Cloud communication providers possess the capability to deploy smart and scalable solutions to mitigate the spread of COVID-19.
Take the example of Kaleyra, a globally trusted CPaaS, that has been supporting initiatives like Red Cross in Italy and Project StepOne in India with its omnichannel offerings to curb the menace of life-threatening coronavirus.
These providers can address varying needs of the healthcare industry during the development, launch, and implementation phases of the mass immunization program.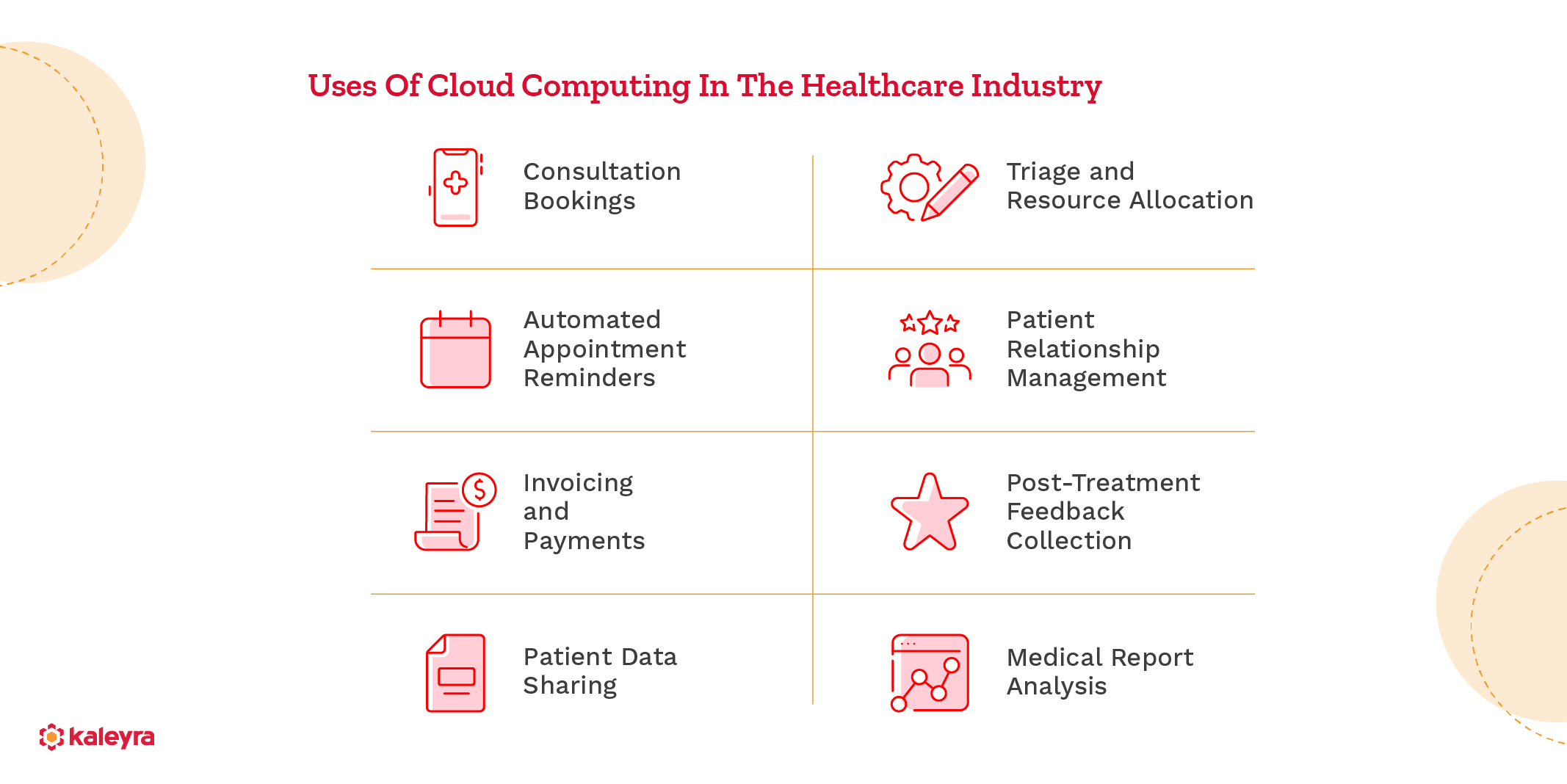 Spreading Awareness About Vaccines and Vaccination Process

There are a lot of conversations going on about the COVID-19 vaccines and the process to get them, but not all of these discussions are healthy. Misinformation and unsubstantiated rumors are disrupting the well-meaning efforts. We need to amplify the voices of experts and share the right message among everyone.
Cloud companies can help reach out to the masses on commonly-used communication channels such as SMS, voice calls, WhatsApp, and email. In a few simple clicks, crucial information can be disseminated on each channel. With cloud technology, governments and healthcare organizations have the flexibility to automate the campaigns, update messaging as and when required, and introduce a fallback mechanism.
The fallback mechanism essentially allows the sender to share the message on multiple channels if it doesn't get delivered on the first one. For instance, if we decide to share information on the coronavirus vaccine via phone call and the receiver doesn't pick it up, after a pre-decided interval, they will get an SMS. It is possible to add more channels to this sequence and maximize the probability of the audience obtaining the required information.
The main objective at this step is to ensure that every person gets the right knowledge from trustworthy sources. Only then would they be willing to move on to the next step, which is considering getting the vaccine shot.
Encouraging Vaccination Adherence
Building people's confidence in the vaccination program is the key to its success. Public bodies must do all they can to rid citizens of any doubts or misunderstandings. Whether it is by answering questions over the phone – voice, video, or text – or distributing educational materials and instructional content about the vaccine directly to their mobile devices, all measures must be taken to encourage acceptance.
If people are well-informed, it would also result in fewer withdrawals and cancellations at the time of vaccination.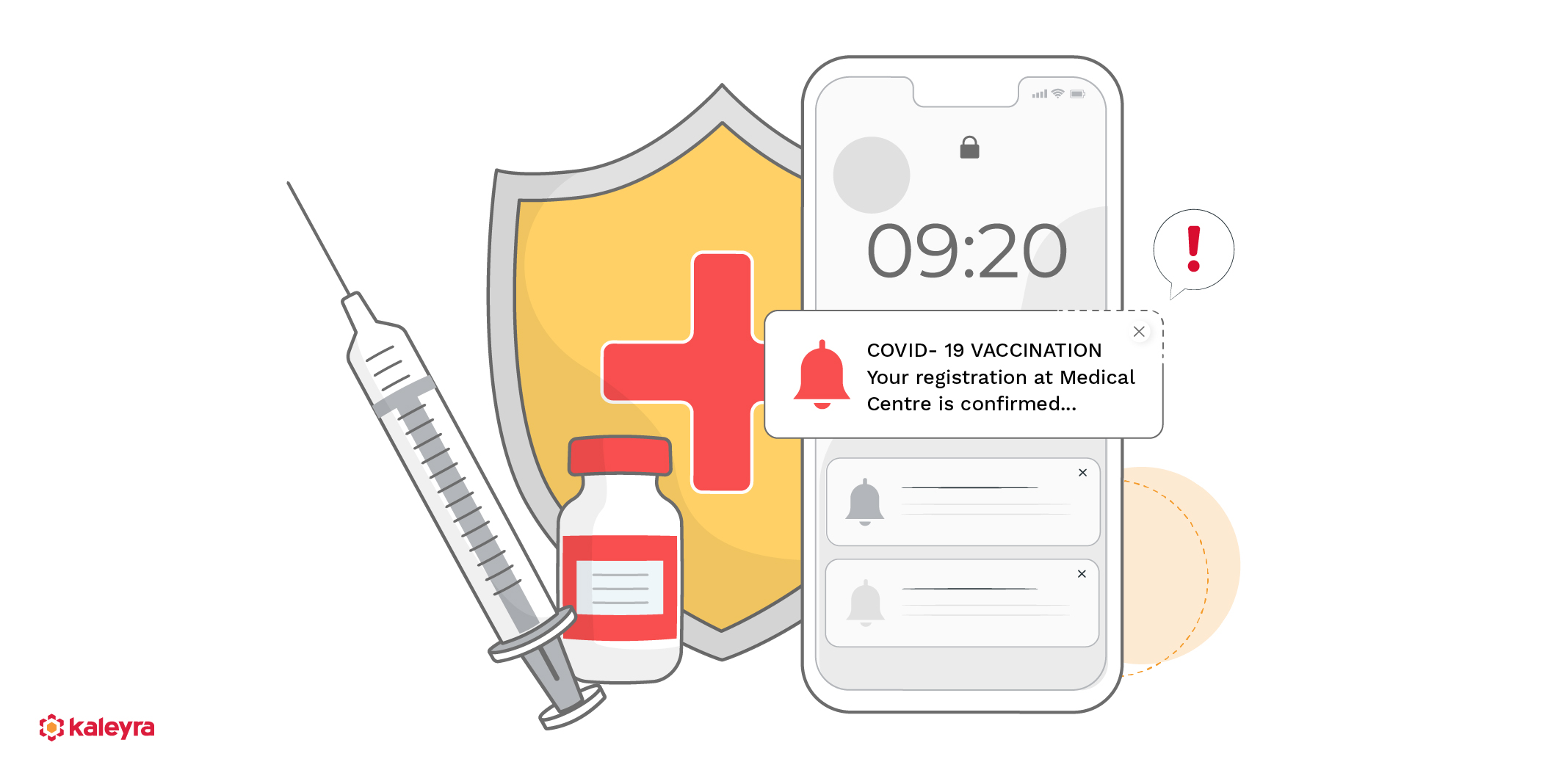 Once a person has expressed interest in getting vaccinated, say by registering themselves and booking an appointment, an automated communication campaign can be put into place to send them updates on their slots, reminders to appear for immunization, or recommendations and tips to keep in mind during the process. This process is also valid during the second round of coronavirus vaccination.

Participants can choose the communication mode of their preference and the frequency of alerts when they register. These notifications can even be imbibed into the nation-wide mobile applications most countries have developed for their citizens to combat coronavirus.

By regularly keeping in touch with the participants, public bodies expect a better turnout and more success at the vaccination drive.

Monitoring Adverse Events Post Vaccination
Any type of immunization program never ends with simply administering vaccine shots. Its effects need to be closely monitored across various sub-groups of the population. In case of the coronavirus vaccine, which was created under intense time-crunch, it is especially necessary to keep an eye out for any and every sign of adversity.
All the participants who get vaccinated must be added to a database for follow-up programs. They should be contacted in regular intervals and their responses should be recorded in a structured and secure manner. Cloud solution providers like Kaleyra allow creating a remote contact center with smart features like IVR, click-to-call, and call recording, that can be used for such requirements.
Authorized agents can access the contact center from any part of the world, check the call logs, and revisit the call recordings for data verification. With IVR, quick feedback can be gathered from the participants on their experience. Furthermore, if any person needs immediate assistance or wants to report any unusual side effects, they can easily get in touch with healthcare volunteers through the common calling number, which may even be toll-free.
The same facilities can also be provided on text or instant messaging apps with the help of chatbots.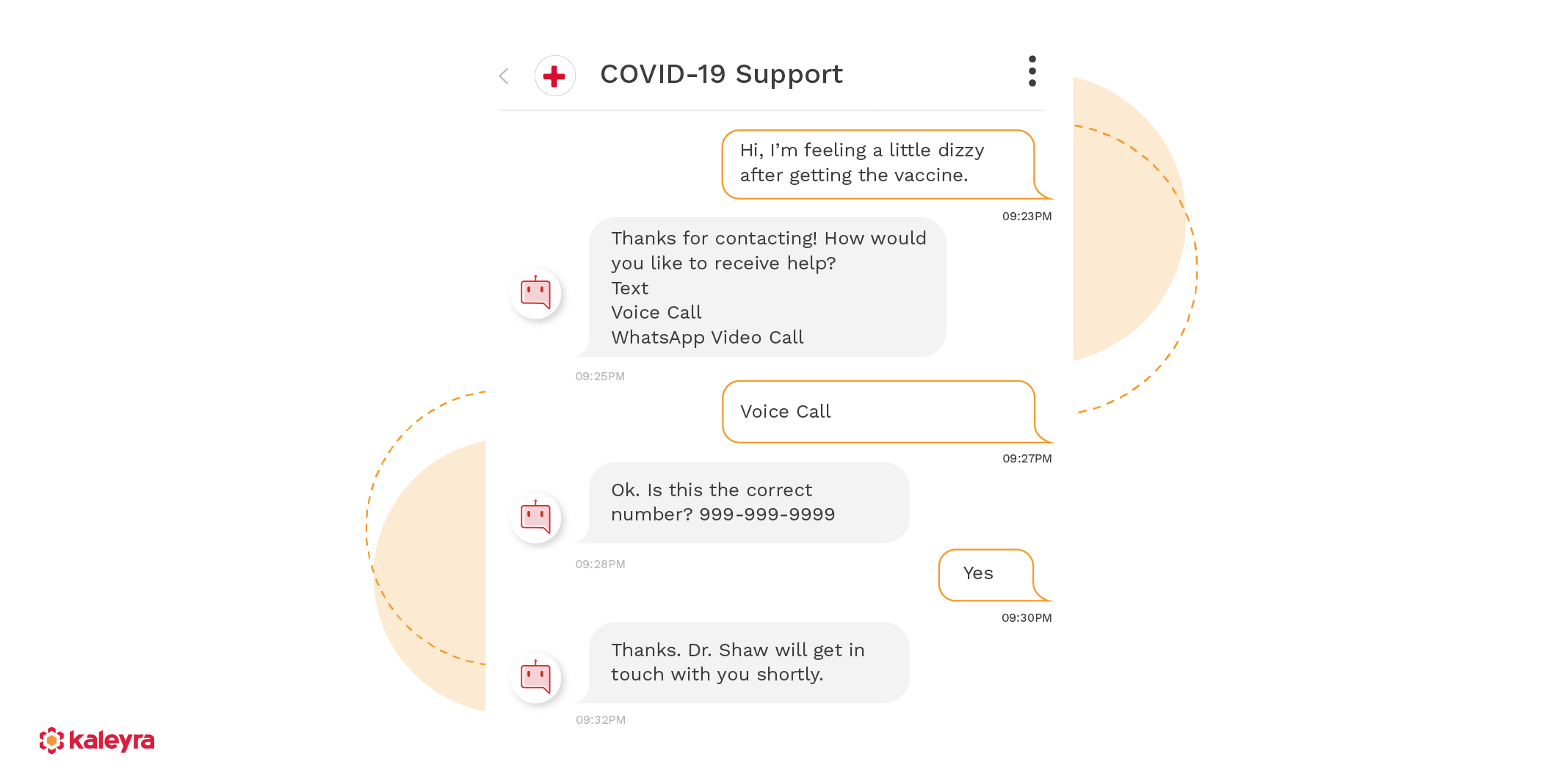 Key Takeaways
Immunization for coronavirus is a complex challenge, and all industries must unitedly work towards curbing the fast-spreading disease. Cloud communication providers can help governments, healthcare organizations, pharmacies, logistics companies, and public sector institutions carry out the vaccination program with more ease, speed, and scale.
Cloud solutions can not only help to stay connected with the citizens and keep them informed via text, email, or video on their devices but also coordinate the whole process better. Communication is the key to our collaborative success.